Bayonetta 2
Nintendo
WIIU BAYONETTA 2
Captain Toad: Treasure Tracker
Nintendo
Ready for adventure? Captain Toad stars in his own puzzling quest through maze-like mini-universes only on Wii U. Each stage is stacked with tricks and traps, so our stubby hero will have to use his wits to dodge dangers and track those treasures. Survive smoldering volcanoes, hazardous steam engines, haunted houses, and more all in the name of treasure!
Epic Mickey
Disney Interactive
Disney Epic Mickey is an action-adventure platforming game for the Wii console that sends Mickey Mouse on an epic journey of creativity and discovery. As Mickey, the player is propelled into Wasteland, an alternate world made up of Disney's forgotten creative efforts, and is given the power to wield paint and paint thinner to dynamically change the world while determining Mickey's path to becoming an epic hero. Through the use of this unique paint and paint thinner, the key components of animation and Mickey's tools for impacting his world, players will have the ability to shape how the story unfolds as they discover the concept of "Playstyle Matters" – an innovative style of gameplay created by Disney Interactive Studios' Junction Point, led by industry luminary Warren Spector, where players creatively tackle different challenges in the world to explore all the possibilities and storylines – but with consequences for their chosen actions.
The Legend of Zelda: Twilight Princess
Nintendo
The Legend of Zelda: Twilight Princess Wii
Mario Kart 8
Nintendo
Feel the rush as your kart rockets across the ceiling. Race upside-down and along walls on anti-gravity tracks in the most action-fueled Mario Kart game yet. Take on racers across the globe and share videos of your greatest moments via Mario Kart TV.*

Driving up a waterfall or across the ceiling can provide an intense adrenaline rush, but that's not all anti-gravity is good for. It also provides a wild new gameplay mechanic: if you collide into other racers in zero-g, you'll earn speed boosts worth bragging about. Upload and share your best moments and watch your friends' using Mario Kart TV.* Returning features include 12-player online play*, gliders, underwater racing, motorbikes, and custom karts. You can even race as Bowser's seven minions, the Koopalings. Race along walls and upside-down on twisting anti-gravity racetracksShare highlight videos of your greatest moments with friends via the Mario Kart TV feature and Miiverse*Race and battle with friends locally or connect online to play with random players from around the world*Fan favorite features from past Mario Kart games include gliders, underwater racing, motorbikes, mid-air tricks, and moreFor the first time ever, play as all seven of Bowser's minions, the KoopalingsCrisp HD graphics and fluid animation offers players a visually stunning Mario Kart

* Wireless broadband Internet access required for online play. Learn more at support.nintendo.com.
Start you Karts for some flippin' fun
view larger Brand new item chomps at racing enemies
view larger Race alongside your favorite characters
view larger Race as all of Bowser's minions, the Koopalings, for the first time ever
view larger
Mario Kart Wii
Nintendo
Get behind the wheel! Perform speed-boosting flips and wheelies with the flick of a Wii Remote, or grab a Wii Wheel for even more fast-paced fun! Play friends locally on a single Wii, or hop onto Nintendo WFC for the biggest worldwide race yet! Wii Wheel sold separately. Broadband Internet access required for online play.
Metroid Prime 3: Corruption
Nintendo
You ARE Samus with Wii control! By moving around with the Nunchuk and aiming Samus's gun with the Wii Remote, you'll do more than look through the eyes of Samus—you'll experience a quantum leap in first-person control. Fire on the run, grapple enemies and yank off their shields, or manipulate machinery with movements of the Nunchuk and Wii Remote—it all adds up to a level of immersion only possible on the Nintendo Wii, and the best first-person controls on any platform, period. ** Corruption is everywhere... Dark Samus, Samus's longtime nemesis, is corrupting entire planets by launching enormous seeds called Leviathans into them. Samus must travel to multiple planets—each with unique alien landscapes and dangers—to fight the corruption and track several other bounty hunters, all the while fighting the spreading Phazon that threatens to take over her body completely. As it corrupts her, it also grants her incredible powers... ** Enter Hypermode! Samus will employ a never-before-used device called a Phazon Enhancement Device (P.E.D) that harnesses the Phazon within her and puts her into a state called Hypermode. In Hypermode, Samus can destroy Phazon impediments and annihilate enemies with superpowered weapons...but it drains her health to use it, and she risks utter corruption if she doesn't empty her Phazon meter within a certain time frame. You'll need to carefully balance your need for ultimate power with the inherent danger of corruption.
New Super Mario Bros. U
Nintendo
All new ways to Play and share your Mario Fun! New Super Mario Bros. U is a new, side-scrolling adventure featuring Mario, Luigi, Toad . And your Mii character! Now's your chance to step inside the Mushroom Kingdom and explore new worlds, new power-ups and new ways to play.
Nights Journey of Dreams
Sega Of America, Inc.
The acclaimed franchise that gave gamers the freedom to fly in a world of dreams is coming to the Wii. As a fantasy jester called NiGHTS, players will experience a heightened sense of gliding, spiraling, looping, and much more with the help of the Wii Remote. When the "Nightmarens" from the neighboring dark world of Nightmare infiltrate the idyllic Nightopia, NiGHTS must defend the dream world to keep it safe for all dreamers
Nintendo Land
Nintendo
Experience Nintendo's greatest game worlds in one giant theme park! Nintendo Land is a fun and lively virtual theme park filled with attractions based on popular Nintendo game worlds. Each attraction features unique and innovative gameplay experiences made possible by the Wii U GamePad controller. Depending on the attraction, players can play solo, compete against other players, or even team up to play cooperatively. Up to five players can participate in dynamic multiplayer modes in select attractions. The experiences change depending on whether players are using the GamePad, a Wii Remote controller, or just watching others play on the TV screen. Multiplayer modes require additional accessories required, which are sold separately.
Pikmin 3
Nintendo
Take command of three explorers and a legion of adorable Pikmin in a fight for survival. Enlist the help of tiny Pikmin with unique abilities to solve puzzles, battle monstrous enemies, and retrieve food needed to save your depleted home planet. Explore an alien world from a pint-sized perspective, and experience the charming personality of Pikmin.
Pop'n Music
Konami
Since 1998, the Pop'n Music series has had 15 console games, as well as several arcade games, all of them exclusive to Japan. Hitting North America for the first time, Pop'n Music brings music games to kids of all ages! Play to entertaining music with exciting graphics dancing and moving along to the beat. Pop'n Music will bring a smile to kids as they move their controllers and their hips to the Pop'n music!
Rhythm Heaven Fever
Nintendo
Japanese pop music producer and hit maker TSUNKU is bringing his pop star rhythm training methods to the Wii with Rhythm Heaven Fever. Players will have to feel the rhythm deep down and tap the A and B buttons on the Wii Remote in time with the music and whimsical on screen hoopla. If you've ever wanted to test or improve the way you move and groove to the beat, your prescription is Rhythm Heaven Fever.
Samba de Amigo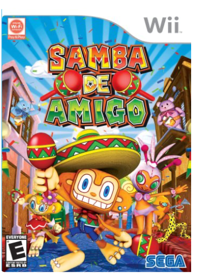 Sega Of America, Inc.
The samba-inspired rhythm music game made popular in the arcades is shaking its way onto the Wii™! Keeping the beat with over 40 songs on a Samba-inspired sound track, players shake the Wii Remote and Nunchuk like maracas, and compete with friends to see who has the best moves. Throughout the dynamic songs there will be opportunities to strike a pose for extra points. Friends and family will be thoroughly entertained cheering each other on as they anxiously await their next turn. Special Modes expand gameplay with Quick Play, Classic, Battle, Survival, Hustle, and Mini-games.
Silent Hill: Shattered Memories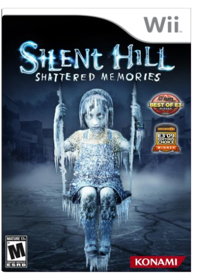 Konami
The story follows Harry Mason, who wakes up after a car accident to find that his daughter Cheryl is missing. Harry will wander the snowy streets of Silent Hill searching for answers of her disappearance, but when the world freezes over, he will need to escape the lumbering demons that haunt his steps. Harry will need to navigate both worlds to discover the truth; not just about his missing daughter, but also the type of person he actually is. Silent Hill's debut on the Nintendo Wii makes the fear more real than ever before. Players will be drawn into the mysterious town using the Wii Remote as a flashlight and a cellphone as they search for clues. Choices they make will shape Harry Mason, as well as the people he meets and the places he visits. The enemies evolve as well, taking the form of the player's deepest fears. Silent Hill promises to be more terrifying than ever, bringing the fear to Wii, PS2, and PSP.
Sonic and the Secret Rings
Sega Of America, Inc.
THE LAND OF MYSTERY MEETS THE LEGEND OF SPEED. Sonic races through the exotic world of the Arabian Nights to harness the awesome power of the secret rings before they fall into the hands of the evil genie, Erazor! The blue dude is unstoppable with the new ability to slow time and boost forward faster than ever, but he's never gone up against a genie before!
Sonic Colors
Sega Of America, Inc.
The diabolical Dr. Eggman has hatched another plan for world domination! He has built an amazing interstellar amusement park, floating in space around Sonic's home planet, bursting with incredible rides and attractions. However, all is not as it seems as Dr. Eggman has abducted an alien race called Wisps and is harnessing their colorful energy to fuel a sinister plot. However, before Dr. Eggman completes his evil plans, Sonic discovers his mysterious theme park in space. When he arrives, Sonic finds he is also able to use these alien powers and is ready to help! Sonic will need all his speed and skill as he faces this test, but, empowered by the alien energy, it's a test he'll pass with flying colors!
Star Fox Guard
Nintendo
StarFox Guard for the Nintendo Wii U. Brand-new, factory-sealed game.
Star Fox Zero
Nintendo
Super Mario 3D World - Nintendo Wii U
Nintendo
Super Mario 3D World for Wii U

Leap into the first multiplayer Mario platformer set in a 3D world! Play as Mario, Luigi, Princess Peach, and Toad—each with their own special skills—in the all-new Sprixie Kingdom. Scamper up walls with the new cat power-up to find secrets or pounce from above to claw enemies. Enjoy a solo romp or add friends on the fly for instant Mario multiplayer* magic!

Freely roam the world map and each sprawling stage alone or team up with friends to find hidden stars while competing to take the crown for most coins and points found. Tap the Wii U GamePad controller's touch screen to freeze enemies and reveal invisible secrets. Or, use the GamePad for off-TV play while tilting it to spot hidden nooks and crannies with the moveable camera. All this and more makes Mario's world deeper than ever. Jump on in!

*Additional accessories required, sold separately.Key Features: The first multiplayer Mario platformer set in a 3D worldPlay as Mario, Luigi, Peach, or Toad and master their special talentsCat Mario can climb high to find secrets, pounce from above, and claw enemiesPlay off-TV on the Wii U GamePad or touch its screen to freeze enemies and reveal invisible objects

Compete against your friends & family in Mario's 3D World!
View Larger

Strategically choose to play as Mario, Luigi, Peach, or Toad to make your way through Sprixie Kingdom.
View Larger

The all new cat power-up gives you advantages you've never had before – climb walls, pounce, and claw at your enemies!
View Larger
Super Mario Galaxy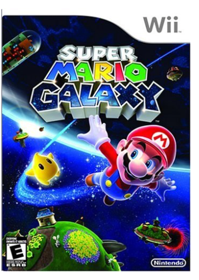 Nintendo
Super Mario Galaxy Wii
Super Mario Maker
Nintendo
The ultimate evolution of Super Mario Bros. is here!
Mario experience of your dreams has arrived and is bursting with creativity…including yours! Play a near-limitless number of intensely creative Super Mario levels from players around the world. It's easy enough to create your own levels with the Wii U GamePad controller that it may feel like you're simply sketching out your ideas on paper, but you can now bring enemies and objects into a playable course in ways you could only dream of before. What was impossible in  traditional Mario games is now impossibly fun, so let your imagination run wild!

FEATURES:
Play a near-limitless number of Mario levels created by Nintendo and players around the world.Create your own Mario levels by using the Wii U GamePad controller touch screen to add enemies, blocks, pipes and more.Break the conventions of traditional Super Mario gameplay by blending enemies, traps and items into unexpected twists, like Piranha Plant-shooting cannons, power-up-tossing Lakitus, or even Hammer Bros. riding on Bowser while bouncing on trampolines..Touch control, instant editing and a robust online ranking and search system makes creating, playing and sharing a seamless process.Switch between four distinct themes, each with different art styles and features:Super Mario Bros., Super Mario Bros. 3, Super Mario World, and New Super Mario Bros. U.Transform into different characters at random with the new Mystery Mushroom item.Expand the roster of possible characters by completing 100 Mario Challenge mode or tapping compatible amiibo.Tap a 30th Anniversary Mario amiibo figure to the Wii U GamePad controller to add a Big Mushroom power-up to your course!Each retail copy of the game will come with a special booklet that offers fun ideas for designing courses.
Super Smash Bros. Brawl
Nintendo
Super Smash Bros. Brawl Wii
Super Smash Bros. for Wii U
Nintendo
WIIU SUPER SMASH BROS
Wii Play
Nintendo
Wii Play collects nine quick and addictive games that are easy to pick up and play and hard to put away. Thanks to the intuitive controls of the Wii Remote, even the most inexperienced gamers will have no trouble mastering the controls.
Wii Sports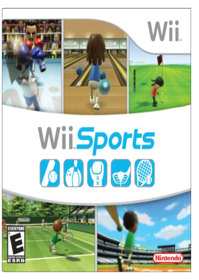 Nintendo
Description A compilation of simple, Wii-playable sports games. Included sports are Tennis, Golf, Baseball, Boxing and Bowling. All of these sports games have a stylized look that's designed after classic 8-bit game designs but brought to life with full 3D technology. Although each game will concentrate on the core mechanics of hitting a ball, swinging a racquet, and putting with a club, the games will offer full (albeit simplified) sports experiences of whole games in Baseball and Tennis as well as multiple holes to play in Golf. Also compatible with the Mii avatar system for a more personalized experience.
Yoshi's Woolly World
Nintendo
WIIU YOSHI WOOLLY WORLD