Arcade Classic 3: Galaga / Galaxian
Nintendo
Bugs Bunny: Crazy Castle 2
Nintendo
An evil witch has kidnapped Honey Bunny. Since she is Bugs Bunny's girlfriend, he must travel to the witch's castle and rescue her. Bugs will have to work his way through 28 levels, where he'll have to collect eight keys to open the door to the next level. However, there are a number of enemies standing in the way including Yosemite Sam, Daffy Duck, Wile E. Coyote, Sylvester, Foghorn Leghorn, Tasmanian Devil, Beaky Buzzard, Spike, Merlin the Magic Mouse, and Tweety. Luckily, there are number of power-ups like potions, weapons, shields, and tools to help Bugs on his quest. A password keeps track of what levels you have completed, so you don't have to start from the beginning every time you play. See if you can rescue Honey Bunny again in BUGS BUNNY CRAZY CASTLE 2.
Game & Watch Gallery
Nintendo
Celebrating Nintendo's classic handheld toys from the early 1980s, this conversion is a compilation of four games originally for play on the LCD handheld systems. All games are playable in both Classic Mode and new Modern Mode, featuring your favorite Nintendo characters! Included games are Manhole, Fire, Octopus, and Oil Panic. Released as Game & Watch Gallery in North America, and Game Boy Gallery 2 in other parts of the world.
Metroid
Nintendo
The original Metroid is the latest offering in the Classic NES Series. Travel to planet Zebes and destory a nest of Metroids, the galaxy's deadliest life forms. You are Samus Aran, space bounty-hunter — and your legend begins here!
Pac-Man
SPIG
pacman, pac-man, game boy game nintendo classic
Q*bert
Jaleco
Arcade purists are already familiar with the quirky Q*bert, a fast-moving game that requires quick reflexes and loads of patience. Q*bert is an odd-shaped orange creature that leaps from cube to cube in a vain attempt to make all onscreen cubes turn the same color. As Q*bert lands on each cube, the color changes. This task is complicated by the presence of several pesky enemies, including a bouncing snake that loves to undo your efforts.

Q*bert is a perfect time killer—which makes this pocket-sized game particularly appealing. While the game does present a significant challenge at higher levels, many players will likely play the game for a quick fix of fun without advancing beyond the initial levels. Q*bert is cool retro fun. —Carrie Bell

Pros:Good, clean fun for the whole familyBased on the classic arcade gameCons:The gameplay and level design could be considered repetitive by more sophisticated gamers
Space Invaders
SPIG
Street Fighter 2
Super Mario Bros 3: Super Mario Advance 4
Nintendo
Super Mario Bros 3: Super Mario Advance 4 is a direct port of the tremendous hit Nintendo game to your GBA!
Yoshi's Island: Super Mario Advance 3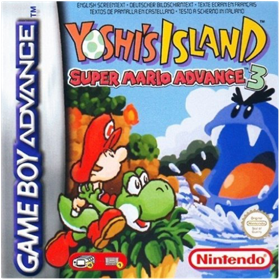 Nintendo
One of the most memorable games of all time comes to the Game Boy Advance! In this picture-perfect port of the Super NES classic Super Mario World 2: Yoshi's Island, the unlikely duo of brave Yoshi and baby Mario must together brave the beautiful yet treacherous wilds of Yoshi's Island. Richly varied gameplay, brilliant graphics and precision control perfectly meld in an adventure you won't be able to put down!
Zelda II: The Adventure of Link
Nintendo
Zelda II: The Adventure Of Link was an instant classic when it was first released on the NES. Now it's available in its original form for your Game Boy Advance! The game takes place years after the original Legend Of Zelda — Link is now a young man and Zelda has fallen into a magical sleep. To wake her up, Link will have to restore long-lost crystals to six ancient temples.