3 Free Games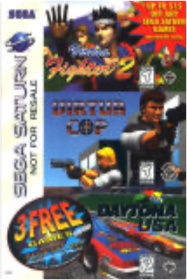 Virtua Fighter 2 / Virtua Cop / Daytona USA
Backup RAM Cartridge
Sega of America, Inc.
Bubble Bobble
Acclaim
This is the game Rainbow Island - Bubble Bobble for the Original Nintendo NES. This game is used and comes as the cartridge only. All of our NES games are cleaned tested and guaranteed to work. Here at NintendosForSale.com we stand by our products and offer a 60 guarantee. If a game does not work within 60 days from the time you receive it we will gladly exchange it for yo
Christmas Nights into Dreams
"Sega of America, Inc."
Twas the Nights before Christmas and all through the house not a creature was stirring, not even a mouse... Well, maybe a virtual winter world filled with unbelivable real-time effects, fantastic creatures and beautiful Christmas themes. Seasons Greetings from Sega!
Croc Legend of the Gobbos Sega Saturn
SEGA
croc legend of the gobbos sega saturn
Fighters Megamix (Japan)
"Sega of America, Inc."
Fighters Megamix Japanese Format (NTSC-J). Box,package,
Nights Into Dreams
Sega Of America, Inc.
Sega Saturn Video Game Disc
Sonic 3D Blast
Sega Of America, Inc.
Sonic gives you massive 3D graphics, power-ups, fun, and non-stop action! Sonic R puts you into the Grand Prix mode to prove yourself to be the fastest in the world and winning the ultimate prize. It's up to Sonic to rescue the Flickies and grab all the Chaos Emeralds before the evil nemesis. Test your racing ability and go head-to-head with two Sonic adventures.
Sonic Jam
Sega Of America, Inc.
GAME is brand new and comes the sonic hedgehog card includes it is not factory sealed the game was loose in box check and resealed. first class shipping.
Sonic R
"Sega of America, Inc."
Sonic is back for another awesome action adventure to save his friends and defeat Dr. Robotnick.
Virtua Fighter
Sega
Virtua Fighter 2
"Sega of America, Inc."
Assume the role of Ramiro Cruz as he takes on an undercover role in Mexico for the DEA in TOTAL OVERDOSE: A GUNSLINGER'S TALE IN MEXICO.
Virtua Fighter Remix
Sega Of America, Inc.
Virtua Racing
Time Warner Interactive