Archer Maclean's Mercury
Ignition
In Archer Maclean's Mercury you'll watch as liquid metal blobs ebb and flow around the countless challenges you'll encounter. Guide various colored mercury droplets around each 3D maze simply by 'tilting' the level. Negotiate obstacles and hazards, solve puzzles, compete against ever tightening time and percentage limits, whilst avoiding all the traps and predators. Make it to the last levels and you'll bosses who'll push your puzzle-solving abilities to their limits.
Burnout Legends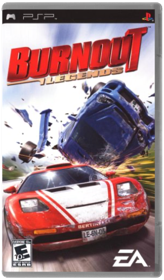 Electronic Arts
Burnout: Legends takes the most explosive moments of the popular Burnout series of racing games, mashes themtogether and adds some new surprises — giving you the best racing experience to come out for the PSP. Use your car as a weapon and battle your way to the front of the pack - by taking out rivals and instigating spectacular crashes. Speed, depth and destruction are waiting for you, in the game of on-the-go automotive anarchy.
Coded Arms
Konami
Coded Arms is a visually stunning first-person shooter that places the gamer in the role of a computer hacker who infiltrates an abandoned virtual reality system. Players will fight through various virtual battlefields against multiple types of enemies with more than 30 different weapons at their disposal. The game will also utilize the platform's wireless capabilities for intense multiplayer action.
Crazy Taxi: Fare Wars
Sega Of America, Inc.
Crazy Taxi™: Fare Wars on the PSP® (PlayStation®Portable) system brings multiplayer gameplay to this fan-favorite series for the first time. It's an all-out bumper brawl as cabbies race, ram, smash and dash to steal fares and score big tips. Crazy Taxi™: Fare Wars combines Crazy Taxi™ and Crazy Taxi™ 2 with hilarious new features that allow players to meddle with their opponents in brand new ways. Ram your opponent's cab to steal their passengers and use the new interference feature to slow down their fare delivery time. This is no ordinary cab ride - this is war!
Daxter
Sony Computer Entertainment
Daxter gives the co-star of the popular Jak & Daxter games his own adventure! Play from his animal perspective, chronicling his back-story during the two years spent alone in Haven City. As Daxter is an ottsel and not a human, players will have a unique moveset with agile abilities, as Daxter can crawl on all fours, fit in small places and maneuver vehicles. You'll need all those abilities to get through this unique platformer!
Final Fantasy Tactics: The War of the Lions
Square Enix
Final Fantasy Tactics: The War of the Lions PSP
Gitaroo Man Lives!
KOEI Corp
Music is the weapon in this fabled rhythm game where you help beautiful loser U-1 transform into rock legend Gitaroo Man and find true love.
God of War: Chains of Olympus: Battle of Attica
Grand Theft Auto: Liberty City Stories
Rockstar Games
It's time to return to Liberty City, the town where all the rules were broken as Grand Theft Auto 3 revolutionized gaming and made the GTA series the biggest franchise on the planet. The PlayStation Portable edition is an all-new game set in the seedy, sprawling underworld of Liberty City. Just when you thought San Andreas was all you needed in your gaming life, Rockstar today announced that it is working on a brand new Grand Theft Auto title for the PSP. As youd expect from the highly secretive Rockstar, little is known about this latest in the GTA series except that it will take place in the streets of Liberty City (from GTA III) and that it is being developed by Rockstar Leeds. What you can be sure of, is that with the power of Sonys sexy new portable behind it, GTA on PSP wont be just a rehash of the 1997 original. ESRB Rated E for Everyone
Killzone: Liberation Demo
Sony Computer Entertainment
In Killzone: Liberation, two months after the events of Killzone, most of southern Vekta is still under Helghast control. The rules of war have been cast aside with the Helghast General, Metrac, employing brutal measures in order to seize the initiative and strengthen his position further. Returning as Templar, players will be sent on a mission to undertake a covert operation to save hostages captured by Metrac, while ISA troops continue the fight for liberty. Vehicles - Killzone - Liberation also allows players to drive vehicles including tanks and hovercrafts to help defeat the powerful and intelligent enemy Challenge Games - Players can compete in challenge games to sharpen their skills and earn new abilities. Multiplayer Functionality - The multiplayer functionality in Killzone - Liberation takes full advantage of the wireless capabilities of the PSP hardware, with two distinct styles of gameplay - 1) Two player cooperative gameplay in the single player mission 2) One to six player games over six multiplayer maps Gameshare Mode - Killzone - Liberation will feature gameshare mode where players can share demo levels of the game with other PSP system owners
Lumines
UBI Soft
Lumines is a new puzzle offering a higher level of challenge than the classic "falling blocks" games. Follow the light and sound patterns and form 2x2 blocks to clear the screen before it fills up.
Me and My Katamari
Namco
The King of All Cosmos takes a break from celestial construction and takes the royal family on vacation to a tropical island paradise. Here, they become tasked with the responsibility of creating new katamari islands for homeless animals. The King's pint-sized son, the Prince, is called upon for this epic task with the help of all his cousins. Assume the role of the pint-sized prince and grow your katamari by rolling it around cleverly designed locations to collect objects throughout the world.
MediEvil Resurrection
Sony Computer Entertainment
Sir Daniel Fortesque heroically died while defeating the evil sorcerer Zarok at the Battle of Gallowmere. At least, that's what people were told. In fact, poor Sir Dan cowardly fell at the first wave of arrows. One hundred years later, Zarok returns, turning day into night and resurrects an undead army to conquer the land. Sir Dan also returns from the crypt, but now has his chance to defeat Zarok and become the hero he never was in life. Resurrect the adventure across the mystical land of Gallowmere alone if you dare, or play head-to-head with Wi-Fi ad hoc mode. PICK UP AND PLAY eight mini-games with more than 70 challenges, including the innovative race mode, where you can compete simultaneously across your favorite levels. BATTLE MORE THAN 30 INDIVIDUAL ENEMIES using a combat system complete with an arsenal of more than 100 special moves and multiple combos.
Mercury Meltdown
Ignition Entertainment Ltd
The sequel to the puzzle game featuring a liquid blob maneuvering through complex mazes Mercury Meltdown features a new vibrant visual style doubles the number of stages a free-look camera new ways to control your mercury "blob" and much more. Supporting up to two players Mercury Meltdown offers many new modes for ultimate party-puzzle action. Mercury Meltdown also offers game sharing capabilities customization skins and downloadable content.Format: SONY PSP Genre: SPORTS/GAMES/GAMES AND PUZZLES Rating: E - Everyone UPC: 893384000281 Manufacturer No: 00028
Midway Arcade Treasures: Extended Play
Midway Entertainment
Now you can play classic arcade games anywhere, anytime with Midway Arcade Treasures: Extended Play for the Sony PSP Entertainment System. Enjoy the coin-op masterpieces of the past for the first time on a portable system with multiplayer wireless support! Single Player: Spy Hunter, Sinistar, Defender, Paperboy and 720. Multiplayer Wireless: Klax, Joust, Marble Madness, Toobin', Rampage - 3 player, Gauntlet - 4 player, Rampart - 3 player, Wizard of Wor, Xybots, Championship Sprint, Arch Rivals, Cyberball 2072, Xenophobe - 3 player, Mortal Kombat, Mortal Kombat 2 and Mortal Kombat 3.
Outrun 2006: Coast 2 Coast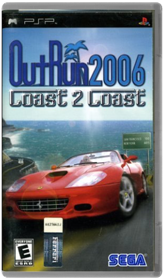 Sega Of America, Inc.
Drive high performance, fully-licensed Ferrari cars across America's scenic highways.
PaRappa The Rapper
Sony
PaRappa The Rapper PSP
Patapon
Sony Computer Entertainment
Sampler Disc for PSP: Volume 1
Tony Hawk's Underground 2 Remix
Activision Inc.
Tony Hawk's Underground 2 Remix is a redone version of the infamous World Destruction Tour between Tony Hawk and Bam Margera. Conquer the sickest terrain, pull off hilarious pranks and turn the world's great cities into your personal skating ground.
Ultimate Ghost 'N Goblins
Capcom
The beloved armor-clad Arthur charges onto the portable gaming scene in Ultimate Ghosts'N Goblins, an exciting side-scrolling action adventure game for the PSP (PlayStation Portable) system. The long awaited fourth installment to the favored franchise sees the triumphant return of valiant knight, Arthur, as he saves the princess from the clutches of evil. Specifically recreated from the ground up, witness the evolution of the series with the inclusion of exciting upgrades and new gameplay features. In Ultimate Ghosts'N Goblins, Arthur's heroic battle with the underworld was finally over and the entrance to the realm was sealed. Time passes and unknowing to mankind, the dark lord has awaken from his slumber and kidnaps the princess in an effort to conquer the human world. Arthur must set off for the evil forest to save the princess from imminent doom and keep the devil, as well as his minions, at bay. The excitement and intensity of the forerunner continues as our armored hero takes on this new challenge for the sake of humanity. With the use of a 3D graphics engine, the Ultimate Ghosts'N Goblins world comes alive as effects, cutscenes, backgrounds and animations are given more depth and richer detail. Retaining the classic design of the series, several new facets have been created for a broader range of motion and control techniques. Now our hero has the capability to dash, double-jump, shoot up or down, grab onto ledges, etc. Furthermore, a new leveling system allows gamers to build up Arthur's skills for more powerful magic abilities and attacks. New save feature allows gamers to revisit cleared stages at anytime New level-up system for more powerful abilities and attacks Novice - An easier mode for those not familiar with the series Standard - The default setting for those wanting a challenge Ultimate - A setting reminiscent of past Ghosts N Goblin titles Extra lives mean starting where players left