Alien: Isolation
Sega Of America, Inc.
Action/Adventure Game - PlayStation 4
Amplitude
Sony Computer Entertainment
MODEL- 97258 VENDOR- SCEA FEATURES- Amplitude Fast, addictive arcade-style gameplay allows you to mix and remix hit songs from major recording artists like Garbage, David Bowie, P.O.D., BT, Weezer, Pink, Dieselboy, blink 182, Run DMC, and more - within more than 20 immersive levels. Experience musical immersion with single player gameplay or jump online and play against FreQs nationwide in intense jam sessions! ESRB Rating : T for Teen Genre/Category : Music System : PlayStation 2 Number of Players : 1~4 Compatible Peripheral: Network Adapter MANUFACTURER WARRANTY:andnbsp;andnbsp;90 DAYS
Assassin's Creed IV: Black Flag
UBI Soft
It is 1715. Pirates rule the Caribbean and have established a lawless pirate republic. Among these outlaws is a fearsome young captain named Edward Kenway. His exploits earn the respect of pirate legends like Blackbeard, but draw him into an ancient war that may destroy everything the pirates have built.
Batman: Arkham VR
Warner Home Video - Games
Batman: Arkham VR immerses you in the Dark Knight's Universe and redefines what it means to be the Batman. Experience Gotham City through the eyes of the World's Greatest Detective in an all new Arkham mystery
Battlefield 4
Electronic Arts
Battlefield 4 is the genre-defining action blockbuster made from moments that blur the line between game and glory. Fueled by the next-generation power and fidelity of Frostbite 3, Battlefield 4 provides a visceral, dramatic experience unlike any other.

Only in Battlefield can you demolish the buildings shielding your enemy. Only in Battlefield will you lead an assault from the back of a gun boat. Battlefield grants you the freedom to do more and be more while playing to your strengths and carving your own path to victory.

In addition to its hallmark multiplayer, Battlefield 4 features an intense, dramatic character-driven campaign that starts with the evacuation of American VIPs from Shanghai and follows your squad's struggle to find its way home.

There is no comparison. Immerse yourself in the glorious chaos of all-out war, found only in Battlefield.
Beyond: Two Souls
Sony Computer Entertainment
From the visionary mind of David Cage, director of the award-winning Heavy Rain™, comes the most powerfully emotional experience on PlayStation 3. A singularly unique psychological action thriller delivered by A-list Hollywood performances, BEYOND: Two Souls™ takes you on a thrilling journey across the globe as you play out the remarkable life of Jodie Holmes.

Born with a connection to a mysterious entity with incredible powers, Jodie was different. In an adventure spanning 15 years of her life, your actions will determine Jodie's fate as she faces extraordinary challenges, danger, and heartwrenching loss on a journey to discover the truth of who she is. BEYOND promises an emotionally-charged journey unlike any video game before.
Bloodborne
Sony Computer Entertainment
Introducing Bloodborne, the latest Action RPG from renowned Japanese developer FromSoftware, exclusively for the PlayStation 4 system. Face your fears as you search for answers in the ancient city of Yharnam, now cursed with a strange endemic illness spreading through the streets like wildfire. Danger, death and madness lurk around every corner of this dark and horrific world, and you must discover its darkest secrets in order to survive. A Terrifying New World: Journey to a horror-filled gothic city where deranged mobs and nightmarish creatures lurk around every corner. Strategic Action Combat: Armed with a unique arsenal of weaponry, including guns and saw cleavers, you'll need wits, strategy and reflexes to take down the agile and intelligent enemies that guard the city's dark secrets. A New Generation of Action RPG: Stunningly detailed gothic environments, atmospheric lighting, and advanced new online experiences showcase the power and prowess of the PlayStation 4 system.
Bogey: Dead 6
Acclaim Studios
Brave Fencer Musashiden (Japan)
Square Enix
Brave Fencer Musashiden Japanese Format (NTSC-J). Box,package,
Burnout Paradise
Electronic Arts
Burnout Paradise PS3
Bust A Move (Japan)
Enix
Bust A Move Japanese Format (NTSC-J). Box,package,
Bust A Move 2 (Japan)
Enix
Bust A Move 2: Dance Tengoku Mix Japanese Format (NTSC-J). Box,package,
Catherine
Atlus
As Vincent, a man recently succumbed to the irresistible beauty of the game's titular diversion, players find themselves swept into a treacherous love triangle. Catherine's core themes-those of free will, of the delicate nature of relationships and the choices we make within them, marry perfectly with the intense, terror-filled gameplay that serves to accurately reflect Vincent's growing sense of anxiety. It is an experience wholly unlike any to come before it, and is certain to leave gamers talking and thinking about Vincent's tribulations long after the credits have rolled.
Colony Wars: Vengeance
Activision Inc.
Crash Bandicoot
Universal Interactive Studios
What's included?  (1) Spyro: Ripto's Rage Collector's Edition video game for the PS1 - (1) Spyro: Ripto's Rage Collector's Edition video game disc - (1) Jewell case - (1) Instruction manual - (1) Back cover art Specs: Platform: Sony Playstation 1 (PS1) Publisher: Insomniac Games Region Code: NTSC ESRB Rating: E (Everyone) Product ID# SLUS-94425CE Original Box? Included Original Back Insert? Included Original Instruction Manual?  Included Version/Variation: Collector's Edition Functional Condition: Used, but still works great! Cosmetic Condition: Acceptable - The jewel case has several light to moderate scuffs and scratches.
DDRMAX
Konami
In DDRMAX: Dance Dance Revolution you'll be working up a sweat and improving your dance moves in no time! DDRMAX is the most comprehensive version of the hit dancing game ever! Optional Dance Mat available as NAK 47051
DDRMAX 2
Konami
MODEL- 20061 VENDOR- KONAMI FEATURES- DDRMAX 2 Dance Dance Revolution The dance revolution rolls on with DDRMAX2 for Sony PlayStation 2 packed with the ultimate mix of hit American songs. Gamers will be up on their feet and dancing all night long with new game modes and the return of past favorites including "Work Out" mode and "Edit" mode where gamers can count calories and customize dance moves and routines. * DDRMAX2 Dance Dance Revolution Partial Song List (Not including Hidden Songs): "A Little Bit Of Ecstasy" - Jocelyn Enriquez "AM-3P" - KTz "Break Down!" - Be For U "Busy Child" - The Crystal Method "Celebrate Nite" - N.M.R "Conga Feeling" - Vivian "D2R" - Naoki "Days Go By" - Dirty Vegas "Destiny" - Naoki feat. Paula Terry "Do It Right" - Sota feat. Ebony Fay * New game modes and graphical interface featuring music videos * Customize dance steps in Edit mode and exercise in Work Out mode * Links with previous games for special features — SPECIFICATIONs ——————-ESRB Rating : E for EveryoneGenre/Category : FamilySystem : PlayStation 2 System Number of Players : 1 Compatible Peripherals:
Death Stranding
Sony Interactive Entertainment LLC
From legendary game creator Hideo Kojima comes an all-new, genre-defying experience for the PlayStation 4.

Sam Bridges must brave a world utterly transformed by the Death Stranding. Carrying the disconnected remnants of our future in his hands, he embarks on a journey to reconnect the shattered world one step at a time.

With spectral creatures plaguing the landscape, and humanity on the verge of a mass extinction, it's up to Sam to journey across the ravaged continent and save mankind from impending annihilation.

What is the mystery of the Death Stranding? What will Sam discover on the road ahead? An unprecedented gameplay experience holds these answers and more.

Starring Norman Reedus, Mads Mikkelsen, Léa Seydoux, and Lindsay Wagner.
Detroit: Become Human
Sony Computer Entertainment
Detroit: Become Human is the latest title in development by Quantic Dream and expands on the studio's legacy of gripping narrative driven experiences (Fahrenheit/Heavy Rain/ Beyond: Two Souls). Throughout the game, players will co-write the story through the actions of several protagonists in an ambitiously bending and thrilling narrative.

Detroit: Become Human is set in Detroit City during the year 2038 after the city has been revitalized by the invention and introduction of Androids into everyday life. But when Androids start behaving as if they are alive, events begin to spin out of control.

As the player, you will embody several characters, amongst which KARA, CONNOR, and MARKUS. AsKara, you will witness your brave new world turn to chaos as you take on the role of a female service android trying to find her own place in a turbulent social landscape. Whilst you shape the branching narrative as Connor, an Android Cop employed by the human police force to seek out deviant Android such as Markus, a leader of the android group seeking freedom for his people, you will be making choices that will not only determine your own fate, but that of the entire city and possibly beyond.

Discover what it really means to be human in a powerfully emotional journey made of choice and consequences.
Diablo III: Ultimate Evil Edition
Blizzard Entertainment
Activision Diablo III: Ultimate Evil Edition 87178 PC Games
Disgaea 2: Cursed Memories
Atlus
In the peaceful world of Veldime, humans rarely encountered monsters. That was until Overlord Zenon cursed the land and all who reside within. With the curse in place, the humans became monsters and ravaged the world. It is up to Adell, the last remaining human, to oppose Overlord Zenon's tyranny and restore peace and harmony to Veldime. In Disgaea 2, players will take on the role of a young fighter named Adell and travel the netherworld to defeat the evil overlord Zenon. Battles will take place on a 3D grid based field. During combat, players will take turns between the enemy to move and attack. Key Features Geo panel based strategic battle system Lift & throw with stack attacks Dark assembly/court system where the sinners are praised All-new animated sequence with vastly improved 3D environment Over 100 hours of sleepless game play
Disney Infinity
Disney
The Disney Infinity Starter Pack

The Disney Infinity Starter Pack comes with the following: 1 Disney Infinity Video Game3 Disney Infinity Figures: Sulley, Captain Jack Sparrow, and Mr. Incredible1 Disney Infinity Base1 Disney Infinity Power Disc1 Starter Pack Play Set Piece1 Web Code CardExpand your adventures by collecting additional Play Sets, Disney Infinity Figures, and Power Discs as they become available. Items sold separately.

More Ways to Play

In Disney Infinity you have the freedom and endless opportunity to create stories and play experiences starring some of your favorite Disney and Disney/Pixar characters.
Monsters University

Play as Sulley in his early student days in the world of Monsters University. The Incredibles

Activate the powers of Mr. Incredible on a quest to save the world from Syndrome and his super villains. Pirates of the Caribbean

Plunge into adventure as Captain Jack Sparrow in the Pirates of the Caribbean and find pieces of the Kraken's Bane. Toy Box

Create your own worlds in Toy Box with up to 2-player local or 4-player networked online play. Mix, match, and mash up unlocked toys from the Play Sets along with Disney and Disney/Pixar characters to invent just about any adventure you can imagine. You can also expand your Disney Infinity experience by downloading user generated Toy Boxes created by Disney and the community.
Disney Infinity 2.0
Disney INFINITY
Disney Infinity 3.0
Disney Software
Disney Infinity 3.0 Edition Disney Infinity 3.0 Edition now welcomes Star Wars to the ever-growing collection of Marvel, Disney and Disney Pixar characters, stories and worlds. Together new heroes can join forces with characters from previous editions and embark on adventures as big as your imagination in the 3.0 Toy Box! Disney Infinity encourages you to play your way, whether you explore open-world creation in the Toy Box or story-driven gameplay inside Play Sets!
Dissidia Final Fantasy NT
Square Enix
Dissidia Final Fantasy NT introduces squad-based battle gameplay by allowing you to wage war with over 20 of your favorite Final Fantasy characters. Combining unparalleled visuals, seamless gameplay, and your favorite characters from the past 30 years of the franchise, Dissidia Final Fantasy NT welcomes all gamers with 3 vs. 3 battles and the series renowned "bravery combat system". While aiming for supremacy, call forth familiar summons like Ifrit, Shiva, and Odin to aid you and your party! Square Enix is collaborating with Team Ninja, one of the world's leading developers in the fighting game genre, to bring Dissidia Final Fantasy NT to life.
DOOM VFR
Bethesda
Available for PlayStation VR and VIVE platforms, this DOOM adventure will bathe you in virtual carnage. Developed by id Software, the studio that pioneered the first-person shooter genre and modern VR, DOOM VFR brings the fast-paced, brutal gameplay fans of the series love to virtual reality. Immerse yourself in the UAC facility on Mars and the depths of Hell, as your skills are put to the test through intense combat and challenging puzzle-solving. Play as a cybernetic survivor who is activated by the UAC to fight the demon invasion, maintain order, and prevent catastrophic failure at the Mars facility. Lay waste to an army of demonic foes as you explore and interact with the outlandish world of DOOM from an entirely new perspective.
Eagle Flight
UBI Soft
Experience free flight as you soar through the skies of Paris and engage in heart-pounding aerial dogfights in virtual reality. Fly solo or team up for exhilarating multiplayer action with up to six players. Agility and precision are necessary to gain advantages. Master flight quickly and comfortably using accessible and intuitive flight controls in VR.
The Elder Scrolls IV: Oblivion
Bethesda
After the mysterious and untimely death of the Emperor the throne of Tamriel lies empty. With the Empire ready to crumble the gates of Oblivion open and demons march upon the land - laying waste to everything in their path. To turn the tide of darkness you must find the lost heir to the throne and unravel the sinister plot that threatens to destroy all of Tamriel.Format: PS3 Genre: NO GENRE Rating: RP UPC: 093155120600 Manufacturer No: 12060
The Elder Scrolls V: Skyrim
Bethesda
The Elder Scrolls V: Skyrim is the next installment in the award-winning Elder Scrolls series. Skyrim is the follow up to the 2006 Game of the Year, The Elder Scrolls IV: Oblivion and the next game from Bethesda Game Studios, creators of the 2008 Game of the Year, Fallout 3.
Epic Mickey 2: The Power of Two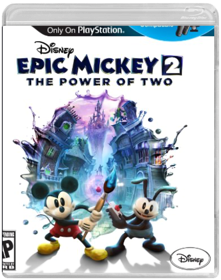 Disney
Players can play as Oswald in drop-in, drop-out 2-player co-op mode. "The Power of Two" will be evident as Oswald participates in Mickey's adventure every step of the way.
Everybody's Golf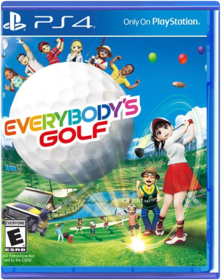 Sony Computer Entertainment
Everybody's Golf is a new game for PS4! Anybody can play golf with three simple button clicks. The wide variety of customization, unique game modes and newly added activities can deliver fun golfing experience for Hot Shot Golf fans and new players. Easy to play for anybody. The classic power gauge and three button click mechanic is easy to play for gamers and golfers alike. Variety of customization. With the most character customization options in franchise history, you can choose among a wide selection of clothing and gear. New activities. Fishing, karting and collecting items across the courses can deliver additional fun on the green. Some online mode will require a PS Plus membership. Develop your skill. There are more than 60 challenges, twice as many as the last Hot Shots Golf release. Share fun with others. You can compete in global tournament with other players and play with your family or friends through the online/offline-multiplayer mode. Some online mode will require a PS Plus membership.
Eye Toy
Sony Computer Entertainment
BE THE STAR OF THE GAME, GET YOUR FRIENDS OFF THE COUCH AND START MOVING YOUR BODY. WITH EYE TOY YOUR BODY MOVEMENTS CONTROLS THE ACTION AND YOU BECOME THE STAR
Fallout 3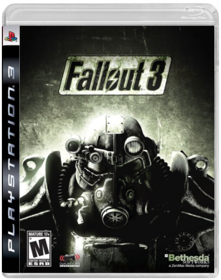 Bethesda
Fallout 3 PS3
Farpoint
Sony Computer Entertainment
Pre Order today to secure the Red Planet Wanderer Spacesuit Skin. Stand out with this limited edition UEP spacesuit, equipped with a high-end filtration for a hostile dusty planet.
Final Fantasy Anthology
Square Enix
Final Fantasy Anthology incorporates two of the most beloved FINAL FANTASY titles ever published. First released as FINAL FANTASY III in the U.S., FINAL FANTASY VI brings back all of the qualities that made it the best selling RPG of its time, and adds a few bonuses unique to this re-release. The second title in this compilation, FINAL FANTASY V, is seeing its first ever release in the U.S. Featuring an innovative 'Job' system and a story that will take the player to different worlds, this title will finally show U.S. gamers what they have been missing. If you are new to the FINAL FANTASY universe, pick up Anthology as way of getting to know the series that has garnered the praise of millions. If you are already a fan, pick it up to relive the magic once again.
Final Fantasy IX
Square Enix
Dark times have spread over the world of Gaia. Four separate governing nations, some blinded by their short-sighted greed, some persevering in the name of justice, are battling on and off in a deadly game for power. One kingdom, that of Lindblum, headed by the honorable and trustworthy Regent Cid, finally decides to take a stand against the unspeakable massacres by the troops of Alexandria.

Enlisting the aid of mere bandits to kidnap Princess Garnet of the Alexandria Empire, for information and interrogation, Garnet and her bodyguard actually join Cid's cause, knowing full well the outlandish recklessness of the governing Queen, who counterattacks with an onslaught of warriors. Thus begins a crossfire that would engulf the world in something far worse than political standoffs.

Out of the band of thieves, one boy along with his entourage must battle his way through several awe-inspiring challenges to restore order and peace.
Final Fantasy XV
Square Enix
"Get ready to be at the centre of the ultimate fantasy adventure. Enter the world of FINAL FANTASY XV, and experience epic action-packed battles along your journey of discovery. You are Noctis, the Crown Prince of the Kingdom of Lucis, and your quest is to reclaim your homeland from the clutches of the imperial army. Joined by your closest friends, you will take the wheel and experience a voyage like no other, travelling through the breath-taking world of Eos encountering larger-than-life beasts and unforgiving enemies. You will learn to master the skills of weaponry and magic, channelling the power of your ancestors allowing you to effortlessly warp through the air in thrilling combat. Fresh faces and long-time fans, fulfil your destiny and experience a brand new kind of fantasy. Pre-order the Day One Edition to receive the exclusive FINAL FANTASY series weapon - the Masamune!"
Frequency
Sony Computer Entertainment
Enter the next generation in music. Records let you listen. Videos let you watch. Frequency allows you to take part. Utilizing songs from major recording artists, players mix and remix songs through each of eight different instrument types. If remixed correctly, players can freestyle and create their own music. With 6 unique game modes, top hits from major bands in a variety of genres, stunning 3D graphics, and video sequences of your favorite bands, Frequency stays in tune with the most immersive musical gameplay experience ever.
Gex
Crystal Dynamics
Gex playstation
Gitaroo Man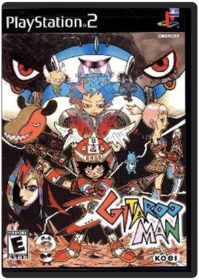 Koei
Gitaroo Man is an entirely new type of music rhythm game, in which your instrument is actually your weapon in the fight against evil. Unlike traditional music games that simply require the player to press buttons in rhythm with onscreen actions, Gitaroo Man makes players use both the analog stick and controller buttons at the same time, thus manipulating the onscreen characters with jumps, ducks, and attacks.
God of War
Sony Computer Entertainment
From Santa Monica Studio and creative director Cory Barlog comes a new beginning for one of gaming's most recognizable icons. Living as a man outside the shadow of the gods, Kratos must adapt to unfamiliar lands, unexpected threats, and a second chance at being a father. Together with his son Atreus, the pair will venture into the brutal Norse wilds and fight to fulfill a deeply personal quest.
• Bold New Beginning — His vengeance against the Gods of Olympus years behind him, Kratos now lives as a man in the realm of Norse Gods and monsters. It is in this harsh, unforgiving world that he must fight to survive…And teach his son to do the same. This startling reimagining of God of War deconstructs the core elements that defined the series—satisfying combat; breathtaking scale; and a powerful narrative—and fuses them anew.
• A Second Chance — Kratos is a father again. As mentor and protector to Atreus, a son determined to earn his respect, he is forced to deal with and control the rage that has long defined him while out in a very dangerous world with his son.
• A Darker, More Elemental World — From the marble and columns of ornate Olympus to the gritty forests, mountains, and caves of Pre-Viking Norse lore, this is a distinctly new realm with its own pantheon of creatures, monsters, and gods. With an added emphasis on discovery and exploration, the world will draw players in to explore every inch of God of War's breathtakingly threatening landscape—by far the largest in the franchise.
• Vicious, Physical Combat — With an over the shoulder free camera that brings the player closer to the action than ever before, fights in God of War mirror the pantheon of Norse creatures Kratos will face: grand, gritty, and grueling. A new main weapon and new abilities retain the defining spirit of God of War while presenting a vision of violent conflict that forges new ground in the genre. Mature 17 plus.
Gran Turismo 5
Sony Computer Entertainment
Gran Turismo returns with the most realistic and complete racing experience. An unprecedented collection of over 1,000 meticulously detailed cars, complete with robust online racing and community features, and just about every style of racing imaginable - all in Gran Turismo's signature cutting-edge graphics.
Grand Theft Auto V
Rockstar Games
Los Santos: a sprawling sun-soaked metropolis full of self-help gurus, starlets and fading celebrities, once the envy of the Western world, now struggling to stay afloat in an era of economic uncertainty and cheap reality TV. Amidst the turmoil, three very different criminals risk everything in a series of daring and dangerous heists that could set them up for life.
Guitar Hero Live - PlayStation 4
Activision Classics
Unleash your inner rock star. Guitar Hero Live is here. FreeStyleGames have reinvented the legendary Guitar Hero franchise, with two innovative new gameplay modes and an all-new guitar controller. GH Live mode puts you onstage, looking out: you get a heart-stopping first-person perspective as a real crowd reacts to the notes you play. Or switch over to GHTV - an always-on music video network, where you can play along in real time, discover new music, and challenge friends around the world.

Activision makes no guarantees regarding the availability of online play or features, including without limitation GHTV, and may modify or discontinue online services in its discretion without notice.
Heart of Darkness
Blue Byte Software
Heavy Rain: Director's Cut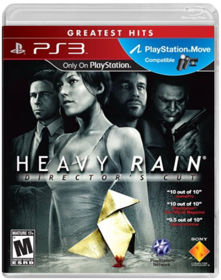 Sony Computer Entertainment
Heavy Rain: Director's Cut
Horizon Zero Dawn
Sony Computer Entertainment
Take on the role of skilled hunter Aloy as you explore a lush world inhabited by mysterious mechanized creatures in an exhilarating new Action/RPG exclusively for the PlayStation4 System.
House of the Dead: Overkill - Extended Cut
Sega Of America, Inc.
It's survival horror as it's never been seen before! The House of the Dead: Overkill is a pulp-style take on the classic SEGA light-gun shooter series. The game takes place as Special Agent G - the hero of The House Of The Dead series - is given his first assignment fresh out of the AMS academy. Teamed up with hard-boiled Detective Washington, they are sent to investigate stories of mysterious disappearances in small-town Louisiana. Little do they know what blood-soaked mutant depravity awaits them in the streets and swamps of Bayou City. The Extended Cut of The House of the Dead: Overkill presents the game for the first time in full HD with 3D support and PlayStation Move compatibility on the PlayStation 3 computer entertainment system.With all seven stages of the original re-mastered and two brand new scenarios added to this gruesome shooter, the 'baddest' just got bigger!
Incredible Crisis
Titus
InuYasha: A Feudal Fairy Tale
Bandai
Led by a magical legacy, a fearless warrior and his loyal friends do battle with fierce enemies in this anime-inspired adventure.
The Jackbox Party Pack
Telltale Games
JACK INTO THE ULTIMATE COLLECTION OF PARTY GAMES The number one trivia brand of the digital age arrives on an all in-one disc that's the perfect entertainment piece for your next game night or party! Don't be limited by the number of controllers you have! Up to 100 of your friends and family can join the fun using their mobile device: no big mess of controllers needed. Once your console is connected to the Internet, and the game is started from the main menu, players simply connect to the "jackbox.tv" web address via their mobile device, and enter the 4-letter room code to enter the game.
Jak and Daxter: The Precursor Legacy
Sony Computer Entertainment
Jak and Daxter: The Precursor Legacy is the fun classic 3D platformer that brought arcade fun to your PS2! They're quite a comic duo! Jak's the strong, silent type of hero, while Daxter's the obnoxious comic nut. In this first game, something has turned your friend into a giant rodent. Over the course of 12 levels, you'll go on an adventure where you'll unravel the mystery of your friend's transformations.
Jet Moto
Sony
Includes game disc or discs, manual and original case. Game disc is in great condition. If there are any scratches they are only minor and have no effect on game play. All of our games are fully tested prior to being placed in our inventory.
Jurassic Park: Operation Genesis
Konami
As the first ever fully 3D action-sim, Operation Genesis gives players two games in one. Either build the ultimate dinosaur theme park or engage in 12 action-packed missions that will truly test your gaming skills. Dream it. Build it. Survive it. This truly is Jurassic Park... your way!
Kessen
Electronic Arts
Kessen is the first DVD PlayStation2 title—boy, what a difference a DVD-ROM makes! Kessen's fantastic cutscenes showcase the difference between the visual capabilities of non-DVD and DVD formats. That difference is analogous to the gap between analog television and HDTV quality.

The graphics are awesome, too. In a triple barrage, three rows of gunmen draw and fire their guns. Not everyone does it at exactly the same time, and the number of men goes back as far as the eye can see. The smart choreography makes the battle seem much more real. In fact, you actually can see other soldiers fighting as the generals duel.

The game's orchestral score is wonderful, and the sound effects also are great, with booming cannons, neighing horses, and clanking spears.

While all of the above makes for a very splashy presentation, it doesn't do much for the gameplay. Those who have found fault in the micromanagement of past Koei strategy titles surely will be disappointed with Kessen. It's often painful to see every single stat and try to improve them all in a set amount of time. Kessen goes too far in that every battalion has a morale level, called zeal, as well as a certain number of soldiers of different types. Each general has a different amount of loyalty to you, but it really doesn't affect gameplay, as far as we could tell.

Before each battle, you go through the political stage. Here, you can persuade undecided generals or enemy generals to join you in battle, or not to fight at all. That's a cool aspect, but the game basically tells you outright who will join you and who won't.

The pace of the battles is extremely slow, like in most other Koei games. However, the difficulty is not. Many times, you're given so many reinforcements that you just can't lose. Also, every single event involves a 20-second cutscene, with no obvious way to skip these. Sure, the triple barrage is impressive the first few times that you see it; but, after the 100th time, it wears a little thin. And you get to see a cutscene every time that your enemies do the same to you.

Unlike other RTS games, there's hardly ever any cause for alarm or stress—even if you're losing, you feel like there's not a lot you could do about it, anyway. —Todd Mowatt

Pros:Fantastic cutscenes showcase the visual capabilities of DVD formatGreat graphics, score, and sound effectsCons:Too many statistics to manageSlow game pace
Killzone 3
Sony Computer Entertainment
Visari is gone, but the war is far from over. Helghast forces have mounted a devastating counter-attack, prompting the ISA evacuation of planet Helghan. As new Helghast battalions appear, armed with more powerful weapons, ISA forces find themselves outmanned, outgunned and surrounded.
King of Fighters 00/01
SNK
Duke it out like never before with over 35 classic and new characters in this 2-in-1 pack featuring The King of Fighters 2000 and 2001.
Kingdom Hearts
Square Enix
Kingdom Hearts: Greatest Hits is a classic role-player for the PS2 — now rereleased at an affordable price, for those who missed out the first time around! This is the story of Sora, a 14-year-old boy whose world is shattered. When a violent storm hits his island-paradise home, he is separated from his two best friends and goes to look for them. Meanwhile, King Mickey is missing from Disney Castle and Captain Goofy and the court wizard Donald are off to search for him. When Sora, Donald and Goofy meet, they hear about the Heartless: Strange and powerful creatures who caused the terrible storm and kidnapped King Mickey. They'll work together to help each other meet their goals - and have an incredible adventure as they go!
Kingdom Hearts HD 1.5 ReMIX
Square Enix
A new collection of the first three Kingdom Hearts titles in gorgeous high-definition: KINGDOM HEARTS 1 FINAL MIX, KINGDOM HEARTS Re:Chain of Memories, and KINGDOM HEARTS 358/2 Days (HD remastered cinematics). KINGDOM HEARTS HD 1.5 ReMIX marks the first time KINGDOM HEARTS will be available on the PlayStation 3! Team up with Disney and FINAL FANTASY heroes to explore new and familiar worlds featuring over 100 Disney characters. Disney: Mickey Mouse, Donald Duck, Goofy, Aladdin, Pinocchio, FINAL FANTASY: Cloud Strife, (FFVII), Sephiroth (FFVII), Squall Leonhart (FFVIII), Tidus (FFX), Moogles. For the first time ever, KINGDOM HEARTS 1 FINAL MIX will finally be available for North America. KINGDOM HEARTS 1 FINAL MIX is a compilation of the original KINGDOM HEARTS, additional boss battles, and improved game controls!
Kingdom Hearts HD 2.5 ReMIX
Square Enix
KINGDOM HEARTS HD 2.5 ReMIX is an HD remastered compilation of KINGDOM HEARTS II FINAL MIX and KINGDOM HEARTS Birth by Sleep FINAL MIX. Previously exclusive to Japan, both games will be available for the first time to North America for the PlayStation3 system. HD remastered cinematics from KINGDOM HEARTS Re:coded will also be included in the compilation. The game is a sequel to last year's KINGDOM HEARTS HD 1.5 ReMIX and will lead into the highly anticipated KINGDOM HEARTS III. The Kingdom Hearts saga continues with 3 magical journeys in one package! Experience new content never seen before in North America. If you're new to the franchise, this is the perfect opportunity to jump in. Limited edition includes the following three unforgettable games: KINGDOM HEARTS II FINAL MIX, KINGDOM HEARTS Birth by Sleep FINAL MIX, and KINGDOM HEARTS Re:coded plus an official Disney Collector's Pin.
Kingdom Hearts HD 2.8 Final Chapter Prologue
Square Enix
KINGDOM HEARTS HD 2.8 Final Chapter Prologue is a compilation that brings the popular KINGDOM HEARTS [Dream Drop Distance] to the PlayStation4 computer entertainment system platform remastered in high definition. Originally released in 2012, KINGDOM HEARTS [Dream Drop Distance] HD is a full-HD remastered version of KINGDOM HEARTS 3D [Dream Drop Distance]. Series protagonists Sora and Riku take on the Mark of Mastery exam in preparation for coming threats. The signature action of the KINGDOM HEARTS series has evolved, allowing players to experience faster-paced battles and exploration at a blistering pace.
Kingdom Hearts II
Square Enix
Kingdom Hearts II follows Sora Donald and Goofy on their continuing quest. It has been one year since the events of Kingdom Hearts. The story begins in Twilight Town a quite burg nestled between night and day. Sora and friends are joined by a vibrant new cast of characters including King Mickey himself! Together they will encounter countless dangers in worlds both familiar and brand new.Features: Explore both new and familiar worlds from Kingdom Hearts plus new Disney worlds to the Kingdom Hearts franchise such as Pirates of the Caribbean Beauty and the Beast and Mulan. A more advanced battle system that allows for a wider range of commands powerful new combos and cooperative attacks with members of your party introducing another layer of strategy. An all-new "Drive" command that lets Sora change into a variety of new forms altering his skills and abilities. A revamped camera system that keeps you in the middle of the action. Brand new transportation system that takes Sora and friends from world to world in the style of theme park rides. Cameo appearances by popular Final Fantasy characters. A large ensemble cast of Disney characters and a new cast of original characters designed by renowned artist Tetsuya Nomura.Format: PS2 Genre: ACTION/ADVENTURE Rating: RP UPC: 662248904115 Manufacturer No: 90411
Kingdom Hearts III
Square Enix
KINGDOM HEARTS III tells the story of the power of friendship and light vs. darkness as Sora and his friends embark on a perilous adventure. Set in a vast array of Disney and Pixar worlds, KINGDOM HEARTS follows the journey of Sora, an unknowing heir to a spectacular power. Sora is joined by Donald Duck and Goofy to stop an evil force known as the Heartless from invading and overtaking the universe. Sora, Donald, and Goofy unite with iconic Disney-Pixar characters old and new to overcome tremendous challenges and persevere against the darkness threatening their worlds.
L.A. Noire
Rockstar Games
Amid the post-war boom of Hollywood's Golden Age, newly minted detective Cole Phelps is thrown headfirst into a city drowning in violence and corruption. Utilizing groundbreaking new technology that captures an actor's facial performance in astonishing detail, L.A. Noire is a violent crime thriller that blends breathtaking action with true detective work to deliver an unprecedented interactive experience. Interrogate witnesses, search for clues and chase down suspects as you struggle to find the truth in a city where everyone has something to hide.
The Last Guardian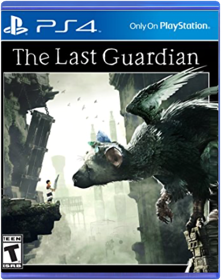 Sony
Facing unknown dangers in a strange and mystical land, an ordinary young boy and his gigantic feathered friend must rely on each other to survive in this harrowing story of friendship and trust.
LEGO Marvel Super Heroes
Warner Home Video - Games
LEGO Marvel Super Heroes features an original story crossing all the Marvel families. Players take control of Iron Man, Spider-Man, The Hulk, Captain America, Wolverine and many more Marvel characters as they try to stop Loki and a host of other Marvel villains from assembling a Super weapon which they could use to control the Earth. Players will chase down Comic Bricks as they travel across a LEGO New York and visit key locations from the Marvel universe such as Stark Tower, Asteroid M, an abandoned Hydra Base and the X-Mansion.
Lemmings & Oh No! More Lemmings
Unknown
LittleBigPlanet
Sony Computer Entertainment
Little Big Planet PS3
LittleBigPlanet 2
Sony Computer Entertainment
Join Sackboy in a completely new adventure - filled with new abilities, new game play rules, innovative tools and a smarter LBP Network, evolving the Play, Create, Share experience.
LittleBigPlanet 3
Sony Computer Entertainment
Includes 1 Little Big Planet 3 Game for PS4, 1 Plush Toy, and much more.
Madden NFL 2000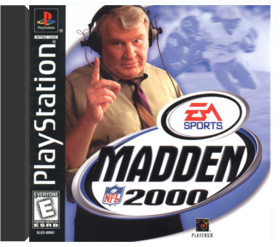 Electronic Arts
Tracing the evolution of console football can take you on a nostalgic trip back to games like Tecmo Bowl and Walter Payton Football, but the genre reached the mainstream with the release of the first Madden Football title in the early '90s. Since then, Madden has become the pro football simulation game to beat.
Madden NFL 2005
Electronic Arts
Madden NFL Football 2005 is the leader in championship-level football gaming. It has unprecedented, incredibly authentic football gaming with realism you have to see to believe. Go online and take on the best Madden players in quick tournaments, or compete in a mini-game of Rushing Attack
Mass Effect Trilogy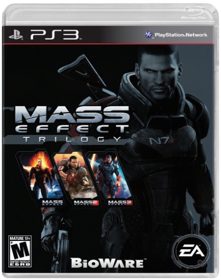 Electronic Arts
As Commander Shepard, rise to become the galaxy's most elite soldier and lead an all-out war to stop an ancient and ruthless enemy: the Reapers. With over 75 hours of content and more than 300 awards, one of gaming's most acclaimed franchises is available for the first time in a premium foiled box set.

Heart-pounding action meets gripping interactive storytelling where you decide how your unique story unfolds. Assemble and lead your team aboard the SSV Normandy, the most advanced ship in the galaxy, and travel to distant and unexplored star systems. On your journey, meet a cast of intriguing characters each with their own story to tell. Wield powerful weapons and customize them with upgrades to create new and devastating attacks. All the thrilling action and your decisions culminate into a heroic battle against the greatest threat ever known.

The fate of the galaxy lies in your hands - how will you chose to fight for it?

"One of the most intricately crafted stories in the history of the medium." - Game Informer
"A wonderful trilogy that put the players in the driver's seat from the very beginning." - CNN
"Regardless of the medium, Mass Effect's universe is one of sci-fi's best." - IGN
"One of the best sci-fi series of all time." - MSNBC
Medal Of Honor
Electronic Arts
The best first-person shooter for the PlayStation. An engaging plot, even for non-history buffs. Outstanding music and sound design.
Metal Gear Rising: Revengeance
Konami
METAL GEAR RISING: REVENGEANCE takes the renowned METAL GEAR franchise into exciting new territory by focusing on delivering an all-new action experience unlike anything that has come before. Combining world-class development teams at Kojima Productions and Platinum Games, METAL GEAR RISING: REVENGEANCE brings two of the world's most respected teams together with a common goal of providing players with a fresh synergetic experience that combines the best elements of pure action and epic storytelling, all within the expansive MG universe. The game introduces Raiden as the central character; a child soldier transformed into a half-man, half-machine cyborg ninja, equipped with a high-frequency katana blade and a soul fueled by revenge. In the near future, cyborg technology has become commonplace throughout society. Three years have passed since the collapse of the Patriots system that had been secretly controlling the global power balance from the shadows. However, peace remains elusive. The dissemination of cybernetic technology has triggered instability and conflict as those who control the trade gain increasing power. Furthermore, large 'Private Military Companies', or PMC's, that had been supported and controlled by the Patriots have collapsed, spawning countless rogue entities with origins to larger criminal organizations. These renegade PMCs employing cyborg technology have become increasingly more disruptive shifting policy and power at will. As a member of the peace-keeping PMC 'Maverick Security', Raiden lives by the mantra of protecting and saving lives. But as the world plunges further into asymmetric warfare, the only path that leads him forward is rooted in resolving his past, and carving through anything that stands in his way.
Metal Gear Solid
Konami
You are Solid Snake, a superspy who's half James Bond, half Snake Plissken, and you are mean. Your mission isn't terribly new (infiltrate a terrorist base and blow everything up), but the gameplay is: your numerous enemies are watching for you, and you are encouraged to sneak rather than simply charge in. Every level brings new challenges. You fight snipers, invisible ninjas, psychic warriors, and even an M-1 tank! As the father of the modern spy game genre, this game is an instant classic.

Your allies and superiors speak to you via a cool, implanted radio, monitoring your progress, offering tips—but failing to give you the full story. The combination of a mysterious and engaging plot and high in-game tension makes this a thrilling ride. Campy humor also abounds as you rescue beautiful women, verbally spar with your allies, and blow up enemies in the bathroom. A user-friendly control interface allows for sniping, hiding, crawling, and running, and the graphics leave nothing to be desired. If you like espionage, spy movies, or just want to own and play a piece of gaming history, then this is a must have. Metal Gear Solid is one of the all-time greats. Game tip: Secretly attach plastic explosives behind an enemy, sneak out of the room, and see what happens. —Allen Stewart

Pros:Story well-integrated into gameplayStealth favored over brute forceChallenging puzzlesCons:Puzzles can be frustratingTorture scene too intense for younger gamers
Metal Gear Solid 4: Guns of the Patriots
Konami/Kojima Digital Entertainment
Metal Gear Solid 4: Guns of the Patriots is a story-driven adventure game, with seasoned hero Solid Snake drafted for one final mission. Set across stages including the Middle East and South America, the now aged Snake has been asked to assassinate his old adversary, Liquid Ocelot. To do this, however, he must make his way through a series of battlefields, using his legendary stealth abilities and all-new OctoCamo suit to avoid detection and to reach his target. With series favorites such as Meryl Silverburgh, Raiden, Hal 'Otacon' Emmerich, Eva and Roy Campbell returning, and with all new gameplay features including a remote-controlled Metal Gear Mk. II and enhanced CQC (Close Quarters Combat) system, Metal Gear Solid 4 rounds out the Metal Gear saga with a fittingly cinematic and gripping final outing. The Limited Edition (available exclusively at certain retailers) comes packaged in a collectible metal case and includes a Blu-Ray video containing "making of" documentaries and an extensive interview with Metal Gear Solid creator Hideo Kojima. Also featured is the Metal Gear Solid 4: Guns of the Patriots Soundtrack CD. Snake can directly aid local militia who engage invading PMCs soldiers, or encourage more fighting to slip past undetected amidst the commotion. Unlock custom weapons and modifications as you trade weapons with your black market weapons dealer, Drebin. Metal Gear Mk. II, the ultimate reconnaissance tool, Solid Eye, which gives Snake real-time information on enemies and his surroundings, and the OctoCamo suit which allows Snake to blend into his environment and hide his presence. Users can choose a variety of camera angles to use to match their game play style.
Metal Gear Solid HD Collection
Konami
From the critically acclaimed director, Hideo Kojima, Metal Gear Solid HD Collection offers a handful of the most popular Metal Gear Solid titles from the past in true HD for the first time ever. Featuring three complete games, Metal Gear Solid 2: Sons of Liberty, Metal Gear Solid: Snake Eater and Metal Gear Solid: Peace Walker, the HD Collection offers old and new fans a chance to experience the epic game play, design and storytelling of the MGS franchise. The "Metal Gear Solid (MGS)" series is the seminal work of Hideo Kojima, Japan's master game creator, and the progenitor of the stealth action game genre. The series has become a global phenomenon, with over 27 million copies sold worldwide. The player controls a secret agent from an elite special forces unit who is sent on solo sneaking missions through enemy installations, vast jungles, and sometimes even the thick of battle. Alone and surrounded by the enemy, even a special forces agent will find it tough to come out alive. But that is the secret behind the series' popularity-the cerebral challenge of figuring out how to avoid combat, and the thrill of sneaking through enemy territory undetected.The MGS series is also known for its storyline, which blends seamlessly with the gameplay. The scenarios are based on extensive research and incorporate the drama of actual developments in society. These elements have made MGS what it is today: a mature work of entertainment that transcends national borders and the confines of video games, and one of the leading products of the Japanese content business.
Metal Gear Solid V: Ground Zeroes
Konami
World-renowned Kojima Productions showcases the latest masterpiece in the Metal Gear Solid franchise with Metal Gear Solid V: Ground Zeroes. Metal Gear Solid V: Ground Zeroes (on sale Spring 2014) is the first segment of the 'Metal Gear Solid V Experience' and prologue to the larger second segment, Metal Gear Solid V: The Phantom Pain launching thereafter. MGSV: GZ gives core fans the opportunity to get a taste of the world-class production's unparalleled visual presentation and gameplay before the release of the main game. It also provides an opportunity for gamers who have never played a Kojima Productions game, and veterans alike, to gain familiarity with the radical new game design and unparalleled style of presentation. The critically acclaimed Metal Gear Solid franchise has entertained fans for decades and revolutionized the gaming industry. Kojima Productions once again raises the bar with the FOX Engine offering incredible graphic fidelity and the introduction of open world game design in the Metal Gear Solid universe. This is the experience that core gamers have been waiting for.
Mortal Kombat Trilogy
Midway Entertainment
This is the game Mortal Kombat Trilogy for the Playstation 1.
Moss
Perpetual
Moss is a single-player action-adventure puzzle game and new ip tailor-made for the VR platform. It takes the classic components of a great game-such as compelling characters, gripping combat, and captivating world exploration-and combines them with the exciting opportunities of virtual reality. The result is a fully interactive and immersive player experience set in an engaging fantasy world. Entertainment Software Rating Board (ESRB) Content Description: Blood, Crude Humor, Use of Alcohol, Violence.
MotorStorm
Sony Computer Entertainment
MotorStorm PS3
MotorStorm Pacific Rift
Sony Computer Entertainment
The first Motorstorm wowed fans with its heady formula of brutal, unpredictable off-road racing, festival vibes and stunning Monument Valley desert scenery. Now, Motorstorm Pacific Rift takes you to a solitary tropical paradise in the Pacific Ocean, ready for a whole new take on no-holds-barred racing action through thick swamps, dense jungle, towering peaks and steaming volcanoes.

Unleash the storm again
Happy landings in the air zone.
View larger.
4-player split screen.
View larger.
The new Monster Truck class.
View larger.
Light up in the fire zone.
View larger. Not just pretty backdrops to the action, these environments take center stage in challenging players with everything in Mother Nature's arsenal. Thick mud, tangled undergrowth, swift flowing rivers, choking volcanic clouds and searing lava pools all test the drivers to their limits and beyond. Expect a rich festival of off road racing, along with a host of game modes and rewards. It's brutal, dangerous, relentless, and unpredictable and more than a game - Motorstorm Pacific Rift is a way of life.

Even More Vehicle Classes and Tracks
Pacific Rift ships with eight car classes: the seven from the original game (Bikes, ATVs, Buggies, Rally Cars, Racing trucks, Mud Pluggers and Big Rigs) all reproduced in new forms, as well as the new Monster Truck class. Big, but not as big or powerful as a Big Rig, Monster Trucks are surprisingly fast for their size and are able to roll over most other classes of vehicle and virtually any vegetation they encounter.

The game's list of playable tracks has also been doubled to 16 and are categorized along the lines of the elements and the different environmental zones are found on the island. These zones are:The Air Zone - Tracks high up in the mountain and featuring lots of big jumps.The Fire Zone - Track oozing with new land and pools of lava that come from the island's resident volcano.The Water Zone - Here players will find courses laid out along the the beaches and other water sources of the island.The Earth Zone - The typical rough, rocky mud-filled off-road courses similar to the tracks found in the original game.Multiplayer Modes
In addition to the wild, anything goes singleplayer festival mode players of the originalMotorstorm game will remember and relish, Motorstorm Pacific Rift also provides addictive multiplayer modes for both online and local play. These include the same rampaging, music injected, 12-player online support as the first game, as well as multiplayer options for local action up to four players. Play in local multiplayer modes are further enhanced by new four-player split screen functionality that when used in conjunction with the game's 720p HD video output ensures clarity no matter how fast racers are moving or how much mud they are throwing up.

Key Game Features:The Island - A brand new radically different location for the festival.Unpredictable Events - Never the same race twice. Events will take place to change the race on a lap to lap basis.Split Screen Play - Play with up to 3 buddies on the same screen.The Monster Truck - An all new vehicle class added to the core vehicle selection for a total of 8 different vehicle classes.Immersive Online Experience - A radical re-look at the whole Motorstorm online experience, focusing on ease of use and breadth of gameplay all while tearing it up in races up to 12 players.Improved Actions - A new level of control; punch, duck and ram using a new control layout.Free-play - Race how you want by creating your own race tickets.Photo Mode - Snap your greatest victory or your most visceral crashes and share them with the world.New Rating System - It's not all about winning; it's also about how you perform.Bells and Whistles: Tunes and XMB Functionality
As was the case with the original Motorstorm, the driving experience in Pacific Rift can not be separated from the music that accompanies it. The game comes with a thumping 40 song soundtrack and players will also have the ability to pipe in their own playlists saved to their PS3 the ability to access others saved on your PS3's Hard drive. In addition for players who want to relive their moments tearing across the island, the game also features PlayStation 3 XrossMediaBar (XMB) functionality and Photo Mode. XMB lets plays create movies of their races and access them from the PS3's main menu, while Photo Mode allows you to take snapshots while within a race.

As you roll into the Rift, expect a rich festival of off road racing, along with a host of game modes and rewards. It's brutal, dangerous, relentless, unpredictable and much more than a game - Motorstorm Pacific Rift is a way of life.
Myst III Exile
UBI Soft
Myst III: Exile is the incredible sequel to Myst & Riven features more of the hauntingly beautiful graphics & intense puzzle solving, weaved around a complex and engrossing story.
Namco Museum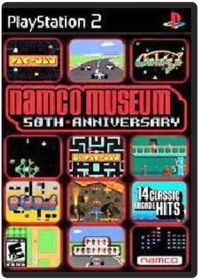 Namco
Namco's Museum 50th Anniversary Collection compiles some of the classic Namco arcade games that defined gaming in the 1980s. Go back in time and play classics like Pac-Man, Galaga, Dig Dug, and Pole Position. The new retro menu Interface allows players to explore a virtual arcade hall where each of the game's classics will be standing in its original arcade form. The only difference is, this time you don't need a pocket full of quarters! Pole Position - The milestone in racing games Pole Position II - Sequel to the original, with 4 real racetracks - Fuji, Test, Suzuka, and Seaside Rolling Thunder - Become secret agent Albatross and rescue Lelia Blitz from the evil Geldra Bosconian - Survive against an army of space stations, while avoiding asteroids and other obstacles Rally X - Players drive around a maze while avoiding chasing cars, laying smoke screens, and collecting flags Dragon Spirit - Control a powerful dragon through the air, harness spells, drop bombs and breath fire at enemies Sky Kid - Control a bi-plane and avoid enemy planes using evasive loops, while dropping bombs & shooting down other planes Xevious - Use a heavily armed fighter plane to destroy enemies and targets, in the air and on the ground Mappy - Control Mappy the police mouse, as he dodges chasing cats to collect valuable items
NBA Shootout 2000
989 Sports
NeoGeo Battle Coliseum
SNK
Newman Haas Racing
Psygnosis
NFL GameDay '97
Sony
O.D.T.
Activision Inc.
Outrun 2006: Coast 2 Coast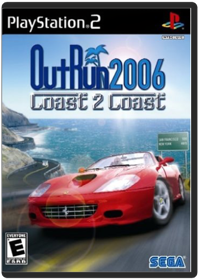 Sega Of America, Inc.
Outrun 2006 Coast 2 Coast gives you a choice between 12 fully licensed Ferrari models, featuring the all-new F430 and the dazzling Superamerica. Feel the throaty whine and the distinctive Ferrari exhaust tone as they power their way across 30 glorious stages from the best of the OutRun 2 games. Race from coast to glorious coast with a fresh new mission structure, a license mode and online play with up to 6 players for a thrilling head-to-head journey.
PaRappa the Rapper
Sony
This entirely unique and thoroughly entertaining game, co-developed in Japan and the U.S., features a hip-hop puppy animated in a whimsical, paper-thin style. PaRappa hopes to win the heart of Sunny, the object of his affection, by holding his own with an increasingly adept group of rap masters.

Players control PaRappa by rhythmically pressing the controller's buttons to repeat bits of rap songs in the proper order. The tunes and lyrics are catchy and clever, and the gameplay is completely original. Suitable for children and appealing to adults, this is a must-have disc for PlayStation owners who want to smile. Woven into the storyline are positive messages about self-confidence and respect. Highly skilled players can try their hand at free-form rapping to gain extra points. While this game has inspired sequels and copycats, it still holds up against the test of time. —Jeff Young

Pros:Lighthearted, zany graphicsClever songs and positive messages for childrenCons:Can be frustrating for those without rhythm
PaRappa The Rapper (Japan)
Sony Computer Entertainment
PaRappa The Rapper Japanese Format (NTSC-J). Box,package,
PaRappa the Rapper 2
Sony
SEE IF YOU HAVE ENOUGH RYTHM TO KEEP THE BEAT WITH EVERYONES FAVORITE RAPPIN PUPPY, NEW LEVELS NEW SONGS
PlayStation All-Stars Battle Royale
Sony Computer Entertainment
PlayStation All-Stars Battle Royale is free-for-all brawler showcasing the best and brightest of PlayStation's characters and worlds. From Kratos to Sly Cooper, Sweet Tooth to Parappa the Rapper, Sony characters from all over the gaming spectrum are brought together in a fighting adventure that's both easy to play, and hard to master. Take the battle online for competitive multiplayer action, or go head to head with a group of friends on the couch and prove once and for all who's really the best!

Characters (and their source franchises):
- Kratos (God of War)
- Sweet Tooth (Twisted Metal)
- Fat Princess (Fat Princess)
- Parappa (Parappa the Rapper)
- Sly Cooper (Sly Cooper)
- Colonel Radec (Killzone)
- Ratchet (Ratchet & Clank)
- Sackboy (LitlteBIGPlanet)
- Dante (Devil May Cry)
- Spike (Ape Escape)

Environments:
- Dreamscape (Little Big Planet)
- Sandover (Jak & Daxter)
- Hades (God of War)
- Metropolis (Ratchet & Clank)
PlayStation Move Heroes
Sony Computer Entertainment
PlayStation Move Heroes brings three iconic franchises together for the first time in an out of this world intergalactic adventure. Players will test their skills in a host of new and exciting challenges against fiendishly mysterious new adversaries! Explore familiar landscapes from the smash hit franchises Ratchet and Clank, Jak and Daxter, and Sly Cooper ripped apart and rebuilt for PlayStation Move Motion Controller mayhem. Take a hold of a whole new arsenal of super powered weapons as you Smash, Hurl and Shoot your way to freedom!
PlayStation VR Demo Disc
Rampage Total Destruction
Midway Entertainment
Rampage: Total Destruction offers a fresh take on an arcade classic complete with everyone's favorite monsters. Control George, Lizzie, and Ralph as they go around the world, destoyingmajor cities through direct destruction or through their fighting
Ratchet & Clank
Sony
Play the game, based on the movie, based on the game! Ratchet & Clank (PS4) is a new game based on elements from the original Ratchet & Clank (PS2). Developed alongside the major motion CG-animated picture coming to theatres in 2016, Ratchet & Clank (PS4) marks the PlayStation 4 debut of PlayStation's greatest heroes. Join Ratchet, Clank, Captain Qwark and new friends as they battle to save the Solana Galaxy from the evil Chairman Drek. With an hour of new cinematics (including footage from the film), Ratchet & Clank (PS4) takes a deeper look at the characters' origin stories and modernizes the original gameplay. Explore the galaxy in a game that features new planets, new and updated gameplay segments, all-new bosses, all-new Clank gameplay, all-new flight sequences, and much more —- with completely new visuals built to demonstrate the power of the PS4! Battle your enemies with an out-of-this-world arsenal, including new weapons and fan-favorite tools of destruction from the Ratchet & Clank Future series. From the brand new Pixelizer (which transforms enemies into explosive 8-bit pixels) to franchise favorites like the dance-party-inducing Groovitron and wise-cracking robotic bodyguard Mr. Zurkon, Ratchet & Clank's arsenal has never been better. Help Ratchet and Clank save the galaxy for the first time, again, exclusively on PlayStation 4!
Ratchet & Clank Future: A Crack in Time
Insomniac Games
Sony's gadget-wielding duo return with new weapons, new abilities, and a revealing conclusion to the "Future" storyline in Ratchet & Clank Future: A Crack in Time. Set after the events of the downloadable title Quest for Booty, A Crack in Time finds the dynamic Lombax Ratchet and his robot friend Clank battling to prevent the aptly named Dr. Nefarious from altering space and time. Levels are designed to allow open exploration, with new space gameplay letting gamers blast their way around various star systems, while Ratchet's new Hoverboots and Clank's Chronoscepter give players new ways to solve puzzles and navigate levels. As always, the pair make use of the finest weapons and accessories, including such familiar armaments as the Negotiator and Buzz Blades, as well as new tools of destruction like the Cryo-Bomb Glove, the Plasma Striker, and the Spiral of Death. And those looking for a degree of customization can collect Constructo mods throughout the game to design their very own high-powered weapons.
Ratchet & Clank Future: Tools of Destruction
Sony Computer Entertainment
Ratchet & Clank Future: Tools of Destruction PS3
Ratchet & Clank Going Commando
Sony Computer Entertainment
Ratchet & Clank: Going Commando takes the hit gaming characters on wilder ride than before, in a sequel to the hit platformer! Our heroes are unemployed, and spend most of their day playing "Jak and Daxter" — until they're hired by a mega-corporation to track down smugglers & find a stolen product. They have a mission and the hot new hardware to complete it, so prepare for a wild ride!
Rayman Origins
Amazon
Explore the origins of this limbless wonder / ESRB Rating RP Rating Pending
Red Dead Redemption 2
2K
America, 1899. The end of the wild west era has begun as lawmen hunt down the last remaining outlaw gangs. Those who will not surrender or succumb are killed.

After a robbery goes badly wrong in the western town of Blackwater, Arthur Morgan and the Van der Linde gang are forced to flee. With federal agents and the best bounty hunters in the nation massing on their heels, the gang must rob, steal and fight their way across the rugged heartland of America in order to survive. As deepening internal divisions threaten to tear the gang apart, Arthur must make a choice between his own ideals and loyalty to the gang who raised him.

From the creators of Grand Theft Auto V and Red Dead Redemption, Red Dead Redemption 2 is an epic tale of life in America at the dawn of the modern age.

Pre-Order Red Dead Redemption 2 to get the War Horse and Outlaw Survival Kit:

This handsome iron-grey-colored Ardennes War Horse can always be relied on in the heat of the battle. With greater courage and stamina than the average steed, this is a horse that knows how to keep its head under fire. The War Horse is available in Red Dead Redemption 2 Story Mode.

The Outlaw Survival Kit contains a collection of key supplies for enduring the rigors of life on the frontier, including items to replenish Health, Dead Eye and more. The Outlaw Survival Kit is available in Red Dead Redemption 2 Story Mode.
Resident Evil 5
Capcom
The biohazard threat has not ended: Just when it seemed that the menace of Resident Evil had been destroyed, along comes a new terror to send shivers down player¿s spines. Chris Redfield, returning Resident Evil hero, has followed the path of the evil literally around the globe. After joining a new organization, Chris heads to Africa where the latest bioterrorism threat is literally transforming the people and animals of the city into mindless, maddened creatures. He is joined by a new partner, Sheva Alomar, who lends her strength, intelligence and sharp-shooting skills to the mission. In order to survive, Chris and Sheva must work together to take on the challenges of discovering the truth behind this evil plot. Utilizing a revolutionary new co-op mode of gameplay, players will be able to assume control of either Chris or Sheva and experience Resident Evil in new ways. In Resident Evil 5, Capcom will have players fearing the daylight as much as they have feared shadow in previous games. Promising to revolutionize the series by delivering an unbelievable level of detail, realism and control, Resident Evil 5 is certain to bring new fans to the series. New technology developed specifically for the game, as well as incredible changes to both the gameplay and world of Resident Evil will make this a must-have game for gamers across the globe.
Resident Evil 5: Gold Edition
Capcom
Previously only seen during cut scenes of the original RESIDENT EVIL 5, the first new episode titled "LOST IN NIGHTMARES", finds BSAA agent, Chris Redfield, working with his partner, Jill Valentine, as they investigate Ozwell E. Spencer's hideaway. Spencer, the evil mastermind and co-founder of Umbrella Corporation, has been hiding a new evil deep within the basement of his mansion. Chris and Jill discover this grotesque evil standing in their way as the two enter deeper into the catacombs beneath the mansion. Simultaneous with the release of "LOST IN NIGHTMARES", new costumes for Chris and Sheva will be made available, allowing the player to experience RESIDENT EVIL 5 with a fresh new look and feel through both game play and cut-scene playback. A new refresh of Mercenaries Mode, " THE MERCENARIES REUNION", gives players new playable characters and weapon load outs which provide players additional challenges as they aim to shoot down as many enemies as they can within a limited time. Each piece of downloadable content will contain two new playable characters. The GOLD EDITION will feature all eight.
Resident Evil 7: Biohazard
Capcom
Set within a sinister plantation mansion in modern day rural America and taking place after the dramatic events of Resident Evil 6, players experience the terror directly from the first person perspective for the first time in the series. Embodying the iconic gameplay elements of exploration and tense atmosphere that first coined "survival horror" some twenty years ago, Resident Evil 7 biohazard delivers a disturbingly realistic experience that will define the next era in horror entertainment.
Resistance 2
Sony Computer Entertainment
In the highly anticipated sequel to the best-selling Sony PlayStation 3 game, Resistance 2 is an alternate-history, first-person shooter that puts you in the heroic role of Sgt. Nathan Hale as he struggles against overwhelming odds to defend humankind from an insurmountable Chimera.

Players:
Offline: 1-8
Online: 2-60

game play Modes:
Single player offline, multiplayer offline cooperative, multiplayer online cooperative.

Resistance 2 puts you in the heroic role of Sgt. Nathan Hale. View larger.

This sequel introduces several new Chimeran enemies with a host of new powers. View larger. Resistance 2 takes up right where Resistance: Fall of Man left off. Hale is kidnapped by a black ops group in London and forced to Iceland for research testing. The full scope of what happens in Iceland is a mystery, but the game reveals that as Hale wrestles with the insidious Chimera war machine, he must also battle the virus raging inside his body that threatens to transform him into the very creature he fights against.

The Return of the Chimera
The Chimera are the main enemies of the Resistance franchise. For those new to the story, it is believed that the Chimera are of extraterrestrial origin. Yet, it is known that their army expands by infecting humans with a virus that transforms humans into Chimera while inside a cocoon. These creatures are much stronger than humans, and they usually have multiple yellow eyes. They have remarkable healing abilities and thrive in very cold temperatures, which has led them to alter the Earth's climate to a much lower temperature that better suits their habitat requirements.

Resistance 2 introduces several new Chimeran enemies with a host of new powers. A few new characters include the Chameleon, a creature that can cloak itself completely and kill a player in one, destructive blow, and the Grim, which are a terrifying species that attack in hordes.

The Battle Moves to the United States
After the brief opening scenes in London and then Iceland, game play jumps ahead two years and across the globe to San Francisco. Giant, mile-long motherships slowly cruise through the skies, demolishing the city with fiery beams. The city is burned and mangled, and it appears that there will be little to no survivors. As the battle continues across the United States, you're sure to encounter many new, deranged, and much more powerful enemies.

In Chicago, you'll be joined by a squad of soldiers, all carrying different weapons. To survive and move through the level, you'll need to work together, moving from cover to cover, setting up your squad in a smart and defensive manner. These are just a few examples of the challenging levels you'll encounter as you battle your way across the country to save humankind. And if you're hoping for new weapons, Resistance 2 won't leave you disappointed. The US-based campaign is loaded with tons of new weapons to enhance the overall game play and first-person shooter experience.

Online game play Goes BIG
Powered by Insomniac Games' third-generation PlayStation 3 technology, Resistance 2 delivers several console gaming breakthroughs. Most impressive are the stand-alone, class-based, online co-operative campaign mode that can accommodate up to eight players, and the mind-blowing, 60-player, squad-based online competitive multiplayer battle fest. This unprecedented 60-player option could revolutionize online multiplayer game play and is sure to provide countless hours of action-packed fun.

Resistance 2, set in the United States, is loaded with new weapons, enemies, and an unprecedented online gaming experience.
Resistance 3
Sony Computer Entertainment
Resistance 3 is a full-featured adventure shooter based in a brutal alternative universe in which humanity is faced with a struggle for survival against a relentless alien race in a decimated America.
Robinson: The Journey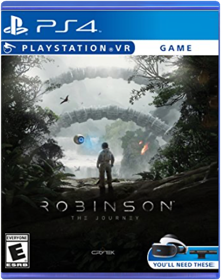 Sony Computer Entertainment
Adventure on a prehistoric scale: Experience a living, breathing world with your own eyes using the power of PlayStation VR - and keep all your senses finely tuned to stay alive in the natural habitat of enormous prehistoric dinosaurs. Experience a mysterious and beautiful extrasolar world as you navigate dangerous terrain and come face-to-face with dinosaurs in an intensely realistic adventure powered by PlayStation VR and CRYENGINE.
Romancing SaGa
Square Enix
A thousand years ago, Saruin was imprisoned. Now the barriers are weakening and his foreboding shadow threatens to envelop the world of Mardias once again. Who will rid the world of Saruin's scourge? The player must decide. Occupying a prominent place in the story, a mysterious minstrel sometimes guides your party to adventure, shields it from adversity, and occassionally forces grave choices upon you.
Shadow the Hedgehog
Sega Of America, Inc.
HERO or VILLAIN? Uncover the truth about Sonic's arch-rival, Shadow the Hedgehog. Shadow the Hedgehog carries a dark past that is shrouded in mystery. Embark on a journey to unveil his true identity. The way you play the game will determine the outcome of Shadow's future...
Shenmue 3
Deep Silver
Play as Ryo Hazuki, an 18-year-old Japanese martial artist hell-bent on avenging his father's death. In this third installment of the epic Shenmue series, Ryo seeks to solve the mystery behind the Phoenix Mirror, an artifact sought after by his father's killer. His journey takes him to an immersive representation of rural China, brimming with activity and surrounded by beautiful landscapes. Ryo's adventure leads him to towns and mountain villages where he can further his training, try his hand at gambling, play arcade games, and work part-time jobs while investigating those who know truth behind the Phoenix Mirror.
Siren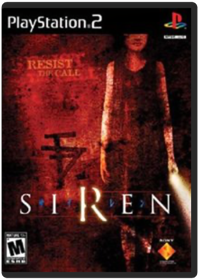 Sony Computer Entertainment
Siren is a new kind of horror game, sure to raise goosebumps with its aura of suspense & fear. In a remote Japanese fishing village, there is a terrible earthquake, and a mysterious siren blares. The next morning, the village is isolated by a sea of blood. Out of this sea crawl the former residents of the town — now transformed into hideous zombies. A few have not been changed - lead them off the island to safety at all costs. Players have the unique power to see through the eyes of the undead, for a new level of strategy and terror — try not to jump when you switch views & see the undead sneaking up right behind you!
Skyrim VR
Bethesda
A true, full-length open-world game for VR has arrived from award-winning developers, Bethesda Game Studios. Skyrim VR reimagines the complete epic fantasy masterpiece with an unparalleled sense of scale, depth, and immersion. From battling ancient dragons to exploring rugged mountains and more, Skyrim VR brings to life a complete open world for you to experience any way you choose. Skyrim VR includes the critically-acclaimed core game and official add-ons – Dawnguard, Hearthfire, and Dragonborn. Dragons, long lost to the passages of the Elder Scrolls, have returned to Tamriel and the future of the Empire hangs in the balance. As Dragonborn, the prophesied hero born with the power of The Voice, you are the only one who can stand amongst them.
Sly 2: Band of Thieves
Sony Computer Entertainment
Sly 2: Band of Thieves is a comic crime caper that continues the story of Sly Cooper, master thief and hero! Sly's worst enemy, the powerful robot called Clockwerk, was shut down permanently, but its parts have gone missing. To make sure Clockwerk never turns up again, he and his partners in crime will go around the world to pull off a series of daring heists.
Sly Cooper and the Thievius Raccoonus
Sony Computer Entertainment
Sly and the gang are back. With old friends and new, you must work together using all your skills to stop the crazy Dr. M and pull off your biggest heist ever. Sly, meanwhile, uncovers the secrets of his family's thieving past and ultimately learns the greatest secret of all ? something his father has kept hidden from him for years.
Sonic Generations
Sega Of America, Inc.
Set across three defining eras from 20 years of Sonic the Hedgehog video game history, the instantly recognizable environments of Sonic Generations have been re-built in stunning HD and are now playable in both classic side scrolling 2D from 1991, as well as modern 3D style found in Sonic's most recent adventures.
Sonic Riders Demo
Sonic the Hedgehog
Sega Of America, Inc.
The game is set in Soleanna the beautiful city of water. In his first adventure set in the human world Sonic meets a beautiful princess named Elise whom he quickly befriends but Princess Elise is abducted by none other than the calculating Dr. Eggman who is working under dark and sinister motivesto destroy this special kingdom of hers. In order to restore safety and serenity Sonic must maneuver his way through a series of adventures and challenges where he will encounter and interact with a bevy of allies and enemies and ultimately go head to head against the menacing doctor to thwart his malicious plans. Along the way Sonic encounters a mysterious character named Silver. Blocking him with unique supernatural powers even the Blue dude with tude will find it difficult to out-maneuver the enigmatic Silver! As Sonic speeds through the huge kingdom the mysteries unravel.Sonic The Hedgehog melds top-tier animation production values with next generation art physics and game design to create the most intense high velocity Sonic adventure yet! Featuring interactive 3D environments a large cast of new and returning characters and a blistering sense of speed get ready for the reinvention of Sonic The Hedgehog!Format: PS3 Genre: ACTION/ADVENTURE Rating: RP UPC: 010086690019 Manufacturer No: 69001
Space Channel 5
Agetec
Space Channel 5: Special Edition makes you a reporter who's fighting off an alien invasion — by outdancing them! Hundreds of funky levels to get down to — even more fun with two-player cooperative gaming!
Spider-Man
Sony Computer Entertainment
Marvel's Spider-Man features your favorite web-slinger in a story unlike any before it. Now a seasoned Super Hero, Peter Parker has been busy keeping crime off the streets as Spider-Man. Just as he's ready to focus on life as Peter, a new villain threatens New York City. Faced with overwhelming odds and higher stakes, Spider-Man must rise up and be greater.  

Sony Interactive Entertainment, Marvel and Insomniac Games present Marvel's Spider-Man exclusively for PlayStation 4.  

Be Spider-Man
After eight years behind the mask, Peter Parker is a crime-fighting master. Feel the full power of a more experienced Spider-Man with improvisational combat, dynamic acrobatics, fluid urban traversal, and environmental interactions. A rookie no longer, this is the most masterful Spider-Man you've ever played.  

Worlds Collide
The worlds of Peter Parker and Spider-Man collide in an original action-packed story. In this new Spider-Man universe, iconic characters from Peter and Spider-Man's lives have been reimagined, placing familiar characters in unique roles.  

Marvel's New York is Your Playground
The Big Apple comes to life as Insomniac's most expansive and interactive world yet. Swing through vibrant neighborhoods and catch breathtaking views of iconic Marvel and Manhattan landmarks. Use the environment to defeat villains with epic takedowns in true blockbuster action.
Split/Second
Disney
Split/Second is an intense action racing game set within a reality television show. Competitors will vie to be the first to the finish line in a made-for-TV city set rigged to blow with the ultimate goal of becoming the season champion. Players in Split/Second don't just collide with other vehicles to knock them from the track, but can also trigger devastating events that drastically alter the dynamics of the race. Players must use pinpoint timing to obliterate huge structures and towering TV set pieces to tactically alter the track or create entirely new routes.
Sports Champions
Sony Computer Entertainment
Sports Champions will let you and your friends physically engage in an array of competitive sporting activities as you go head to head in six events. Use your PlayStation Move as a paddle in table tennis as you conduct high speed exchanges against your challenger; or ignite the arena as your PlayStation Move becomes a sword and swing your arm forward to battle your opponent. With the easy to use PlayStation Move anyone can crush, spike and smoke the competition in the ultimate sports showdown.
Spyro Reignited Trilogy
Activision Inc.
The original roast master is back! Same sick burns, same smoldering attitude, now all scaled up in stunning HD. Spyro is bringing the heat like never before in the Spyro Reignited Trilogy game collection. Rekindle the fire with the original three games, Spyro the Dragon, Spyro 2: Ripto's Rage! and Spyro: Year of the Dragon. Explore the expansive realms, re-encounter the fiery personalities and relive the adventure in fully remastered glory. Because when there's a realm that needs saving, there's only one dragon to call. Spyro the Dragon. Meet Spyro, the adorable and mischievous little dragon on a GIGANTIC adventure. Take on an astonishing and completely 3D platform adventure game unlike any other! Take a wonderful journey as you glide, fly, roll, and frolic through fantasy worlds.
Spyro the Dragon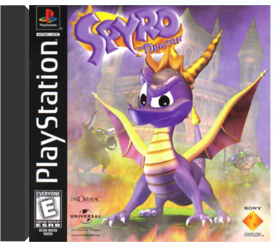 Insomniac Games
MEET SPYRO HE'S A FIESTY LITTLE FLAME SPROUTING DRAGON ON A GIGANTIC GO ANYWHERE 3D FANTASY ADVENTURE
Star Trek: Bridge Crew
UBI Soft
Star Trek: Bridge Crew puts you and your friends in the heart of a starship, where - as officers of the Federation - every action and decision you make together will determine the fate of your ship and crew. Developed exclusively for VR, Star Trek: Bridge Crew is the only game to offer a true-to-life level of immersion in the Star Trek universe.
Star Wars Episode I: The Phantom Menace
LucasArts
LIVE the SAGA in Star Wars Episode I: The Phantom Menace for PlayStation. You will participate in the dramatic events from the Star Wars Episode I story—and beyond. The action in The Phantom Menace will pick up where the movie begins—as two heroic Jedi Knights dock on the Trade Federation Battleship above the planet Naboo. The journey takes you to such locations as Naboo, Tatooine, and all the way to the Galactic capital world of Coruscant as you confront imposing threats to freedom in the midst of a galaxy in crisis.
Star Wars Rebel Assault II: The Hidden Empire
LucasArts
Experience the most exhilerating and interactive space combat in this or any galaxy. A LONG TIME AGO IN A GALAXY FAR, FAR AWAY......
Star Wars: Battlefront
Electronic Arts
Immerse yourself in your Star Wars battle fantasies.

Feeling the ominous thud of an AT-AT stomping down on the frozen tundra of Hoth. Rebel forces firing blasters as Imperial speeder bikes zip through the lush forests of Endor. Intense dogfights between squadrons of X-wings and TIE fighters filling the skies. Immerse yourself in the epic Star Wars™ battles you've always dreamed of and create new heroic moments of your own in Star Wars™ Battlefront™.

Fight for the Rebellion or Empire in a wide variety of multiplayer matches for up to 40 players, or in exciting challenges inspired by the films available solo, split-screen or through online co-op. Star Wars Battlefront combines this epic action on a galactic scale with stunning visual recreations of some of the most iconic planets, weapons, characters, and vehicles in the Star Wars universe and the original sound effects from the films, to give Star Wars fans the ultimate, authentic and immersive interactive experience they've been looking for.

The Most Immersive and Photorealistic Interactive Entertainment Experience 
Visit classic planets from the original Star Wars trilogy, detailed with an unprecedented amount of realism and sense of authenticity that will transport you to a galaxy far, far awayExperience amazing digital replicas of the original Star Wars movie models, brought to lifelike fidelity by DICE's use of photogrammetry technology

Ground-based Combat on a Galactic Scale
Engage in epic battles on iconic planets including Hoth, Endor, and Tatooine. Also, bring the fight to the previously unexplored planet, SullustPilot a diverse set of ground-based vehicles including nimble speeder bikes, massive AT-ATs, and more

Master the Battlefront with Iconic Star Wars Characters
Play as some of the most memorable characters in the Star Wars universe including Darth Vader and Boba Fett Encounter a variety of beloved characters from the original trilogy such as C-3PO and R2-D2 (93)

Take to the Skies in Epic Star Wars Dog Fights
Pilot the Millennium Falcon, X-wings, TIE fighters, and more of your favorite vehicles in exhilarating aerial combat

Made for Jedi and Padawans Alike 
Battle alongside your friends online or in offline split-screen Co-op mode Seamlessly swap between 1st person and 3rd person views 
STAR WARS & TM 2015 Lucasfilm Ltd. All rights reserved. Game code and certain audio and/or visual material 2015 Electronic Arts Inc.
Tearaway Unfolded
Sony
Uncover the true power of your DUALSHOCK 4 to join forces with ATOI THE MESSENGER in a daring quest to deliver a top-secret message. Unfold her magical papery world, save her pals in peril and battle the monsters trying to stop her delivery! Overflowing with PS4-exclusive features, surprises and secrets, you don't just play Tearaway Unfolded. you're in it! The power of your DUALSHOCK 4: • Catch stuff hurled out of your TV - and throw it back to solve puzzles and take down the baddies. • Guide atoi through dark, scary places by shining the light bar at your TV. • Whip up a windstorm to discover hidden paths, and pilot a papery plane by swiping the touch pad. Get the App: With a smartphone or tablet, a second player can customise the papery world and characters with their own wild designs and real-world images as you play.
Technic Beat
Mastiff
In this musical action game, the goal is for your squat little character to bounce to the beat and literally catch the music. Rings of sound pulse across the game field, and if players can get inside the rings and keep the beat, they have power over the sound rings to create their own chains of wild new music for bonuses, power-ups and even more explosiove displays of light and sound. Battle a second player of take on the game in Arcade Mode and Free Mode — even test yourself with the tension-filed Sudden Death mode!
Tenchu: Stealth Assassins
Activision Inc.
Disc only. Disc has scratches, but still playable.
Time Crisis 3
SPIG
Time Crisis 3 brings the massive arcade hit to life, with all-new features and gaming modes!
Time Crisis 4
Bandai
Great Condition!
Time Crisis II
Namco
Um Jammer Lammy
Sony
Rock out with this innovative sequel to the hip-hop rhythm game Parappa the Rapper. This time the action centers around Lammy, a grunge guitar-playing lamb with her own rock band. Lammy is late for her latest performance with Milkcan, the band she fronts with kooky sidekicks Katy Kat and Masan. To get to the gig, Lammy must successfully strum her guitar through seven cartoon levels. Each level contains a unique music video that requires superior guitar-playing skills. Lammy must master multiple styles of music, including heavy metal, pop, and punk. Superior musicians will be rewarded with a special remix mode, which adds a special rap by well-known game character Parappa.

With unique animation from acclaimed cartoonist Rodney Alan Greenblatt and catchy tunes from Masaya Matsuura, Um Jammer Lammy is one of the most innovative games to ever appear on the PlayStation. —Brett Atwood

Pros:Kid-friendly game themeCatchy musicHigh repeat play value

Cons:May appeal to only a narrow segment of gamers
UmJammer Lammy (Japan)
Sony Computer Entertainment
UmJammer Lammy Japanese Format (NTSC-J). Box,package,
Uncharted 3: Drake's Deception
Sony Computer Entertainment
A search for the fabled "Atlantis of the Sands" propels fortune hunter Nathan Drake on a trek into the heart of the Arabian Desert. When the terrible secrets of this lost city are unearthed, Drake's quest descends into a desperate bid for survival that strains the limits of his endurance and forces him to confront his deepest fears.
Uncharted 4: A Thief's End
Sony Computer Entertainment
Uncharted comes to the PlayStation 4.

Uncharted 4: A Thief's End
Several years after his last adventure, retired fortune hunter, Nathan Drake, is forced back into the world of thieves. With the stakes much more personal, Drake embarks on a globe-trotting journey in pursuit of a historical conspiracy behind a fabled pirate treasure. His greatest adventure will test his physical limits, his resolve, and ultimately what he's willing to sacrifice to save the ones he loves.
Uncharted: The Lost Legacy
Sony Computer Entertainment
From critically acclaimed developers Naughty Dog comes the first standalone adventure in UNCHARTED franchise history led by fan-favorite character, Chloe Frazer. UNCHARTED: The Lost Legacy will come with access to UNCHARTED 4: A Thief's End Multiplayer and Survival modes. Online multiplayer on PS4 requires a PlayStation Plus membership, sold separately. Owners of UNCHARTED 4: A Thief's End Digital Deluxe Edition, UNCHARTED 4: A Thief's End Triple Pack, and UNCHARTED 4: A Thief's End Explorer's Pack will receive UNCHARTED: The Lost Legacy as a download at launch.
Until Dawn
Sony Computer Entertainment
Eight friends trapped together on a remote mountain retreat, and they aren't alone. Gripped by dread, with tensions running high, they must fight through their fear if they all hope to make through the night in one piece. Play as each of the eight characters and experience fear like you never have before. Every decision you make in your terrifying search for answers could mean the difference between life and death, but for whom? Your actions alone will decide who survives Until Dawn.
Until Dawn: Rush of Blood
Sony Computer Entertainment
Until Dawn: Rush of Blood has seven horrifying and highly replayable levels, each themed around a different nightmare. Dive back into the nightmare on harder difficulty levels to challenge yourself and top the global leaderboards. Fight your nightmares with 6 different dual wielded weapons, from trusty pistols and shotguns to explosive flare guns - you'll need whatever you can get your hands on to fight your way out. Inspired by the world of Supermassive Games' highly successful Until Dawn; choose your track on the terrifying rollercoasters of Until Dawn: Rush of Blood.
Wallace and Gromit in Project Zoo
Bay Area Multimedia
Join the dotty inventor and his loyal puppy-pal in their humorous adventure.
Wangan Midnight
GENKI
Wangan Midnight Japanese Format (NTSC-J). Box,package,
Watch Dogs
UBI Soft
view larger WATCH_DOGS

All it takes is the swipe of a finger. We connect with friends. We buy the latest gadgets and gear. We find out what's happening in the world. But with that same simple swipe, we cast an increasingly expansive shadow. With each connection, we leave a digital trail that tracks our every move and milestone, our every like and dislike. And it's not just people. Today, all major cities are networked. Urban infrastructures are monitored and controlled by complex operating systems. view larger

In Watch_Dogs, this system is called the Central Operating System (ctOS) and it controls almost every piece of the city's technology and holds key information on all of the city's residents.

You play as Aiden Pearce, a brilliant hacker and former thug, whose criminal past led to a violent family tragedy. Now on the hunt for those who hurt your family, you'll be able to monitor and hack all who surround you by manipulating everything connected to the city's network. Access omnipresent security cameras, download personal information to locate a target, control traffic lights and public transportation to stop the enemy, and more.

Use the city of Chicago as your ultimate weapon and exact your own style of revenge. Hack the City

Control the city's infrastructure, in real time, with Aiden's cell phone. Trap your enemy in a 30-car pileup by manipulating the traffic lights. Stop a train, and then board it to evade the authorities. Narrowly escape capture by quickly raising a drawbridge. Anything connected to the city's ctOS can become your weapon. Seamless Multiplayer Experience

Discover a new level of interaction, cooperation and confrontation between players thanks to a brand new multiplayer game system that links the single and multiplayer modes into one seamless experience. That means no menus, no loading screens, just instant open world multiplayer action. Stay Connected with a New Way to Play

Go beyond the console with a ground-breaking, real-time, companion game. This innovative mobile platform allows players to connect and compete with friends, even when away from the home console. The Watch_Dogs companion game delivers revolutionary dual-screen gameplay that enables you to play from anywhere, at any time. Street Justice

Create your own way to attack. Take down enemies by delivering devastating blows with your baton, or use combination of shooting and hacking to gain advantage in a situation. Overall, you will have access to more than 30 weapons that rival any shooter. High-Octane Driving

Get behind the wheel of more than 65 vehicles bursting with horsepower to explore the massive city while completing missions. Ubisoft Montreal partnered with Ubisoft Reflections, the acclaimed studio behind the award-winning Driver series to develop each vehicle with state-of-art physics and handling. Everything is Under Control

Experience the advanced processing and graphics capabilities of Disrupt, the all-new game engine dedicated to Watch_Dogs. The engine delivers stunning visuals and an incredibly realistic experience. Disrupt gives you the power to affect the story, the city and the life of the population with your choices, creating a ripple effect throughout the city. Dynamic Navigation

Watch_Dogs gives you the ability to not only use the city's ctOS to your advantage, but the streets as well. In real-world Chicago, cut through one of the buildings or climb to the rooftops to catch your target.
view larger view larger view larger view larger
Wing Commander IV: The Price of Freedom
Electronic Arts
4 disc game in original box , no cracks , and instructions,all complete , games a few lite scratches, tested working 8/10
WWF In Your House
WWF Warzone
Acclaim
XGRA: Extreme G Racing Association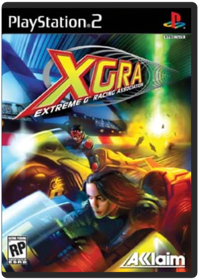 Acclaim Entertainment Inc.
XGRA pushes the limits of humanity of technology as they race across the most treacherous landscapes around!
Yakuza 0
Sega of America
"The glitz, glamour, and unbridled decadence of the 80s are back in Yakuza 0. A prequel to the long-running series set in Japan's criminal underworld, this entry introduces mainstay protagonist Kazuma Kiryu and series regular Goro Majima as they fight like hell through Tokyo and Osaka in their climb through the yakuza ranks. Along the way, players can interact with all the vices 1988's Japan had to offer: from discos and hostess clubs to classic SEGA arcades, there are tons of distractions to pursue in the richly detailed, neon-lit world.

At its heart, Yakuza 0 is a classic 3D brawler, where players roaming the streets of Tokyo or Osaka will encounter all manners of goons, thugs, hoodlums, and lowlifes to beat up. Featuring an engaging combat system allowing players to switch between three different fighting styles instantaneously, Yakuza 0 gives players fluid, free-flowing fights that are easily learned and a joy to master. Take combat up a notch by using environmental objects such as bicycles, sign posts, and car doors for bone-crunching combos and savage take-downs.

A Hard Boiled Crime Drama
The story follows Kazuma Kiryu as a junior yakuza member who finds himself in a world of trouble when a simple debt collection goes wrong and his mark winds up murdered. Meanwhile, Goro Majima is living a ""normal"" life as the proprieter of a cabaret club, but is doing whatever it takes to rejoin the yakuza. What that entails isn't exactly easy.

Fight Like Hell
Kiryu and Majima can each switch between three brutal hand-to-hand combat styles on the fly to create the most fluid beatdowns ever experienced in a Yakuza game. Use Heat Actions to trigger violent special attacks, or pick up environmental objects to whale on enemies!

Two Vibrant Cities Come to Life
Kiryu and Majima will find themselves interacting with many of the colorful denizens of Tokyo and Osaka in some of the most absurdly comedic and heartwarming tales from the red light district. From helping a budding S&M dominatrix learn her profession to ensuring a street performer can make it to the bathroom in time, there are 100 incredible stories to discover. Players can go to hostess and telephone clubs for some female companionship, disco halls and pocket car races to blow of some steam, hit up the CLUB SEGA Arcades for classic 80s video games, and more!

Languages
Enjoy the original Japanese voices and new English text."
You Don't Know Jack
THQ
The award-winning You Don't Know Jack game franchise is being reincarnated for the Xbox 360, PlayStation3, Wii and Nintendo DS platforms. Pop culture and high culture famously collide in this fast-paced trivia party game show filled with zany mind-bending questions about what's newsworthy, relevant & interesting in today's world.