18 Wheeler
"Sega of America, Inc."
Even if you're not the type to bleat out the 1975 hit "Convoy" over a CB radio, you'll probably still get the sweats thinking about racing with 20 tons of cargo pushing your rig. Choose between four 18-wheel trucks, and then ride against rival truckers and the clock as you try to deliver your payload intact and on time. The game offers 20 stages on the way from New York to San Francisco, as well as four play modes: Arcade, Parking Challenge, Score Attack, and Versus. Eighteen Wheeler is compatible with separately sold steering-wheel controllers.
Aerowings
Crave
Experience the pure beauty and freedom of flight, without guns, without missiles, and without leaving your couch. Aero Wings puts you in control of the Blue Impulse stunt airplane team. You lead the team through precision maneuvers and death-defying loops. In either the challenging one-player or simultaneous multiplayer modes, Aero Wings is all about perfect stunt flying, free of the burdens of air combat.

The meat of the game is the Blue Impulse tour mode, where you enter several air shows. As you pull off intense and graceful stunts in follow-the-leader type aerobatics, you score enough points and progress to the next of 20 diverse missions. Sky mission mode has you flying through suspended hoops in challenging time trials. Throw in the free flight mode and the beautiful replays, and Aero Wings is a uniquely beautiful and addictive game. —Sajed Ahmed

Pros:Authentic Japanese Blue Impulse stunt airplanesUp to 4 players on screen at onceExtensive peripherals support, including Jump Pack, VMU, and the VGA cord0 to 100 grading scale on stunts will have you coming back to achieve perfectionCons:Environmental graphics not very detailed
Alien Front Online
"Sega of America, Inc."
ChuChu Rocket!
"Sega of America, Inc."
EyeToy is best enjoyed by groups Online gaming has arrived on the Dreamcast! Chu Chu Rocket is the first \ game to fully utilize the Internet connectivity of the Dreamcast. This simple (but very addic\ tive) puzzle game is strongly reminiscent of the traditional "cat-and-mouse" game. Your goal is to herd some \ intergalactic rats (the strangely-named Chu Chus) into a rocket, while avoiding some whacked-out space \ cats (a.k.a. Kapu Kapus) that are in fast pursuit.

While the bare-boned graphics won't win any design awards, Chu Chu Rocket does offer an impressive online gaming experience. In addition to the solo mode, the game let\ s you connect with gamers from around the world for true multiplayer madness. Whether you compete against\ others or tag-team to solve the puzzles, Chu Chu Rocket provides an exciting entry point into \ the emerging world of networked gaming. (Note: Online features require players to have an existing IS\ P connection, sold separately.)
Crazy Taxi
"Sega of America, Inc."
If you think it's hard to flag down a cab in a big city, try driving one in Sega's zany straight-from-the-arcade port of Crazy Taxi. If you're one of the teeming fans who eagerly played Crazy Taxi in the arcade at a buck a pop, then this game is a must-buy, if only from a purely economic standpoint. Even those who don't know the difference between Crazy Taxi and the long-running TV series Taxi will immediately recognize the appeal of this game. In fact, this game is so impressive and addictive that it should easily convince a whole new wave of buyers to purchase a Sega Dreamcast.

What's so hot about Crazy Taxi? For starters, the graphics sport the most impressive re-creation of a living city ever seen in a video game. The level of detail is astounding and never ceases to surprise the player as block after unique block speeds by. The city is a distilled version of San Francisco with some landmarks and neighborhoods left intact. Making it seem all the more real are apparent product placements of real-world retail locations such as KFC, Tower Records, and Pizza Hut. And just about everything you see on the screen is interactive: boxes, phone booths, and mailboxes topple when bumped or smashed, pedestrians leap and tumble out of your path, and the myriad of traffic attempts to avoid your erratic high-speed antics. While some driving games brag about a lack of boundaries, this one delivers—players drive on the ocean floor, off the second floor of a parking garage, through parks, and down stairs. A helpful hovering arrow points drivers in the correct direction, but you can truly drive wherever you want at any time, making for tons of replay value.

While the game is a direct port from the arcade game of the same name, there's plenty more depth in the home version. In addition to the city that appears in the coin-op version, the Dreamcast version also includes an entirely new city. Crazy Taxi includes a trunk-load of mini-games that help to teach drivers how to perform the special speed boosts and maneuvers in the game.

Though this game would be plenty exciting without any sounds at all, it has an adrenaline-pumping soundtrack supplied by punk crossover bands the Offspring and Bad Religion, as well as some good, if sometimes monotonous, dialogue between the driver and the passengers. —Jeff Young

Pros:Wonderful, realistic graphicsEasy to get into, and full of many long hours of addictive playEven more to offer than the fantastic arcade game upon which this is basedCons:On very few occasions players will encounter some graphic slowdown
Dream Passport
Ecco the Dolphin: Defender of the Future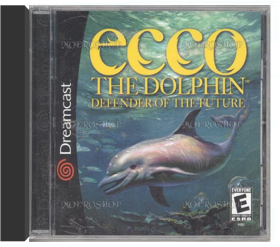 Ecco the dolphin has always played the part of Sega's more sedate mascot, providing a relaxing contrast to the hyperactive Sonic the Hedgehog games. Ecco the Dolphin: Defender of the Future continues this tradition on the Dreamcast, putting the title character in charge of saving the world yet again. An alien force (creatively called The Foe) has abducted all the humans and most of the dolphins from earth, leaving only a tiny force of dolphins to restore things to normal. As Ecco, players must travel through an enormous underwater world, interacting with other sea creatures and solving puzzles in a quest to stop The Foe once and for all.

The Dreamcast's power is exploited to beautiful new extremes in this game. The underwater environments are filled with shimmering rocks, colorful plants, and outcroppings of coral. Families of turtles slip through the water in a stately line, while schools of fish dance in circles and translucent jellyfish sit suspended in the depths. The most amazing creatures by far are the dolphins—including Ecco—as they are rendered in perfect detail and benefit from incredibly fluid animation. This is one beautiful game, and the serene soundtrack adds to the overall atmosphere.

Unfortunately, the gameplay is about as shallow as the ocean is deep. There are many missions to complete, from dolphin races to killing teams of sharks, but there are so few controls that nearly all assignments are completed in the same way. Tasks become much harder as the game progresses, and the lack of direction given to players players needlessly adds to the difficulty. We wasted countless hours of trial and error trying to figure out what we were supposed to do—time that would have been saved had the mission objectives been clearer. Still, Ecco the Dolphin is an engaging way to waste time, thanks to its open environments and hypnotic beauty. —T. Byrl Baker

Pros:Absolutely beautiful environmentsFluid animation

Cons:No way to save games in the middle of a levelRepetitive gameplayThe game slows when there are many objects onscreen at once
Feet of Fury
Phantasy Star Online
Sega Of America, Inc.
Phantasy Star Online continues in the tradition of the popular series and is the first worldwide, online role-playing game for a console. The story revolves around the Pioneer Project, a plan conceived in response to the imminent destruction of the home worlds. Seven years prior, Pioneer 1 was sent to establish a colony on Planet Ragol, which included construction of the Central Dome. As Pioneer 2 is about to arrive with the main wave of refugees, a gigantic explosion shakes the entire planet, cutting off all communication with the members of Pioneer 1. Players from around the world must now unite via SegaNet to unravel the mystery.

In order to form parties, the game's People Finder option allows players to locate each other on giant servers. Once inside the Virtual Lobby, players can choose up to three other team members. Language barriers between players are broken down by a communication system featuring a universal icon system, preset phrases, and keyword translations. Players can create their own character by modifying their physical appearance and personality traits. Real-time combat features many of the original weapons and enemies from previous Phantasy Star games. Gamers can play completely online, completely offline, or a combination of the two.
Phantasy Star Online: Version 2
Sega Of America, Inc.
Note to customers: Sega requires users to identify themselves with a credit card number for online play. Complete details are included with the game.

The realm of Phantasy Star Online has increased. Phantasy Star Online, Version 2 includes all the original content from Phantasy Star Online, but expands the world with more levels, more features, and more evil to combat. You can import your existing character or create a new one as you strive to reach level 200 and master the game's new ultimate difficulty setting. Players from around the globe can now compete in Battle Mode as they face each other in deathmatch-style combat. Play Lobby Ball with up to 12 players while you chat and get a game going. Discover new and more powerful monsters, unearth rare items, and experience the passing of time as day turns into night in this persistent online world. Phantasy Star Online, Version 2 continues the evolution of the original revolutionary gaming experience.
Sega Rally 2
Sega Of America, Inc.
Sega Rally 2 is the sequel to an arcade game that made its home debut on the ill-fated Sega Saturn video game console. Despite the Saturn's demise, the original Sega Rally still holds a warm place in the heart of video game fanatics as one of the best arcade-style racing games ever created. Now the series follow-up hits the console system after a successful run in arcades. And with cars and tracks not found in the standup version, Sega Rally 2 fans should be very pleased with Sega's efforts to enhance the gameplay fun for the Dreamcast version. On the flip side, casual racing fans may find the difficulty level a bit too advanced for their tastes.

Sega Rally 2 favors more of an arcade-style fantasy physics model than its predecessor, but don't expect this game to be a Sunday drive. Those looking for an exciting romp behind the wheel will likely be disappointed after numerous sideline crashes and races end prematurely due to expired time. Purists and road jockeys weaned on the likes of Gran Turismo may be able to handle the challenge factor here, but casual arcade-style racing fans may find the race too hot to handle for long-term, frustration-free fun. —Jeff Young

Pros:
More replay value than the coin-op version of the gameBeautiful graphics

Cons:
Too hard to be fun for many arcade-style racing fansBackgrounds tend to pop up dramatically when the horizon is not obscured by curvy road
Shenmue
SEGA DREAMCAST
To say that Shenmue is an anticipated title is an understatement; the game made huge waves in Japan upon its release, and American gamers have been waiting since then to see what the fuss is all about. It's a game in which the concept itself is the selling point. What if you could portray a young hero in a fully realized Japanese city? Would you like to participate in and influence an over-the-top kung fu-style action-mystery flick in your living room? What if lots of combat, cinematic flourish, detail, and a dash of romance were thrown in?

The game itself is awash in small details, crammed into a confined space. The city of Yokusuka circa 1986 is rendered beautifully in a short series of neighborhoods that are long on detail even if short on variety. The story itself is ripped straight from a chopsocky flick: you portray the young hero Ryo Hazuki, whose father (a kung fu sensei, naturally) is killed before his very eyes by a mysterious and frightening villain. Ryo must uncover the identity of the killer and fight his way through the city in an effort to avenge this wrongful death.

Shenmue's Yokusuka might be short on space—in total, it represents maybe a square mile—but the detail is overwhelming. You can interact with nearly every person or object that you see; 300 citizens go about their daily routines, and whom you encounter is as much determined by where you are as when you are there.

Much of this interaction involves combat that ranges from Dragon's Lair-style reaction tests (such as timing a button press to dodge an oncoming car) to freeform kung fu fighting. Further, each second of real time equals about a minute of game time, and Ryo has to be home by 11 p.m. each evening. The game moves at a brisk pace, and each challenge or battle feels like a race against time. Some might say that gaming doesn't get shallower than this (you are essentially performing tasks and exploring, instead of gaming), but the game feels like no other and is ultimately satisfying by the time that it all ends. In this way, Shenmue is more than a game—it's an event that's worth experiencing. —Andrew S. Bub

Pros:Compelling, well-told storyGood action and combatFantastic sound and graphicsCons:Plot is familiar to fans of kung fu action filmsTask-and-exploration gameplay might seem slow to action gamers
Sonic Adventure
SPIG
After several years in video game retirement, Sonic the Hedgehog returns as the star of a graphically stunning 3-D adventure game that blows away every other game in the genre. Sonic is joined by five of his friends in a massive quest that spans over 50 game levels filled with remarkable visuals and a pulsating soundtrack. Taking full advantage of the unprecedented processing power of the Dreamcast, Sega's development crew, Sonic Team, has designed several gravity-defying game levels that will keep gamers hooked.

Our favorite level is Windy Valley, which requires you to survive the stormy perils of a tremendous tornado. This tyrant of nature chases you relentlessly before ultimately sucking you into the air and up through its eye. During the chase, the tornado manages to tear up just about everything on the screen. This dizzying visual spectacle moves so fast that you will literally hold on to the game controller for dear life.

Assuming you survive the tornado, there are several more challenging areas to conquer, including a level that requires you to snowboard directly in the path of a fast-approaching avalanche. During the Emerald Coast level, you will race across a precarious dock as a killer whale attacks from below, destroying the wood planks underneath your feet while you attempt to outrun the crazed creature.

We also liked the numerous mini-games scattered throughout this title. When you least expect it, Sonic Adventure tosses in some old-fashioned arcade action, such as pinball or bumper car racing. In between, you can raise virtual pets, known in the game as "Chao." These characters, which are saved using the optional Visual Memory Unit (VMU), can be combined with other Chao characters exchanged between friends or downloaded via the Internet.

Gamers looking to show off the strong processing power of the 128-bit Dreamcast will definitely want to pick up this title. Simply put, Sonic Adventure's graphics surpass those of any other game currently available on any home video game system. Let the Sonic assault begin. —Brett Atwood

Pros:Strong replay valueStunning graphicsBonus virtual pet gameSix different game characters

Cons:May be too fast-moving for some playersAwkward camera angles can inhibit gameplay in some areas
Sonic Adventure 2
"Sega of America, Inc."
When longtime Sega mascot Sonic the Hedgehog made his debut on the Dreamcast console in Sonic Adventure, gamers were stunned. Sega had not only used the game to show off the tremendous possibilities of the then-new hardware, but they had reinvigorated the platform-style arcade adventure genre with massive, intricate levels, gleefully distracting minigames, and even a new kind of virtual pet, called a Chao, that could be combined with other pets, traded with friends, and even exchanged over the Internet. Sonic Adventure 2 ups the ante of its predecessor with all-new puzzles and levels, and even faster action reminiscent of the early Genesis-era games. Knuckles and Tails are back, as are the Chao pets (who can now talk!).
Sonic Shuffle
"Sega of America, Inc."
Sony and Sega always have had a way of looking at successful Nintendo games and saying, "We can do that!" (See Crash Team Racing, for one example.) Now, Sega has all but copied Mario Party and produced its own version of a digital board game, which features the Sonic cast of characters.

Sonic Shuffle, as it's known, easily could have been called Sonic Party, because of the countless similarities between it and the Nintendo title. Players move from space to space—going after Precioustones (instead of stars), collecting rings along the way (instead of coins), and participating in minigames (same for both). As an added twist, characters also get into card battles with monsters, à la Pokémon.

Unfortunately, the minigames in Sonic Shuffle are painfully uninspired and frequently un-fun. Also, players are forced to sit through battles between the computer and the computer. The fact that four can play is a plus; but, on the whole, this one's just a pretender to the throne. —Robb Guido

Pros:Colorful graphicsCons:Minigames are uninspired and un-fun
A Trip to the Moon
Georges Méliès, Serge Bromberg, Eric Lange
Blu-ray + DVD edition. Once believed lost, a copy of the original, hand-colored version of George Melies masterwork A Trip to the Moon was miraculously found in Barcelona, Spain in 1993. Initially thought too fragile to restore, the film underwent one of the most complex and ambitious film restoration projects ever. Three experts in film restoration - Lobster Films, Groupama Gan Foundation, and Technicolor Foundation for Cinema Heritage - used the most advanced digital technologies available to assemble and painstakingly restore the film's 13,375 fragmented frames. Follow six scholars-members of the Astronomers' Club-as they set off on an expedition to the moon! Traveling in a bullet-shaped rocket fired into space by a giant cannon, these voyagers arrive to meet the moon's inhabitants: the Selenites. Escaping the Selenties' king, the scholars fall back to Earth in their rocket and are fished out of the ocean by a sailor. Applause and a triumphant parade for the six heroes concludes the first outer-space adventure in the history of cinema. Flicker Alley, Lobster Films, and Blackhawk Films are thrilled to present this re-released publication of the 1902 hand-colored edition of A Trip to the Moon. This deluxe dual-format edition features two brand new scores by Jeff Mills and Dorian Pimpernel, as well as an improvised piano track by Serge Bromberg with optional narration written by George Méliès.
Walt Disney World Quest: Magical Racing Tour
Disney Inter Active
Web Browser
World Series Baseball 2K1
"Sega of America, Inc."
World Series Baseball 2K1