Alien 3
Acclaim
F-Zero
Nintendo
Experience the future of racing with F-ZERO. In the year 2560, racing has evolved into an intense sport reserved only for the most strong-willed and courageous drivers in the world. Racing in machines that travel at speeds of 500km or h and hover 12 inches off the ground, the F-Zero Grand Prix is the most prestigious race of them all. You can choose from four pilots Captain Falcon, Dr. Stuart, Pico the alien, or Samurai Goroh and hit the track for some high-speed racing action.
FIFA Soccer 97
Gemfire
KOEI Corp
King Arthur's World
Jaleco
super nintendo rpg king arthur's world
Mega Man X
Capcom
Mega Man X SNES Game. Mega Man is back again and better than ever on SNES!
Mickey Mania: The Timeless Adventures of Mickey Mouse
Sony Computer Entertainment
Mickey Mania: The Timeless Adventures of Mickey Mouse is a video game released for the 16-bit Sega Mega Drive/Genesis, Sega CD, and Super NES. In the game, the player controls Mickey Mouse, who must navigate through various side-scrolling levels, each designed and based from classical Mickey Mouse cartoons from 1928 to 1990. The game was later released on Playstation in Europe and Australia as Mickey's Wild Adventure.
NBA Jam: Tournament Edition
Pilotwings
Nintendo
brand new factory sealed with seam in the back. in stock ship same day
Star Fox
Nintendo
super nintendo starfox
Super Game Boy
Nintendo
Cartridge for Super Nintendo, To play Game Boy Games.
Super Mario All Stars
For Super Nintendo
Super Nintendo Version. From the Manufacturer Super Mario All Stars is a collection of Mario's four greatest adventures in one awesome game pack. With improved graphics and sound for the Super NES, SMB1, SMB2, SMB3, and the Lost Levels, demonstrate the 16 bit excellence we've become accustomed to. Released as SMB2 in Japan, the Lost Levels' design and play control will remind you of SMB1 but the challenge is far beyond any previous SMB game. The game features multiple scrolling backgrounds, 52 levels of play and lots of enemies for Mario to crush
Super Mario RPG: Legend of the Seven Stars
Nintendo
Product Description From the Manufacturer Mario stars in his first RPG in this highly acclaimed role-playing adventure. Excellent 3-D graphics and a rich variety of game play will enthrall Mario and RPG fans alike! In Super Mario RPG, Mario's beloved Mushroom Kingdom has been thrown into chaos by the appearance of an extraterrestrial villain. This evil and outer space menace, Smithy, brings fear and treachery to the once-pleasant Mushroom Kingdom. Once Smithy crashes into the Star Road, he causes seven stars to be scattered throughout the land. Mario and his friends must recover the Seven Stars and repair the Star Road by making an epic journey to Bowser's castle to confront the dreaded Smithy. Princess Toadstool, Mallow, Geno, and—believe it or not!—Bowser help Mario restore tranquility and happiness to the Mushroom Kingdom. Powerful weapons, sinister spells and other items help Mario complete his harrowing journey. Conflicts take place in animated battle screens. After you choose battle options, the game carries out your fighting commands and spells. There are seven stages and 29 areas to navigate in Super Mario RPG. Integrating a traditional menu-driven RPG with action and puzzles, this pak offers a medley of playing excitement. The stunning graphics include fully rendered characters and gorgeous landscapes. For fans of Mario and role-playing games alike, Super Mario RPG shouldn't be missed.
Super Punch-Out!!
Super Nintendo SNES
This is the game Super Punch Out for the Super Nintendo SNES. This is cartridge only and is used or preplayed. All of our SNES nintendo games are cleaned tested and guaranteed to work. We stand by our products and offer a 60 day guarantee. If a game does not work within 60 days from the time you receive it we will gladly exchange it for you
Uniracers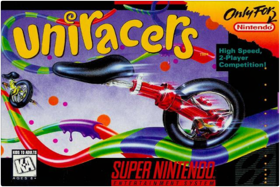 Nintendo