Smashing Drive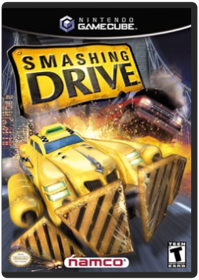 Gamecube
Smashing Drive is a fast-paced action racer based on the Namco arcade hit. With numerous power-ups including battering rams, turbo rockets, and buzz-saws, as well as countless pathways and shortcuts throughout the big city, getting from point A to point B is the most fun and excitement a cabbie has ever had behind the wheel.
Metal Gear Solid: The Twin Snakes
Konami
In Metal Gear Solid: The Twin Snakes, superspy Solid Snake infiltrates the GameCube for one of the most games ever! Twin Snakes is a complete remake of the legendary Metal Gear Solid, with updated graphics for better, smoother gaming. Prepare to save the world, in the game that launched a classic series and started the spy gaming genre!
The Legend of Zelda: The Wind Waker
Nintendo
The Legend of Zelda: The Wind Waker returns you to the world of Hyrule as you travel the waves to tame the winds! Brilliant combat, fantastic facial expressions and beautiful oceans will immerse you in the land of Hyrule as you face Gannon!
Luigi's Mansion
Nintendo
Join Luigi as he searches for Mario in this blockbuster game for the Nintendo Gamecube.
Star Fox Adventures
Nintendo
Starfox Adventures for Gamecube MODEL- DOL-P-GSAE VENDOR- NINTENDO FEATURES- Star Fox Adventures Breathtaking graphics and an epic storyline propel this all-new spectacular from Rare and Nintendo. The despotic General Scales has unleashed powers that are literally tearing apart the once-peaceful Dinosaur Planet. With the survival of Fox McClouds home planet at risk, the intrepid veteran of Star Fox 64 and Super Smash Bros. Melee gets an urgent message to battle Scales and his vast army of cackling SharpClaws. Fox gets strong support from Star Fox Team members Slippy, Peppy and Rob. Unexpected help comes from Prince Tricky, the playful heir to the EarthWalker tribal throne. On the planet surface, Fox must rely on the mystical powers of a unique staff as he battles Scales minions, befriends peaceful plant-eaters and encounters eerie spirits that hold the key to the planets survival. Most intriguing of all is Krystal, a beautiful traveler from a distant planet. Rare and Nintendo have lovingly crafted the games incredible graphics, including gorgeous water effects and Foxs phenomenally detailed fur. For a sharper and clearer image, select the Progressive Scan option when playing on a TV set that supports that feature. The sound is top-notch, too, from the uniformly brilliant voice talent to the endlessly evocative music. This game supports Dolby Pro Logic II. Star Fox Adventures supports progressive scan on TV sets that have that feature. — SPECIFICATIONs —————— ESRB Rating : T for Teen Genre/Category
Super Mario Sunshine
Nintendo
In his newest adventure, Mario visits a tropical island and is mistaken for a local outlaw. So he straps on a hydro-powered water pump to clean up the mess, clear his name and meet up with old friends. Hose down enemies and meet the locals in this colorful, action-packed adventure set in sprawling 3D worlds with surprises around every corner. Made in USA.
Sonic Gems Collection
Sega Of America, Inc.
A second collection of classic Sonic The Hedgehog games, with nine total games (and some secret games) which include Sonic CD, Sonic R, Sonic the Fighters and more. Also included is a Museum Mode of Sonic history.