Aerogauge
ASCI
Banjo-Kazooie
Nintendo
Banjo-Kazooie N64 Game. Banjo-Kazooie's fairy tale back story is reminiscent of Snow White's. A gnarled ugly witch named Gruntilda asks her magical cauldron who is the fairest of them all!
Banjo-Tooie
Nintendo
Grunty returns-and that's bad news for Banjo and Kazooie. All New Adventure
Beetle Adventure Racing
Nintendo
Beetle Adventure Racing N64 game. Take control of a collection of the latest Volkswagen Beetle "2.0"models (from street type to off-road designs) and race across varyingroad types that will test your speed and endurance!
Blast Corps
SPIG
Blast Corps N64 Game. Get out of the way! A nuclear missile carrier is out of control on aone way-set path and unless that path is cleared it will explode assoon as it makes contact with anything destroying the world. It is upto you to clear the path so that nothing gets in the way of the Carrier.
Bomberman 64
Nintendo
Bomberman Hero
Nintendo
ClayFighter 63 1/3
Nintendo
Nintendo 64 cartridge you need the expansion pack to play
Cleaning Kit
Nintendo
Conker's Bad Fur Day
Rare
Humorous action-platformer that does away with the tedious item collection found in most games in the genre. Instead, BFD employs a combination of standard jump, run and explore mechanics and context-sensitive gags and actions. For instance, in the beginning of the game, by pressing the B button on the first pad he encounters, Conker drinks some Alka-Seltzer to wipe out his hangover, at which point players can proceed forward. Later on these pads are used to activate a slingshot and throwing knives; to turn Conker into an anvil and drop downward; to shoot automatic, double-handed guns; to activate a The Matrix-inspired slow-motion effect and flip through the air shooting enemies; and much, much more.
Cruis'n USA
Nintendo
This is the game Cruis'n Exotica for the Nintendo 64. This is cartridge only and is used or preplayed. All of our N64 nintendo games are cleaned tested and guaranteed to work. We stand by our products and offer a 60 day guarantee. If a game does not work within 60 days from the time you receive it we will gladly exchange it for you. You can read details about our guarantee
Diddy Kong Racing
Nintendo
Diddy Kong Racing for your N64! Hop on for the ride of your life.
Extreme-G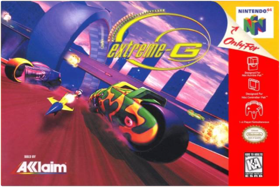 Acclaim
Extreme G N64 Game. Motorcycle racing at white knuckle speeds all at home for your N64!
Extreme-G: XG2
Acclaim
Extreme G XG2 N64 Game. In this second installment of Extreme-G you once again will race with and against the incredible capabilities of G-bikesthrough several surreal twisting tracks.
F-Zero X
Nintendo
F-Zero X N64 game. Race in a futuristic racing tournament on tracks levitated miles up in the air against a selection of devious opponents!
F1 Pole Position 64
UBI Soft
F1 Pole Position 64 N64 game. A Formula 1 racing game officially acknowledged by the FIA F1 World Championship containing the 16 World championship circuits of the day ranging from Monza and the old Hockenheim to Monaco and the Hungaroring.
GameShark
inter act
game shark for nintendo 64, by interact
Gex 64: Enter The Gecko
Midway Entertainment
Gex3D 64 N64 Game. Control Gex though  crazy levels of  popular culture!
Iggy's Reckin' Balls
Acclaim Entertainment Inc.
Legend of Zelda: Majora's Mask
Nintendo
Buy Legend of Zelda: Majora's Mask for Nintendo 64 (N64) and once again become the youthful hero Link as he this time works to find a way from keeping the moon in its place above Termina! In Legend of Zelda: Majora's Mask the Skull Kid has taken the sacred relic Majora's Mask which has immense magical power. While wearing it the Skull Kid pulls the moon down and crashes it into the land of Termina a sequence of events taking a total of three days to complete. >> When you buy Legend of Zelda: Majora's Mask for Nintendo 64 (N64) you will need to help Link travel backwards into the time before the crashes to figure out a way to stop the Skull Kid and retrieve the powerful mask from him. >> The land of Termina cannot stand this much longer! Buy Legend of Zelda: Majora's Mask for Nintendo 64 (N64) and help Link on his journey through time to stop the possessed Skull Kid! >>
Legend of Zelda: Ocarina of Time
Nintendo
Legend of Zelda Ocarina of Time N64 Game - The first game of the classic Legend of Zelda series for Nintendo 64! Extremely rare - Guaranteed to work perfectly!
Madden 99
EA Electronic Arts
Best Madden Football For Nintendo 64!!!!
Mario Kart 64
Nintendo
Mario Kart 64, one of the first games released for the Nintendo 64 platform, is an updated translation of the very popular Super Mario Kart for the Super NES (SNES). And while the game clearly takes full advantage of the graphics power and speed of the N64, a few components that made the original so compelling have been left out of this release. Still, Nintendo's expertise at sucking players into the game world is strongly evident, and Mario Kart 64 offers enough challenges to keep players (especially casual gamers) entertained. Placing a familiar Nintendo personality behind the wheel of a sputtering kart powered by a 50, 100, or 150-cc engine, the game lets players race computerized opponents or up to four other players on a variety of well-designed tracks. Because karts lack the power and speed of race cars, drivers must focus on collecting power-ups and nonlethal weapons rather than negotiating hairpin turns on two wheels. Grabbing and using on-track items is the heart of the game's fun: a strategically-placed banana peel sends the unlucky victim into a spin, nailing an opponent with a turtle shell launches their vehicle skyward, and a rocket provides a quick boost to near-breakneck speeds, if only for a moment.
Mario Party
Nintendo
Mario Party is the first of several Mario games planned for this year that are being created by developers outside of Nintendo. In this case, the developer is Hudson, a company best known for the Bomberman series, while the others are HAL Systems, the creator of the Kirby line (which is handling the Mario fighting game, Smash Brothers), and Hot Shots Golf maker Camelot (which is doing Mario Golf). Each of the games' focus plays to what the developers know best, in this case, Hudson's knowledge of good multiplayer game modes gleaned from producing countless incarnations of Bomberman, the seminal party-game series
Multi-Racing Championship
SPIG
MRC: Multi-Racing Championship N64 game. Awesome rally car action for your Nintendo 64!
Nagano Winter Olympics 98
Konami
NHL 99
Electronic Arts
NHL 99 N64 Game. NHL hockey taken to a whole new level with this innovative N64 game that took gameplay to a whole new level!
Paper Mario
Nintendo
Paper Mario N64 Game. Paper Mario is the follow-up to Super Mario RPG: Legend Of The Seven Stars for Super Nintendo!
Perfect Dark
Rare
Perfect Dark N64 game. Amazing shooter brought to you by the same people who created Golden Eye!
Pilotwings 64
Nintendo
Pokemon Snap
Nintendo
Pokemon Snap N64 Game.  Capture all your favorite Pokemon characters on film in this fast paced photography adventure.
Quest 64
THQ
Robotron 64
Crave
Robotron 64 N64 game. The retro shooter returns with the same addictive gameplay of theoriginal arcade game but now with the added power of the Nintendo 64.
Rush 2: Extreme Racing USA
Midway Entertainment
Rush 2 Extreme Racing N64 Game. This high speed urban race thriller is back and faster than ever. Hold on!
San Francisco Rush: Extreme Racing
SPIG
San Francisco Rush Extreme Racing N64 Game. The arcade stunt racer hit brought home for your N64!
Snowboard Kids
Atlus
snowboarding
Space Station: Silicon Valley
TAKE 2 INTERACTIVE
Star Fox 64
SPIG
Star Fox N64 game. Fox McCloud returns to once again rid evil from the Lylat System in this 64-bit remake of SNES hit!  Rumble pak compatible.
Star Soldier: Vanishing Earth
Nintendo
Star Wars: Episode I: Racer
Lucas Arts Entertainment
Star Wars Episode 1: Racer N64 Game. Based upon the Pod Racing scenes of Star Wars Episode I: The Phantom Menace!
Star Wars: Rogue Squadron
Lucas Arts Entertainment
Star Wars Rogue Squadron N64 Game. Take on the Empire as Luke Skywalker in one of the N64's first Star Wars games.
Star Wars: Shadows of the Empire
Nintendo
Star Wars: Shadow of the Empire N64 Game. Set between Empire Strikes Back and Return of the Jedi.
Super Mario 64
Nintendo
The game that launched the Nintendo 64 system stands the test of time as one of the first and best exploratory action/adventure games. Guide the legendary plumber through an incredibly vast magical world with never-before-seen movement and camera-angle freedom. Mario's got the moves with graduated speeds of running and walking, jumps, super jumps, bounce attacks, swimming, and more. The more you play, the more moves you'll discover.
Super Smash Bros
Nintendo
All of your favorite Nintendo characters have come together to answer the question: who is king of the Nintendo hill? The format can aptly be described as Super Mario Kart meets Mortal Kombat, which makes for an odd, yet addictive game. The object is to throw, punch, smash, or blast your opponents off the edge of the beautifully rendered, themed arenas. Numerous power-ups, weapons, and surprises help or hinder the melee. Your eventual goal is to fight your way through to a bizarre final boss character. Victory in this battle rewards you with another character to play, such as the scene-stealing Pokémon, Jigglypuff.
Superman 64
Nintendo
Turok 2: Seeds of Evil
Nintendo
Turok 2: Seeds of Evil N64 Game. The sequel to Turok: Dinosaur Hunter. The game is back and better than ever.
Vigilante 8
Vigilante 8 - Racing
Wave Race 64
Nintendo
Wave Race for N64. Beautiful ocean scenery and amazing quick and simple gameplay. A great one for the kids. Rated K A.  Rumble pak compatible.
Wayne Gretzky's 3D Hockey
Midway Entertainment
Designed for N64 Controller Pak. Tear u the ice with the Great One, and experience lighting fast skating, blistering one timers and hard hitting body checks. Hammer the puck, and rip the net..with the world's best
Wipeout 64
Midway Entertainment
Wipeout 64 game for N64. Move fast and decide quickly because this turbo thriller holds nothing back!
Yoshi's Story
Nintendo
Yoshi's Story (Japan)
N64
Japanese Nintendo 64 import. Playable on a modded/Japanese console, or through an adapter.