1-2-Switch
Nintendo
A face-to-face party like no other!
Animal Crossing: New Horizons
Nintendo
The Legend of Zelda: Breath of the Wild
Nintendo
Step into a world of discovery, exploration, and adventure in The Legend of Zelda: Breath of the Wild, a boundary-breaking new game in the acclaimed series. Travel across vast fields, through forests, and to mountain peaks as you discover what has become of the kingdom of Hyrule in this stunning Open-Air Adventure. Now on the Nintendo Switch console, your journey is freer and more open than ever. Take your system anywhere, and adventure as Link any way you like.Discover a world as never before seen: by making your own path, choices, and consequencesIngenuity is the key to survival: find multiple solutions to tons of dynamic puzzlesSurprises hide around every corner: scavenge weapons, armor, plants, animals, and moreLive off the land: find weapons and armor, cook food, and brew elixirsUtilize special technology: the in-game Sheikah Slate controls objects and enemies in fun waysGear up: many weapons and armor have unique stats, resistances, effects, and durabilityShrines offer hundreds of clever challenges even veterans won't see comingCompatible amiibo include the Wolf Link amiibo figure, figures from the Legend of Zelda 30th Anniversary amiibo series, and figures from The Legend of Zelda: Breath of the Wild amiibo series. Each one will offer Link in-game items that may just come in handy.
The Legend of Zelda: Link's Awakening
Nintendo
Explore a reimagined Koholint Island in one of the most beloved games in the Legend of Zelda series. Link has washed ashore on a mysterious island with strange and colorful inhabitants. To escape the island, Link must collect magical instruments across the land and awaken the Wind Fish. Explore a reimagined Koholint Island that's been faithfully rebuilt in a brand-new art style that will entice fans and newcomers alike. Battle enemies as you conquer numerous dungeons and uncover the hidden secrets of the island. Encounter Super Mario enemies like Goombas, Piranha Plants, and more, and interact with unique locals who help Link on his adventure. As you clear dungeons throughout the main story, earn dungeon rooms (Chambers), then arrange them into custom layouts in the all-new Chamber Dungeon. Place your dungeon entrance, Nightmare room, and everything in between as you try to fulfill objectives and play through a new dungeon. Tap compatible amiibo figures to earn more Chambers and find additional Chambers throughout the game in updated mini-games, such as the river rapids, trendy game, and fishing.
Lumines Remastered
Limited Run Games
Mario + Rabbids Kingdom Battle
Ubisoft
Worlds collide in Mario + Rabbids Kingdom Battle!

 The Mushroom Kingdom has been torn apart by a mysterious vortex, transporting the chaotic Rabbids into this once-peaceful land. To restore order, Mario, Luigi, Princess Peach, and Yoshi must team up with a whole new crew made up of four Rabbids heroes! Together, they will battle with weapons through four worlds filled with combat, puzzles, and unpredictable enemies.

 Developed exclusively for the Nintendo Switch system, Mario + Rabbids Kingdom Battle is the best of the Mario and Rabbids franchises, combining all that you love about Mario's iconic universe with the side-splitting antics of the Rabbids.
Pokémon Shield
Nintendo
A new generation of Pokémon is coming to the Nintendo Switch system. Become a Pokémon Trainer and embark on a new journey in the new Galar region Choose from one of three new partner Pokémon: Grookey, Scorbunny, or Sobble. In this all new adventure, you'll encounter new and familiar Pokémon as you catch, battle, and trade Pokémon while exploring new areas and uncovering an all-new story. Get ready for the next Pokémon adventure in the Pokémon Sword and Pokémon Shield games.

 

Early Purchase incentive

Get a special Gigantamax Meowth as an early purchase bonus

If you purchase Pokémon Sword or Pokémon Shield before January 15th, 2020, you can receive a special Gigantamax Meowth *** Unlike others found in the Galar region, this Meowth can Gigantamax to take on an imposing, elongated appearance capable of using a mighty G-Max Move This special Meowth cannot evolve. You can receive this special Meowth by selecting the Get via Internet option in Mystery Gift. Don't forget to claim this Cat Scratch Pokémon before January 15th, 2020

*** An internet connection is required to receive the special Meowth.
Pokemon: Let's Go, Pikachu!
Nintendo
Pokemon Let's Go Pikachu for Nintendo Switch

Take your Pokémon journey to the Kanto region with your energetic partner, Pikachu, to become a top Pokémon trainer as you battle other trainers. Use a throwing motion to catch Pokémon in the wild with either one Joy-Con controller or Poké Ball Plus accessory, which will light up, vibrate, and make sounds to bring your adventure to life. Share your adventure with family or friends in two-player action using a second Joy-Con or Poké Ball Plus (sold separately). You can even connect to the Pokémon GO app using a compatible smartphone to bring over Pokémon originally discovered in the Kanto region. Features Become a top Pokémon trainer on an adventure with PikachuEncounter Pokémon in the Kanto regionPlay the entire game with a single Joy-Con controller or use the Poké Ball Plus accessory, which will light up, vibrate and make sounds to brig your adventure to life.
Puyo Puyo Tetris
Sega of America, Inc.
Two puzzle game juggernauts collide as Tetris, one of the largest-selling and recognized brands in gaming history, and Puyo Puyo from SEGA have combined to create a fun-to-play, fast-paced, competitive party game like no other! Up to 4 players will get to choose whether to play the classic Tetris or Puyo modes to compete against each other, or they can try any of the game's inventive fusion modes, including one where players have to master both Puyo AND Tetris together! And whether it's trying to top the online leaderboards of worldwide competition or just being the best player on your couch, Puyo Tetris is chock full of puzzle action!
Snipperclips Plus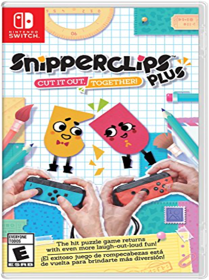 Nintendo
Paper pals Snip and Clip must cut each other into the right shapes to overcome tricky obstacles in this updated version of the game. Partner up with friends or family to solve puzzles, including new comic book and toy box worlds, and more! Plus, play the original levels in new shapes! No matter how you cut it, this couch co-op is a riot! Snip may need to cut Clip into a needle to pop balloons or maybe you'll have to team up to form a squawking, egg-laying bird! Prove you're a cut above the rest in Blitz mode, where 2-4 players can compete in a series of puzzlingly action-packed challenges. Make it a party with Party mode, where up to four players can team up to solve fun puzzles. Additional accessories may be required for multiplayer mode. Sold separately.
Starlink: Battle for Atlas
UBI Soft
In Starlink: Battle for Atlas, you are part of a group of heroic interstellar pilots, dedicated to free the Atlas Star System from Grax and the Forgotten Legion. Featuring special guest pilot Fox McCloud and his Arwing. Battle in exclusive Star Wolf missions! - 1 Starlink video game with Star Fox story mission - 1 Arwing starship - 1 Fox McCloud - 1 Flamethrower Weapon - 1 Frost Barrage Weapon - 1 Digital Shredder Weapon - 1 Mason Rana Pilot - 1 Digital Zenith starship - 1 Controller Mount - 1 Starlink poster
Super Mario Maker 2
Nintendo
Super Mario Maker 2.
Super Mario Odyssey
Nintendo
SWH SUPER MARIO ODYSSEY
Super Mario Party
Nintendo
Inspired by original Mario Party board game play, the beloved series is coming to Nintendo Switch with new minigames and play styles that make use of the Joy-Con controllers. The Super Mario Party game includes features like character-exclusive Dice Blocks that add depth to players' strategy.
Super Smash Bros. Ultimate
Nintendo
Gaming icons clash in the ultimate brawl you can play anytime, anywhere! Smash rivals off the stage as new characters Simon Belmont and King K. Rool join Inkling, Ridley, and every fighter in Super Smash Bros. history. Enjoy enhanced speed and combat at new stages based on the Castlevania series, Super Mario Odyssey, and more!

Having trouble choosing a stage? Then select the Stage Morph option to transform one stage into another while battling—a series first! Plus, new echo fighters Dark Samus, Richter Belmont, and Chrom join the battle. Whether you play locally or online, savor the faster combat, new attacks, and new defensive options, like a perfect shield. Jam out to 900 different music compositions and go 1-on-1 with a friend, hold a 4-player free-for-all, kick it up to 8-player battles and more! Feel free to bust out your GameCube controllers—legendary couch competitions await—or play together anytime, anywhere!