The Adventures Of Batman & Robin
"Sega of America, Inc."
After Burner III
"Sega of America, Inc."
Sega CD game
Android Assault: The Revenge Of Bari-Arm
"Sega of America, Inc."
CD Backup: RAM Cart
Sega CD
Save 16 times the memory of Sega CD system lets you save multiple games.
Demolition Man
Acclaim
Two men enter the future, bringing with them the values of a brutal past. One cop. One criminal. One mission: destroy the other man first! Your John Spartan, freshly dethawed from the San Angeles Cryo-Prison. Armed with shotguns, magnum handguns and grenades, hunt Simon Phoenix through 10 explosive levels, from the ravaged Wasteland to the Hall of Violence! BeWell, DEMOLITION MAN, you're the future's only hope!
Dragon's Lair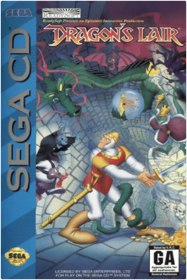 Ecco: The Tides of Time
sega cd
Description Travel through time along with ECCO THE DOLPHIN, in the only game that could call itself a "dolphin simulator". Indeed, you can do pretty much everything a typical dolphin does, including eating fishes, surface in order to breath, using your neat biological sonar and of course jump out of the water to amaze your friends. Special Features Morph into other creatures of the sea; 40 levels of discovery; all kinds of challenging puzzles to solve; five 3D levels Details Players: 1 Player Controller: Gamepad Memory Card: No
Flink
Vic Tokai
From the Manufacturer: Disaster strikes Imagica Island and Wicked Wainwright has taken over! In a huge panic, the islanders appoint Flink, an apprentice wizard, to challenge Wicked Wainwright and defeat the Demon Guardians. Locate the kidnapped island leaders and help make Flink the full-fledged wizard he's always wanted to be!
Heimdall
Core, JVC
Set sail on an epic RPG adventure. Armed with a mighty sword, it's your mission to recover the god's stolen weapons, in this CD conversion of the legendary PC title. As godsend Heimdall, you are thrust into a mythical Viking world where - along with a motley crew of warlords, wizards, thieves and rangers - you must prove your Vikinghood by wrestling wild boars, rescuing feisty barmaids, casting magic spells, fighting and bartering with a sinister cast of characters, and ultimately retrieving the gods' powerful weapons.
Loadstar: The Legend Of Tully Bodine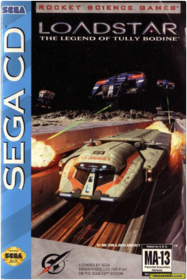 Rocket Science Games
Take the captain's chair as Tully Bodine, veteran skipper of the vintage Loadstar as he accepts a dangerous assignment: Get a cargo of contraband camels off the Moon. You have to move fast and think faster as you dodge rival truckers, traffic accidents and slow pokes as you avoid police SAPs and Toasters in hot pursuit. While your at it, don't get caught by Sheriff Wompler or you'll be spending some time on ice. Rocket Scientist Ron Cobb's original story stars Ned Beatty and Barry Primus in the first episode in the epic story of Tully Bodine.
Lunar: The Silver Star
"Sega of America, Inc."
Mickey Mania
SEGA CD DISNEY
Fans of Mickey Mouse will rejoice over Mickey Mania: The Timeless Adventures of Mickey Mouse (Mickey Mania for short). The game follows the famous mouse all the way through his glorious career, from start to around 1994.Gameplay wise, Mickey Mania is much like your typical 2D side scrolling action/adventure. You must guide Mickey Mouse through the several different levels and make it to the end of each one. In some of the levels, you just have to make it to the end. In others, there might be a famous Mickey Mouse character, such as the Moose Hunter or the Pauper, waiting for you. Finally, at the end of a few levels, Mickey will have to battle a boss such as a mad scientist, or Pete.In each level, Mickey must collect marbles, which he can throw at enemies. There are also other items that need to be collected, such as yellow stars for energy, and extra lives.Mickey Mania is great when it comes to graphics. Just about all the characters in the game are well drawn and look just like they do in the real cartoons. The levels themselves, and the backgrounds are also well-designed, and some of them are even 3D. For example, in one level, a moose chases Mickey Mouse. What's so great about this one is that Mickey doesn't run to the right or left, like the typical 2D side scroller. Mickey and the moose both run facing you, giving the level a 3D look and feel.If you're a fan of platformers or action/adventure games, Mickey Mania would be a great game to get. Even after years of playing it, it's still a lot of fun to put in and play from start to finish any day of the year. In other words, Mickey Mania: The Timeless Adventures of Mickey Mouse really is a timeless adventure.
Prize Fighter
Digital Pictures, Inc.
This Is The Main Event, Kid! Out of the limo, into the ring, it's like a movie. But when the bell rings, it's just you and him! If you've got the speed, the muscle, the heart - you might last a round! You're The Kid, so you won't get a shot at the The Champ (Nuke "The Duke" Johnson) 'til you fight your way past three tough hombres - Honeyboy Hernandez, Mega Joe Falco and T. Rex Hawkins.
Sewar Shark
Silpheed
Game Arts
The earth-based "Grayzon" computer defense system has been net-jacked. Mankind's future in space is in your hands! Equipped with left and right main weapons, plus choice of optional weapons systems: Graviton Bomb, EM Defense System, Photon Torpedo or Anti-Matter Bomb this highly modified SA-77 "Silpheed" tactical fighter spacecraft is up to the challenge - are you?
Sonic CD
Space Ace
ReadySoft
THE EVIL COMMANDER BORF HAS KIDNAPPED ACE'S GIRLFRIEND, THE BEAUTIFUL KIMBERLY, AND IS PLOTTING TO ENSLAVE THE EARTH USING HIS DREADED "INFANTO RAY", A WEAPON THAT CHANGES EVERYONE IT BLASTS INTO A HELPLESS BABY. ARMED WITH ONLY A LASER GUN, ACE MUST FIND AND DESTROY THE INFANTO RAY, RESCUE KIMBERLY AND SAVE THE EARTH. ALL IN A DAY'S WORK FOR A SUPERHERO, RIGHT?
Stellar-Fire
"Sega of America, Inc."
Tomcat Alley
Stargate
A renegade Soviet commander threatens the U.S. - as Tactical Officer, it's up to you and your pilot, Dakota, to stop him! You target and fire, execute defensive maneuvers, navigate and communicate in 7 big missions against air and ground targets. So much action, you've barely got time to breathe! Tomcat's active matrix software creates each video dogfight with millions of possible outcomes. Unexpected danger is just around the corner, even for the veteran who has flown all the missions! In this TruVideo interactive movie, your decisions change the outcome. Don't count out the enemy 'til all the shooting is done. He's full of surprises! Good hunting!
Wing Commander
Electronic Arts, Origin
The Confederation Needs A Hero! It's the 27th century, and mankind is locked in a deadly war with the Kilrathi Empire, a race of cat-like aliens determined to conquer the Terran Confedaration. Launching from the TCS Tiger's Claw, you and your faithful wingmen fearlessly battle Kilrathi aces head-on in heated, deep space dogfights. As one of the Confederation's top pilots, you've been summoned to defend the TCS Tiger's Claw. If you can't outsmart the Kilrathi cats, no one can! It's not enough to just win a single battle - you must prevail through the entire campaign to save all of humanity.