3D Triple Feature
IMAX Galapagos 3D: Retrace the groundbreaking footsteps of Charles Darwin with a young scientist as she explores the biological diversity and unique geologic history of the Galapagos archipelago. Using the magic of IMAX® and IMAX® 3D technology, plunge 3,000 feet into underground lava tubes, soar over the peaks of 5,000 foot volcanoes and encounter an abundance of marine life including marine iguanas and the world's largest shark - the Whale Shark. IMAX Into the Deep 3D: INTO THE DEEP takes the audience on a spectacular exploration of the undersea world. Using the IMAX camera and its underwater housing for the first time, this film captures unique marine life and magnificent underwater vistas. The audience will become sea dwellers, discovering a living breathing kaleidoscope through the magical prism of IMAX technology. Principal photography took place off the coast of Santa Barbara in the Channel Islands using the IMAX camera underwater housing unit.. IMAX Mummies 3D: Secret of the Pharaohs: unravel the enshrouded human time capsules that have become the most fascinating mystery of our time - Egypt's mummies. And follow top scientists as they embark on a modern-day forensic investigation of the mummies, extracting clues from our past that could have an enormous impact on medical science in our future.
Ace Ventura: When Nature Calls
Africa's the place and Ace is on the case, setting out to rescue an animal he loathes: a bat! Jim Carrey (Batman Forever) returns as Ace, the alligator-wrasslin', elephant-calling, monkeyshining, loogie-launching, burning coals-crossing, disguise-mastering pet detective. If you're ready to laugh like a pack of hyenas, if you want more fun than an industrial-sized barrel of monkeys, you know what to do. Heed the call.

DVD Features:
Interactive Menus
Other:Production noets
Production Notes
Scene Access
Theatrical Trailer
Adventures of Sonic the Hedgehog
Sonic the Hedgehog leads a group of freedom fighters bent on restoring their planet s beauty and freeing its citizens from the tyranny of the evil Dr. Robotnik. The fusion of powerful storylines, witty banter and a dark atmosphere made Sonic The Hedgehog, dubbed SatAM by its legions of fans, a favorite among youngsters and teens when it premiered on ABC in 1993. Inspired by the phenomenon that took the gaming world by storm, Sonic The Hedgehog likewise broke through the barriers of what was expected of a Saturday morning cartoon.
Now all 26 episodes are available in this action-packed collectors box set!

Bonus Features:

* Way Past Cool!: A Conversation With Sonic Writer Ben Hurst

* The Fastest Thing Alive: A Conversation With Jaleel White

* Storyboard-to-Screen: The Doomsday Project

* Printable Heads Or Tails Pilot Script

* Digital Re-Print of Archie Comics Sonic The Hedgehog #1

* Original DiC Concept Art

* Exclusive Fan Art
The African Queen
AFRICAN QUEEN - Blu-Ray Movie
Ali Baba & The Gold Raiders
An Extremely Goofy Movie
Animaniacs: Volume 3
Steven Spielberg Presents Animaniacs! The adventures or misadventures of the Warner Brothers, Yakko and Wakko, and the Warner Sister, Dot, who were so crazy that the studio execs locked them away in the water town at the Studio. The witty, slapstick humor with pop culture parodies and cartoon wackiness is on DVD for the first time ever with 25 fantastic Animaniacs episodes.
Animusic HD
If you've enjoyed the animations from Animusic 2, you'll love this new release from Animusic. Inlcudes all eight animations from the Animusic 2 DVD, plus Pipe Dream from Animusic 1 re-rendered in full HD (1080i) the way it was always meant to be seen! Viewing this Blu-ray on a large HD screen is really an experience. Bonus Material - Interviews, slide shows, set construction shorts, Animusic 1 SD animations encoded at super high bit-rate, etc.
Anthrocon 2005 Masquerade & Highlights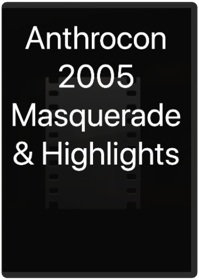 Anthrocon 2006 Masquerade & Highlights
Anthrocon 2007 Masquerade & Highlights
The Arby's 8-Hour Smokehouse Turkey 8-Hour Commercial
The Arby's 13-Hour Smokehouse Brisket 13-Hour Commercial
The Aristocats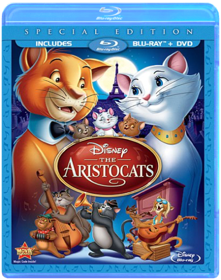 US Blu-Ray/Region All pressing. The DVD is NTSC/Region 1. In the heart of Paris, a kind and eccentric millionairess wills her entire estate to Duchess, her high-society cat, and her three little kittens. Laughs and adventure ensue as the greedy, bumbling butler pulls off the ultimate catnap caper. Now it's up to the rough-and-tumble alley cat, Thomas O'Malley, and his band of swingin' jazz cats to save the day.
Back to the Future: The Complete Adventures
Great Scott! For the first time ever, Back to the Future: The Complete Adventures pairs together the original beloved trilogy starring Michael J. Fox and Christopher Lloyd along with the complete TV series. Join Marty McFly, Doc Brown and time traveling DeLorean for the adventure of a lifetime as they travel to the past, present and future, setting off a time-shattering chain reaction that disrupts the space-time continuum!
Backstage Tour of the Haunted Mansion
Bambi
For the first time ever, the wonder, music and majesty of one of Walt Disney's greatest triumphs comes alive in glorious detail through the magic of Blu-ray high definition! Now Bambi, Walt Disney's beloved coming-of-age story, will thrill a new generation of fans with its breathtakingly beautiful animation, soaring music and characters who will touch your heart-Bambi, the wide-eyed fawn, his playful pal Thumper, the loveable skunk Flower and wise Friend Owl. Plus, all-new immersive game and special features that reveal the extraordinary creative process behind the making of this timeless classic take you deeper into Bambi's world than ever before.

Walt Disney's Bambi is an experience you will never forget-now more brilliant than ever on Blu-ray.
Batman: The Motion Picture Anthology 1989-1997
Box set containing four films from the popular 'Batman' film series. 'Batman' (1989) was the first big screen outing for Bob Kane's caped crusader. The streets of Gotham City are no longer safe for criminals, who are being picked off by a masked vigilante in a rubber suit - dubbed 'Batman' by the press. Reporter Alexander Knox (Robert Wuhl) teams with photographer Vicki Vale (Kim Basinger) in an attempt to discover Batman's true identity - an investigation which leads them to the door of mysterious millioniare Bruce Wayne (Michael Keaton). In 'Batman Returns' (1992), Oswald Cobblepot was abandoned by his parents as a baby. Thirty three years later, bent on revenge, he returns to Gotham City as the Penguin (Danny DeVito). First he begins a warped campaign to become Mayor, helped by millionaire businessman Max Shreck (Christopher Walken); next, he undertakes a mission to murder every first born son in Gotham - a plan which will avenge his own beginnings. Meanwhile, he has two adversaries to contend with: Catwoman (Michelle Pfeiffer), the embittered ex-secretary of Max Shreck, and, of course, the old caped crusader himself (Keaton). In 'Batman Forever' (1995), former District Attorney Harvey Two-Face (Tommy Lee Jones) is terrorising Gotham City, when a new villain appears on the scene - the Riddler (Jim Carrey). TMeanwhile, the caped crusader has been joined by Robin (Chris O'Donnell), whose trapeze-artist family have recently been slain by Two-Face. 'Finally, in 'Batman and Robin' (1997), Batman (George Clooney) and Robin (O'Donnell) have to stop the vengeful Mr Freeze (Arnold Schwarzenegger) from taking over Gotham City by using his new ice weapon. To make matters worse, the venomous Poison Ivy (Uma Thurman) decides to join forces with Freeze, so making an almost undefeatable double-whammy of a team. Luckily for the caped crusader and his rebellious ward, they can team up with a new tough and courageous new partner - Batgirl (Alicia Silverstone).
The Beatles - A Long and Winding Road
Studio: Koch International Release Date: 03/18/2003
The Beatles: The Beatles Celebration / Love Me Do
Beauty and the Beast: Work In Progress
Beetlejuice
What's a couple of stay-at-home ghosts to do when their beloved home is taken over by trendy yuppies? They call on Beetlejuice, the afterlife's freelance bio-exorcist to scare off the family – and everyone gets more than she, he or it bargains for! Tim Burton guides this PG-rated comedy monsterpiece whose stars include Alec Baldwin, Geena Davis, and Winona Ryder. And Michael Keaton is Beetlejuice, the ghost with the most who flings one-liners, spins into grotesque forms, gobbles insects, and who just can't leave the ladies (living or dead) alone. Ghoul love it!
Best Buy In Store Experience 2006
Big Scream TV: Volume 1 - The Boo Tube!
Birdemic: Shock and Terror
Movie Summary A platoon of eagles & vultures attack the residents of a small town. Many people died. It s not known what caused the flying menace to attack. Two people managed to fight back but will they survive Birdemic DVD Details * Actor(s): Alan Bagh :search Alan Bagh Whitney Moore :search Whitney Moore * Format: Widescreen * Soundtrack: English * Rating: UN * MSRP: $29.98 * Run Time: 90 Minutes * Release Date: 2 22 2011 * Number of Discs: 1
Bitter Films: Volume 1 - 1995-2005
At last, all the landmark animated films collected together for the very first time; lovingly remastered in high definition from their original film negatives, providing alarming clarity and squiggly detail never before seen outisde of theaters! The Films: Ah, L'amour; Genre; Lily and Jim; Billy's Balloon; Rejected; The Meaning of Life
Black Sheep
BLACK SHEEP (DVD) WS ENHANCE 16X9/DOLBY DIGI(ENG 5
The Blues Brothers
Includes: Includes free 'Tech Support for Dummies' 30 day trial (offer expires 6/30/12).Comedy icons John Belushi and Dan Aykroyd star in the outrageously funny musical comedy The Blues Brothers. After the release of Jake Blues (Belushi) from prison he and brother Elwood (Aykroyd) take their blues band back on the road in an attempt to raise money for the orphanage where they were raised. Havoc ensues as the brothers seek redemption on their "mission from God". Directed by John Landis (National Lampoon's Animal House) the soul-stirring comedy classic features musical performances by blues legends Ray Charles James Brown Aretha Franklin and Cab CallowayStarring: John Belushi Dan Aykroyd John Candy Carrie Fisher James Brown Aretha Franklin Ray Charles John Lee Hooker Steven Spielberg John Landis Frank Oz Cab Calloway Twiggy Paul ReubensDirected by: John Landis
The Boys
BOYS-THE SHERMAN BROTHERS STORY (DVD)

BOYS-THE SHERMAN BROTHERS STORY (DVD) DOCUMENTARY
Capote
In November, 1959, the shocking murder of a smalltown Kansas family captures the imagination of Truman Capote (Philip Seymour Hoffman), famed author of Breakfast at Tiffany's. With his childhood friend Harper Lee (Catherine Keener), writer of the soon-to-be published To Kill a Mockingbird, Capote sets out to investigate, winning over the locals despite his flamboyant appearance and style. When he forms a bond with the killers and their execution date nears, the writing of "In Cold Blood," a book that will change the course of American literature, takes a drastic toll on Capote, changing him in ways he never imagined. Stellar performances from Hoffman and Keener, as well as Academy Award® winner Chris Cooper (Adaptation) are why critics are calling Capote a "must-see movie."
Carrera Panamericana
Catch Me If You Can
The true life story of Frank Abagnale Jr., the youngest man ever to be placed on the FBI's Most Wanted List.
Chip 'n Dale Rescue Rangers: Volume 2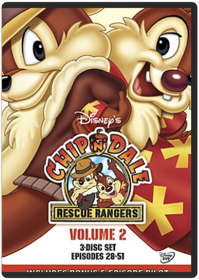 The Rescue Rangers are back for more thrills, chills and smiles! Join Chip 'n' Dale along with their friends Gadget Hackwrench, Zipper and Monterey Jack as they embark on some of their most memorable adventures yet in this 3-disc collection. This time around the gang matches wits with a feisty leprechaun, encounters a villain from the deep and takes a trip to the Himalayas. Also included is the 5-part pilot episode "Rescue Rangers to the Rescue" — on DVD for the first time ever! So fasten your seat belts and get ready to travel the world with CHIP 'N' DALE RESCUE RANGERS!
Chitty Chitty Bang Bang
Dick Van Dyke, Sally Ann Howes. The enchanting musical fantasy about an eccentric inventor who takes a magical ride in a flying car with his two children and a beautiful young woman. Includes the DVD and a bonus blu-ray version. 2 Discs. 1968/color/145 min/G/widescreen.
The Christmas Tree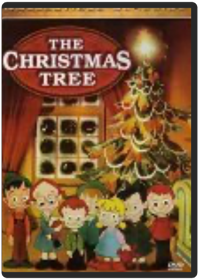 The Christmas Tree is about poor children who live at Mrs. Mavilda's orphanage. Who have never had a Christmas.
Christmas Vacation
CHRISTMAS VACATION (BR-DVD/WS-1.78/ENG-SDH/ENG/FR/SP SUB)
Cinderella
The public made CINDERELLA one of the highest-grossing films of the year and Disney's most successful release since BAMBI. In fact, it was one of the top-grossing films of 1950, pulling in $4 million during its initial release.
Clerks: The Animated Series
Studio: Buena Vista Home Video Release Date: 08/05/2003
Columbo
Legendary Peter Falk is a four-time Primetime Emmyr Award-winner for his iconic role as the beloved, trenchcoat-wearing Police Lieutenant Columbo. Columbo is the landmark series that inspired a genre. And now, for the first time ever, all 69 episodes from its seven seasons and all 24 television movies are together in this 34-disc anthology. Every criminal, every innocent victim (and some not-so-innocent ones), and every wily deduction are here in one definitive collection. Seemingly befuddled but always brilliant, the cigar-chomping detective will have you following the clues and asking "just one more thing" until the last case is cracked.

Note: This set contains 34 discs which are contained in 8 cases.
D.O.A.
Darkwing Duck: Volume 1
Villains beware! Caped crime fighter Darkwing Duck is on the job. With his loyal sidekick, Launchpad, and a whole bunch of zany high-tech gadgets, Darkwing does his best to keep the city of St. Canard safe — and that's the easy part of his day! Darkwing must juggle the responsibilities of being a superhero and being a dad to nine-year-old Gosalyn. With three discs full of adventure and laughs, DARKWING DUCK is a feather-raising good time.
Dawn of the Dead
Anchorbay Dawn Of The Dead (Blu-ray)
In 1968, director George A. Romero brought us "Night Of The Living Dead." It became the definitive horror film of its time. Eleven years later, he would unleash the mostshocking motion picture experience for all times.As modern society is consumed by zombie carnage, four desperate survivors barricade themselves inside a shopping mall to battle the flesh-eating hordes of the undead. This is the ferocious horror classic, featuring landmark gore effects by Tom Savini, that remains one of the most important and mostcontroversial horror films in history.
Deadpool 2
4K BLU RAY DISC ONLY! DOES NOT INCLUDE CASE OR ARTWORK OR DIGITAL CODES. JUST THE BLU RAY DISC SHIPPED IN A PLASTIC SNAP CASE. FEEL FREE TO ASK ANY QUESTIONS AND THANK YOU FOR LOOKING!
The Deathbed Vigil
Doctor Who: The Beginning Collection
Doctor Who: The Complete First Series
Christopher Eccleston's Doctor is wise and funny, cheeky and brave. An alien and a loner, his detached logic gives him a vital edge when the world's in danger. But when it comes to human relationships, he can be found wanting. That's why he needs Rose. From the moment they meet, the Doctor and Rose understand and complement each other. As they travel together through time, encountering new adversaries, the Doctor shows her things beyond imagination.
Doctor Who: The Complete Second Series
Can Rose trust a man with a new face? David Tennant (Viva Blackpool, Harry Potter) steps into the role of the Doctor, now in his 10th incarnation. Following on from the phenomenal success of the first series, the second series is full of more thrills, more laughs, more heartbreak and some terrifying new aliens and old acquaintances. The Doctor and Rose meet Queen Victoria, an evil race of Cat Women, K9 and Sarah Jane, and the dreaded Cybermen.

DVD Features:
Audio Commentary
Deleted Scenes
Other:Doctor Who is the longest running sci-fi franchise in television history
Outtakes:Doctor Who is the longest running sci-fi franchise in television history
Other
DuckTales The Movie: Treasure of the Lost Lamp
Join Uncle Scrooge and the colorful cast of characters from the popular DuckTales series in this action-packed wing-slapping, feather-raising treasure hunt. With his nephews Huey, Dewey, and Louie, and his niece Webbigail Vanderquack at his side, everyone's favorite rich uncle, Scrooge McDuck, treks from his mansion home in Duckburg in search of the long-lost loot of the legendary thief Collie Baba. But finding the goods isn't quite what it's "quacked" up to be! Their thrilling adventure leads to comical chaos, magical mayhem and a lesson about what is far more valuable than money, gold and jewels.
DuckTales: Volume 1
The world's wealthiest duck brings his high-flying escapades home to DVD with DUCKTALES. Scrooge McDuck has a nose for business that leads him to the far corners of the world, but even this tycoon has his hands full when nephews Huey, Dewey, and Louie join the fun. Joined by their loyal pals Launchpad McQuack, Gyro Gearloose, Mrs. Beakley, and Webby Vanderquack, the DUCKTALES gang never fails to deliver a wealth of adventure. Whether searching for the Fountain of Youth, traveling back in time to the days of King Arthur's Round Table, or being accidentally launched into outer space — you can always bank on Scrooge and the boys to keep the thrills coming. Get ready for a fortune of fun with some of the most memorable DUCKTALES episodes ever on 3 discs. It's a feather-raising quack-up that you and your family will treasure.
Dynasty Karaoke 601
El Mariachi / Desperado
Deperado - Antonio Banderas, Joaquim De Almeida, Salma Hayek, Steve Buscemi, Cheech Marin and Quentin Tarantino star in this stylish shoot-'em-up described as a south-of-the-border Pulp Fiction, now remastered in high definition for Blu-ray™. Writer/director Robert Rodriguez follows up his legendary debut film, El Mariachi, with this sexy sequel about a mysterious guitar player (Banderas) searching for vengeance against the men who murdered his girlfriend.

El Mariachi - All he wants is to be a mariachi, like his father, his grandfather and his great grandfather before him. But the town he thinks will bring him luck brings only a curse of deadly mistaken identity. Forced to trade his guitar for a gun, the mariachi is playing for his life in this critically acclaimed film debut from writer/director Robert Rodriguez, now remastered in high definition for Blu-ray™.
Enchanted
Beautiful Princess Giselle is banished by an evil queen from her magical, musical animated land and finds herself in the gritty reality of the streets of modern day Manhattan. Shocked by this strange new environment that doesn t operate on a happily ever after basis, Giselle is now adrift in a chaotic world badly in need of enchantment. But when Giselle begins to fall in love with a charmingly flawed divorce lawyer who has come to her aid even though she is already promised to a perfect fairytale prince back home she has to wonder, can a storybook view of romance survive in the real world?
The Enchanted Tiki Room Story
Enter the Dragon
Recruited by an intelligence agency, outstanding martial arts student Bruce Lee participates in a brutal karate tournament hosted by the evil Han. Along with champions Roper and Williams, he uncovers Han's white slavery and drug trafficking ring located on a secret island fortress. In the exciting climax, hundreds of freed prisoners fight in an epic battle with Lee and Han locked in a deadly duel.
Epic
From the creators of Ice Age comes the year's funniest, most exhilarating animated adventure! Transported to a magical world, a teenager (Amanda Seyfried) is recruited by a nature spirit, Queen Tara (Beyoncé Knowles), to help the "Leafmen" save their forest from evil warriors. The whole family will love this fast-paced thrill-ride, with its astonishing animation and an all-star voice cast that includes Colin Farrell, Oscar® Winner Christoph Waltz and Steven Tyler!
Everything Will Be Ok
Fantasia
Fantastic Mr. Fox
A compulsive chicken thief turned newspaper reporter, Mr. Fox settles down with his family—directly adjacent to three enormous poultry farms owned by three ferociously vicious farmers. Wes Anderson's animated adaptation of Roald Dahl's classic children's novel features vibrant performances by George Clooney, Meryl Streep, Willem Dafoe, Michael Gambon, and Bill Murray. 1 1/2 hrs, 2 Blu-ray discs.
Fawlty Towers: Volume 1
Check in to the most popular BBC comedy of all time, where merriment and madness are on the house. Newly remastered for better-than-ever viewing, this set contains four classic episodes, as well as interviews, behind-the-scenes and cast bios. John Cleese stars as Basil Fawlty, the sharp-tongued, short-tempered owner of Fawlty Towers, a hotel plagued by crisis, chaos and bizarre characters.A Touch of Class: Once Basil decides it?s time the hotel had a better class of clientele he?ll do anything to keep Lord Melbury there-including cashing his sizeable check. Hotel Inspectors: Thinking a guest he has thoroughly offended may be a hotel inspector, Basil fawns all over him to make amends-but has he got the right man? The Wedding Party: Flabbergasted by an outbreak of seemingly loose morals at Fawlty Towers, Basil leaps to wrong conclusions and gets caught in a compromising position. The Builders: Basil goes with the lowest bidder when the lobby needs repairs. He soon discovers firsthand why this crew comes so cheap.
Fawlty Towers: Volume 2
Check in to the most popular BBC comedy of all time, where merriment and madness are on the house. Newly remastered for better-than-ever viewing, this disc contains four classic episodes, as well as interviews, behind-the-scenes and cast bios. John Cleese stars as Basil Fawlty, the sharp-tongued, short-tempered owner of Fawlty Towers, a hotel plagued by crisis, chaos and bizarre characters.The Kipper and the Corpse: When a guest dies, Basil?s only concern is hiding the corpse-and the old kippers-from the other guests - but the body winds up everywhere. Waldorf Salad: An outspoken American guest demands a Waldorf Salad and a level of service quite unavailable at Fawlty Towers. The Anniversary: Sybil thinks Basil forgot their wedding anniversary again. Actually, he?s planned a surprise party but is left inventing excuses when she decides to play golf. Basil the Rat: Manuel insists his pet rat is a Siberian hamster. Basil knows the health inspector won?t agree and vows he?ll never set eyes on the rat-but the rat has other ideas.
Fawlty Towers: Volume 3
Check in to the most popular BBC comedy of all time, where merriment and madness are on the house. Newly remastered for better-than-ever viewing, this disc contains four classic episodes, as well as interviews, behind-the-scenes and cast bios. John Cleese stars as Basil Fawlty, the sharp-tongued, short-tempered owner of Fawlty Towers, a hotel plagued by crisis, chaos and bizarre characters.The Kipper and the Corpse: When a guest dies, Basil?s only concern is hiding the corpse-and the old kippers-from the other guests - but the body winds up everywhere. Waldorf Salad: An outspoken American guest demands a Waldorf Salad and a level of service quite unavailable at Fawlty Towers. The Anniversary: Sybil thinks Basil forgot their wedding anniversary again. Actually, he?s planned a surprise party but is left inventing excuses when she decides to play golf. Basil the Rat: Manuel insists his pet rat is a Siberian hamster. Basil knows the health inspector won?t agree and vows he?ll never set eyes on the rat-but the rat has other ideas.
Firefly: The Complete Series
Genre: Television: Series
Rating: NR
Release Date: 11-NOV-2008
Media Type: Blu-Ray
Forrest Gump
FORREST GUMP (DVD)(SPECIAL COLLECTORS EDITION)DOLB
The Fox and the Hound / The Fox and the Hound II
FP2: Beats of Rage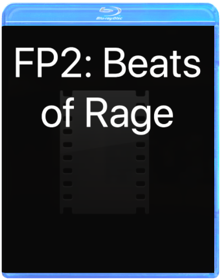 Freakazoid!: Season 1
Cyber nerd Dexter Douglas surfs the web one fateful night, gets swept into a digital techno-electro smash-up that bites him in the gigabytes and – ZAP! — goes from geek to freak. To Freakazoid!, that is, a smart- mouthing, butt-kicking, mega-voltage superhero with things to do (unless there's something really good on TV). It's Freaka-Me, Freaka-You fun!
The Further Adventures of Walt's Frozen Head
Further Confusion 2007: Furries of the Nile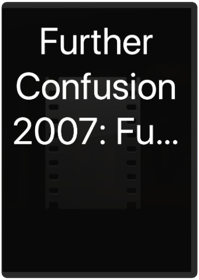 Gentlemen of Titipu
Based on Gilbert and Sullivan's THE MIKADO this is a story of a small fishing village awaiting the arrival of the Emperor for the annual Cherry Blossom Festival. Fun for all ages.
Ghostbusters / Ghostbusters II
The classic supernatural comedies that defined a generation: Ghostbusters and Ghostbusters 2, together in this special collector's edition Blu-ray set. Celebrate 30 years of the Ghostbusters franchise with remastered high-def picture & sound for both movies, plus all-new and never-before-seen special features. Plus, explore the history of the films with this deluxe collector's edition, loaded with production notes, character sketches, insider info and more. Bring home these spooktacularly successful films that captured the imagination of audiences around the world—and redefined the action-comedy genre in the process. Who you gonna call?
A Goofy Movie
Hail, Caesar!
Four-time Oscar-winning filmmakers Joel and Ethan Coen (No Country for Old Men,Fargo) write and direct Hail, Caesar!, an all-star comedy set during the latter years of Hollywood's Golden Age. Starring Josh Brolin, George Clooney, Alden Ehrenreich, Ralph Fiennes, Jonah Hill, Scarlett Johansson, Frances McDormand, Tilda Swinton, and Channing Tatum, Hail, Caesar! follows a single day in the life of a studio fixer who is presented with plenty of problems to fix.
Happy Feet
In the great nation of Emperor Penguins, deep in Antarctica, you're nobody unless you can sing - which is unfortunate for Mumble (ELIJAH WOOD), who is the worst singer in the world. He is born dancing to his own tune...tap dancing. As fate would have it, his one friend, Gloria (BRITTANY MURPHY), happens to be the best singer around. Mumble and Gloria have a connection from the moment they hatch, but she struggles with his strange "hippity- hoppity" ways. Away from home for the first time, Mumble meets a posse of decidedly un-Emperor-like penguins - the Adelie Amigos. Led by Ramon (ROBIN WILLIAMS), the Adelies instantly embrace Mumble's cool dance moves and invite him to party with them. In Adelie Land, Mumble seeks the counsel of Lovelace the Guru (also voiced by ROBIN WILLIAMS), a crazy-feathered Rockhopper penguin who will answer any of life's questions for the price of a pebble. Together with Lovelace and the Amigos, Mumble sets out across vast landscapes and, after some epic encounters, proves that by being true to yourself, you can make all the difference in the world.
The Haunted Mansion Story
The Haunted Mansion Story: Volume 2 - Phantom Manor
The Heat
Heil Honey I'm Home!
History of the World Part I
Mel Brooks' uproarious version of history proves nothing is sacred as he takes us on a laugh-filled look at what really happened throughout time. His delirious romp features everything from a wild send-up of "2001" to the real stories behind the Roman Empire (Brooks portrays a stand-up philosopher at Caesar's Palace), the French Revolution (Brooks reigns as King Louis XVI) and the Spanish Inquisition (a splashy song-and-dance number with monks and swimming nuns.) It's Mel and company at their hilarious best.
The Hitchhiker's Guide to the Galaxy
Arthur dent is having a really bad day! when he learns that a friend is actually an alien with knowledge of earths impending destruction he is transported off the planet. And if thats not enough throw in being wanted by the police & a chronically depressed robot & youve got the greatest adventure off earth. Studio: Buena Vista Home Video Release Date: 08/10/2007 Starring: Martin Freeman Zooey Deschanel Run time: 109 minutes Rating: Pg
Home on the Range
When a greedy outlaw schemes to take possession of the "Patch Of Heaven" dairy farm, three determined cows, a karate-kicking stallion and a colorful corral of critters join forces to save their home. The stakes are sky-high as this unlikely animal alliance risk their hides and match wits with a mysterious band of bad guys. Featuring stunning animation and sensational original songs written by celebrated composer Alan Menken, Disney's hysterical moo-vie is the perfect adventure for the entire family.
I am Sam
Michelle Pfeiffer and Sean Penn give career-defining performances in this humorous and heart-warming film about a mentally-challenged father who enlists the aid of a high-powered attorney to help him regain custody of his daughter. An all-star supporting cast and a spectacular soundtrack complete this unforgettable story of life, love and laughter.

DVD Features:
Audio Commentary:Filmmaker Commentary - With Director / Co-screenwriter Jessie Nelson
DVD ROM Features:Script-to-Screen Link to Original Website Hot Spot
Deleted Scenes:Deleted and Alternate Scenes with optional Director commentary
Documentary:Original Documentary: Becoming Sam
Other:Theatrical Press Kit DTS sound
Theatrical Trailer
The Incredibles
Known to the world as superheroes, Mr. Incredible and Elastigirl, Bob Parr and his wife Helen were among the world's greatest crime fighters, saving lives and battling evil on a daily basis. Fifteen years later, they have been forced to adopt civilian identities and retreat to the suburbs to live "normal" lives with their three kids, Violet, Dash, and Jack-Jack. Itching to get back into action, Bob gets his chance when a mysterious communication summons him to a remote island for a top secret assignment. He soon discovers that it will take a super family effort to rescue the world from total destruction.

Exploding with fun and all-new bonus features available only on Blu-ray, this spectacular 4-disc combo pack is edge-of-your-seat entertainment for everyone.
Inside Out
When 11-year-old Riley moves to a new city, her Emotions team up to help her through the transition. Joy, Fear, Anger, Disgust and Sadness work together, but when Joy and Sadness get lost, they must journey through unfamiliar places to get back home.
Interactive Applications Sampler
Invader Zim Complete Invasion
The Irken armada is poised to conquer the universe, but it would be a lot easier without Invader Zim! Thickheaded, brash, and overzealous, Zim has wrecked Irken plans for the last time. Seizing the opportunity to rid themselves of this nuisance forever, they send Zim on a "secret" mission to a planet far away on the edge of the universe-Earth. Now Earth's only hope rests with a young UFO-hunting paranormal enthusiast named Dib.
Jay and Silent Bob Strike Back
Packed with stars including Ben Affleck (GOOD WILL HUNTING), Chris Rock (NURSE BETTY), Shannon Elizabeth (AMERICAN PIE), Jason Lee (ALMOST FAMOUS), and more, this wildly irreverent comedy is actor/director Kevin Smith's hilarious finale to the adventures of Jay and Silent Bob that began in CLERKS and ran through MALLRATS, CHASING AMY, and DOGMA! When best buddies Jay (Jason Mewes) and Silent Bob (Smith) discover that a major motion picture is being based on their likenesses, they head for Hollywood to claim the big movie money they deserve. But when the dopey duo learn that they've been cut out of the cash, they set out to sabotage the flick at all costs! Featuring a host of celebrity cameos set to a hot hit soundtrack, Jay and Silent Bob's raucous cross country road trip is a crash course in the rules of the road with a nonstop assortment of outrageous characters that will have you laughing out loud!
Kaze: Ghost Warrior
Kim Possible: Season 1
Here's the sitch: Disney Channel's hit animated series KIM POSSIBLE SEASON 1 is finally here on three discs containing 21 awesome adventures — that's over seven hours of fist-flying, action-packed, SO not your average episodes. If there's danger or trouble, she's there on the double to save the world from villains like Professor Dementor, Drakken and Se-or Senior Junior AND make it home in time for cheerleading practice. Luckily, she has her sidekick Ron Stoppable and his pet naked mole rat Rufus by her side. So don't miss all the thrills, chills and homeroom study skills in the family favorite, KIM POSSIBLE SEASON 1.
Kim Possible: Season 2
BOO-YA! Kim Possible is back! The second season of Disney Channel's hit animated series KIM POSSIBLE is now on DVD. Join KP, her sidekick ron Stoppable and Rufus, his pet naked mole rat, for 30 awesome missions — over eleven hours of way cool, save-the-world-before-dinnertime action. Wherever there's a villain to foil or midterm to pass, KIM POSSIBLE SEASON 2 is crime-fighting fun for the whole family.
Kung Fu Hustle
KUNG FU HUSTLE MOVIE - 3? Mini DVD for PH
Lady and the Tramp
Fall in love with Walt Disney's Beloved Classic, Lady and the Tramp! Experience the thrilling adventures of Lady, a lovingly pampered cocker spaniel, and Tramp, a freewheeling mutt with a heart of gold. This heartwarming tale now charms a new generation of families and fans with its exquisite animation, unforgettable songs and one of the greatest love stories of all time. This is the night to share a special bella notte with your family and introduce to them to the film Janet Maslin of the New York Times News Service hails as "one of Disney's most enduring classics!"
Land of the Lost: Volume 1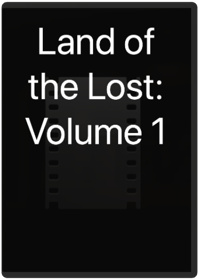 Land of the Lost: Volume 2
Land of the Lost: Volume 3
Legends of the Hidden Temple
Life Of Brian
On a Midnight Clear 2000 years ago, three wise men enter a manger where a babe is wrapped in swaddling clothes. It is an infant called Brian...and the three wise men are in the wrong manger. For the rest of his life, Brian (Graham Chapman) finds himself regarded as something of a Messiah, yet he's always in the shadow of this Other Guy from Galilee. Brian is witness to the Sermon of the Mount, but his seat is in such a bad location that he can't hear any of it ("Blessed are the cheesemakers?"). Ultimately he is brought before Pontius Pilate and sentenced to crucifixion, which takes place at that crowded, non-exclusive execution site a few blocks shy of Calvary. Rather than utter the Last Six Words, Brian leads his fellow crucifixees in a spirited rendition of a British music hall cheer-up song "Always Look On The Bright Side of Life." The whole Monty Python gang (Chapman, John Cleese, Michael Palin, Eric Idle, and Terry Gilliam) are on hand in multiple roles, playing such sacred characters as Stan Called Loretta, Deadly Dirk, Casts the First Stone, and Intensely Dull Youth; also showing up are Goon Show veteran Spike Milligan and a Liverpool musician named George Harrison.
Lilo & Stitch: For Your Consideration
The Lion King
The Little Mermaid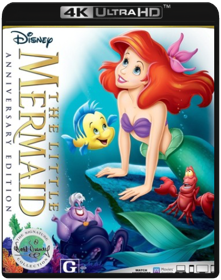 The Lord of the Rings: The Fellowship of the Ring
Based on J.R.R. Tolkien's masterpiece, The Lord of the Rings: The Fellowship of the Ring is an epic adventure of good against evil, the power of friendship and individual courage. The saga centers around an unassuming Hobbit named Frodo Baggins who inherits a Ring that would give a dark and powerful lord the power to enslave the world. With a loyal fellowship of elves, dwarves, men and a wizard, Frodo embarks on a heroic quest to destroy the One Ring and pave the way for the emergence of mankind.

DVD Features:
3D Animated Menus
DVD ROM Features:Exclusive online content
Documentaries:3 in-depth programs that reveal the secrets behind the production of this epic adventure, including: -"Welcome to Middle-earth" in-store special as shown by Houghton Mifflin -"The Quest for the Ring" as debuted on the FBC Network -"A Passage to Middle-earth" as premiered on the SCI-FI Channel
Featurette:15 featurettes originally created for lordoftherings.net, which explore the locales and cultures of Middle-earth and include interviews with cast members Elijah Wood, Ian McKellen, Viggo Mortensen, Liv Tyler and others. Exclusive 10-minute behind-the-scenes preview of the next The Lord of the Rings theatrical release, The Two Towers
Music Video:Enya "May It Be" music video
Other:An inside look at the Special Extended DVD Edition of The Lord of the Rings: The Fellowship of the Ring. Preview of Electronic Arts' video game, The Two Towers Double Amaray Packaging
TV Spot
Theatrical Trailer:Original theatrical trailers
The Love Bug
For the first time ever you can enjoy this timeless classic in a Special Edition DVD. Fully restored to look and sound as it was originally intended, it also features hours of exclusive bonus materials your entire family will enjoy again and again. He's the star who provides the most laughs per gallon. He's Herbie, the lovable car with a mind of his own. Dean Jones, Michele Lee, and Buddy Hackett join Herbie in this revved-up comedy classic. Jones plays down-on-his-luck race car driver Jim Douglas, who reluctantly teams up with the little machine. Douglas thinks his sudden winning streak is due to his skill, not Herbie's. He finally realizes the car's worth when a sneaky rival plots to steal Herbie for himself. But it's Herbie who'll steal your heart in this wildly fun roller-coaster ride of a movie you'll never forget!
Magical Mystery Tour
The Martian
The Matrix: Ultimate Collection
Number of discs: 6
Men in Black Trilogy
Intergalactic invaders. Renegade monsters. Time travel. It's all in a day's work for agents Kay and Jay of the Men in Black (Tommy Lee Jones and Will Smith). Celebrate 20 years of iconic sci-fi comedy with the MEN IN BLACK TRILOGY, now with all three films fully restored in 4K.
A Mighty Wind
The Muppet Show: Season 1
It's time to raise the curtain on THE MUPPET SHOW! Join Kermit, Miss Piggy, Fozzie Bear, the Swedish Chef and more, in the complete first season of this groundbreaking twist on the classic Variety Show. Included are all 24 episodes, completely restored and remastered, plus two never-before-seen episodes, bonus features, and something you were never meant to see: Jim Henson's original "pitch reel" that propelled the Muppets' blend of original songs, sketch comedy and guest stars into a primetime hit for all ages! Come discover for yourself the most sensational, inspirational, celebrational, Muppetational pleasures of THE MUPPET SHOW: SEASON ONE!
The Muppet Show: Season 2
And now a show that needs no introduction, but here's one anyway... Go bonkers with Beaker, goofy with Gonzo and join the brave cast of "Pigs In Space" for one of the most revolutionary and acclaimed shows in the history of television. Garnering an Emmy® Award for Outstanding Comedy-Variety or Music Program in its hilarious second season, THE MUPPET SHOW redefined prime time and showcased a host of outrageous guest stars, including Steve Martin, Peter Sellers, Elton John, Julie Andrews and more. Experience all 24 episodes from Season Two – digitally remastered and restored – in this special 4-disc DVD set. With hours of bonus features, including THE MUPPETS VALENTINE SPECIAL and rare archival footage, THE MUPPET SHOW is even better than you remember!
Muppet Treasure Island / The Great Muppet Caper
A treasure trove of hearty laughs is yours when two of the funniest, most action-packed Muppet movies of all time make their Disney Blu-ray debut in this heartwarming 2-Movie Collection. From the special star-studded lunacy in Muppet Treasure Island to the jewel-heist hilarity of The Great Muppet Caper, these two classic comedy-adventures are packed with music, mirth, mayhem and, of course, Kermit, Miss Piggy, Animal, Fozzie, Gonzo and all your Muppet favorites. Loaded with unforgettable music and sparkling special effects, this restored and remastered collection is a 2-movie treasure you won't want to miss.
The Muppets
Muppet domination continues with a hilarious new movie from Walt Disney Studios. Jason Segel, Academy Award(R) nominee Amy Adams (Best Performance By An Actress In a Supporting Role, Junebug, Doubt, The Fighter) and Academy Award winner Chris Cooper (Best Performance By An Actor In A Supporting Role, Adaptation) join everyone's favorite Muppets and an all-star celebrity cast in a comic adventure for the whole family. While on vacation in Los Angeles, Walter, the world's biggest Muppet fan, his brother Gary, and friend Mary uncover the diabolical plot of a greedy oil millionaire to destroy the Muppet Theater. Now, the Muppet-loving trio must reunite Kermit, Miss Piggy, Fozzie Bear and their friends to stage the greatest Muppet telethon ever and save their beloved theater. The gang is back together again in a must-own movie full of irresistible music and family fun. Bring home the biggest Muppet adventure ever on Disney Blu-ray(TM) and DVD!
Muppets From Space
The Muppets are back in a new zany comedy, Muppets From Space. The Muppets embark on a hilarious extraterrestrial adventure in hopes of finding out about Gonzo's past, and discover that Gonzo's family members are aliens from a distant planet! Gonzo then gets a message that his relatives are coming for a visit from outer space! But when word gets out on Miss Piggy's talk show, "UFOMania," that the friendly aliens are coming, a secret government agency let by K. Edgar Singer (Jeffrey Tambor) captures Gonzo and goes to great lengths to learn when his extra-terrestrial family will arrive. Now only the Muppets, led by Kermit and Miss Piggy, can save Gonzo and make the world safe for a friendly alien invasion! Muppets From Space. (featuring Andie MacDowell, Ray Liotta and David Arquette, among others) is a star-studded close encounter with far-out fun!
MysteryDisc: Volume 1 - Murder, Anyone?
MysteryDisc: Volume 2 - Many Roads To Murder
Neon Genesis Evangelion: Platinum Collection
NEON GENESIS EVANGELION PLAT COMP COL - DVD Movie
Das Netz
Quick Shipping !!! New And Sealed !!! This Disc WILL NOT play on standard US DVD player. A multi-region PAL/NTSC DVD player is request to view it in USA/Canada. Please Review Description.
Night of the Living Dead
It s one of the most celebrated horror films in the history of cinema. Now, Elite Entertainment has added even more bonus materials and special features to the classic title Night of the Living Dead. Marking the initial release in Elite s Millennium EditionTM DVD series, Night of the Living Dead has been restored with a newly approved THX Transfer, and includes a wide array of never-before-seen DVD features. Considered one of the true, classic horror films of all time, Night of the Living Dead tells the story of a group of strangers taking shelter in a farmhouse while the rest of the world is doing battle against an army of hungry un-dead.

Special Features Include:
Newly Approved THX Transfer Trailers/TV Spots Dual Commentary Tracks featuring George A. Romero and the Entire Cast Film Parody "Night of the Living Bread" Original Mono Soundtrack Dolby Digital 5.1 Remix Still Photo Gallery Featuring RARE COLOR Photos The History of Romero's Company, The Latent Image Scenes from the "Lost" Romero Film, "There's Always Vanilla" Liner notes by George A. Romero and Stephen King AND MORE!
The Nightmare Before Christmas
Now digitally restored and remastered with state-of-the-art technology, THE NIGHTMARE BEFORE CHRISTMAS is deeper, darker and more brilliant than ever just as Tim Burton originally envisioned it on Blu-ray Disc Bored with the same old scare-and-scream routine, Pumpkin King Jack Skellington longs to spread the joy of Christmas. But his merry mission puts Santa in jeopardy and creates a nightmare for good little boys and girls everywhere! Hear the genius of Danny Elfman's sensational music in 7.1 Surround Sound as the fantastic talents and imaginations of Tim Burton and Henry Selick come to life in stunning Hi-Def. THE NIGHTMARE BEFORE CHRISTMAS now even more eerie and extraordinary on Blu-ray High Definition!
Bonus Features
THE NIGHTMARE BEFORE CHRISTMAS is the first full-length stop-motion animated film ever created.
The movie contains more than 227 animated characters.
Santa Claus' head has more than 50 different working parts, and Jack has more than 400 separate interchangeable heads, each handcrafted with a different facial expression.
The smallest working puppet in the movie is a doll from the "real world" Jack visits that is only one inch long.
Sally is wearing a real miniature dress laid on top of foam latex so that the fabric doesn't move too much on screen.
At the height of production, the animators produced only 70 seconds of finished film per week.
To create Halloweentown's twisted look, the design artists often made their sketches using their nondrawing hand.
All-New Blu-ray Exclusive Tim Burton Movie Introduction
Storyboard To Film Comparison
Original Theatrical Trailers And Posters
What's This? Jack's Haunted Mansion Holiday Tour
FRANKENWEENIE (Uncut Version) With New Introduction By Tim Burton
VINCENT Short Film
Tim Burton's Original Poem Narrated By Christopher Lee
All-New Audio Commentary By Tim Burton, Director Henry Selick And Musical Designer Danny Elfman
Behind The Scenes Making Of Tim Burton's THE NIGHTMARE BEFORE CHRISTMAS
The Worlds Of Tim Burton's THE NIGHTMARE BEFORE CHRISTMAS Halloween Town; Christmas Town, The Real World
Deleted Scenes
The Odyssey
Olaf's Frozen Adventure
Pacific Rim: Uprising
When the aliens known as Kaiju invade Earth again, Mako Mori (Rinko Kikuchi) recruits her estranged brother Jake (John Boyega), son of fallen hero Stacker Pentecost (Idris Elba), to lead a new international team of Jaeger robot pilots. Aided by Dr. Hermann Gottlieb (Burn Gorman) and Dr. Newton Geiszler (Charlie Day), the young pilots must combat bigger, more advanced monsters to save the world. Director Steven S. DeKnight takes the reins from Guillermo del Toro for this sequel to 2013's Pacific Rim. ~ Kaitliin Elise Miller, Rovi
Pete's Dragon
The original story called for Elliott the dragon to remain invisible throughout the entire film.
Pirates of the Caribbean Story
Planet Terror
Play Beyond: Welcome to PlayStation 3 and PlayStation Network
Pocahontas / Pocahontas II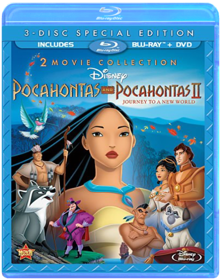 In the tradition of Disney's musical masterpieces, Pocahontas and Pocahontas II: Journey To A New World bring to life a fun-filled adventure of hope, courage, and friendship. Now these beloved animated tales burst with "all the colors of the wind" for the first time ever in vivid high-definition. Experience the vibrant animation, amazing music, and spirited adventure like never before with both movies! Featuring an all-star cast of voice talent, award-winning music and songs, and new bonus to delight the entire family.
Ralph Breaks the Internet
ReBoot
REBOOT:DEFINITIVE MAINFRAME EDITION

No description available.
Genre: Television: Series
Rating: NR
Release Date: 0000-00-00
Media Type: DVD
The Rescuers / The Rescuers Down Under
To commemorate the 35th anniversary of an original classic, Disney proudly presents a special 2-movie collection featuring all-time family favorites, The Rescuers and The Rescuers Down Under. Join two of the world's bravest mice - Bernard and Bianca - as they set out on two thrilling rescue missions full of comic adventure while soaring through the Devil's Bayou and flying sky high in the Australian outback. Buckle up for the ride of your life as these tiny heroes with great big hearts outrun and outwit their rivals to save the day. Brimming with lovable characters and unforgettable music this 2-movie collection is high-flying fun for the entire family!
Reservoir Dogs
Lionsgate Reservoir Dogs (Blu-ray)Former video store clerk Quentin Tarantinos directorial debut, Reservoir Dogs, is a brutally funny, supercharged introduction to his supremely distinct cinematic vision, which was later to become one of the most mimicked styles of the 1990s. Mastermind Joe Cabot (Lawrence Tierney) assembles a crew of top-notch criminalsto pull off a jewelry store heist. As the film opens it becomes immediately clear that the plan backfired, forcing the survivors, who have gathered at an abandoned warehouse, to figure out if one of them is, in fact, a police informer. The crew—Mr.White (Harvey Keitel), an aged veteran; Mr. Orange (Tim Roth), a wounded newcomer; Mr. Blonde (Michael Madsen), a psychopathic parolee; Mr. Pink (Steve Buscemi), a bickering weasel; and Nice Guy Eddie (Chris Penn), Joes son—begin to unravel as thepressure becomes too much for them to handle. When Joe arrives, the truth becomes clear in a vicious Mexican standoff.
Roadside Romeo
This is the story of Romeo. A dude who was living the life. He had the works - the mansion to live in, the chicks to party with and the cars to be driven around in. Until one day, the family he was the favorite pet of, decided to move and left him back, abandoned on the mean streets of Mumbai. Romeo is now faced with situations he has never been in before. He encounters four strays, who scare the daylights out of him. But soon, he smooth talks his way into their hearts and he makes friends. Then, Romeo finds love! He encounters the beautiful, ravishing Laila, the most beautiful girl he has ever seen - and he loses his heart to her at first sight. Finally, he encounters a villain! The dreaded Don of the area - Charlie Anna. The Don who everyone is scared of. So hop on to the adventure as Romeo, wins friendship, love and a new life - inspite of Charlie Anna and his gang! Watch how Romeo turns into - Roadside Romeo! - Get ready for a barking good time!!
Robin Hood
Saludos Amigos / The Three Caballeros
The Shining
?Heeeeere?s Johnny!? In a macabre masterpiece adapted from Stephen King?s novel, Jack Nicholson falls prey to forces haunting a snowbound mountain resort with a macabre history.
Silent Hill
The Silent World
Simple Mad About the Mouse
Sin City
Sin city is infested with criminals crooked cops & sexy dames: some searching for vengeance some for redemption and others both. Studio: Buena Vista Home Video Release Date: 09/01/2006 Starring: Bruce Willis Mickey Rourke Run time: 126 minutes Rating: R Director: Frank Miller
Sing Along Songs: Disneyland Fun
Sing, dance, and play along with your favorite Disney songs! It's fun and easy as you read the on-screen lyrics and join your favorite characters in their most memorable musical moments! Sing along to the happiest songs on earth at the happiest place on earth — Disneyland! Your host, Mr. Owl, invites you to celebrate a musical day with all your favorite Disney friends. Join Mickey and Minnie for fun and thrills as they hustle and bustle behind the scenes at the park! Then get a front-row seat on some of the wildest rides, like Star Tours, Splash Mountain and the Matterhorn, with Chip 'n' Dale, Roger Rabbit, and a Magic Kingdom filled with sing-along adventures.
So Dear to My Heart
This song-filled film classic combines endearing live action and enchanting animation to tell the heartwarming story of a young boy with big dreams!
Song of the South
The Sound of Music
Experience the world's most beloved family film as never before with this 3-disc 45th Anniversary Edition of Rodgers & Hammerstein's® The Sound of Music, Winner of five 1965 Academy Awards®, including Best Picture!

In this true-life story, Julie Andrews lights up the screen as Maria, a spirited young woman who leaves the convent to bring love and music to the home of Captain von Trapp (Christopher Plummer) and his seven children.
Space Ace
Space Jam
Features include:

•MPAA Rating: PG
•Format: Blu-Ray
•Runtime: 88 minutes
Space Thunder Kids
Speed Racer
A young driver, Speed Racer, aspires to be champion of the racing world with the help of his family and his high-tech Mach 5 automobile.
The Spirit
Star Trek IV: The Voyage Home
The crew of the Enterprise returns to 20th century Earth in order to save their own future.
Street Fighter 25th Anniversary Film Collection
The Super Milk Chan Show: Volume 1 - 100% Whole
The sequel to Super Milk-Chan (a 1998 cartoon segment on Flyer TV), The Super Milk-Chan Show suggests a mixture of Excel Saga, The Powerpuff Girls, and South Park. The title character is a venal, "super-deformed" little girl whose language is often bluer than her hair. Accompanied by light bulb-shaped robot Tetusko and a slug named Hanage ("nose hair"), Milk runs around solving crimes at the behest of Mr. President. The minimal, recycled animation, flat colors, and thick outlines echo the look of Powerpuff Girls. Although obviously intended as a spoof of magical girl shows, The Super Milk-Chan Show isn't particularly funny. The pacing is flat, the characters are uniformly unlikable, and the shtick of a little moppet who swears like a stevedore grows old very quickly. The series is packaged oddly, with fake behind-the-scenes footage at distributor ADV Films intercut with the animation on the "100% Whole" disc. The second disc of "Original Japanese Episodes" includes both English and Japanese tracks. (Rated 17 and older: extensive profanity, cartoon violence, risqué, gross, and toilet humor) —Charles Solomon
Super Troopers
Always looking for action, five over-enthusiastic, but under-stimulated Vermont State Troopers raise hell on the highway, keeping motorists anxiously looking in their rear view mirrors. Between an ongoing feud with the local cops over whose you-know-what is bigger and the state government wanting to shut them down, the Super Troopers find themselves patrolling the boundaries of good taste as they hilariously and unwittingly skid towards solving the crime of their lives.
Sweeney Todd: The Demon Barber of Fleet Street
Tales from the Crypt: Season 1
TaleSpin, Volume 3
For the first time on DVD, the final 11 episodes of TALESPIN are ready for takeoff! Baloo, the beloved bear from THE JUNGLE BOOK, his navigator sidekick Kit Cloudkicker and the rest of the crew are back and soaring to hilarious new heights. Filled with excitement and fun, TALESPIN Volume 3 is a high-flying adventure your family will want to take over and over again. Episodes: • Destiny Rides Again • Mach One for the Gipper • Stuck on You • The Sound and the Furry • The Ransom of Red Chimp • The Road to Macadamia • Your Baloo's in the Mail • Paradise Lost • The Incredible Shrinking Molly • Bygones • Flying Dupes
This Metal Mind
Pixar on acid. Billed as "A Cyber Rollercoaster Ride" and accompanied by the music of Hell Bent, Arrogant Primates Esquire, and Stephen Gorman, This Metal Mind's computer-generated imagery morphs in and out from amoeba-like creatures and cyber landscapes, skewing this way and that to the driving metal rhythms in the endlessly busy way that's probably either responsible for or a response to Attention Deficit Disorder Syndrome. Perfect to be left on in the background as a party curio, in the same way they do at Gameworks (if you've got one of those game arcades in your metropolitan area). It seems impossible to avoid the descriptive word "trippy." —Jim Gay
Tom Devil's New Year
Tommy Live
Making this rock classic available for the first time as a single-disc, stand-alone DVD, Rhino is proud to present The Who's, TOMMY LIVE WITH SPECIAL GUESTS. This live rendition of The Who's full-blown rock opera about a deaf, dumb, and blind boy was performed live in 1989 at The Universal Amphitheatre in Los Angeles, with special guests Elton John, Phil Collins, Billy Idol, Patti LaBelle, and Steve Winwood.

Track Listings:
Overture
It's A Boy
1921
Amazing Journey
Sparks
Eyesight To The Blind
Christmas
Cousin Kevin
The Acid Queen
Pinball Wizard
Do You Think It's Alright?
Fiddle About
There's A Doctor
Go To The Mirror!
Smash The Mirror
Tommy Can You Hear Me?
I'm Free
Extra Extra / Miracle Cure
Sally Simpson
Sensation
Tommy's Holiday Camp
We're Not Gonna Take It
Photo Gallery [Extra]
Interactive Visual Commentary by Roger Daltrey & Pete Townshend [Extra]
Tomorrow Never Dies
Pierce Brosnan returns as the fearless, cunning and devastatingly cool Secret Agent 007 in this thrilling adventure! When a ruthless media tycoon (Jonathan Pryce) tries to destabilise the world economy by orchestrating a deadly standoff between world superpowers, in an attempt to achieve high ratings for his media conglomerate, Bond must step in to prevent World War III! Co-starring the gorgeous Teri Hatcher and Michelle Yeoh, this high-tech action-adventure will exhilarate Bond fans of all ages!
Top Gun
Widescreen, Blu-Ray. Rated PG. Blu-Ray Disc. Released 2007. Directed by:Tony Scott Featuring:Tom Cruise, Kelly McGillis, Val Kilmer.
Total Recall
Get ready for the ride of your life! This Special Edition DVD allows you to experience TOTAL RECALL the way it was meant to be seen and heard. Arnold Schwarzenegger is perfectly cast as Quaid, a 2084 construction worker haunted by dreams of Mars in this crowd-pleasing science fiction spectacle. Against the wishes of his sexy blonde wife (Sharon Stone), Quaid goes to Rekall, a company that implants artificial memories, so he can "remember" visiting the red planet that is now being settled by human inhabitants. However, Quaid is actually an amnesiac secret agent from Mars - or is he?
Toy Story
Toy Story Trilogy
Experience Disney Pixar's Toy Story, Toy Story 2 and Toy Story 3 in an all-new way! Join Woody, Buzz, and all your favorite toys in a whole new dimension as the action and characters jump off the screen and into your living room on Blu-ray 3D with pristine picture and theater-quality sound.
Treasure Planet
From the directors of Disney's Aladdin and The Little Mermaid comes a fantastic story of courage, friendship, and self-discovery. Share this Academy Award nominated classic (best animated feature, 2002) with your family as you travel across the universe to discover an exciting world full of fun. Robert Louis Stevenson's Treasure Island gets a futuristic twist in this amazing tale of a brave young man's thrilling journey to new frontiers aboard a flying ship. Treasure Planet 10th Anniversary Edition is a new experience for a new generation!
Tron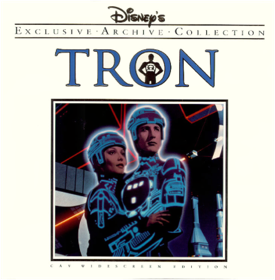 Tron: Legacy
Disney presents a high-tech motion picture unlike anything you've ever seen in an astonishing 3D Combo Pack. Immerse yourself in the digital world of Tron, as celebrated actor Jeff Bridges stars in a revolutionary visual effects adventure beyond imagination. When Flynn, the world's greatest video game creator, sends out a secret signal from an amazing digital realm, his son discovers the clue and embarks on a personal journey to save his long-lost father. With the help of the fearless female warrior Quorra, father and son venture through an incredible cyber universe and wage the ultimate battle of good versus evil. Bring home an unrivaled entertainment experience with Tron: Legacy in jaw-dropping Disney Blu-ray 3D - complete with never-before-seen bonus features that take you even deeper into the phenomenal world of Tron. It's magic in a new dimension.

Versions of Tron: Legacy on Blu-ray and DVD

Tron: Legacy DVD
Tron: Legacy (Two-Disc Combo)
Tron: Legacy (Four-Disc Combo)
Tron: Legacy / Tron The Original Classic (Five-Disc Combo)
Tron: Legacy / Tron: The Original Classic (Five-Disc Combo in Identity Disc Collectible Packaging) Release DateApril 5, 2011April 5, 2011April 5, 2011April 5, 2011April 5, 2011 Format/Disc #DVDBlu-ray, DVDBlu-ray 3D, Blu-ray, DVD, Digital CopyTron: Legacy includes: Blu-ray 3D, Blu-ray, DVD, Digital Copy. Tron: The Original Classics includes: Blu-rayTron: Legacy includes: Blu-ray 3D, Blu-ray, DVD, Digital Copy. Tron: The Original Classics includes: Blu-ray Tron: Legacy Blu-ray 3DNoNoYesYesYes Tron: The Original ClassicNoNoNoYesYes Digital CopyNoNoYesYesYes Collectable LithographNoNoNoYesYes Bonus ContentFirst look at Tron: Uprising, the Disney XD animated series; Visualizing Tron: Watch how the filmmakers brought the astonishing world inside the Grid to life; Installing the cast: Stars discuss their Tron experienceBonus features include everything from the DVD; The Next Day: Flynn Lives Revealed: What happens immediately following the end of the movie? Launching the Legacy: Beyond the amazing visuals is a rich story filled with an entire world's history and mythology; Disc Roars: Watch director Joseph Kosinski use the raucous crowd at Comic-Con to record actual ADR for the disc game stadium crowd ; Music video: "Derezzed" written, produced, and performed by Daft PunkBonus features include everything from the DVD; The Next Day: Flynn Lives Revealed: What happens immediately following the end of the movie? Launching the Legacy: Beyond the amazing visuals is a rich story filled with an entire world's history and mythology; Disc Roars: Watch director Joseph Kosinski use the raucous crowd at Comic-Con to record actual ADR for the disc game stadium crowd ; Music video: "Derezzed" written, produced, and performed by Daft Punk Bonus features include everything from the DVD; The Next Day: Flynn Lives Revealed: What happens immediately following the end of the movie? Launching the Legacy: Beyond the amazing visuals is a rich story filled with an entire world's history and mythology; Disc Roars: Watch director Joseph Kosinski use the raucous crowd at Comic-Con to record actual ADR for the disc game stadium crowd ; Music video: "Derezzed" written, produced, and performed by Daft PunkBonus features include everything from the DVD; The Next Day: Flynn Lives Revealed: What happens immediately following the end of the movie? Launching the Legacy: Beyond the amazing visuals is a rich story filled with an entire world's history and mythology; Disc Roars: Watch director Joseph Kosinski use the raucous crowd at Comic-Con to record actual ADR for the disc game stadium crowd ; Music video: "Derezzed" written, produced, and performed by Daft Punk Other FeaturesDisney Second Screen: Simultaneously explore exclusive interactive content with your iPad™ or computer as you watch the movieDisney Second Screen: Simultaneously explore exclusive interactive content with your iPad™ or computer as you watch the movieDisney Second Screen: Simultaneously explore exclusive interactive content with your iPad™ or computer as you watch the movieDisney Second Screen: Simultaneously explore exclusive interactive content with your iPad™ or computer as you watch the movieDisney Second Screen: Simultaneously explore exclusive interactive content with your iPad™ or computer as you watch the movie; Limited edition identity disc packaging
Usual Suspects
USUAL SUSPECTS, THE(BD)
V for Vendetta
Set against the futuristic landscape of totalitarian Britain, V For Vendetta tells the story of a mild-mannered young woman named Evey (Natalie Portman) who is rescued from a life-and-death situation by a masked man (Hugo Weaving) known only as "V." Incomparably charismatic and ferociously skilled in the art of combat and deception, V ignites a revolution when he urges his fellow citizens to rise up against tyranny and oppression. As Evey uncovers the truth about V's mysterious background, she also discovers the truth about herself - and emerges as his unlikely ally in the culmination of his plan to bring freedom and justice back to a society fraught with cruelty and corruption.
The Village
M. Night Shyamalan (SIGNS, UNBREAKABLE, THE SIXTH SENSE), the director who brought you the world's greatest thrillers on DVD, now creates his most thought-provoking triumph yet ... breaking international records and dazzling audiences around the globe! THE VILLAGE is a smart, edge-of-your-seat chiller crawling with terrifying surprises and frightening twists and turns. An isolated, tight-knit community lives in mortal fear of an oppressive evil inhabiting the forbidden forest just beyond their tiny village. So frightening that no one ventures into the woods ... until one villager dares to face the unknown. With unforgettable performances from Joaquin Phoenix, Sigourney Weaver, William Hurt, Adrien Brody, and newcomer Bryce Dallas Howard, this powerful motion picture is one of Hollywood's best psychological thrillers and ranks with the best of Hitchcock!
Voyager: SpaceDisc
Walking with Dinosaurs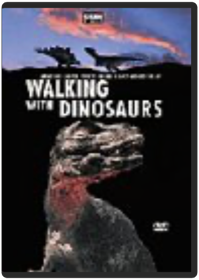 Dinosaurs may be extinct, but they still rule the world. When the first episode of the six-part BBC series Walking with Dinosaurs originally aired, an estimated one out of every four Britons tuned in. What they witnessed was dinosaurs brought to life, not in the modern world as in Jurassic Park, but in their original habitats millions of years ago. Revived using computer-generated effects that cost close to $5 million and sophisticated animatronic models, the dinosaurs look barely a day over 150 million years old. The creators present the series in classic nature-documentary style, complete with an authoritative narrator (Kenneth Branagh) to guide the viewer through the footage of dinosaurs mating, fighting, raising their young, grazing, or, in the case of carnivores, hunting. Each episode focuses on a theme, whether it is a particular era, such as the Mesozoic, or a particular type of dinosaur, like those that ruled the oceans. Each part also focuses in on the life of an individual dinosaur or family of dinosaurs. The result is a series of short dramas that both inform and entertain.

The show is so realistic that some scientists and viewers have criticized its seamless blending of fact and speculation. Those who wish to maintain a healthy skepticism about the theories set forth should watch the exclusive footage from The Making of Walking with Dinosaurs included on the DVD and available via mail-in on the VHS. In it, the scientists freely admit that some educated guesswork was involved and explain how they arrived at the dinosaurs' appearances and behavior. Regardless of whether one agrees or disagrees with every detail of the re-creation, it is difficult to deny that Walking with Dinosaurs succeeds in providing dinosaur lovers with an experience that can't be matched by mere images of paleontologists and fossils.

There's an extra 15 minutes of footage on the video that wasn't broadcast on TV, much of it dinosaurs attacking each other. With the violence, plus explanations of mating, cannibalism, and other terrifying things, young kids should skip it. Dinosaur enthusiasts of age 6 and up should be fine; it's far less violent than anything from the Jurassic Park films. —Eugene Wei
The Wizard of Oz
METALPAK EDITION
Year Without a Santa Claus
Your Host, Walt Disney
Celebrate Walt Disney and his magical vision with this look back at several of the most memorable hours from his groundbreaking television shows. As its friendly, approachable host, Disney endeared himself to millions and became much more than an icon for family entertainment. He became Uncle Walt. Join Walt as he celebrates the rededication of Disneyland with a parade of celebrities and guest stars, the fourth anniversary of his weekly show featuring a surprise party arranged by the Mouseketeers, and a tenth anniversary program showcasing some of his talented Imagineers at work. And in a rare interview, Diane Disney Miller shares warm and personal memories of growing up with the man we all admired from afar.
Celebrating Mickey
-
Frosty the Snowman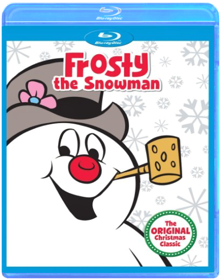 -
The perennial holiday classic like you have never seen it before!
Rocky & Bullwinkle & Friends
-
The complete Rocky & Bullwinkle & Friends series on DVD, including Season 5 on DVD for the first time. It's the whole shebang on DVD, featuring 91 trips in the WABAC time machine, 38 attempts to catch Snidely Whiplash, 91 tales fractured and 50 bits of wisdom from Mr. Know-it-All.
Santa Claus is Comin' to Town
-
Santa Claus comes to life like you have never seen him before in this newly restored classic!
Airplane!
Jim Abrahams, David Zucker, Jerry Zucker
Star Wars: The Force Awakens
J.J. Abrams
The Chronicles of Narnia: The Lion, the Witch and the Wardrobe
Andrew Adamson
Prepare to enter another world when Walt Disney Pictures and Walden Media present C.S. Lewis' timeless and beloved adventure. With the stunningly realistic special effects, you'll experience the exploits of Lucy, Edmund, Susan, and Peter, four siblings who find the world of Narnia through a magical wardrobe while playing a game of "hide-and-seek" at the country estate of a mysterious professor. Once there, the children discover a charming, once peaceful land inhabited by talking beasts, dwarfs, fauns, centaurs, and giants that has been turned into a world of eternal winter by the evil White Witch, Jadis. Aided by the wise and magnificent lion Aslan, the children lead Narnia into a spectacular climactic battle to be free of the Witch's glacial powers forever! The Chronicles of Narnia, Narnia, and all other book titles, characters and locales original thereto are trademarks of C.S. Lewis Pte Ltd. and are used with permission. © Disney/Walden
Shrek
Andrew Adamson, Vicky Jenson
Dreamworks Shrek - DVD
You've never met a hero quite like Shrek, the endearing ogre who sparked a motion picture phenomenon and captured the world's imagination with the Greatest Fairy Tale Ever Told!
Short Description:
Relive every moment of Shrek's(Mike Myers) daring quest to rescue feisty Princess Fiona (Cameron Diaz) with the help of his lovable loudmouthed Donkey (Eddie Murphy) and win back the deed to his beloved swamp from scheming Lord Farquaad (John Lithgow). Enchantingly irreverent and "monstrously clever" (Leah Rozen, People Magazine), Shrek is ogre-sized adventure you'll want to see again and again.
Features:
Disc 1-
Record your voice over your favorite character's lines and star in one of 12 entire scenes!
Behind the scenes featurette
Hidden fun facts
Game Swamp: over 15 interactive games and activities including Shrek Pinball, Rescue the Princess and Soup Slam
Shrek's music room - videos from Smash Mouth, Baha Men and more
Favorite scenes selection
Disc 2-
Filmmakers commentary
"The Tech of Shrek"
Storyboard pitch of outrageous deleted scenes
Technical goofs
International dubbing featurette
Character design progression reel
Hints for Shrek X-Box video game only available on this DVD
Starring: Mike Myers, Cameron Diaz, John Lithgow and Eddie Murphy
Directedby: Andrew Adamson and Vicki
Running time: 93 minutes
Color
This film is presented in "Widescreen" and "Standard" formats
Copyright 2001 Universal Home Video
Rated PG
Shrek 2
Andrew Adamson
SHREK 2 (DVD) (WS/DOL DIG 5.1 SUR/DOL DIG 2.0/STER
Ice Age
Ice Age
They came... they thawed... they conquered the hearts of audiences everywhere in the coolest animated adventure of all time! Heading south to avoid a bad case of global frostbite, a group of migrating misfit creatures embark on a hilarious quest to reunite a human baby with his tribe. Featuring an all-star voice cast, including Ray Romano, John Leguizamo and Denis Leary, Ice Age is "a pure delight" (New York Daily News) for all ages!
Slap Shot
Dede Allen, George Roy Hill
SLAP SHOT 25TH ANNIVERARY EDITION - DVD Movie
Logan's Run
Michael Anderson, Ronald Saland
If you can stifle the urge to laugh at its pastel unisex costumes and futuristic shopping-mall décor, this extravagant science fiction film from 1976 is still visually fascinating and provocatively entertaining. Set in the year 2274, when ecological disaster has driven civilization to the protection of domed cities, the story revolves around a society that holds a ceremonial death ritual for all citizens who reach the age of 30. In a diseaseless city where free sex is encouraged and old age is virtually unknown, Logan (Michael York) is a "sandman," one who enforces this radical method of population control (but he's about to turn 30 and he doesn't want to die). Escaping from the domed city via a network of underground passages, Logan is joined by another "runner" named Jessica (Jenny Agutter), while his former sandman partner (Richard Jordan) is determined to terminate Logan's rebellion. Using a variety of splendid matte paintings and miniatures, Logan's Run earned a special Oscar for visual effects (images of a long-abandoned Washington, D.C., are particularly impressive), and in addition to fine performances by Jordan and Peter Ustinov, the film features '70s poster babe Farrah Fawcett in a cheesy supporting role. Jerry Goldsmith's semi-electronic score is still one of the prolific composer's best, and Logan's Run remains an interesting example of '70s sci-fi that preceded Star Wars by less than a year. —Jeff Shannon
The Darjeeling Limited
Wes Anderson
In THE DARJEELING LIMITED, from director Wes Anderson (Rushmore, Fantastic Mr. Fox), three estranged American brothers reunite for a meticulously planned, soul-searching train voyage across India, one year after the death of their father. For reasons involving over-the-counter painkillers, Indian cough syrup, and pepper spray, the brothers eventually find themselves stranded alone in the middle of the desert—where a new, unplanned chapter of their journey begins. Featuring a sensational cast, including Owen Wilson (Armageddon, Wedding Crashers), Adrien Brody (The Thin Red Line, The Pianist), Jason Schwartzman (Rushmore, HBO's Bored to Death), and Anjelica Huston (Prizzi's Honor, The Grifters), THE DARJEELING LIMITED is a visually dazzling and hilarious film that takes Anderson's work to richer, deeper places than ever before.
The Grand Budapest Hotel
Wes Anderson
The Grand Budapest Hotel [Blu-ray]
Isle of Dogs
Wes Anderson
The Life Aquatic with Steve Zissou
Wes Anderson
Internationally famous ocenaographer steve zissou & his crew set sail on an expedition to hunt down the mysterious elusive - possibly nonexistent - jaguar shark that killed zissous partner during the documentary filming of their latest adventure. Studio: Buena Vista Home Video Release Date: 05/16/2006 Starring: Bill Murray Cate Blanchett
Brave
Mark Andrews, Brenda Chapman
Pi
Darren Aronofsky
A BRILLIANT MATHEMATICIAN TEETERS ON THE BRINK OF INSANITY AS HE SEARCHES FOR AN ELUSIVE NUMERICAL CODE IN THIS CRITICALLY ACCLAIMED SCHIZOPHRENIC THRILLER. SPECIAL FEATURES: COMMENTARY BY DIRECTOR DARREN ARONOFSKY AND ACTOR SEAN GULLETTE, DELETED SCENES, INTERACTIVE MENUS, PRODUCTION NOTES AND MUCH MORE.
Planet Earth II
David Attenborough
In one of the most ambitious landmark series, Planet Earth II allows us to experience the world from the viewpoint of the animals themselves. Traveling through jungles, deserts, mountains, islands, grasslands and cities, this series explores the unique characteristics of Earth's most iconic habitats and the extraordinary ways animals survive within them. New technology has allowed individual stories to be captured in an unparalleled level of detail. For the first time, viewers are immersed in incredible landscapes and share the most dramatic moments in the lives of animals. From spellbinding wildlife spectacle to intimate encounters, Planet Earth II will take you closer than ever before.
Nothing But Trouble
Dan Aykroyd
Get spooked silly when Chevy Chase and Demi Moore take a wrong turnpike exit and find "hanging judge" Dan Aykroyd and "constable" John Candy in a bizarre New Jersey burg. Year: 1990 Director: Dan Aykroyd Starring: Chevy Chase, Dan Aykroyd, Demi Moore, John Candy
Short Circuit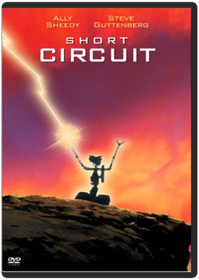 John Badham
Something wonderful has happened—Number Five is alive! Steve Guttenberg and Ally Sheedy co-star in this high tech comedy adventure about Number Five, a robot who escapes into the real world after he short circuits in an electrical storm and decides that he's human. Because he's carrying destructive weapons, the Defense Department and his designer (Guttenberg) are desperate to find him. But Number Five is being protected by a young woman (Sheedy) who is teaching him a gentler way of life.
Outland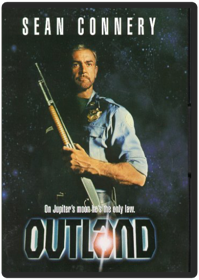 Stuart Baird, Peter Hyams
Outland is another in a long line of Westerns retooled for science fiction. Writer-director Peter Hyams (Capricorn One, 2010, Timecop) restages High Noon in outer space, with Sean Connery as O'Neil, the marshal for a settlement on one of Jupiter's moons. While investigating the deaths of some miners, O'Neil discovers that mine boss Peter Boyle has been giving his workers an amphetamine-like work-enhancing drug that keeps them productive for months—until they finally snap and go berserk. When Boyle sends killer henchmen to neutralize the lawman, O'Neil is unable to get the miners to back him up. Outland is no classic, but it offers solid suspense in an otherworldly atmosphere. Also starring Frances Sternhagen, James B. Sikking (Howard on television's Hill Street Blues), and John Ratzenberger (later to become famous as Cliff on the sitcom Cheers). —Jim Emerson
The Lord of the Rings
Ralph Bakshi
Controversial animator Ralph Bakshi's literal adaptation of J.R.R. Tolkien's classic fantasy trilogy, The Lord of the Rings, is brought to the screen. An evil sorcerer from a previous era created a magical ring which enables its users to call upon its tremendous powers to rule the world, but it inevitably warps them to evil. It was believed lost, but during a resurgence of magical evil in the world, Bilbo, a simple, plain-spoken hobbit, recovers it from its hiding place. The forces of good give his nephew Frodo the choice to bear the awful burden of the ring to a place where it may be destroyed.
Father of the Pride: The Complete Series
Mark Baldo, Mark Risley, Mike DeSeve, Steve Hickner
Mulan / Mulan II
Tony Bancroft, Barry Cook
Celebrate the 15th anniversary of Disney's critically-acclaimed masterpiece Mulan with this sensational 2-movie collection - presented for the first time in Blu-ray high definition. Mulan's triumphant tale of honor, courage, and family pride shines brighter than ever with new digitally mastered picture and sound! Disney's original animated classic magically transforms an ancient Chinese legend into a spectacular motion picture event. Relive all the wonder and excitement as Mulan breaks tradition by joining the Imperial army accompanied by her hilarious guardian dragon, Mushu. The adventure continues in Mulan II, as newly engaged Mulan and Shang journey to a distant city in a valiant quest to save their beloved empire. Your whole family will adore these two extraordinary films on Disney Blu-ray.

Related Products
Mulan Soundtrack
Scooby-Doo, Where Are You!: The Complete Series
Joseph Barbera, William Hanna
The Last Unicorn
Jules Bass, Arthur Rankin Jr.
The Enchanted Tale of The Last Unicorn!

Upon hearing that she may be the very last of her kind on Earth, a Unicorn (Mia Farrow) goes in search of others like her. Her quest won't be easy, as it leads her straight to the evil King Haggard (Christopher Lee) and his infamous Red Bull! And the journey is made even more complicated when, to protect her from the envious wrath of Haggard, a spell is cast to turn the Unicorn into the Lady Amalthea, a beautiful, young human woman. But with this new body comes new thoughts and feelings, such as love for Haggard's son, Prince Lir (Jeff Bridges). Will Amalthea get lost inside this new body? Will she meet the fate of the other Unicorns? Or will she be able to defeat Haggard and his Red Bull with the aid of her friends, Schmendrick the bumbling magician (Alan Arkin) and Molly Grue (Tammy Grimes)?

From Arthur Rankin, Jr. and Jules Bass (The Hobbit), comes a magical adventure with an all-star cast, including Mia Farrow, Jeff Bridges, Christopher Lee, Alan Arkin, Tammy Grimes, Angela Lansbury, Rene Auberjonois and Robert Klein, and unforgettable songs from the rock band, America! The original, uncut version of The Last Unicorn is proudly presented with a stunning new transfer and new bonus materials!
Life and Adventures of Santa Claus / Nestor the Long-Eared Christmas Donkey
Jules Bass, Arthur Rankin Jr.
The Wizard of Oz creator L. Frank Baum penned the story that inspired The Life and Adventures of Santa Claus. A babe born in the woods near the forest of Burzee is named Claus. As Claus grows up, the gods send him to the land of mortals to spread joy and happiness where there is none. Claus carves a small wooden cat for an orphan and decides that all children rich or poor should receive toys for Christmas.

A long time ago the little donkey Nestor lives in a country stable. Mocked for his ears, Nestor and his mother are cast out of the stable. In the snowy cold, Nestor sacrifices herself to protect her child. In the spring a cherub arrives to guide Nestor so he may save another as his mother saved him. Two travelers choose him for a trip to Bethlehem and Nestor the Long-Eared Christmas Donkey fulfills his destiny.

This product is manufactured on demand using DVD-R recordable media. Amazon.com's standard return policy will apply.
Dodgeball
Alan Baumgarten, Rawson Marshall Thurber
You'll dodge, duck, dip, dive. . . and laugh out loud watching Vince Vaughn and Ben Stiller settle their differences in a winner-take-all dodgeball competition. Under the painful tutelage of legendary ADAA champ, Patches O'Houlihan (Rip Torn), Peter LaFleur (Vaughn) and his Average Joes take on the Purple Cobras, led by egomaniacal fitness guru, White Goodman (Stiller). It's an over-the-top underdog tale filled with hilarious sight gags and balls-out fun!
Jurassic World: Fallen Kingdom
J.A. Bayona
Limited Edition SteelBook 4K + Blu-ray + Digital HD Code
Yellow Submarine
the Beatles
This restored, animated valentine to the Beatles offers viewers the rare chance to see a work that's been substantially improved by its technical facelift, not just supersized with extra footage. Recognizing that its song-studded soundtrack alone makes Yellow Submarine a video annuity, United Artists has lavished a frame-by-frame refurbishment of the original feature, while replacing its original monaural audio tracks with a meticulously reconstructed stereo mix that actually refines legendary original album versions.

What emerges is a vivid time capsule of the late '60s and a minor milestone in animation. The music represents the quartet's zenith—Rubber Soul, Revolver, and Sgt. Pepper's Lonely Hearts Club Band. The story line, cobbled together by producer Al Brodax and a committee of writers, is a broad, feather-light allegory set in idyllic Pepperland, where the gentle citizens are threatened by the nasty, music-hating Blue Meanies and their surreal arsenal of henchmen, with the Beatles enlisted to thwart the bad guys. Visually, designer Heinz Edelmann mixes the biomorphic squiggles, day-glo palette, and Beardsley-esque portraits of Peter Max with rotoscoped still photographs and film; Edelmann's animated collages also nod to Andy Warhol and Magritte in properly psychedelic fashion, which works wonderfully with such terrific songs.

High orthodox Beatlemaniacs can still grouse that the animated Fab Four are (literally) flat archetypes, but that's missing the sheer bloom of the music or the giddy, campy fun of the visuals. Making sense of the story is second to submerging blissfully in the sights and sounds of this video treat. —Sam Sutherland
Shock Treatment
Richard Bedford, Jim Sharman
Brad and Janet from Rocky Horror are in trouble again in this funny semi-sequel, featuring an early appearance by Dame Edna.
Shaft in Africa
Max Benedict, John Guillermin
Detective Shaft goes to Africa to track down a slave-trading operation and becomes entangled in an international scheme of corruption and murder. His pursuit of the ruthless slave traders becomes a non-stop fight to save his own skin.
Genre: Feature Film Urban Action
Rating: R
Release Date: 3-FEB-2004
Media Type: DVD
The Road to El Dorado
Bibo Bergeron, Don Paul
Get ready for an exhilarating ride of a lifetime in DreamWorks Animation's The Road to El Dorado. Join Tulio and Miguel – and their hilarious horse Altivo – as they set sail, map in hand, in search of a golden treasure. Upon landing on the shores of El Dorado – the legendary Lost City of Gold – the duo are mistaken for gods and are lavished with riches behind their wildest dreams. As friendship, loyalty and greed collide, our unlikely heroes must make the decision of their lives…run off with the gold or face unforeseen risks and dangers to save the people of El Dorado! Reuniting the Academy Award-winning musical team from The Lion King – Elton John, Tim Rice and composer Hans Zimmer – this colorful, glittering film features captivating songs, memorable characters and spectacular animation that will be treasured for all time.
Shark Tale
Bibo Bergeron, Rob Letterman, Vicky Jenson
A comic catch from the studio that brought you Shrek, Shark Tale is a hilarious hit and "a wonderful under-the-sea adventure for movie lovers of all ages!" (Clay Smith, Access Hollywood)

Oscar (Will Smith), a lowly tongue-scrubber at the local Whale Wash, becomes an improbable hero when he tells a great white lie. To keep his secret, Oscar teams up with an outcast vegetarian shark, Lenny (Jack Black), and the two become the most unlikely of friends. When his lie begins to unravel, it's up to Oscar's loyal friend Angie (Renée Zellweger) and Lenny to help him stand up to the most feared shark in the water (Robert De Niro) and find his true place in the reef.
The Fifth Element
Luc Besson
New York cab driver Korben Dallas didn't mean to be a hero, but he just picked up the kind of fare that only comes along every five thousand years: A perfect beauty, a perfect being, a perfect weapon. Now, together, they must save the world. Bruce Willis, Milla Jovovich, and Gary Oldman star in acclaimed director Luc Besson's outrageous sci-fi adventure, an extravagantly styled tale of good against evil set in an unbelievable twenty-third century world.
Incredibles 2
Brad Bird
In INCREDIBLES 2, Helen is called on to lead a campaign to bring Supers back, while Bob navigates the day-to-day heroics of "normal" life at home with Violet, Dash and baby Jack-Jack — whose superpowers are about to be discovered. Their mission is derailed, however, when a new villain emerges with a brilliant and dangerous plot that threatens everything. But the Parrs don't shy away from a challenge, especially with Frozone by their side. That's what makes this family so INCREDIBLE.
The Iron Giant
Brad Bird
Ratatouille
Brad Bird
Tomorrowland
Brad Bird
In Disney's riveting mystery adventure TOMORROWLAND, a jaded inventor and an optimistic teen embark on a danger-filled mission to unearth the secrets of an enigmatic place somewhere in time and space.
Free Birds
Free Birds
From the Academy Awardr-Winning producer of Shrek* comes a hilarious animated adventure about two turkeys from opposite sides of the tracks who travel back in time in order to keep their species off the Thanksgiving menu. Featuring an all-star voice cast, including Owen Wilson, Woody Harrelson and Amy Poehler, Free Birds is loaded with laughs and stuffed with fun for the whole family!
Iron Man 3
Shane Black
Brother Bear / Brother Bear 2
Aaron Blaise, Robert Walker
Disney proudly presents two heartwarming and hilarious movies in one incredible collection - Brother Bear, the 2003 Academy Award nominee for best animated feature, and Brother Bear 2 - together for the first time on Blu-ray. Bring home an entire forest full of fun, complete with digitally restored high definition picture and sound. After an impulsive boy named Kenai is magically transformed into a bear, he and his little brother bear, Koda, take a courageous (and often hilarious) journey to see the Northern Lights. Experience the excitement of these two fantastic films like never before on Disney Blu-ray!
Chappie
Neill Blomkamp
In the near future, crime is monitored by an oppressive mechanized police force. But now, the people are fighting back. When one police droid, Chappie, is stolen and given new programming, he becomes the first robot with the ability to think and feel for himself.  As powerful and destructive forces start to see Chappie as a danger to mankind and order, they will stop at nothing to maintain the status quo and ensure that Chappie is the last of his kind.
District 9
Neill Blomkamp
From producer Peter Jackson (The Lord of the Rings Trilogy) and director Neill Blomkamp comes a startlingly original science fiction thriller that "soars on the imagination of its creators" (Peter Travers, Rolling Stone). With stunning special effects and gritty realism, the film plunges us into a world where the aliens have landed... only to be exiled to a slum on the fringes of Johannesburg. Now, one lone human discovers the mysterious secret of the extraterrestrial weapon technology. Hunted and hounded through the bizarre back alleys of an alien shantytown, he will discover what it means to be the ultimate outsider on your own planet.
An American Tail
Don Bluth
From Steven Spielberg's Amblin Entertainment comes the story of a courageous little mouse named Fievel, one of the most endearing animated characters ever created. Journeying by ship from Russia to turn-of-the-century America, Fievel is lost at sea during a ferocious storm. Washing ashore in New York Harbor, Fievel braves the perils and wonders of a strange new world in a thrilling quest to find his family. Filled with humor, adventure and action, this heartwarming tale is fun for the entire family!
Banjo the Woodpile Cat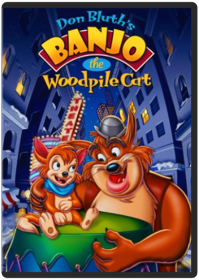 Don Bluth
Although he has a happy life on a farm, Banjo can't stop getting into trouble! When his dad threatens to punish him for leaping off a roof, Banjo decides to run away — so he hops aboard a feed truck bound for Salt Lake City. But the kitten soon learns that while the city is exciting, it's also dangerous. Cold, hungry and alone, Banjo longs to return home. His only hope for getting back to the farm lies with an alley cat named Crazy Legs (voiced by Scatman Crothers) in this story that's purr-fect for the whole family!
The Land Before Time
Don Bluth
The Land Before Time, presented by Steven Spielberg and George Lucas, introduces us to Littlefoot, Cera, Spike, Ducky and Petrie–following them on their first journey together–an exciting quest to find the lush, legendary Great Valley. Along the way, the prehistoric pals overcome many challenges and learn the value of teamwork and friendship. This delightful classic is the adventure that started it all and it continues to capture the hearts of viewers young and old!
The Secret of NIMH
Don Bluth
Get ready to meet some runaway rodents with an earth-shattering secret! Suspenseful and heartwarming, this beautifully animated odyssey stars Mrs. Brisby, a mild-mannered mother mouse with a plan to move Heaven and Earth (or at least her house and home) to save her family from Farmer Fitzgibbon's plow! Along the way she gets some help from a lovelorn Crow, a busybody neighbor mouse and a fearsome Great Owl. Unfortunately, Mrs. Brisby will need an engineering miracle to hoist her home, and for that she must face a mysterious rat, fend off a ferocious cat and claim a magic amulet! But when Mrs. Brisby discovers the astounding secret of NIMH...it could change her life forever! This timeless tale of love, courage and determination will transport the whole family into an enchanting world where the bravest hearts live in the meekest of mice.
Muppets Most Wanted
James Bobin
There's plenty of fun for the whole family as Kermit the Frog, Miss Piggy, Animal and the entire Muppets gang head out on a world tour. But mayhem follows the Muppets, as they find themselves unwittingly entangled in an international crime caper. Now Kermit is behind bars at the mercy of prison warden Nadya (Tina Fey), and the World's Number One Criminal, Constantine — a dead ringer for Kermit — has taken his place. As Constantine and his dastardly sidekick Dominic (Ricky Gervais) plot the robbery of the century, they are pursued by Sam Eagle and Interpol agent Jean Pierre Napoleon (Ty Burrell). Will Constantine get away with his nefarious scheme? Will Kermit escape in time to save the day? Packed with dozens of guest cameos and some great new songs, Disney's MUPPETS MOST WANTED is the most hilarious, most wanted Muppet movie ever!
Kronk's New Groove
Elliot M. Bour, Robin Steele, Saul Blinkoff
Get back in the groove with Disney's hilarious all-new movie. After his wild adventures with Pacha and Emperor Kuzco, lovable lug Kronk, Yzma's former henchman, has happily started a new life as the head chef in his very own diner. An all-new wacky adventure begins, however, when a llama-gram arrives telling him that his father is due for a visit. Before you can say "squeaker, squeak," Kronk is cooking up trouble with the sly enchantress, Yzma, trying to make himself look like a success in time for Papi's arrival. After a bunch of big blunders and a massive cheese explosion in the restaurant, Kronk finds himself covered in a heap of trouble. It is only with the help of friends both old and new that Kronk learns to be true to his groove.~
The Gate to the Mind's Eye
Michael Boydstun
Rock Dog
Ash Brannon
When a young mastiff, Bodi (Luke Wilson), discovers a radio, it takes just a few guitar licks for his fate to be sealed: Bodi wants to be a rock 'n' roll star!
Surf's Up
Ash Brannon, Chris Buck
Surf's Up is an animated feature that goes behind the scenes of the high-octane world of competitive penguin surfing. The film profiles Cody Maverick, an up-and-coming surfer as he enters his first pro competition. Inspired by his hero, a legendary wave rider named Big Z, Cody leaves his family and his town of Shiverpool, Antarctica to travel to Pen Gu Island for the Big Z Memorial Surf Off. Cody believes that winning will bring him the admiration and respect he desires. But when he unexpectedly comes face to face with a washed up old surfer named The Geek, Cody begins to understand that the greatest champion isn't always the one who comes in first.
The Butterfly Effect
Eric Bress, J. Mackye Gruber
A young man struggling to access sublimated childhood memories finds a technique that allows him to travel back to the past. Occupying his childhood body, he is able to change history. But every change he makes has unexpected consequences.

DVD Features:
Additional Scenes:included in the Director's Cut Version of the film
Alternate endings:included in the Director's Cut version of the film
Audio Commentary:with Director and Screenwriters Eric Bress and J. Mackye Gruber
DVD ROM Features:Script-to-Screen Link to original Website Exclusive On-disc ROM Content Exclusive content at infinifilm.com
Deleted Scenes:with commentary
Documentaries:—The Science and Psychology of the Chaos Theory —The History and Allure of Time Travel
Featurette:—The Creative Process —Visual Effects
Other:infinifilm Fact Track DIRECTOR'S CUT OF THE FILM—only on DVD (120 minutes) DTS ES 6.1 Sound
Storyboards
Theatrical Trailer
Coma
David Bretherton, Michael Crichton
Before he created "ER" Michael Crichton (Jurassic Park, Twister) adapted and directed (his debut behind the camera) this chiller from Robin Cook's best-seller about a sinister medical conspiracy. Genevieve Bujold, Michael Douglas and Richard Widmark star as doctors caught in its web.
Blazing Saddles
Mel Brooks, Robert Butler
The railroad's got to run through the town of Rock Ridge. How do you drive out the townfolk in order to steal their land? Send in the toughest gang you've got...and name a new sheriff who'll last about 24 hours. But that's not really the plot of Blazing Saddles, just the pretext. Once Mel Brooks' lunatic film many call his best gets started, logic is lost in a blizzard of gags, jokes, quips, puns, howlers, growlers and outrageous assaults upon good taste or any taste at all. Cleavon Little as the new lawman, Gene Wilder as the wacko Waco Kid, Brooks himself as a dim-witted politico and Madeline Kahn in her Marlene Dietrich send-up that earned an Academy Award nomination all give this sagebrush saga their lunatic best. And when Blazing Saddles can't contain itself at the finale, it just proves the Old West will never be the same!
The Producers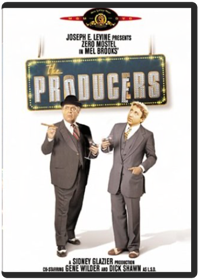 Mel Brooks
A "startling, stunning, outrageous [and] breathtaking debut" (Los Angeles Times) from acclaimed writer/director Mel Brooks (Young Frankenstein, Spaceballs), this Oscar(r)-winning* comedy combines "pure pell-Mel lunacy [and] wild, ad-lib energy [into an] uproariously funny" (Time) film! Low-rent Broadway producer Max Bialystock (Zero Mostel) and his high-strung accountant, Leo Bloom (Gene Wilder), discover that, with the help of a few gullible investors, they can make more money on a flop than on a hit! Armed with the worst show ever written ("Springtime for Hitler") and an equally horrific cast, this double-dealing duo is banking on disaster. But when their sure-to-offend musical becomes a surprise smash hit, they find themselves in the middleof a Broadway blitzkrieg! *1968: Original Screenplay
Robin Hood: Men in Tights
Mel Brooks
Cary Elwes stars as Robin Hood, the dashing defender of the down-trodden, who along with his merry men and Maid Marion, resides in Sherwood Forest. There they have become together to fight against the seriously neurotic Prince John, the not quite-evil She
Dragon's Lair
Warner Bros
Dragon's Lair HD delivers the fun, tongue-in-cheek medieval adventure that made the original arcade games a hit. The Dragon's Lair games were the first fully-animated arcade games, and were favorites in the 1980s. Now the funny, fast action gaming experience is available on your Playstation 3, with the added bonus of HD technology. Sharper images, DVD-style bonuses and no more annoying pauses at decision points - all making a classic game even better. Comes with full-length visual commentary on the game All special features presented in 1080p
Escape From Planet Earth
Carl Brunker
The 3D animated family comedy catapults moviegoers to planet Baab where admired astronaut Scorch Supernova (Brendan Fraser) is a national hero to the blue alien population. A master of daring rescues, Scorch pulls off astonishing feats with the quiet aid of his nerdy, by-the-rules brother, Gary (Rob Corddry), head of mission control at BASA. When BASA's no-nonsense chief Lena (Jessica Alba) informs the brothers of an SOS from a notoriously dangerous planet, Scorch rejects Gary's warnings and bounds off for yet another exciting mission. But when Scorch finds himself caught in a fiendish trap set by the evil Shanker (William Shatner) it's up to scrawny, risk-adverse Gary to do the real rescuing. As the interplanetary stakes rise to new heights, Gary is left to save his brother, his planet, his beloved wife Kira (Sarah Jessica Parker) and their adventure hungry son Kip.
Frozen
Chris Buck, Jennifer Lee
Fearless optimist Anna teams up with Kristoff in an epic journey, encountering Everest-like conditions, and a hilarious snowman named Olaf in a race to find Anna's sister Elsa, whose icy powers have trapped the kingdom in eternal winter.
Tarzan
Kevin Lima And Chris Buck
Disney's legendary adventure is better than ever as TARZAN bursts onto Blu-ray for the first time ever with spectacular picture and amazing sound. Filled with thrills, laughs, and Academy Award(R)-winning music (Best Music, Original Song, "You'll Be In My Heart," 1999), this family favorite will make you go wild. Disney's magnificent adaptation of Edgar Rice Burroughs' story begins deep within the jungle when baby Tarzan is adopted by a family of gorillas. But his "Two Worlds" collide with the arrival of humans, forcing Tarzan to choose between a "civilized" life with the beautiful Jane and the life he shares with his fun-loving friends and his gorilla family. Enjoy this wild and wonderful adventure in a whole new way on Disney Blu-ray!
Red vs. Blue: Season One
Burnie Burns
Red vs. Blue: Season Two
Matt Hullum Burnie Burns
Episodes 20-38. Features deleted scenes, hidden tracks, audio commentary by the filmmakers, hilarious outtakes, and much more. Warning: Contains adult language.
Big Fish
Tim Burton
A MAGICAL JOURNEY THAT DELVES DEEP INTO A FABLED RELATIONSHIP BETWEEN A DYING FATHER & HIS SON. THE SON RECREATES HIS FATHER'S ELUSIVE LIFE IN A SERIES OF LEGENDS & MYTHS INSPIRED BY THE FEW FACTS HE KNOWS, DISCOVERING BOTH HIS FATHER'S GREAT FEATS & HIS GREAT FAILURES.
Charlie and the Chocolate Factory
Tim Burton
Fantasy Adventure. Acclaimed director Tim Burton brings his vividly imaginative style to the beloved Roald Dahl classic Charlie and the Chocolate Factory, about eccentric chocolatier Willy Wonka (Depp) and Charlie, a good-hearted boy from a poor family who lives in the shadow of Wonka's extraordinary factory. Long isolated from his own family, Wonka launches a worldwide contest to select an heir to his candy empire. Five lucky children, including Charlie, draw golden tickets from Wonka chocolate bars and win a guided tour of the legendary candy-making facility that no outsider has seen in 15 years. Dazzled by one amazing sight after another, Charlie is drawn into Wonka's fantastic world in this astonishing andenduring story.
Dark Shadows
Tim Burton
From the wonderfully warped imagination of Tim Burton comes the story of Barnabas Collins (Johnny Depp), a dashing aristocrat who is turned into a vampire by a jilted lover and entombed for two centuries. Emerging from his coffin into the world of 1972, he returns to his once-majestic home, only to the few dysfunctional descendants of the Collins family who remain. Determined to return his family name to its former glory, Barnabas is thwarted at every turn by his former lover - the seductive witch Angelique (Eva Green) - in this wildly imaginative" (Sam Hallenbeck, NBC-TV adventure).
Frankenweenie
Tim Burton
From Disney and creative genius Tim Burton (ALICE IN WONDERLAND; THE NIGHTMARE BEFORE CHRISTMAS) comes the hilarious and offbeat FRANKENWEENIE, a heartwarming tale about a boy and his dog. After unexpectedly losing his beloved dog Sparky, young Victor harnesses the power of science to bring his best friend back to life — with just a few minor adjustments. He tries to hide his home-sewn creation, but when Sparky gets out, Victor's fellow students, teachers and the entire town learn that getting a new "leash on life" can be monstrous. Complete with electrifying bonus features, FRANKENWEENIE is alive with enchanting fun for the whole family.
Pee-wee's Big Adventure
Tim Burton
Call in the FBI. Alert the President. Advise all ships at sea and break out the Batphone because this is no ordinary adventure: this is Pee-wee's Big Adventure! Pee-wee's bicycle, the keenest bike in the world, is missing. It's his most prized possession...and he's just got to get it back. Searching high, low and in between, Pee-wee hits the open road and encounters riotous adventures with bikers, bums, cowboys, cons, a phantom trucker and a waitress with wanderlust and even Warner Bros. Studios.
Sweeney Todd: The Demon Barber of Fleet Street
Tim Burton
Pinky and the Brain: Volume 1
Barry Caldwell, Jon McClenahan, Mike Milo, Rusty Mills, Russell Calabrese
Two lab mice, ("One is a genius, the other insane") living in the Acme labs seek to formulate a plan for the duo, led by Brain, to take over the world. Watch each episode as Pinky and the Brain take on each attempt with a dry wit and humor and likely a parody of other media. 22 Episodes from the Emmy Nominated Series for the first time on DVD
Pinky and the Brain: Volume 2
Barry Caldwell, Jon McClenahan, Mike Milo, Rusty Mills, Russell Calabrese
Two lab mice, ("One is a genius, the other insane") living in the Acme labs seek to formulate a plan for the duo, led by Brain, to take over the world. Watch each episode as Pinky and the Brain take on each attempt with a dry wit and humor and likely a parody of other media. 22 Episodes from the Emmy Nominated Series for the first time on DVD.
Terminator 2: Judgment Day
James Cameron
A POLICE DETECTIVE IS IN CHARGE OF THE INVESTIGATION OF A BRUTALMURDER, IN WHICH A BEAUTIFUL AND SEDUCTIVE WOMAN COULD BE INVOLVED.
GoldenEye
Martin Campbell
The effortlessly suave and sophisticated Pierce Brosnan makes his acclaimed debut as Agent 007 in this rip-roaring espionage thriller featuring the most eye-popping opening sequence yet! When an MI6 agent (Sean Bean) turns rogue and plans world domination with a terrifying satellite-borne weapon, Bond must pursue his former ally to Cuba, Monte Carlo, Switzerland and even Russia, all whilst dodging a sexy, deadly femme fatale (Famke Janssen) who will stop at nothing to put the 'squeeze' on the intrepid spy!
Christine
John Carpenter
Includes:
- Deleted Scenes
- Commentary with Director John Carpenter and Keith Gordon
- Three featurettes (Christine: Ignition; Christine: Fast and Furious; Christine: Finish Line)
The Muppet Show: Season 3
Philip Casson
Wocka! Wocka! Wocka! The innovative variety show s sensational third season earned television s prestigious Peabody Award as well as an Emmy® Award nomination for Outstanding Comedy-Variety or Music Program. Featuring a sensational lineup of hilarious guest stars including Sylvester Stallone, Gilda Radner, Raquel Welch and Liberace Season Three is loaded with more Muppetational moments than any show in primetime history. Experience all 24 episodes from Season Three digitally re-mastered and restored in this special 4-disc DVD set. With hours of bonus features, including an all-new behind the scenes documentary, original Muppet commercials and much more, The Muppet Show: The Complete Third Season is unbeatable entertainment for the whole family.
Little Shop of Horrors
Kelley Cauthen, Frank Oz
A skid-row florist's "mean green mother" of a monster plant is the center of "the looniest, nuttiest, most outrageous movie musical comedy in years" (Jeffrey Lyons, Sneak Preview). Rick Moranis, Steve Martin, Ellen Green, Billy Murray and other comedy greats star.
Samurai Champloo: Episodes 1 & 2
Samurai Champloo
Mugen is a buck wild warrior- violent, thoughtless and womanizing. Jin is a vagrant ronin- mysterious, traditional, well-mannered and very strong as well. These two fiercely independent warriors can't be any more different from one another, yet their paths cross when Fuu, a ditzy waitress, saves them from being executed when they are arrested after a violent swordfight. Fuu convinces the two men to help her find a mysterious samurai "who smells of sunflowers." And their journey begins.
Club Dread
Jay Chandrasekhar
Broken Lizard is back…and this time the crazy comedy troupe that brought you Super Troopers is taking you on a trip so outrageously fun…it's murder. Welcome to Coconut Pete's Pleasure Island, a tropical, tequila-soaked vacation resort where high-spirited
The Watcher
Joe Charbanic
Keanu Reeves turns up the heat as a stone cold serial killer playing a sadistic game of cat and mouse with a burnt-out FBI agent (James Spader). This action-packed thriller zooms along against a wild backdrop of twisted streets, screaming sirens and pure adrenaline!
Racing Stripes
Frederik Du Chau
A zebra raised on a farm in Kentucky dreams of becoming a racehorse in this heartwarming tale that combines live action and computer animation. Featuring the voices of Frankie Muniz, Mandy Moore, Michael Clarke Duncan, Jeff Foxworthy, Joe Pantoliano, David Spade, Snoop Dogg, Dustin Hoffman and Whoopi Goldberg

DVD Features:
Alternate endings
Audio Commentary
Documentaries
Featurette
Outtakes
Theatrical Trailer
Five Deadly Venoms
Chang Cheh
The dying master of the powerful Poison Clan dispatches his last pupil on a crucial mission. Worried that the skills he has taught are being used to evil ends, he orders the Yan Tieh to trace a retired colleague and warn him that the fortune he amassed from the clan activities is under threat from five of his former pupils. Each an expert in his own lethal combat style, The Centipede, The Snake, The Scorpion, The Lizard, and The Toad comprise a truly invincible force. Yan must discover the whereabouts and true identities of these deadly masked warriors, and decide which, if any, he can trust to join him in his perilous mission. A blindingly choreographed blend of intrigue and violence,Five Deadly Venoms adds a truly original dimension to the kung fu genre.
Ernest Saves Christmas
John R. Cherry III
High-flying reindeer! Mischievous elves! Warp-speed sleigh rides! Get set for a magical dose of holiday cheer, zany season's greetings, and spell-binding special effects in this fast-paced, heartwarming comedy hit! When Santa Claus decides to retire and pass on his magic bag of Christmas surprises to a new St. Nick, he enlists the aid of a hilarious assortment of characters, including that lovable know-it-all Ernest P. Worrell (Emmy Award-winning comedian Jim Varney)! Along the way, Santa and Ernest help a cynical teen experience the season's spirit like never before. And that's where the fun — and magic — begin! ERNEST SAVES CHRISTMAS ... one delightful, surprising tale you'll never forget!
The Absent-Minded Professor
Carroll Clark, Edward Colman, Robert Stevenson
The motion picture, made on a small budget, did fine business at the box office, inspiring the 1963 sequel SON OF FLUBBER.
Made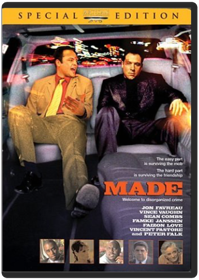 Curtiss Clayton, Jon Favreau
Two aspiring boxers lifelong friends get involved in a money-laundering scheme through a low-level organized crime group. Studio: Lions Gate Home Ent. Release Date: 11/16/2004 Starring: John Favreau Famke Janssen Run time: 94 minutes Rating: R Director: Jon Favreau
Great Mouse Detective
Ron Clements, Burny Mattinson, Dave Michener, John Musker
After a four-year period of story development, animation took just over one year to complete. This remarkably short production span was possible due to new efficiencies in the production process (such as video tests and computer-assisted layouts and graphics), and an increased emphasis on story development prior to the start of production.
Moana
Ron Clements, John Musker, Don Hall, Chris Williams
From Walt Disney Animation Studios comes MOANA, an epic adventure about a spirited teen who sets sail on a daring mission to save her people. Along the way, Moana (Auli'i Cravalho) meets the once mighty demigod Maui (Dwayne Johnson), and together they cross the ocean on a fun-filled, action-packed voyage. Bring home the movie full of heart, humor and oceans of bonus extras!
Moana
Ron Clements, John Musker, Don Hall, Chris Williams
The Rocky Horror Picture Show
Graeme Clifford, Jim Sharman
Fasten your garter belt and come up to the lab and see what's on the slab! It's The Rocky Horror Picture Show Special Edition, a screamingly funny, sinfully twisted salute to sci-fi, horror, B-movies and rock music, all rolled into one deliciously decadent morsel. And now there's even more to make you shiver with antici...pation: two additional musical numbers, "Once In A While" and "Superheroes", never seen theatrically or available on video! The madcap, musical mayhem begins when rain-soaked Brad and Janet take refuge in the castle of Dr. Frank-N-Furter, a transvestite mad scientist from outer space who is about to unveil his greatest creation - and have a bit of fun with his reluctant guests! Join Tim Curry, Barry Bostwick, Susan Sarandon and rock star Meat Loaf in the most popular cult classic of all time.
Panty & Stocking with Garterbelt: Complete Series
Colleen Clinkenbeard, Hiroyuki Imaishi
Panty and Stocking - the Anarchy Sisters - are two nasty angels who got booted from the pearly gates for being foul-mouthed bitches! Now they spend their days blowing up ghosts in the lecherous abyss between Heaven and Earth. Panty likes sex, Stocking likes sweets, their afro-sporting main man Garter Belt has a fetish we can't mention. Together, they're keeping the streets free of bodily fluids. Ghosts don't have a prayer against their panty pistols and stocking swords, and if this debaucherous duo can collect enough Heaven Coins, they just might get their halos back. They've got a slim chance in hell, but rolling commando is the best way to get lucky - especially with Panty and Stocking! This Limited Edition comes in a collectible art box.
O Brother, Where Art Thou?
Ethan Coen, Joel Coen
Disenchanted with the daily drudge of crushing rocks on a prison farm in Mississippi, the dapper, silver-tongued Ulysses Everett McGill (George Clooney, THE PERFECT STORM) busts loose. Except he's still shackled to his own chain-mates from the chain gang — bad-tempered Pete (John Turturro, SUMMER OF SAM), and sweet, dimwitted Delmar (Tim Blake Nelson, HAMLET). With nothing to lose and buried loot to regain — before it's lost forever in a flood — the three embark on the adventure of a lifetime in this hilarious offbeat road picture. Populated with strange characters, including a blind prophet, sexy sirens, and a one-eyed Bible salesman (John Goodman, COYOTE UGLY), it's an odyssey filled with chases, close calls, near misses, and betrayal that will leave you laughing at every outrageous and surprising twist and turn.
The Fast and the Furious
Rob Cohen
Street racers vie to be top dog while trying to steer clear of the police.
Beauty and the Beast
Bill Condon
The story and characters you know and love come to spectacular life in the live-action adaptation of Disney's animated classic BEAUTY AND THE BEAST, a cinematic event celebrating one of the most beloved tales ever told..
Black Panther
Ryan Coogler
Toy Story 4
Josh Cooley
Pixar Animation Studios proudly presents the adventure of a lifetime! When Woody, Buzz and the gang join Bonnie on a road trip with her new craft-project-turned-toy, Forky, the innocent little spork's hilarious antics launch Woody on a wild quest filled with unexpected new characters — and one long-lost friend! A soaring masterpiece stuffed with spectacular animation, humor and heart, "TOY STORY 4 will blow you away" (Kenneth Turan, Los Angeles Times).
MacGyver: Season 5
Bill Corcoran, Charles Correll, Cliff Bole, Harry Harris, James L. Conway
Richard Dean Anderson stars as MacGyver, an agent for the Phoenix Foundation, a progressive agency devoted to righting the wrongs of the world. Even more progressive is the near-genius MacGyver who never carries a gun and always thwarts the enemy with his vast scientific knowledge, sometimes with little more than a paper clip and the duct tape in his pocket.
Make Mine Music
Bob Cormack, Clyde Geronimi, Joe Grant, Jack Kinney, Hamilton Luske
This was Disney's first postwar "package" feature. By tying a group of shorts together, he was able to get the production into theaters sooner. There were 10 segments in the original, released in April 1946.
MacGyver: Season 6
Charles Correll, Cliff Bole, James L. Conway, Lee David Zlotoff, Michael Caffey
Richard Dean Anderson stars as MacGyver, an agent for the Phoenix Foundation, a progressive agency devoted to righting the wrongs of the world. Even more progressive is the near-genius MacGyver who never carries a gun and always thwarts the enemy with his vast scientific knowledge, sometimes with little more than a paper clip and the duct tape in his pocket.
MacGyver: Season 7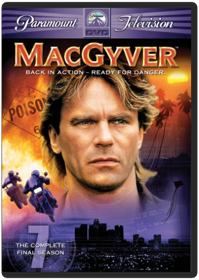 Charles Correll, Cliff Bole, James L. Conway, Lee David Zlotoff, Michael Caffey
MacGyver (Richard Dean Anderson) is a contemporary hero and role model who applies his scientific knowledge to ordinary items to create for himself and others a means of escape from impending doom.
Mad City
Costa-Gavras
A desperate man. A hostage crisis. Its an explosive situation. And one career driven tv reporter wants to make sure it explodes just in time for the nightly news. Studio: Warner Home Video Release Date: 06/01/2004 Starring: John Travolta Mia Kirshner Run time: 144 minutes Rating: Pg13 Director: Costa Gavras
The Postman
Kevin Costner
Set in the near future after a catastrophic war which has destroyed the government, a traveler finds an old mail bag and starts delivering it.
Genre: Feature Film-Action/Adventure
Rating: R
Release Date: 8-FEB-2005
Media Type: DVD
Waterworld
Kevin Costner, Kevin Reynolds
In a future where earth is covered with water many cling to legends of a mythical place called dryland. One childs wonderous secret may hold the key to its whereabouts and thus the survival of the human race. Bonus features: production notes talent bios film highlights and theatrical trailer. Studio: Uni Dist Corp. (mca) Release Date: 04/12/2005 Starring: Kevin Costner Jeanne Tripplehorn Run time: 136 minutes Rating: Pg13
Going Postal
Coyle, Dance
A tale of love and revenge … and stamps

"Elaborately designed fantasy fun" —The Observer(U.K.)

Moist von Lipwig (Richard Coyle, Lorna Doone) is a con man and a charlatan—and he loves every minute of it. From confidence tricks to far-reaching financial fraud, von Lipwig revels in hoodwinking, fleecing, and otherwise ripping off the citizens of Ankh-Morpork. When the law finally catches up to him, the city's shrewd leader, Lord Vetinari (Charles Dance, Game of Thrones), offers von Lipwig a choice: he can take over the derelict post office . . . or suffer a painful death.

The reluctant postmaster finds himself in charge of thousands of undelivered letters, commanding a charmingly deranged staff of misfits, and at odds with corrupt businessman Reacher Gilt (David Suchet, Agatha Christie's Poirot), who will stop at nothing to crush his competition. Along the way, he falls under the spell of the icy Adora Dearheart (Claire Foy, Little Dorrit), much to her chagrin. In this delightful adaptation of Terry Pratchett's Discworld novel, Moist von Lipwig needs every ounce of his considerable charm and cunning to restore the post office, trounce Gilt, and win Adora's affections.
eXistenZ
David Cronenberg
Exciting stars Jennifer Jason Leigh (The Machinist), Jude Law (Repo Men), Willem Dafoe (Daybreakers), Ian Holm (The Aviator) and Sarah Polley (Splice) challenge the boundaries of reality in this futuristic, critically-acclaimed thriller.

During the first closed-door demonstration of an amazing new virtual reality game called eXistenZ, the system's brilliant designer, Allegra Geller (Leigh), is violently attacked by a crazed assassin intent on killing her and destroying her creation. Forced into hiding, Allegra enlists a young assistant (Law) to help her in testing the damaged system...by convincing him to join her inside eXistenZ. The action explodes as their world's real-life dangers begin to merge with the fantasy of the game.

Special Feature(s): Full High Definition 1080p; 16x9 (1.78:1); English 5.1 DTS; English 2.0 Stereo; Interview with Jude Law; Interview with Willem Dafoe; Interview with Special Effects Supervisor; Smart Menu Technology: Browse the menu, on screen, without leaving film
MacGyver: Season 2
Alan Crosland, Alexander Singer, Bob Sweeney, Bruce Kessler, Charles Correll
Angus MacGyver is a secret agent who refuses to carry a gun with him, but fortunately never needs one. Drawing on a vast practical knowledge of science, MacGyver is able to make use of anything around him to create solutions to any problem he faces. Underestimating MacGyver is a major mistake made by his enemies and always results in the destruction of their plans.
Bridge to Terabithia
Gabor Csupo
Fifth grader Jesse Aaron's hopes of becoming the fastest runner in his class are dashed when new girl Leslie Burke outruns everybody, including him. However, Jess and Leslie soon begin a friendship, and discover a magical fantasy kingdom in the forest, where the two of them reign together as king and queen.
Casablanca
Michael Curtiz
No description available for this title.
Item Type: BLU-RAY DVD Movie
Item Rating: NR
Street Date: 09/15/09
Wide Screen: yes
Director Cut: no
Special Edition: no
Language: ENGLISH
Foreign Film: noSubtitles: no
Dubbed: no
Full Frame: no
Re-Release: no
Packaging: Sleeve
Gremlins
Joe Dante
Gremlins is a wildly original roller-coaster ride of hilarious mischief. One minute your hair will stand on end, the next you'll hold your sides with laughter at the havoc these supposedly gentle furballs create when the rules surrounding their care and feeding are inadvertently broken one fateful Christmas. Written by Chris Columbus and directed by Joe Dante, Gremlins unleashes special effects that dazzle and enchant and merriment that lingers in the memory. And isn't that "what superior popular moviemaking is all about" - (Richard Corliss, Time).
Gremlins 2: The New Batch
Joe Dante
The follow up feature to the cult hit Gremlins 1. Billy Peltzer and Kate Beringer move to New York City and meet up with their Mogwai friend, Gizmo, when a series of accidents creates a new generation of diverse gremlins. Billy, Kate, and Gizmo must once again use all their experience to prevent another catastrophe.
Deadpool
Deadpool
WolfCop
Lowell Dean
Officer Lou Garou isn't the best cop in small-town Woodhaven - in fact, he's probably the worst. He mostly just looks to avoid anything that could possibly interfere with his goal of getting wasted. One evening during the night shift, Lou investigates a mysterious disturbance at the edge of town and wakes up with a pentagram carved in his chest, heightened senses and body hair that's growing at an alarming rate. To solve the mystery of his transformation, he'll have to take on a case no normal cop would be able to solve, but this half-man, half-beast is not just a cop...he's a WOLFCOP.
Lilo & Stitch
Dean DeBlois
Out of this world storytelling, stunning Disney animation, and wild and irresistible characters are at the heart of Disney's hilarious animated adventure. This worldwide box office sensation is a heartwarming comedy about the power of loyalty, friendship, and finding your place in the world. On the lush and tropical Hawaiian Islands, an independent little girl named Lilo adopts what she thinks is an innocent puppy, completely unaware that he is a mischievous creature who has escaped from a faraway planet. Stitch takes Hawaii by storm, wreaking havoc and hanging ten while he evades the alien bounty hunters who are bent on recapturing him. It's an action-packed comedy the whole family will enjoy over and over again. Bonus Features include Six of Elvis Presley's biggest hits, sung by the King himself, Heartbreak Hotel, Stuck On You, Blue Hawaii, Suspicious Minds, Devil In Disguise and Hound Dog, and deleted scenes
The Manchurian Candidate
Jonathan Demme
Serving together in the Persian Gulf War, Captain Bennett Marco and Sgt. Raymond Shaw were part of a platoon of soldiers kidnapped and brainwashed. Ten years later, Shaw gears up for his vice presidential campaign while Marco eventually remembers being kidnapped and discovers Shaw's powerful mother played a big part in that scheme. Determined to reveal the truth behind everything, Marco must first convince Shaw that the brainwashing really happened.
The Silence of the Lambs
Jonathan Demme
An fbi agent must get inside the mind of a brilliant imprisoned psychotic to stop a killer who is on the loose. Studio: Tcfhe/mgm Release Date: 09/17/2002 Starring: Jodi Foster Anthony Hopkins Run time: 118 minutes Rating: R
Doctor Strange
Scott Derrickson
From Marvel Studios comes DOCTOR STRANGE, the story of world-famous neurosurgeon Dr. Stephen Strange (Benedict Cumberbatch), whose life changes forever after a horrific car accident renders his hands useless. When traditional medicine fails him, he travels to remote Kamar-Taj in search of a cure, but instead discovers the mystical arts and becomes a powerful sorcerer battling dark forces bent on destroying our reality.
Cats Don't Dance
Mark Dindal
The rags-to-riches story of Danny, a talented cat whose lifelong goal of movie stardom is sidetracked when he discovers only humans get the good roles in Hollywood. On the big screen, animals can bark, meow or moo, but cats don't dance. Danny vows to break through the "species barrier" and prove that dreams really can come true.
Chicken Little
Mark Dindal
Disney's "perfect family film" (Scott Mantz, Access Hollywood) is now more fantastic than ever! All systems are go for fun, action and adventure as CHICKEN LITTLE soars off the screen and into your living room in breathtaking, eye-popping Disney 3D! When the sky really is falling and sanity has flown the coop, who will rise to save the day? Together with his hysterical band of misfit friends, CHICKEN LITTLE must save the planet from an alien invasion and prove that the world's biggest hero is a little chicken. Experience the wonder of this hilarious egg-stravaganza as it hatches to life right before your eyes! Our 3D Combo Pack offers three ways to watch: Blu-ray 3D, Blu-ray and DVD. For out-of-this-world entertainment, the sky's the limit with Disney Blu-ray 3D — Magic in a New Dimension.
3D Showcase Disc
Disney
Oswald the Lucky Rabbit, The Adventures Of
Walt Disney, Ub Iwerks
ADVENTURES OF OSWALD THE LUCKY RABBIT - DVD Movie
Vintage Mickey
Walt Disney, Ub Iwerks
Celebrate one of the world's most famous characters in this timeless collection of Mickey's most memorable cartoons. VINTAGE MICKEY features the classic "Steamboat Willie," which marked the first appearance of Mickey and Minnie Mouse, as well as other landmark animated shorts, including the Academy Award(R)-nominated "Mickey's Orphans" (Best Short Subject, Cartoons, 1931-32) and "Building A Building" (Best Short Subject, Cartoons, 1932-33). It's an exciting, fun, and wonderful look back at the funny little mouse who became a family favorite all around the world.
Inside Out
Pete Docter
The Goonies
Richard Donner
From the imagination of Steven Spielberg, The Goonies plunges a band of small heroes into a swashbuckling surprise-around-every corner quest beyond their wildest dreams! Following a mysterious treasure map into a spectacular underground realm of twisting passages, outrageous booby-traps and a long-lost pirate ship full of golden doubloons, the kids race to stay one step ahead of a family of bumbling bad guys…and a mild mannered monster with a face only a mother could love.
Superman The Movie
Richard Donner
A new, updated version of the popular comic book hero "Superman." The story begins with Superman's birth on the doomed planet Krypton and follows him on his arrival to Earth, his childhood in Kansas and his career as reporter for the Daily Planet.
DuckTales: Volume 2
Ducktales
The world's wealthiest duck is back for more thrills and laughs in the second installment of Disney's DUCKTALES. Scrooge McDuck may have an uncanny knack for making money, but he's in over his head trying to keep up with nephews Huey, Dewey and Louie. Along with their friends Launchpad McQuack, Gyro Gearloose, Mrs. Beakley and Webby Vanderquack, the DUCKTALES gang criscrosses the globe in a never-ending search for adventure. Whether battling otherworldly plant creatures, being mistaken for a super-spy or racing to find a lost treasure ship, Scrooge and the rest of the crew never lose sight of the fact that true friendship is the greatest fortune of them all. And see how it all begins with the five-part pilot episode "Treasure of the Golden Suns." Experience some of the most memorable DUCKTALES adventures ever made in this three-disc set. It's a wealth of fun and adventure that you and your family can bank on.
DuckTales: Volume 3
Ducktales
Return to Duckburg, USA with Scrooge McDuck and his smart-alecky nephews Huey, Dewey and Louie in this exciting three-disc set! This hilarious collection finds them on a journey to an African jungle, stowed away on a secret aircraft carrier, and rocketing into space to search for a lost "Money Bin." But wherever their zany adventures take them, Uncle Scrooge and his crew, including the energetic pilot Launchpad McQuack, never forget that their greatest treasures are family and friendship! They may battle the Beagle Boys and tangle with Magica DeSpell, but when it comes to laughs, the DuckTales gang always comes out on top. Fans of all ages will love this collection of fine-feathered fun!
Crocodile Dundee / Crocodile Dundee II
Crocodile Dundee, Crocodile Dundee II
Crocodile Dundee: Paul Hogan's hilarious, endearing performance made "Crocodile" Dundee the biggest box-office comedy smash of 1986 as a free spirited Australian who hunts crocodiles with his bare hands and drinks mere mortals under the table. But he's about to face the ultimate torture test—a trip to New York City. Crocodile Dundee II: Mick and Sue continue where they left off in "'Crocodile' Dundee". New York gangsters are pursuing Sue, so for her safety, Mick takes her back to Oz. When the gangsters follow them, Mick demonstrates his outback skills once more.
The Pink Panther: Film Collection
Blake Edwards, Carolyn F. Russell, Friz Freleng, Gerry Chiniquy, Hawley Pratt
Disc 1: THE PINK PANTHER Disc 2: REVENGE OF THE PINK PANTHER Disc 3: THE PINK PANTHER STRIKES AGAIN Disc 4: A SHOT IN THE DARK Disc 5: TRAIL OF THE PINK PANTHER Disc 6: BONUS DISC
Godzilla
Gareth Edwards
In this gritty, realistic sci-fi action epic, Godzilla returns to its roots as one of the world's most recognized monsters. Directed by Gareth Edwards and featuring an all-star international cast, this spectacular adventure pits Godzilla against malevolent creatures that, bolstered by humanity's scientific arrogance, threaten our very existence.
MacGyver: Season 4
Dana Elcar, Charles Correll, Chuck Bowman, Cliff Bole, James L. Conway
The adventures of an undercover special agent, Angus MacGyver, who uses his practical knowledge of science to solve any problem that he faces.
Genre: Television
Rating: NR
Release Date: 10-APR-2007
Media Type: DVD
Snakes on a Plane
David R. Ellis, Lex Halaby
On board a flight over the Pacific Ocean, an assassin, bent on killing a passenger who's a witness in protective custody, let loose a crate full of deadly snakes.

DVD Features:
Audio Commentary
Deleted Scenes
Featurette
Gag Reel
Music Video
TV Spot
Theatrical Trailer
The Day After Tomorrow
Roland Emmerich
When global warming triggers the onset of a new Ice Age, tornadoes flatten Los Angeles, a tidal wave engulfs New York City and the entire Northern Hemisphere begins to freeze solid. Now, climatologist Jack Hall (Dennis Quaid), his son Sam (Jake Gyllenhaal) and a small band of survivors must ride out the growing superstorm and stay alive in the face of an enemy more powerful and relentless than any they've ever encountered: Mother Nature!
Godzilla
Roland Emmerich
Following the French atomic bomb tests in the South Pacific, an unknown creature is spotted passingwestward through the Panama Canal. Scientist Niko Tatopolous is called in to investigate the matter, and he quickly arrives at the conclusion that a giant, irradiated lizard has been created by the explosions. Godzilla(r) then makes its way north, landing at Manhattan to begin wreaking havoc in the big city. Even with the combined forces of the U.S. military to fight the monster, will it be enough to save the people of New York?
Independence Day
Roland Emmerich
In Independence Day, a scientist played by Jeff Goldblum once actually had a fistfight with a man (Bill Pullman) who is now president of the United States. That same president, late in the film, personally flies a jet fighter to deliver a payload of missiles against an attack by extraterrestrials. Independence Day is the kind of movie so giddy with its own outrageousness that one doesn't even blink at such howlers in the plot. Directed by Roland Emmerich, Independence Day is a pastiche of conventions from flying-saucer movies from the 1940s and 1950s, replete with icky monsters and bizarre coincidences that create convenient shortcuts in the story. (Such as the way the girlfriend of one of the film's heroes—played by Will Smith—just happens to run across the president's injured wife, who are then both rescued by Smith's character who somehow runs across them in alien-ravaged Los Angeles County.) The movie is just sheer fun, aided by a cast that knows how to balance the retro requirements of the genre with a more contemporary feel. —Tom Keogh
The Snowman
NCircle Entertainment
One crisp, winter morning, a young boy wakes up to find a thick blanket of snow has covered the ground as far as the eye can see. Filled with excitement, the boy decides to build a snowman using a tangerine for his nose, coal for his buttons and eyes, and tops him off with a hat and scarf. Later that night, at the stroke of midnight, the snowman comes to life! The young boy and the snowman embark on a magical adventure of discovery where the snowman explores the young boy s world and in return he takes him flying to his home in the North Pole. Upon arriving at the North Pole, the two join a party as the guests of honor to a very special person. Based on Raymond Briggs book, The Snowman is a family classic for generations to enjoy.
The Tigger Movie
Jun Falkenstein, Nick Bates
In the classic tradition of Disney's animated feature films, the first Winnie The Pooh theatrical feature in 23 years weaves magical storytelling, charming characters, and memorable songs into an enchanting tale of adventure and heart. As it happens, the whole gang is busy preparing a suitably gloomy winter home for Eeyore. When everything they do seems to get undone by Tigger's exuberant bouncing, Rabbit suggests Tigger go outside and find other tiggers to bounce with — a notion Tigger finds ridiculous because after all, he's "the onliest one!" Or is he? And so begins Tigger's amazing journey to find his family. This whimsical and touching film will bounce right into your heart — and feet.
Dumb and Dumber
Bobby Farrelly, Peter Farrelly
For Harry and Lloyd, every day is a no-brainer. Join these two halfwits as they travel across the country to return a suitcase full of cash to its rightful owner. Along the way, they'll confound and confuse everyone who crosses their path.
Iron Man
Jon Favreau
Iron Man 2
Jon Favreau
The Jungle Book
Jon Favreau
The man-cub Mowgli flees the jungle after a threat from the tiger Shere Khan. Guided by Bagheera the panther and the bear Baloo, Mowgli embarks on a journey of self-discovery, though he also meets creatures who don't have his best interests at heart.
The Lion King
Jon Favreau
Cars 3
Brian Fee
From Disney-Pixar, creators of FINDING DORY and Academy Award(R)winner INSIDE OUT (Best Animated Feature Film, 2015), comes an epic adventure packed with heart, hilarity and full-throttle FUN! Blindsided by a new generation of blazing-fast racers led by arrogant hotshot Jackson Storm, the legendary Lightning McQueen (Owen Wilson) is suddenly sidelined and pushed from the sport he loves. To get back on track, he'll need the help of eager young racing technician Cruz Ramirez, inspiration from the late Fabulous Hudson Hornet and a few unexpected twists and turns of fate. Bring home the high-octane hit that's fully loaded with unforgettable characters and spectacular animation!
Bridesmaids
Paul Feig
"Gut-bustingly funny. Bridesmaids gets an A!!!" (Owen Gleiberman, Entertainment Weekly) From the producer of Superbad, Knocked Up and The 40-Year-Old Virgin comes the breakout comedy critics are calling "brazenly hysterical!" (Alynda Wheat, People) Thirty-something Annie (Kristen Wiig) has hit a rough patch but finds her life turned completely upside down when she takes on the Maid of Honor role in her best friend Lillian's (Maya Rudolph) wedding. In way over her head but determined to succeed, Annie leads a hilarious hodgepodge of bridesmaids (Rose Byrne, Melissa McCarthy, Wendi McLendon-Covey and Ellie Kemper) on a wild ride down the road to the big event.
Ghostbusters
Paul Feig
Ghostbusters makes its long-awaited return with Director Paul Feig's unique and hilarious take on the classic, supernatural comedy, led by the freshest minds in comedy today, Melissa McCarthy, Kristen Wiig, Kate McKinnon, Leslie Jones, and Chris Hemsworth. Together they team-up to save Manhattan from a sudden invasion of spirits, spooks and slime that engulfs the city. Robert Abele of TheWrap says, "This new A-team of ghostbusters are fresh and funny."
Spy
Paul Feig
Susan Cooper (Melissa McCarthy) is an unassuming, deskbound CIA analyst, and the unsung hero behind the Agency's most dangerous missions. But when her partner (Jude Law) falls off the grid and another top agent (Jason Statham) is compromised, she volunteers to go deep undercover to infiltrate the world of a deadly arms dealer, and prevent a global disaster.
ParaNorman
Sam Fell, Chris Butler
From the makers of Coraline comes the story of Norman, a boy who must use his ability to see and speak with the dead to save his town from a centuries-old curse. In addition to spooky zombies, he'll also have to take on mysterious ghosts, wily witches and, worst, of all, clueless grown-ups. But this young ghoul whisperer will soon find his paranormal abilities pushed to their otherworldly limits. Featuring the voice talents of Kodi Smit-McPhee, Anna Kendrick, Casey Affleck, Christopher Mintz-Plasse, Leslie Mann, Jeff Garlin and John Goodman, it's a frightfully funny and magically thrilling adventure for the whole family in eye-popping stop-motion.
The Tale of Despereaux
Sam Fell, Rob Stevenhagen
TALE OF DESPEREAUX (BLU RAY/WS)
The Wizard
Tom Finan, Todd Holland
Fred Savage stars in this warm-hearted family adventure that features the excitement and thrills of video game competition. Corey (Savage) refuses to let his emotionally disturbed younger brother Jimmy (Luke Edwards) be institutionalized, and the two run away together. They soon join forces with a resourceful girl (Jenny Lewis), who notices that Jimmy has a special talent: he is a "wizard" at video games and gets the high score on absolutely everything he plays. Evading their parents and a sinister bounty hunter, the trio head for a climactic showdown at the video game championships in California. Co-starring Beau Bridges and Christian Slater, it's an inside look at the world of video gamers that will have you cheering the whole way! Starring: Fred Savage, Jenny Lewis, Christian Slater, Beau Bridges, Luke Edwards, Will Seltzer, Sam McMurray, Frank McRae, Wendy Phillips, Jackey Vinson Directed by: Todd Holland
Fight Club
David Fincher
"'Fight Club' pulls you in, challenges your prejudices, rocks your world and leaves you laughing" (Rolling Stone). Brad Pitt ("12 Monkeys", "Seven"), Edward Norton ("Primal Fear," "American History X") and Helena Bonham Carter ("Mighty Aphrodite," "A Room With A View") turn in powerful "performances of which movie legends are made" (Chicago Tribune) in this action-packed hit. A ticking-time-bomb insomniac (Norton) and a slippery soap salesman (Pitt) channel primal male aggression into a shocking new form of therapy. Their concept catches on, with underground "fight clubs" forming in every town, until a sensuous eccentric (Bonham Carter) gets in the way and ignites an out-of control spiral toward oblivion.
Seven
David Fincher
A retiring cop and his replacement track a psychotic killer who's using the seven deadly sins as a guide. Starring Brad Pitt, Morgan Freeman and Gwyneth Paltrow.
Scrooge
Finney, Evans, More
Scrooge was designed as a follow-up to 1968's Oliver, the Oscar-winning musicalization of Charles Dickens' Oliver Twist. The umpteenth musical version of Dickens' 1843 novelette A Christmas Carol, Scrooge is blessed with several sprightly Leslie Bricusse songs, including the bonafide hit "Thank You Very Much". Once more buried under mounds of latex, Albert Finney is perfection itself as Ebeneezer Scrooge, proving as effective as a young (un-made up) man as the old skinflint we've grown to love. The Three Ghosts who turn the miserly Scrooge's life around on Christmas Eve are portrayed by Edith Evans (Past), Kenneth More (Present) and Paddy Stone (Yet to Come). Our favorite among the huge, predominantly British supporting cast is Sir Alec Guinness as a fussy, slightly effeminate Marley's Ghost. Best of all, Finney performs his many songs "live" and not lip-synched to a pre-recording. Though it is overproduced to the hilt, and its Technicolor photography tends to induce eyestrain, Scrooge is more than satisfactory Yuletide entertainment.
Captain Marvel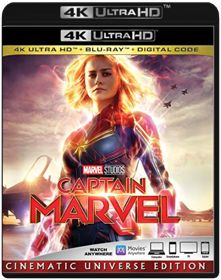 Anna Boden & Ryan Fleck
Marvel Studios' Captain Marvel [Blu-ray] ** Contact 77nnzar@gmail.com for ORDER NOW , **
Zombieland
Ruben Fleischer
Nerdy college student Columbus (Jesse Eisenberg) has survived the plague that has turned mankind into flesh-devouring zombies because he's scared of just about everything. Gun-toting, Twinkie-loving Tallahassee (Woody Harrelson) has no fears. Together, they are about to stare down their most horrifying challenge yet: each other's company. Emma Stone and Abigail Breslin co-star in this double-hitting, head-smashing comedy.
Animal House
George Folsey Jr., John Landis
Amadeus
Milos Forman
Christopher Robin
Marc Forster
In this heartwarming tale from Disney, Christopher Robin, the boy who had countless adventures in the Hundred Acre Wood, has grown up and lost his way. Now it's up to his spirited and loveable stuffed animals, Winnie The Pooh, Tigger, Piglet, and the rest of the gang, to rekindle their friendship and remind him of endless days of childlike wonder and make-believe, when doing nothing was the very best something.
Planet of the Apes
Hugh S. Fowler, Franklin J. Schaffner
Many early science fiction films are now, quite inadvertently (and in most cases undeservedly), objects of camp attention: we laugh at the silly makeup, tin-can special effects, and the naive "high-tech" dialogue. Planet of the Apes is no such film. Its intelligent script, frightening costuming, and savagely effective conclusion (which needs no big-budget special effects to augment its impact) remain both potent and relevant. When Colonel George Taylor (the fabulous Charlton Heston) crash lands his spacecraft on what seems to be an unfamiliar planet, he is captured and held prisoner by a dominant race of hyperrational, articulate apes. However, the ape community is riven with internal dissention, centered in no small part on its policy toward humans, who, on this planet, are treated as mindless animals. Befriended and ultimately assisted by the more liberal simians, Taylor escapes—only to find a more terrifying obstacle confronting his return home. Heavy-handed object lessons abound—the ubiquity of generational warfare, the inflexibility of dogma, the cruelty of prejudice—and the didactic fingerprints of Rod Serling are very much in evidence here. But director Franklin Schaffner has a dark, pop-apocalyptic sci-fi vision all his own, and time has not dulled the monumental emotional impact of the film's climactic payoff shot. If you don't know what I'm talking about here, you owe it to yourself to check out this stone classic, and even if you do, see it with fresh eyes; and don't be surprised if you get the chills all over again... and again... and again. —Miles Bethany
Sonic the Hedgehog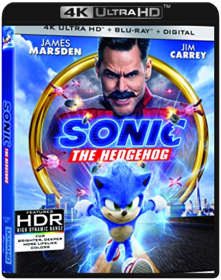 Fowler, Jeff
The Muppet Movie
James Frawley
Celebrate The Nearly 35th Anniversary of the ultimate frogs-to-riches story with the one that started it all—The Muppet Movie. Laugh along with the mostly-true story of how the Muppets got their start, now for the first time ever in vibrant Blu-ray hi-def picture and sound.

From the very first "plunk!" of Kermit's banjo playing "The Rainbow Connection" (Oscar nominee, Best Original Song, 1979), to the hysterical road trip that brings our fearless frog together with Fozzie, Gonzo, Animal and most importantly of all, Miss Piggy, join the jam-packed heartwarming hilarity, outrageous antics and big-shot Hollywood cameos. It's bursting with hilarious bonus extras including an all-new Frog-E-Oke sing-along with your favorite Muppet songs.

As Kermit and the gang sing—"Life's like a movie!" Make The Muppet Movie part of your family, and have the time of your life as the Muppets share laughter and fun with "the Lovers, the Dreamers...and You."
March of the Penguins
Morgan Freeman
Movie about Penguins
Kimba
Masashi Furukawa, Eiichi Yamamoto
101 Dalmatians
Clyde Geronimi, Hamilton Luske, Wolfgang Reitherman
Pick your favorite spot to watch — anytime and anywhere — and get ready for a fun-filled adventure with 101 DALMATIANS for the first time ever on Blu-ray and Digital HD! Pongo, Perdita and their super-adorable puppies are in for thrills, hilarious spills and an epic action-packed adventure when they face off with Cruella De Vil, Disney's most fabulously outrageous villainess. Unleash all the excitement and suspense of Disney's 101 DALMATIANS, a beloved classic you'll want to share with your family again and again!
Alice In Wonderland
Clyde Geronimi, Hamilton Luske, Wilfred Jackson
Walt Disney's Beloved Masterpiece Makes Its Breathtaking Blu-ray Debut!

Experience the magic and majesty of Alice In Wonderland with the ultimate collector's dream. For the first time, Walt Disney's timeless classic bursts into brilliance in Blu-ray Hi Definition! Featuring Disney Enhanced Home Theater Mix, this remarkable digital restoration boasts pristine sound and unparalleled picture quality. Plus, fascinating bonus features including "Through The Keyhole: A Companion's Guide To Wonderland" and an exciting interactive game, "Painting The Roses Red", have been specifically designed for this landmark release.

Join Alice as she chases the White Rabbit and journeys into a topsy-turvy world that gets "curiouser and curiouser" as her fantastical adventures unfold. Meet the Mad Hatter, March Hare, Tweedledee & Tweedledum, the Cheshire Cat, the Queen of Hearts and more unforgettable characters, all set against a backdrop of awe-inspiring splendor.

Filled with spectacular songs and animation, this 2-disc 60th Anniversary celebration of Alice In Wonderland is more wondrous than you ever could have imagined!
Peter Pan
Clyde Geronimi, Wilfred Jackson, Hamilton Luske
Think of the happiest things as Peter Pan soars to spectacular new heights! Now more sensational than ever with digitally restored picture and brilliant high-definition sound! Bid your cares goodbye as Wendy and her brothers embark on fantastic adventures with the hero of their bedtime stories - Peter Pan! With faith, trust and Tinker Bell's pixie dust, Peter teaches them how to fly and leads them to the 'second star to the right' and beyond - to Never Land!
Sleeping Beauty
Clyde Geronimi
Awaken your senses to the majesty of SLEEPING BEAUTY Walt Disney's ultimate fairy tale. See more than you've ever seen before through the magic of state of the art technology and experience this groundbreaking film restored beyond its original brilliance in the way Walt envisioned it pristine beautiful utterly breathtaking. From the grand celebration of Princess Aurora's birth to the fateful day when she pricks her finger on a spinning wheel and falls under Malificent's evil curse to Prince Philip's courageous battle against a fire-breathing dragon the stunning artistry and spine-tingling sounds will transform your home into a fantastic world. The adventures continue as you are immersed into a wonderful world of bonus features.

BONUS FEATURES
In the original story, Princess Aurora sleeps for 100 years before being awakened by a prince's kiss. In the Disney version, Prince Philip comes to her rescue much sooner.
George Brun's orchestral score, which was nominated for an Academy Award, expertly blended famous themes from Tchaikovsky's ballet.
With a budget that exceeded $6 million in 1959, this was Walt Disney's most lavish and expensive animated feature to date.
Determined to make the characters as realistic as possible, Disney had a live action film shot with actors posing as Sleeping Beauty, the Prince, and Maleficent, for the animators to use.
New York Times critic Bosley Crowther called the fight between Prince Philip and Maleficent the noisiest and scariest go-round he (Disney) has ever put into one of his films.
Live Menus Featuring A Real Time Castle Environment
All-New Making Of SLEEPING BEAUTY Featurette
Deleted Songs
And More!
DISNEY BD LIVE innovative features premiering on Sleeping Beauty include Chat and Create Custom Video Messages With yoru Friends As You Watch The Film, Shop For Add-Ons and Downloads, Maleficent's Challenge Game, Living Menus Real Time Castle Environment Changes Based on Your Location System Requirements:Running Time: 75 minutes Format: BLU-RAY DISC Genre: CHILDREN/FAMILY Rating: G UPC: 786936746228 Manufacturer No: 05560800
Batman: The Movie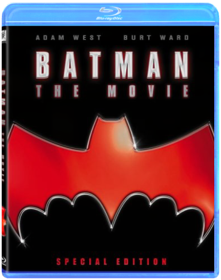 Harry W. Gerstad, Leslie H. Martinson
When Batman (Adam West) and Robin (Burt Ward) get a tip that Commodore Schmidlapp (Reginald Denny) is in danger aboard his yacht, they launch a rescue mission. But the tip is a set-up by four of the most powerful villains ever, who seek to defeat the Dynamic Duo once and for all! Armed with a dehydrator that can turn humans into dust, the fearsome foursome intends to take over the world! Can the Caped Crusaders use their high-flying heroism and groovy gadgetry to declaw Catwoman (Lee Meriwether), ice the Penguin (Burgess Meredith), upstage the Joker (Cesar Romero), and stump the Riddler (Frank Gorshin) in time?
Fear and Loathing in Las Vegas
Terry Gilliam
When a writing assignment lands journalist Raoul Duke (Johnny Depp) and sidekick Dr. Gonzo (Benicio Del Toro) in Las Vegas, they decide to make it the ultimate business trip. But before long, business is forgotten and trip has become the key word. Fueled by a suitcase full of mind-bending pharmaceuticals, Duke and Gonzo set off on a fast and furious ride through nonstop neon, surreal surroundings and a crew of the craziest characters ever (including cameo appearances by Cameron Diaz, Christina Ricci, Gary Busey and many others). But no matter where misadventure leads them, Duke and Gonzo discover that sometimes going too far is the only way to go. Capturing the insane madness of Hunter S. Thompson's literary classic was the challenge that director Terry Gilliam (12 Monkeys) openly embraced. Critics hailed it as: "Mindblowing. Bizarre. Outrageous. Wild." Buy the ticket. Take the ride!
The Holy Grail
Terry Gilliam, Terry Jones
The quest for the Holy Grail by King Arthur and his Knights of the Round Table is retold in inimitable Python fashion.
Kazaam
Paul Michael Glaser
He's a rappin' genie with an attitude… and he's ready for slam dunk fun! NBA superstar Shaquille O'Neal (Steel) is the larger-than-life genie with a magic touch for nonstop fun and laughter. After 5000 long years of captivity, Kazaam is set free to grant three wishes to a new master. From then on, he's catapulted to one wild adventure after another... from becoming the largest rap sensation to untangling an outrageous mob scheme. Paul Michael Glaser (The Running Man) directed this hilarious comedy hit co-starring Francis Capra (A Bronx Tale), Ally Walker (Universal Soldier) and Efren Ramirez (Napoleon Dynamite).

Special Features:
-5.1 Surround and 2.0 Lossless Audio
-Theatrical Trailer
Teenage Mutant Ninja Turtles: Turtles Forever
Lloyd Goldfine, Roy Burdine
WHEN THE TURTLES OF THE 1987 ANIMATED SERIES ARE ACCIDENTALLY BROUGHT TO THE WORLD OF THE 2003 SERIES, THE OLD TURTLES MUST ALLY WITH THE NEW TO PREVENT CH'RELL, THE UTROM SHREDDER, WHOSE EVIL PLAN THREATENS THE EXISTENCE OF THE VERY MULTIVERSE ITSELF.
Eternal Sunshine Of The Spotless Mind
Michel Gondry
WHEN JOEL DISCOVERS THAT HIS GIRLFRIEND CLEMENTINE HAS HAD THEIR TUMULTUOUS RELATIONSHIP ERASED FROM HER MIND THROUGH AN EXPERIMENTAL SCIENTIFIC PROCEDURE, HE DECIDES TO ERASE HIS OWN PAIN BY GETTING THE SAME TREATMENT. BUT AS EACH MEMORY IS ELIMINATED, JOEL SUDDENLY REALIZES HOW MUCH HE STILL LOVES HER.
Identity Thief
Seth Gordon
Jason Bateman (Horrible Bosses) and Melissa McCarthy (Bridesmaids) lead an all-star cast in this hilarious blockbuster hit. Unlimited funds have allowed Diana (McCarthy) to live it up on the outskirts of Orlando. There's only one glitch: she's financing her shopping sprees with an ID stolen from Sandy Patterson (Bateman), an accounts rep who lives halfway across the U.S. With only one week to hunt down the con artist before his world implodes, the real Sandy Patterson is forced to extreme measures to clear his name. From the director of Horrible Bosses and the producer of Ted, critics are calling Identity Thief "smart, funny and surprisingly touching" – Rafer Guzman, Newsday.
The Italian Job
F. Gary Gray
The plan was flawless. The execution was perfect. Charlie Croker pulled off the crime of a lifetime. The one thing that, he didn't plan on was being double-crossed. Now he wants more than the job's payoff...he wants payback. Mark Wahlberg is electrifying as Croker in this "fast and furious action-adventure."* Along with a drop-dead gorgeous safecracker (Charlize Theron), Croker and his team take off to re-steal the loot and end up in a pulse-pounding, pedal-to-the-metal chase that careens up, down, above and below the streets of Los Angeles. With an ensemble all-star cast that also includes Edward Norton, Seth Green, Jason Statham, Mos Def, Franky G and Donald Sutherland, The Italian Job is "Hot!"
Sonic The Hedgehog: The Complete Series
John Grusd, Dick Sebast
The compete series available for the first time ever on a 4-DVD box set!

Sonic the Hedgehog (voiced by Family Matters' Jaleel White)leads a group of freedom fighters bent on restoring their planet's beauty and freeing its citizens from the tyranny of the evil Dr. Robotnik. The fusion of powerful storylines witty banter and a dark atmosphere made Sonic The Hedgehog—dubbed SatAM by its legions of fans—a favorite among youngsters and teens when it premiered on ABC in 1993. Inspired by the phenomenon that took the gaming world by storm Sonic The Hedgehog likewise broke through the barriers of what was expected of a Saturday morning cartoon. Now all 26 episodes are available in this action-packed collectors box set.

Bonus Features Include:

Way Past Cool!: A Conversation With Sonic Writer Ben Hurst
The Fastest Thing Alive: A Conversation With Jaleel White
Storyboard-to-Screen: The Doomsday Project
Printable Heads Or Tails Pilot Script
Digital Re-Print of Archie Comics Sonic The Hedgehog #1
Original DiC Concept Art
Exclusive Fan Art
Guardians of the Galaxy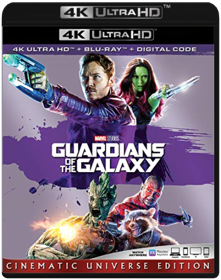 James Gunn
From Marvel Studios, the studio that brought you IRON MAN, THOR, CAPTAIN AMERICA and THE AVENGERS, comes an unlikely new team — the Guardians of the Galaxy — in stunning 4K Ultra HD! The Marvel Cinematic Universe expands into the cosmos when brash space adventurer Peter Quill steals a mysterious, all-powerful orb. Chased by relentless enemies, he forges an uneasy alliance with a ragtag band of misfits, leading to a desperate battle that will decide the fate of the galaxy.
Guardians of the Galaxy Vol. 2
James Gunn
Guardians of the Galaxy Vol. 2 While on the run following a botched heist, the Guardians of the Galaxy encounter a mysterious being known as Ego (Kurt Russell), who claims to be the long-lost father of team leader Peter Quill (Chris Pratt). As Quill learns more about his past, the Guardians battle foes old and new. James Gunn returns to write and direct this installment of the Marvel Cinematic Universe, which also stars Zoe Saldana, Dave Bautista, and Karen Gillan, and features the voices of Bradley Cooper and Vin Diesel. ~ Jack Rodgers, Rovi
Ray
Taylor Hackford
Dramatization of the life and career of popular musician Ray Charles.
Genre: Feature Film-Drama
Rating: PG13
Release Date: 17-JAN-2006
Media Type: DVD
Big Hero 6
Chris Williams Don Hall
With all the heart and humor audiences expect from Walt Disney Animation Studios, BIG HERO 6 is an action-packed comedy adventure that introduces Baymax, a lovable, personal companion robot, who forms a special bond with robotics prodigy Hiro Hamada. When a devastating turn of events catapults them into the midst of a dangerous plot unfolding in the streets of San Fransokyo, Hiro turns to Baymax and his diverse group of friends — adrenaline junky Go Go Tomago, neatnik Wasabi, chemistry whiz Honey Lemon and fanboy Fred — who transform into a band of unlikely heroes. Bring home Disney's BIG HERO 6, featuring comic-book-style action and hilarious, unforgettable characters — it's fun for the whole family!
Winnie the Pooh
Don Hall, Stephen J. Anderson
Walt Disney Animation Studios proudly presents the wonderful new adventure, Winnie the Pooh. Return to the Hundred Acre Wood for a heartwarming original movie, and reunite with the beloved bear and his silly but steadfast friends for a magical family experience. When sad old Eeyore loses his tail, Owl sends the whole gang — Pooh, Tigger, Rabbit, Piglet, Kanga and Roo — on a wild journey to help Eeyore and save Christopher Robin from the mysterious Bakson. Inspired by five stories from A.A. Milne's books and created in Disney's legendary hand-drawn style, this all-new classic introduces one of the world's most cherished characters to a whole new generation. Narrated by John Cleese and bursting with brand-new songs performed by Zooey Deschanel, this wonderfully whimsical film is a must-own for every family's movie collection.
The Wall
Gerry Hambling, Alan Parker
In celebration of the quarter-century anniversary, Columbia Records is releasing a special limited edition DVD of this landmark film. Packaged in a deluxe DVD digi-pak designed to look like The Wall with debossed brick work and a clear O-card, this stunning release features a photo montage of film shots and a fold-out reproduction of the original film promotional poster. All the artwork and design for this lavish packaging has been coordinated by original Pink Floyd designers Peter Curzon and Storm Thorgerson. Track Listing: 1.Original film presented in high-definition widescreen and mixed in 5.1 surround sound 2."The Other Side Of The Wall" - a 25 minute documentary about the making of the film 3."Retrospective" - an exclusive 45 minute retrospective documentary of interviews with Roger Waters, Alan Parker, Gerald Scarfe, Peter Biziou, Alan Marshall and James Guthrie 4.Original film trailer and production stills
Goldfinger
Guy Hamilton
From the opening bomb blast outside a steamy nightclub to a last-minute escape from the president's personal jet, James Bond's third screen adventure is an exhilarating, pulse-pounding thrill-ride! Sean Connery takes command as Agent 007 and faces off with a maniacal villain bent on destroying all the gold in Fort Knox – and obliterating the world economy! Featuring such memorable characters as pilot Pussy Galore and hatchet man Oddjob, Goldfinger is "the best...of all the Bonds" (Roger Ebert, Chicago Sun-Times)!
Saving Mr. Banks
John Lee Hancock
Tom Hanks and Emma Thompson bring to life the untold true story about the origins of one of the most treasured Disney classics of all time. John Lee Hancock (The Blind Side) directs this acclaimed film that reveals the surprising backstory behind the making of Mary Poppins.

Determined to fulfill a promise to his daughters, Walt Disney (Hanks) tries for 20 years to obtain the rights to author P. L. Travers' (Thompson) beloved book. Armed with his iconic creative vision, Walt pulls out all the stops, but the uncompromising Travers won't budge. Only when he reaches into his own complicated childhood does Walt discover the truth about the ghosts that haunt Travers, and together, they set "Mary Poppins" free.
Snow White and the Seven Dwarfs
David Hand
No film in history has captured the worlds imagination like Walt Disneys first full-length animated masterpiece. Through astonishing Blu-ray high definition technology, experience this timeless classic in its most spectacular presentation ever! With an all-new, state-of-the-art digital restoration and Disney Enhanced High Definition sound, the breathtaking animation and unforgettable music of the most revered Disney film of all time will enthrall you like never before!

Join the beautiful princess Snow White as she escapes her jealous stepmother, the queen, and befriends a lovable group of dwarfs. But when she falls under the queens wicked spell, only true loves kiss can save her

Bonus Features Include: Snow White Returns Storyboard Featurette Was Walt planning a Snow White sequel? With newly discovered storyboards Disney animators show how this sequel would have played out, Princess and the Frog Sneak Peek Exclusive sneak peek at the 1st 5 minutes before it hits theaters, The One that Started it All Featurette This featurette within Hyperion Studios reveals how Snow White forever changed the world of movies and the world at large, All New Tiffany Thornton Music Video to Someday My Prince Will Come, Audio Commentary with Walt Disney
That Thing You Do!
Tom Hanks
Written by, directed by and co-starring Tom Hanks, this high-energy comedy about fame and friendship dances on to Blu-ray for the very first time. Hanks plays the big-hearted manager of a 1960s pop-rock group called The Wonders that becomes a shooting-star sensation thanks to a delightfully catchy chart-topper called: That Thing You Do!
The Black Cauldron
Jack Hannah, Richard Rich, Ted Berman
Studio: Buena Vista Home Video Release Date: 05/24/2000 Run time: 80 minutes Rating: Pg
Oliver & Company
Dan Hansen, George Scribner
Celebrate the 25th anniversary of a Disney classic with the stunning Blu-ray debut of Oliver And Company, featuring perfect picture and sound. Relive this charming animated adventure, packed with excitement, fun and unforgettable songs by Billy Joel, Bette Midler and Huey Lewis. In the heart of New York City, Oliver, a mischievous orphaned kitten, is befriended by Dodger, a carefree pooch and his ragtag family of misfit mutts. Life gets even better for Oliver when he is adopted by a lonely little girl named Jenny. But when tough guy Sykes and his Doberman sidekicks try to keep Jenny and Oliver apart, the spirited kitten and his newfound friends discover the meaning of courage and find a home where they truly belong.
American Psycho
Mary Harron
Patrick Bateman (Christian Bale) is a Wall Street yuppie, obsessed with success, status and style, with a stunning fiancee (Reese Witherspoon). He is also a psychotic killer who rapes, murders and dismembers both strangers and acquaintances without provocation or purpose. Based on the controversial novel, the film offers a sharp satire to the dark side of yuppie culture in the '80s, while setting forth a vision that is both terrifying and chilling.
The Country Bears
Peter Hastings
Disney's legendary group comes alive as The Country Bears star in their first feature film. Chronicling one of the most heartwarming family adventures ever, THE COUNTRY BEARS is packed with hilarious comedy, fantastic fun, and foot-stomping music for the whole family. For Beary Barrington, The Country Bears' young #1 fan, fitting in with his all-too-human family is proving im-paws-ible. When he runs away to find Country Bear Hall and his heroes, he discovers the venue that made them famous is near foreclosure. Beary hightails it over the river and through the woods to get the Bears in the Band back together for an all-out reunion concert to save Country Bear Hall. And on the way to find his place in the world, Beary learns that true families are made up of those people who love you the most!
Little Nemo: Adventures in Slumberland
Masami Hata, William T Hurtz
Welcome to the fantasy world of "Little Nemo," where dreams of enchanted lands and new friends take young Nemo into an exciting, fun-filled adventure through Slumberland. On one unforgettable night, Nemo falls asleep in his usual resistant manner. Soon, with the help of his flying pet squirrel Icarus and his friend Professor Genius, they journey together into Slumberland.
The Big Sleep
Howard Hawks
L.A. private eye Philip Marlowe (Humphrey Bogart) takes on a blackmail case…and follows a trail peopled with murderers, pornographers, nightclub rogues, the spoiled rich and more. Raymond Chandler's legendary gumshoe solves it in hard-boiled style – and style is what The Big Sleep is all about. Director Howard Hawks serves up snappy character encounters (particularly those of Bogart and Lauren Bacall), brisk pace and atmosphere galore. This Blu-rayTM doubles your pleasure, offering two versions of this whodunit supreme: the familiar 1946 theatrical version, full of reshot scenes of incendiary Bogart/Bacall chemistry, and the less-familiar 1945 prerelease version, as a special feature, whose plot and resolution are more linear in fashion.
A Night at the Roxbury
Amy Heckerling, John Fortenberry
FOLLOWS THE HOPELESSLY UNCOOL BUTABI BROTHERS AS THEY TRY TOMAKE THE GUEST LIST AT A HIP HOLLYWOOD NIGHTCLUB
Freakazoid!: Season 2
Jack Heiter, Peter Shin, Ronaldo Del Carmen
FREAKAZOID:COMPLETE SECOND SEASON - DVD Movie
The Roaring Twenties
Mark Hellinger, Raoul Walsh
The Punisher
Jonathan Hensleigh
Each DVD at launch will include a 28 page mini-comic inside the amray case.

The comic is the first ever prequel comic to a movie. It is an alternate origin story to the Punisher and ends with the opening dock scene of the movie. It is written by Garth Ennis, premiere writer of Punisher comics, and the cover is illustrated by Tim Bradstreet. The comic is being written exclusively for this promotion, and will not be anywhere else in the marketplace for 6 months. The comic is full color and has a retail value of $2.25.

10,000 comics out of the total run will have a unique cover and be positioned as a limited edition. They will be randomly inserted into the DVDs and randomly distributed to retail.
The Muppet Christmas Carol
Brian Henson
Greetings, holiday movie fans and culture lovers, I am the Great Gonzo.or as I am better known to fans of this classic motion picture-literary legend Charles Dickens. Ready to laugh, cry, sing, frolic, cavort, and enjoy yourself beyond belief!? Well, you're in luck, because this Great Gonzo's "From Chickens to Dickens" 20th anniversary edition of The Muppet Christmas Carol is guaranteed to put you in a holiday spirit that will stay with you forever - or at least until your Aunt Edna starts complaining that nobody is eating the fruitcake she brought.again! Available for the first time ever on Blu-ray with high-definition sound and picture, so you can enjoy even more of my blue-ness, not to mention the incredible spectacle of Kermit the Frog as Bob Crachit, Miss Piggy as Emily Crachit, Academy Award-winner Michael Caine as Scrooge, wonderful songs by Academy Award-winner Paul Williams, and, of course, my pal Rizzo the Rat as.well, Rizzo the Rat. A heartwarming and hilarious holiday classic, told as never before by yours truly! Yule love it! Happy Holidays!
Labyrinth
Jim Henson
Relive the magic! This newly restored, 2-disc anniversary edition of Jim Henson's Labyrinth contains an all-new commentary and bonus features that are guaranteed to captivate as never before. David Bowie and Jennifer Connelly invite you into a magical universe where nothing is what it seems! Babysitting infant stepbrother Toby on a weekend night isn't young Sarah's (Connelly) idea of fun. Frustrated by his crying, she secretly imagines the Goblins from her favorite book, Labyrinth, carrying Toby away. When her fantasy comes true, a distraught Sarah must enter a maze of illusion to bring Toby back from a kingdom inhabited by mystical creatures and governed by the wicked Goblin King (Bowie).
Bill & Ted's Excellent Adventure
Stephen Herek
Keanu Reeves (The Matrix) and Alex Winter (The Lost Boys) deliver "spirited performances" (The Hollywood Reporter) in the original righteous comedy about the two ditzy dudes from San Dimas, California. Also starring George Carlin, this hysterically funny historical comedy is a "snappily directed" (Time), "bouncy good time" (The Boston Globe) and a party that goes on and on! Bill (Winter) and Ted (Reeves) have spent so much time forming their rock band, The Wyld Stallyns, that they're flunking history. Whoa, duuuude! And when Ted's dad threatens to send him away to military school, Bill and Ted realize it could mean the most heinous end of The Stallyns! Luckily, a guardian angel from the future, Rufus (Carlin), has come to them with a most bodacious solution: a time-traversing phone booth to take them into the past to learn about the world from some of history's most influential personalities. Their journey through time turns out to be a blastÂ...but will they learn enough to pass their class?
Rejected
Don Hertzfeldt
Don Hertzfeldt's 2000 Academy Award Nominee for Best Animated Short Film.
Napoleon Dynamite
Jared Hess
Napoleon Dynamite is a new kind of hero, complete with a tight red 'fro, sweet moon boots, and skills that can't be topped. Napoleon spends his days drawing mythical beasts, duking it out with his brother, Kip, and avoiding his scheming Uncle Rico. When t
Butch Cassidy and the Sundance Kid
George Roy Hill, Robert Crawford Jr.
Ferris Bueller's Day Off
Paul Hirsch, John Hughes
Like a soda pop left open all night, Bueller seems to have lost its effervescence over time. Sure, Matthew Broderick is still appealing as the perennial truant, Ferris, who fakes his parents out and takes one memorable day off from school. Jeffrey Jones is nasty and scheming as the principal who's out to catch him. Jennifer Grey is winning as Ferris's sister (who ends up making out in the police station with a prophetic vision of Charlie Sheen). But there's a definite sense that this film was of a particular time frame: the '80s. It's still fun, though. There's Ferris singing "Twist and Shout" during a Chicago parade, and a lovely sequence in the Art Institute. But don't get it and expect your kids to love it the way you did. Like it or not, it's yours alone. —Keith Simanton
Dial M for Murder
Alfred Hitchcock
Ray Milland, Grace Kelly. A woman becomes aware that her husband is trying to kill her and must devise a plan to trip him up at his own game.

Note: The case contains only one disc. That disc contains both the 3-D version and 2-D version. Please select the desired version after the disc is inserted.
Sgt. Pepper's Lonely Hearts Club Band
Christopher Holmes, Michael Schultz
Sgt. Peppers grandson and three other guys form a band and fight bad guys.Music from the beatles. Studio: Uni Dist Corp. (mca) Release Date: 06/21/2005 Starring: Peter Frampton Steve Martin Run time: 113 minutes Rating: Pg Director: Michael Schultz
Who Framed Roger Rabbit
Bob Hoskins, Christopher Lloyd, Robert Zemeckis, Richard Williams - Animation
LASERDISC: Bob Hoskins, Christopher Lloyd. 104 Minutes. Extended Play.
Zootopia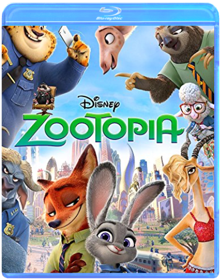 Bryon Howard, Rich Moore, Jared Bush
From Walt Disney Animation Studios comes a comedy-adventure set in the modern mammal metropolis of Zootopia. Determined to prove herself, Officer Judy Hopps, the first bunny on Zootopia s police force, jumps at the chance to crack her first case even if it means partnering with scam-artist fox Nick Wilde to solve the mystery. Bring home this hilarious adventure full of action, heart and tons of bonus extras that take you deeper into the world of Zootopia. It s big fun for all shapes and species!
Bolt
Byron Howard, Chris Williams
Prepare to enter a fantastic new dimension of family fun as Disney's sensational animated comedy leaps off the screen and into your living room. You'll sit up and beg for more when Bolt springs into action in awe-inspiring Disney 3D! Bolt is the star of the biggest show in Hollywood. The only problem is, he thinks it's real. After he's accidentally shipped to New York City and separated from Penny, his beloved co-star and owner, Bolt must harness all his "super powers" to find a way home. Experience all the high-flying, death-defying stunts Bolt and his hilarious sidekicks pull of on their incredible journey. The fur really flies as they come to life right before your eyes! And with four ways to watch — Blu-ray 3D, Blu-ray, DVD and Digital Copy — this 3D Combo Pack unleashes a new breed of excitement on Disney Blu-ray 3D — Magic In A New Dimension.
Tangled
Byron Howard, Nathan Greno
Disney presents a new twist on one of the most hilarious and hair-raising tales ever told. Your whole family will get tangled up in the fun, excitement and adventure of this magical motion picture. When the kingdom's most wanted - and most charming - bandit Flynn Rider hides in a mysterious tower, the last thing he expects to find is Rapunzel, a spirited teen with an unlikely superpower - 70 feet of magical golden hair! Together, the unlikely duo sets off on a fantastic journey filled with surprising heroes, laughter and suspense. Let your hair down and get ready to cheer for "Tangled." Bursting with never-before-seen bonus features, it's even more enchanting on Blu-ray Hi-Def.
Tangled
Byron Howard, Nathan Greno
Zootopia
Byron Howard, Rich Moore
Antitrust
Peter Howitt
A young college graduate secures his dream job at a computer software company. His initial excitement turns to fear and mistrust, however, as he undercovers dark secrets about the firm and its founder, who has become his mentor.
Treasure Raiders
Brent Huff
A Russian street racing star has met his match in a sly American racer. As they both rival for control on the streets they must put aside their differences and band together to search for a lost templar treasure. With time, police, and the mafia against them will they find the treasure before it is too late?
Sunday in the Park with George
Terry Hughes
THE BROADWAY MUSICAL INSPIRED BY THE PAINTING, A SUNDAY AFTERNOON ON THE ISLAND OF GRAND JATTE, AND LOOSELY BASED ON THE LIFE OF ITS CREATOR, GEORGES SEURAT. HIS CLASSIC PAINTING COMES TO LIFE IN THIS AWARD-WINNING MUSICAL.
The Maltese Falcon
John Huston
A gallery of high-living lowlifes will stop at nothing to get their sweaty hands on a jewel-encrusted falcon. Detective Sam Spade (Humphrey Bogart) wants to find out why—and who'll take the fall for his partner's murder. An all-star cast (including Sydney Greenstreet, Mary Astor, Peter Lorre and Elisha Cook Jr.) joins Bogart in this crackling mystery masterwork written for the screen (from Dashiell Hammett's novel) and directed by John Huston. This nominee for 3 Academy Awards00Best Picture, Supporting Actor (Greenstreet) and Screenplay (Huston)—catapulted Bogart to stardom and launched Huston's directorial career. All with a bird and a bang!
The Treasure of the Sierra Madre
John Huston
Gold in the hills, avarice in the hearts of men. Two hard-luck drifters (Humphrey Bogart and Tim Holt) and a grizzled prospector (Walter Huston) discover gold. Then greed and paranoia set in. John Huston won Academy Awards for his direction and screenplay. And his dad took the Best Supporting Actor Oscar. Without awards, but with enduring acclaim, is Bogart's performance, transforming from a likable hobo to a heartless thug simmering in greed. Treasures place on the American Film Institute's Top 100 American Films list reaffirms it's still a powerful movie.
Sonic The Hedgehog The Movie
Kazunori Ikegami
True to its Sega video-game roots, this futuristic 60-minute movie includes a lot of yelling, crashing, and exploding on the way to saving the world. Sonic and his sidekicks are determined to thwart a plan that would turn their Land of the Sky into the equivalent of The Land of Darkness, which lurks beneath the surface (and is obviously the former planet Earth). So they plow through to the center of the planet and the ancient city of Robotropolis (the former New York City?) to do righteous battle. The big question of the day is whether the usually evil Dr. Robotnik is telling the truth for once or sending the good guys into a trap. The tape's producers suggest viewers be at least 7 years old because of its violence, but the rudimentary nature of the animation will probably make it appealing only to hard-core action fans among the older-kid crowd. —Kimberly Heinrichs
The Fuccons: Volume 0 - Meet the Fuccons
Yoshimasa Ishibashi
Welcome to the bizarre world of an American mannequin family who has recently moved to Japan, and causes quite an uproar. First debuting on the late-night Japanese television program Vernillion Pleasure Night, this show has spawned a complete following of its own. Fashionably hip and gut-splitting funny, the Fuccon Family and their circle of friends and acquaintances won't fail to entertain. Once you see The Fuccons, you'll love them!
Spaceballs
Conrad Buff IV, Mel Brooks
Moonwalker
Michael Jackson, Sean Lennon, Jerry Kramer, Colin Chilvers
King Kong
Peter Jackson
Academy Award winning director Peter Jackson (The Lord of the Rings Trilogy) brings his sweeping cinematic vision to King Kong. Get ready for breathtaking action in this thrilling epic adventure about a legendary gorilla captured on a treacherous island and brought to civilization, where he faces the ultimate fight for survival.
The Lord of the Rings: The Return of the King
Peter Jackson
The final battle for Middle-earth begins. Frodo and Sam, led by Gollum, continue their dangerous mission toward the fires of Mount Doom in order to destroy the One Ring. Aragorn struggles to fulfill his legacy as he leads his outnumbered followers against the growing power of the Dark Lord Sauron, so that the Ring-bearer may complete his quest.

DVD Features:
3D Animated Menus
DVD ROM Features:Exclusive online content Link to www.lordoftherings.net
Documentaries:3 in-depth programs that reveal the secrets behind the production of this epic adventure, including: "The Quest Fulfilled: A Director's Vision" (23:05) "A Filmmaker's Journey: Making The Return of The King" (28:30) National Geographic Special (45:57)
Featurette:6 featurettes —Aragorn's Destiny (3:25) —Minas Tirith: Capital of Gondor (3:10) —The Battle of Pelennor Fields (2:14) —Samwise the Brave (4:32) —Eowyn: White Lady of Rohan (3:45) —Digital Horse Doubles (4:35)
Other:2-DISC SET The Battle For Middle Eath Continues—Video Games from EA (3:00)
TV Spot
Theatrical Trailer:Original Theatrical Trailers "The Lord of The Rings" Trilogy Supertrailer (6:45)
The Lord of the Rings: The Two Towers
Peter Jackson, Sean Astin
Frodo Baggins and the Fellowship continue their quest to destroy the One Ring and stand against the evil of the dark lord Sauron. The Fellowship has divided and now find themselves taking different paths to defeating Sauron and his allies. Their destinies now lie at two towers - Orthanc Tower in Isengard, where the corrupted wizard Saruman waits and Sauron's fortress at Baraddur, deep within the dark lands of Mordor.

DVD Features:
DVD ROM Features:Exclusive online content
Documentaries:2 in-depth programs that reveal the secrets behind the production of this epic adventure, including: "On the set - The Lord of the Rings: The Two Towers" (Starz/Encore special) "Return to Middle-earth" (WB special)
Featurette:8 featurettes originally created for lordoftherings.net: Forces of Darkness Sounds of Middle-earth) Edoras & Rohan Culture Creatures Gandalf the White Arms & Armor Helm's Deep Gollum: Andy Serkis, Bay Raitt
Interactive Menus
Music Video:Emiliana Torrini "Gollum Song" music video
Other:Exclusive 10-minute behind-the-scenes preview of The Lord of the Rings: The Return of the King Short film by Sean Astin "The Long and Short of It" + making of Preview of Electronic Arts' video game, The Lord of the Rings: The Return of the King An inside look at the Special Extended DVD Edition of The Lord of the Rings: The Two Towers
Theatrical Trailer:Original theatrical trailers and TV spots
Super Mario Bros.
Annabel Jankel, Dean Semler, Rocky Morton, Roland Joffé
Buckle up and hang on tight — the discovery of a parallel universe launches you into the adventure of a lifetime! Mario and Luigi, two wacky plumbers, undertake a daring quest to save a princess in "Dinohattan" — a hidden world where the inhabitants evolved from dinosaurs! Mario (Bob Hoskins — WHO FRAMED ROGER RABBIT) and Luigi (John Leguizamo — REGARDING HENRY) face deadly challenges from a diaboloical lizard king (Dennis Hopper — HOOSIERS) and must battle giant reptilian goombas, outwit misfit thugs, and undermine a sinister scheme to take over the world! Blast off for nonstop excitement with SUPER MARIO BROS., the live-action thrill ride that dazzled moviegoers everywhere!
Sing
Garth Jennings
From Illumination Entertainment, the studio that brought you The Secret Life of Pets comes an animated comedy about finding the music that lives inside all of us. Sing stars Academy Award winner Matthew McConaughey as Buster Moon, an eternally optimistic koala who puts on the world's greatest singing competition to save his crumbling theater; Academy Award winner Reese Witherspoon as Rosita, an overworked and underappreciated mother of 25 piglets desperate to unleash her inner diva; Scarlett Johansson as Ash, a punk rock porcupine with a beautiful voice behind her prickly exterior; and Taron Egerton as Johnny, a young gangster gorilla looking to break free of his family's felonies. Sing is the musical comedy event of the year!
40 Pounds of Trouble
Norman Jewison
Tony Curtis stars in 40 Pounds of Trouble in which a day at the park becomes a high speed adventure on the world's most exclusive movie set - Disneyland! After escaping from his greedy ex-wife in California, savvy Lake Tahoe hotel/casino manager Steve McClusky (Curtis) has had enough of women. His sabbatical is sabotaged, however, when hotel owner Bernie Friedman (Phil Silvers) orders him to chaperone the venue's new headliner, Friedman's beautiful niece Chris (Suzanne Pleshette). As if that's not enough, McClusky inherits a pint-sized problem in young Penny (Claire Wilcox), a five-year-old recently abandoned by her debt-ridden father. Soon charmed by his two charges, he risks crossing the Nevada border to take them to Disneyland. It's not long before the incognito trio is discovered by his ex's detectives and a wild chase through the park's attractions begins! With a superb cast, gorgeous scenery, and the distinction of being the first feature film ever to be shot in (and above) Disneyland, this irresistible romantic comedy is a treat for the whole family.
Corpse Bride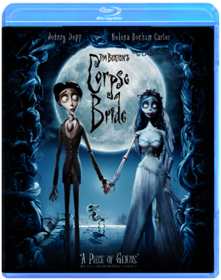 Mike Johnson, Tim Burton
Set in a 19th century European village, this stop-motion, animated feature follows the story of Victor (voiced by JOHNNY DEPP), a young man who is whisked away to the underworld and wed to a mysterious Corpse Bride, while his real bride, Victoria, waits bereft in the land of the living. Though life in the Land of the Dead proves to be a lot more colorful than his strict Victorian upbringing, Victor learns that there is nothing in this world, or the next, that can keep him away from his one true love.
Captain America: The First Avenger
Joe Johnston
Captain America leads the fight for freedom in the action-packed blockbuster starring Chris Evans as the ultimate weapon against evil! When a terrifying force threatens everyone across the globe, the world's greatest soldier wages war on the evil HYDRA organization, led by the villainous Red Skull (Hugo Weaving, The Matrix). Critics and audiences alike salute Captain America: The First Avenger as "pure excitement, pure action, and pure fun!" – Bryan Erdy CBS-TV
Jumanji
Joe Johnston
When young Alan Parrish discovers a mysterious board game, he doesn't realize its unimaginable powers, until he is magically transported before the eyes of his friend, Sarah, into the untamed jungles of JUMANJI! 26 years later he is freed from the game's spell by two unsuspecting children. Alan (ROBIN WILLIAMS) reunites with Sarah (BONNIE HUNT) and together with Judy (KIRSTEN DUNST) and Peter (BRADLEY PIERCE) tries to outwit the game's powerful forces in this imaginative adventure that combines breathtaking special effects with an enchanting mixture of comedy, magic and thrills.
Jurassic Park: Ultimate Trilogy
Joe Johnston, Steven Spielberg
Experience one of the biggest movie trilogies of all time like never before with the Jurassic Park Ultimate Trilogy! "You won't believe your eyes" (Rolling Stone) when dinosaurs once again roam the Earth in an amazing theme park on a remote island. From Academy Award®-winning directors Steven Spielberg (Jurassic Park, The Lost World: Jurassic Park) and Joe Johnston (Jurassic Park III), the action-packed adventures find man up against prehistoric predators in the ultimate battle for survival. Featuring visually stunning imagery and groundbreaking filmmaking that has been hailed as "a triumph of special effects artistry" (Roger Ebert, Chicago Sun-Times), this epic trilogy is sheer movie-making magic that was 65 million years in the making. "Welcome to Jurassic Park."
Mary Poppins Returns
Joe Johnston, Lasse Hallstrom, Lasse Hallstrã¶M
please Contact 77nnzar@gmail.com.com Before Order , We Accepte only Payment via Paypal
The Rocketeer
Joe Johnston
Studio: Buena Vista Home Video Release Date: 12/13/2011 Run time: 108 minutes Rating: Pg
Rikki Tikki Tavi
Chuck Jones
A courageous mongoose named Rikki-Tikki-Tavi thwarts the evil plans of Nag and Nagaina, two big black cobras who live in the garden and who try to attack Rikki and the family, including a little boy named Teddy.
Item Type: DVD Movie
Item Rating: NR
Street Date: 01/25/05
Wide Screen: no
Director Cut: no
Special Edition: no
Language: ENGLISH
Foreign Film: noSubtitles: no
Dubbed: no
Full Frame: yes
Re-Release: no
Packaging: Sleeve
Office Space
Mike Judge
Unable to endure another mind-numbing day at Initech Corporation, cubicle slave Peter Gibbons (Ron Livingston) gets fired up and decides to get fired. Armed with a leisurely new attitude and a sexy new girlfriend (Jennifer Aniston), he soon masters the a
Waking Sleeping Beauty
Ellen Keneshea, John Damien Ryan, Vartan Nazarian, Don Hahn
By the mid-1980s, the fabled animation studios of Walt Disney had fallen on hard times. The artists were polarized between newcomers hungry to innovate and old timers not yet ready to relinquish control. These conditions produced a series of box-office flops and pessimistic forecasts - maybe the best days of animation were over. Maybe the public didn't care. Only a miracle or a magic spell could produce a happy ending. Waking Sleeping Beauty is no fairy tale. It's the true story of how Disney regained its magic with a staggering output of hits - "The Little Mermaid," "Beauty and the Beast," "Aladdin," "The Lion King," and more - over a 10-year period.
Paddington
Paul King
INCLUDES 'MEET PADDINGTON' BOOK! From the beloved novels by Michael Bond and producer David Heyman (HARRY POTTER), PADDINGTON tells the story of the comic misadventures of a young Peruvian bear (voiced by Ben Whishaw) who travels to the city in search of a home. Finding himself lost and alone, he begins to realize that city life is not all he had imagined - until he meets the kindly Brown family who read the label around his neck that says 'Please look after this bear. Thank you,' and offer him a temporary haven. It looks as though his luck has changed until this rarest of bears catches the eye of a museum taxidermist (Nicole Kidman).
Paddington 2
Paul King
Adventures of Ichabod & Mr. Toad / Fun & Fancy Free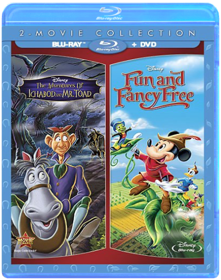 Jack Kinney, Claude Geronimi, James Algar
Experience two classic Disney masterpieces, THE ADVENTURES OF ICHABOD AND MR. TOAD and FUN AND FANCY FREE, together for the very first time on Blu-ray(TM). Enjoy Disney animation's humorous retelling of two unforgettable classics, THE LEGEND OF SLEEPY HOLLOW and THE WIND IN THE WILLOWS, wonderfully narrated by Basil Rathbone and Bing Crosby, which come together in one magnificent adventure. Then have some fun with Mickey, Donald and Goofy in FUN AND FANCY FREE, as Jiminy Cricket brings to life the timeless tales of BONGO and MICKEY AND THE BEANSTALK. This was the last animated feature starring Walt Disney as the voice of Mickey Mouse. These classic films follow Disney's tradition of combining great storytelling, unforgettable characters, music and adventure to create fun you can share with the whole family. Includes Disney bonus cartoon classic, THE RELUCTANT DRAGON — only on Blu-ray!
Look Around You: Season One
Tim Kirkby
Look Around You is the BAFTA-nominated comedy series based on the unforgettable Open University and Television for Schools programs of the1970s. Through a series of gloriously deadpan experiments, we observe a colony of ants build an igloo, receive a telephone call from abrain, discover why ghosts can't whistle, and reveal the largest number in the world. Science has never been so silly.
Over the Hedge
Karey Kirkpatrick, Tim Johnson
The pack strikes back! In DreamWorks' smash hit comedy, a band of hungry forest critters goes "over the hedge" to take a bite out of Suburbia. Plus, check out the All-New Mini-Movie, Hammy's Boomerang Adventure only on the Over the Hedge DVD… It's the funniest, furriest, four minutes you'll see this year!
Kubo and the Two Strings
Travis Knight
From the acclaimed animation studio LAIKA (Coraline) comes an epic original action adventure featuring the voice talents of Academy Award winners Charlize Theron and Matthew McConaughey all in the wonder of 3-D! Kubo mesmerizes the people in his village with his magical gift for spinning wild tales with origami. When he accidentally summons an evil spirit seeking vengeance, Kubo is forced to go on a quest to solve the mystery of his fallen samurai father and his mystical weaponry, as well as discover his own magical powers. Kubo and the Two Strings is "a wildly imaginative, magical adventure." – Scott Mantz, Access Hollywood
Final Fantasy VII: Advent Children
Keiichi Kojima, Takeshi Nozue, Tetsuya Nomura
FINAL FANTASY VII: Advent Children continues the game's storyline in this CG-animated film, featuring non-stop action and exciting visual effects. Two years have passed since the ruins of Midgar stand as a testament to the sacrifices made in order to bring peace. However, the world will soon face a new menace. A mysterious illness is spreading fast. Old enemies are astir. And Cloud (Burton), who walked away from the life of a hero to live in solitude, must step forward yet again...

Backed by a full team of video game extraordinaires, the film was directed by Tetsuya Nomura and Takeshi Nozue, written by Kazushige Nojima and produced by Shinji Hashimoto and Yoshinori Kitase.
Metal Gear Saga: Volume 2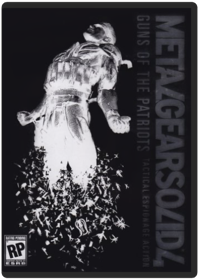 Konami
Weekend at Bernie's
Ted Kotcheff
Two employees arrive for a weeken at their boss beach house & find that hes dead but they pretend hes alive. Studio: Ingram Entertainment Release Date: 06/17/2003 Starring: Andrew Mccarthy Catherine Mary Stewart Run time: 101 minutes Rating: Pg13
A Clockwork Orange
Stanley Kubrick
A jolting tale of crime and punishment stars Malcolm McDowell as a young neo-punk who becomes the guinea pig for a state-sanctioned cure of his tendency toward ?the old ultraviolence.
All Dogs Go to Heaven
Dan Kuenster, Don Bluth, Gary Goldman
Set in 1939 New Orleans, this colorful, song-filled story centers on Charles B. Barkin, a roguish German Shepherd with the charm of a con man and the heart of a marshmallow. Out for revenge against his double-crossing former partner, a cigar-chomping pit bull known as Carface, Charlie finds himself guardian to a lonely little orphan named Anne-Marie. Her astounding ability to talk to animals leads this unlikely pair on an adventure packed with thrills, laughs, tears and true love.
Serenity
Lisa Lassek, Joss Whedon
Blu Ray pressing. Serenity, the action-packed event that delivers thrilling non-stop adventure, incredible battles in dangerous worlds and spectacular visual effects, is now available containing all-new bonus content and never-seen-before footage! This is a must own for all true Sci-Fi and Joss Whedon fans!
Cars 2
Directed By John Lasseter, Co-Director: Brad Lewis
Rev up for Cars 2, Disney/Pixar's laugh-out-loud adventure! Everyone's favorite Cars characters leave Radiator Springs to travel the globe with Lightning McQueen and his best friend Mater, as he competes in the first ever World Grand Prix! Meanwhile, Mater unwittingly gets caught up in a top-secret, action-packed, global spy mission. Powered by the genuine emotion that Disney/Pixar always delivers and with a colorful new all-car cast that includes secret agents, menacing villains, and international racing competitors, Cars 2 is non-stop fun for the entire family!
Cars
John Lasseter
TOY STORY
John Lasseter
Released in 1995, it's the first movie generated completely on computers.|It took 300 networked Sun workstations approximately 800,000 hours of computing time to complete this film. Each sixteenth of a second frame contains about 300 megabytes of information.|Early in the movie, director John Lasseter's name is visible on the spine of the book "Tin Toy" on a bookshelf behind Woody.|With worldwide box office receipts of $360 million, the film ranks as the third highest-grossing animated film of all time behind THE LION KING and ALADDIN
TOY STORY 2
John Lasseter
More than 250 artists, animators, and technicians were involved in the production, including 90 technical directors and nearly 60 animators.|Eighteen different sets, along with 1,200 different model packets (props, set dressing, buildings, and the like), were created for the film.|The animators all vied for a chance to work on Jessie, the cowgirl, because "she's so vivid, and such an incredible character."|Director John Lasseter says he was inspired by director Frank Capra – "The way his films grab your heart and your emotions" — and said he tried to do the same with TOY STORY 2.|Toy collector Al McWhiggin's apartment building is a 23-story 1930s art deco high-rise.
Do the Right Thing
Spike Lee
It's the hottest day of the summer. You can do nothing, you can do something, or you can...Do the Right Thing. Directed by visionary filmmaker Spike Lee, Do the Right Thing is one of the most thought-provoking and groundbreaking films of the last 20 years. The controversial story centers around one scorching inner-city day, when racial tensions reach the boiling point in a tough Brooklyn neighborhood. Featuring over four hours of bonus features, a digitally remastered picture and new 5.1 surround sound audio, Do the Right Thing 20th Anniversary Edition captures an unforgettable piece of American history.
Dinosaur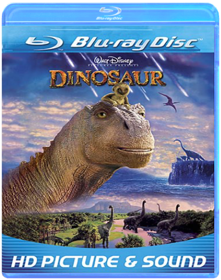 Eric Leighton, Ralph Zondag
Travel 65 million years into the past and experience the age of the dinosaurs in mind-blowing Blu-ray High Definition. DINOSAUR, Disney's landmark special effects spectacular, makes an evolutionary leap through the revolutionary new Blu-ray technology. For the first time ever, witness the film's dazzling meteor storm and all of Aladar's breathtaking battles in brilliant 1080p. Prepare for a stunning auditory experience with 5.1 48 kHz, 24-bit uncompressed sound — from the thundering footsteps of the deadly carnosaurs to the smallest leaf blowing in the breeze. You've never experienced DINOSAUR like this. Go beyond everyday entertainment with Blu-ray High Definition.
Harold & Kumar Go to White Castle
Danny Leiner
In the year's funniest comedy, two guys on a quest to satisfy their cravings for burgers find themselves on a hilarious all-night adventure as they run into one screwy obstacle after another.

DVD Features:
Audio Commentary
DVD ROM Features
Deleted Scenes
Featurette
Interviews
Music Video
Other:Spansh Subtitles!
A Hard Day's Night
Lester, Richard
In 1964, the Beatles had just recently exploded onto the American scene with their debut on "The Ed Sullivan Show." The group's first feature, the Academy Award-nominated "A Hard Day's Night," offered fans their first peek into a day in the life of the Beatles and served to establish the Fab Four on the silver screen, as well as to inspire the music video format. Songs: I'll Cry Instead, A Hard Day's Night, I Should've Known Better, Can't Buy Me Love, If I Fell, And I Love Her, I'm Happy Just to Dance with You, Ringo's Theme (This Boy), Tell Me Why, Don't Bother Me, I Wanna Be Your Man, All My Lovin', She Loves You.
Detective Pikachu
Rob Letterman
For ORDER , 2.98$ for Shipping with Fedex Express
Jingle All the Way
Brian Levant
JINGLE ALL THE WAY - Blu-Ray Movie
The Pink Panther
Shawn Levy
WHEN A STAR SOCCER COACH IS MURDERED & HIS PINK PANTHER DIAMOND FOES MISSING, ONLY ONE MAN CAN SOLVE THE CASE: INSPECTORJACQUES CLOUSEAU.
Book of Life
Book of Life
Product is in brand new sealed condition.
Animalympics
Steven Lisberger
Tron
Steven Lisberger
Experience the original landmark motion picture that inspired a new generation of digital filmmakers and became a favorite of fans and critics across the world. Relive the electrifying thrills of TRON with an all-new, state-of-the-art digital restoration and enhanced high definition sound.

When a brilliant video game maker named Flynn (Jeff Bridges) hacks the mainframe of his ex-employer, he is beamed inside an astonishing digital world and becomes part of the very game he is designing. Complete with never-before-seen bonus material, it's an epic adventure that everyone will enjoy!
Chicken Run
Peter Lord, Nick Park
Import from Germany, all-region, region free blu-ray edition. Chicken Run is an animated comedy escape drama with a touch of passion set on a sinister Yorks chicken farm in 1950's England. Fun for the whole family.
The Pirates! Band of Misfits
Peter Lord
Set sail for a fun-filled voyage and hilarious pirate antics with the biggest Band of Misfits on the seven seas! When the infamous Pirate Captain (Hugh Grant) is shunned once again by his rivals Black Bellamy and Cutlass Liz, he sets his sights to win the coveted Pirate of the Year Award! With his trusted dodo, Polly and rag-tag crew at his side, the Pirate Captain will need to battle a diabolical queen, save a young scientist and never lose sight of what a pirate loves best: Adventure!
Cloudy with a Chance of Meatballs
Phil Lord, Chris Miller
When Flint Lockwood's (Bill Hader) latest contraption accidentally destroys the town square and rockets up into the clouds, he thinks his inventing career is over. Then something amazing happens as delicious cheeseburgers start raining from the sky. His machine actually works! But when people greedily ask for more and more food, the machine starts to run amok, unleashing spaghetti tornadoes and giant meatballs that threaten the world! Now it's up to Flint, with the help of weather girl Sam Sparks (Anna Faris) and Steve, his talking monkey assistant, to find some way to shut down the machine before the world is covered in super-sized meatballs!
The LEGO Movie
Phil Lord, Christopher Miller
Warner The Lego Movie (3D Blu-ray)

An ordinary LEGO minifigure, mistakenly thought to be the extraordinary MasterBuilder, is recruited to join a quest to stop an evil LEGO tyrant from gluing the universe together. Includes 3D blu-ray, 2D blu-ray, 2D DVD, digital HD ultraviolet and exclusive minifigurine.
The Muppets Take Manhattan
Evan A. Lottman, Frank Oz
Broadway bound. The Muppets Take Manhattan by storm in this magical musical about breaking into show business! Fresh out of college, Kermit, Fozzie, and the entire cast of Kermit's musical "Manhattan Melodies" head for the Big Apple with plans to turn their small play into a big hit! All they need now is someone to produce their show! But when no one in town will even meet with them, it's up to Kermit to believe hard enough for all of his friends that the show will go on! Family entertainment has never been more fun than in this comedy marking Frank Oz's solo directorial debut.
Star Wars: The Complete Saga
George Lucas
Star Wars: The Complete Blu-ray Saga will feature all six live-action Star Wars feature films utilizing the highest possible picture and audio presentation.

Star Wars Episode I: The Phantom Menace
(32 Years Before Episode IV) Stranded on the desert planet Tatooine after rescuing young Queen Amidala from the impending invasion of Naboo, Jedi apprentice Obi-Wan Kenobi and his Jedi Master discover nine-year-old Anakin Skywalker, a young slave unusually strong in the Force. Anakin wins a thrilling Podrace and with it his freedom as he leaves his home to be trained as a Jedi. The heroes return to Naboo where Anakin and the Queen face massive invasion forces while the two Jedi contend with a deadly foe named Darth Maul. Only then do they realize the invasion is merely the first step in a sinister scheme by the re-emergent forces of darkness known as the Sith.

Star Wars Episode II: Attack of the Clones
(22 Years Before Episode IV) Ten years after the events of the Battle of Naboo, not only has the galaxy undergone significant change, but so have Obi-Wan Kenobi, Padmé Amidala, and Anakin Skywalker as they are thrown together again for the first time since the Trade Federation invasion of Naboo. Anakin has grown into the accomplished Jedi apprentice of Obi-Wan, who himself has transitioned from student to teacher. The two Jedi are assigned to protect Padmé whose life is threatened by a faction of political separatists. As relationships form and powerful forces collide, these heroes face choices that will impact not only their own fates, but the destiny of the Republic.

Star Wars Episode III: Revenge of the Sith
(19 Years before Episode IV) Three years after the onset of the Clone Wars, the noble Jedi Knights have been leading a massive clone army into a galaxy-wide battle against the Separatists. When the sinister Sith unveil a thousand-year-old plot to rule the galaxy, the Republic crumbles and from its ashes rises the evil Galactic Empire. Jedi hero Anakin Skywalker is seduced by the dark side of the Force to become the Emperor's new apprentice—Darth Vader. The Jedi are decimated, as Obi-Wan Kenobi and Jedi Master Yoda are forced into hiding. The only hope for the galaxy are Anakin's own offspring.

Star Wars Episode IV: A New Hope
Nineteen years after the formation of the Empire, Luke Skywalker is thrust into the struggle of the Rebel Alliance when he meets Obi-Wan Kenobi, who has lived for years in seclusion on the desert planet of Tatooine. Obi-Wan begins Luke's Jedi training as Luke joins him on a daring mission to rescue the beautiful Rebel leader Princess Leia from the clutches of the evil Empire.

Star Wars Episode V: The Empire Strikes Back
Luke Skywalker and his friends have set up a new base on the ice planet of Hoth, but it is not long before their secret location is discovered by the evil Empire. After narrowly escaping, Luke splits off from his friends to seek out a Jedi Master called Yoda. Meanwhile, Han Solo, Chewbacca, Princess Leia, and C-3PO seek sanctuary at a city in the Clouds run by Lando Calrissian, an old friend of Han's. But little do they realize that Darth Vader already awaits them.

Star Wars Episode VI: Return of the Jedi
(4 years after Episode IV) In the epic conclusion of the saga, the Empire prepares to crush the Rebellion with a more powerful Death Star while the Rebel fleet mounts a massive attack on the space station. Luke Skywalker confronts Darth Vader in a final climactic duel before the evil Emperor.
Pixar Short Films Collection: Volume 1
Bud Luckey, Alvy Ray Smith, Andrew Jimenez, Brad Bird, Dan Scanlon
Disney and Pixar invite you to discover these masterpieces of storytelling from the creative minds that brought you TOY STORY MONSTERS INC. FINDING NEMO and many more — now on Blu-ray Disc(R) for the ultimate high definition experience! With revolutionary animation unforgettable music and characters you love these dazzling short films have changed the face of animation and are sure to delight people of all ages for years to come. Experience them now — for the first time on Disney Blu-ray — in remarkable clarity that boasts up to six times the picture quality* and spectacular audio enhancement. Disney Blu-ray is magic in High Definition.*May vary with display.System Requirements:Running Time: 54 Mins. Genre: ANIMATION/ADULT SWIM Rating: NR UPC: 786936737820 Manufacturer No: 05460100
I Love Lucy: Season 1
I Love Lucy
There's more to love on Blu-rayTM! You've loved and laughed at Lucy, Ricky, Fred, and Ethel for years - but you've never seen I Love Lucy like this on glorious high-definition Blu-rayTM.
Dog Day Afternoon
Sidney Lumet
An eccentric bank robber brings new york city to a standstill in this tense quirky thriller. A modern-day classic. Includes notes and scene access. Studio: Warner Home Video Release Date: 05/31/2005 Starring: Al Pacino John Cazale Run time: 130 minutes Rating: R Director: Sidney Lumet
Dream On Silly Dreamer
Dan Lund
On March 25, 2002, more than 200 Disney artists working at the studio's legendary Feature Animation department in Burbank, California, were told that their services were no longer needed by the company. It took only one uncomfortable gathering with then president of Feature Animation Thomas Schumacher, now dubbed "The Tom Meeting," to kill 75 years of a beloved animated tradition. A similar series of events soon played out at Disney's other animation studios in Paris, Tokyo and Orlando, Florida. Doors were closed for good and in total nearly 1,300 skilled artists and craftsmen were fired. The company best known for its handcrafted animated features no longer wanted artists to draw for them.

"DREAM ON SILLY DREAMER" is the new animated documentary from director Dan Lund and producer Tony West that tells this tale. Featuring interviews recorded soon after the now infamous "Tom Meeting," viewers will learn the reasons offered by the company and feel the emotional responses from those affected. A handful of artists tell their side of the story and share their recollections of the "good old days" at Disney.

Told as a modern-day fairy tale, "DREAMER" pays homage to the classic Winnie the Pooh shorts. An artist's sketch book becomes the viewer's window into this documentary realm with original, animated vignettes helping to tell a side of the story that the world never has heard. This film will touch anyone who has ever dreamed, believed in fairy tales or wished upon a star.
Pirates of Dark Water
Don Lusk, Paul Sommer
High adventure awaits those courageous enough to join this misfit crew as they sail the mysterious 20 seas surrounding the alien world of Mer. Led by the young prince Ren, these unlikely heroes follow an enchanted compass through dangers beyond their wildest fears, seeking the 13 Treasures of Rule, which will release the troubled planet from the deadly dark waters devouring its surface.
As if the fate of the world wasn't enough, Ren must also defeat the evil pirate Lord Bloth, who follows Ren's sails intent to steal the treasures he uncovers. For washbuckling action, you'll find that a pirate's life is for you: grab the seagoing bounty of the 5-Disc, 21-Episode The Pirates of Dark Water Complete Series Collection!

This product is manufactured on demand using DVD-R recordable media. Amazon.com's standard return policy will apply.

This product is expected to play back in DVD Video "play only" devices, and may not play in other DVD devices, including recorders and PC drives.
Fantasia / Fantasia 2000
Ben Sharpsteen;Bill Roberts;Don Hahn;Eric Goldberg;Ford Beebe;Francis Glebas;Gaëtan Brizzi;Hamilton Luske
Walt Disney's animated musical masterpiece is an extravaganza of sight and sound-now brilliantly restored for the first time ever in high defi nition! Blu-ray technology fi nally allows you to experience Fantasia-and Fantasia 2000, the triumphant classic it inspired-the way Walt envisioned! Plus, for the first time ever on Blu-ray, experience the 2003 Academy Award®-nominated animated short Destino-the extraordinary collaboration between Walt Disney and legendary artist Salvador Dali!

Revealing new bonus features and commentary bring the Fantasia experience to life, allowing generations of moviegoers all over the world to enjoy this timeless classic like never before. See the music come to life, hear the pictures burst into song and experience the excitement that is Fantasia over and over again.
Pinocchio
Ben Sharpsteen;Hamilton S. Luske
Celebrate the 70th anniversary of Walt Disney's Pinocchio! The legendary masterpiece that inspired millions to believe in their dreams has reawakened with an all-new, state-of-the-art digital restoration that shines brilliantly on 2-disc DVD. Now, for the first time ever, the richly detailed animation, unforgettable award-winning music When You Wish Upon A Star and heartwarming adventure-filled story comes to life like never before. Plus, all-new dazzling bonus features transport you into Pinocchio's fantastic world! Join Geppetto's beloved puppet with Jiminy Cricket as his guide on a thrilling quest that tests Pinocchio's bravery, loyalty and honesty, virtues he must learn to become a real boy. The one and only Pinocchio will live on forever in the heart of anyone who has wished upon a star.

Bonus Features include the Pinocchio Knows Trivia Challenge, an all-new Making Of Pinocchio, the Sweat Box, Walt Disney's Artistic Review Process, Disney View, Expand Your Viewing Experience Beyond The Original Aspect Ratio Of The Film, Cine-Explore, Disney BD-Live: Connect, Explore And Interact, all-new When You Wish Upon A Star; Music Video Performed By Meaghan Jette Martin, Pinocchio's Puzzles Game, 18 Puzzles In A Multi-Tiered Game, Pinocchio's Matter Of Facts Discover More About Pinocchio's World With Pop-Up Trivia, Never-Before-Seen Deleted Scenes, Alternate Ending
DAVE KEHR, NEW YORK TIMES
"The new "Pinocchio" looks magnificent, with a richness of color and a tight definition that evoke the theatrical experience."

CHRIS NASHAWATY, ENTERTAINMENT WEEKLY
"You won't find a sweeter story or a tidier morality tale about the virtues of being ''brave, truthful, and unselfish.'' Grown-ups will eat up the commentaries and featurettes about Disney's band of merry-prankster animators, and kids can spend hours with the disc's interactive puzzles and Pop-Up Video-style factoids. You really couldn't ask for more."

KENNETH BROWN, BLU-RAY.COM
"Simply put, the 3-disc Blu-ray edition of Pinocchio should already have a comfortable home on every true filmfan's shelves. Buy it without any further delay."

HARRY KNOWLES, AINTITCOOL.COM
"An absolute must for animation lovers!"
Donald in Mathmagic Land
Hamilton Luske
Animusic
Wayne Lytle
Studio: Cerebellum Corporation Release Date: 04/27/2004 Run time: 75 minutes
Tower Of Terror
D.J. MacHale
Big-screen stars Steve Guttenberg (THREE MEN AND A LITTLE LADY) and Kirsten Dunst (DROP DEAD GORGEOUS, CRAZY/BEAUTIFUL) encounter a host of haunts in this delightfully spooky mystery! Buzzy Crocker (Guttenberg) is a hard-luck photojournalist whose unexpected encounter with an old woman leads him to investigate an unexplained, decades-old disappearance. It seems that one Halloween night, many years ago, five partygoers vanished in the elevator of the Hollywood Tower Hotel ... and ever since, their ghosts have remained trapped inside the dilapidated old building! In an action-filled story that delivers creepy fun for everyone, Buzzy ultimately teams with his niece (Dunst) to solve the mystery while managing to save their lives and capture the biggest story of the year!|This movie is perhaps the first to be based on a theme park attraction, rather than vice versa. Since it wasn't possible to film in the Twilight Zone Tower Of Terror at the Disney-MGM Studios in Florida (in the film, the lobby had to be shown in its 1939 splendor and then aged to 1997), an accurate replica was built in a warehouse.
Flying Circus: 16 Ton Megaset
Ian MacNaughton, Terry Hughes
This unassuming case is packed with 16 tons of funny: 14 discs of MONTY PYTHON'S FLYING CIRCUS, packed with every episode from the programme's four year run, plus 2 MONTY PYTHON LIVE! discs featuring—well, you figure it out. While to the uninitiated they may look like ordinary .65 oz. digital video discs, due to the unique physics of comedy (it's like quantum but with fewer dead cats), each disc actually weighs a full metaphoric ton! Please remember to lift with your knees. This 16-Ton Megaset contains every single episode of MONTY PYTHONG'S FLYING CIRCUS—four years of blood, sweat and blancmange—jammed into slivers of plastic the size of a tea plate and MONTY PYTHON LIVE!—Legendary live performances, the 20-year celebration of Monty Python Parrot Sketch Not Included, and the all-German Monty Python's Fligender Zirkus episode #1 squashed like pancakes. Sad, really. Jump right to your favorite sketches in The Flying Circus with this index! Disc 1: The Funniest Joke in the World, The Wrestling Episode, and Nudge Nudge, Disc 2: Art Critic, Silly Job Interview, and Crunchy Frog, Disc 3: Dead Parrot, Lumberjack Song, and Vocational Guidance Counselor, Disc 4: Undertaker's Film, Upperclass Twit of the Year, and Albatross, Disc 5: The Ministry of Silly Walks, The Spanish Inquisition, and Complaints, Disc 6: The Bishop, Blackmail, and Dung, Disc 7: Attila the Nun, Silly Vicar, and Exploding Penquin on the TV Set, Disc 8: Scott of the Antarctic, Dirty Hungarian Phrase-book, and Exploding Blue Danube, Disc 9: Icelandic Saga, Fish-Slapping Dance, and Argument Clinic, Disc 10: 'Blood, Devastation, War, and Horror', Mount Everest - Hairdresser Expedition, and Gumby Brain Specialists, Disc 11: Cheese Shop, A Naked Man, and The Olympic Hide and Seek Final, Disc 12: Elizabethan Pornography Smugglers, Kamikaze Scotsman, and Penguins, Disc 13: Montgolfier Brothers, Department Store, and RAF Banter, Disc 14: Hamlet and Ophelia, Mr. Neutron, and Most Awful Family in Britain, Disc 15: Live at the Hollywood Bowl, Monty Python Live at Aspen, Disc 16: Parrot Sketch Not Included, Monty Python's Fliegender Zirkus: German Episode #1
Pinky and the Brain: Volume 3
Tress MacNeill, Jon McClenahan, Mike Milo, Rusty Mills, Russell Calabrese
Two lab mice, ("One is a genius, the other insane") living in the Acme labs seek to formulate a plan for the duo, led by Brain, to take over the world. Watch each episode as Pinky and the Brain take on each attempt with a dry wit and humor and likely a parody of other media. 22 Episodes from the Emmy® Award Winning Series for the first time on DVD.
Identity
James Mangold
There's a moment after one of the bigger of Identity's many twists, in which it seems as if the writers have dropped the ball, throwing in a cheap cop-out in lieu of an actual payoff. Luckily, a moment later, one begins to think that the development was more clever than cheap, and simply completely unexpected rather than a cop-out. By the end, after all is said and done, Identity proves itself to be one of the most original and fun thrillers in years. Writers James Mangold and Michael Cooney have crafted a script that is a smart blend of the old-fashioned whodunit and the modern B-slasher film.
Kung Pow: Enter The Fist
Paul Marshal, Steve Oedekerk
Writer/director Steve Oedekerk (The Nutty Professor and Ace Ventura 2: When Nature Calls) creates an off-the-wall comedy and a new martial arts genre that substantially alters dubbed action footage from a 1970's martial arts picture with a brand new twist in the story line and altered dialogue. The story follows The Chosen One (Oedekerk) as he seeks to avenge the death of his parents at the hands of the evil and seemingly indestructible kung fu legend, Master Pain.
Into the Woods
Rob Marshall
From the director of CHICAGO and the producer of WICKED comes a modern twist on the beloved fairy tales you thought you knew. Meryl Streep stars in this epic musical saga about daring to venture INTO THE WOODS. Iconic characters, such as Cinderella, Little Red Riding Hood, Jack and the Beanstalk and Rapunzel, find their fates intertwined with a humble baker and his wife, whose longing to have a child sends them on a quest to reverse a witch's (Streep) curse. With an all-star cast, this spellbinding adventure is everything you could ever wish for!
Pirates of the Caribbean: On Stranger Tides
Rob Marshall
From Disney and Producer Jerry Bruckheimer comes all the fun, epic adventure and humor that ignited the original. Johnny Depp returns as Captain Jack Sparrow in Pirates Of The Caribbean: On Stranger Tides. A tale of truth, betrayal, youth, demise - and mermaids! When Jack crosses paths with a woman from his past (Penelope Cruz), he's not sure if it's love, or if she's a ruthless con artist using him to find the fabled Fountain of Youth. Forced aboard the ship of the most feared pirate ever, Jack doesn't know who to fear more -Blackbeard (Ian McShane) or the woman from his past. Directed by Rob Marshall, it's filled with eye-popping battle scenes, mystery and all-out wit.
Mickey's Christmas Carol
Burny Mattinson
Ring in the holidays with a new 30th Anniversary Special Edition of Mickey's Christmas Carol. Disney's timeless tale sparkles like never before on Blu-ray and Digital Copy, with fully-restored classic holiday shorts, plus all-new bonus features.

Make the season merry as Mickey, Goofy, Donald and all their pals star in a heartwarming retelling of Dickens' unforgettable holiday tale. Ebenezer Scrooge (Scrooge McDuck) is far too greedy to understand that Christmas is a time for kindness and generosity. But with the guidance of some wise ghosts (Goofy and Jiminy Cricket) and a bunch of newfound friends, Scrooge learns to embrace the spirit of the season. Share this wonderful holiday treat with the whole family.
Superstar
Bruce McCulloch
FOLLOWS THE HILARIOUS ADVENTURES OF KLUTZY SCHOOLGIRL MARY KATHERINE GALLAGHER AS SHE PURSUES HER DREAM OF THE PERFECT KISS AND SUPERSTARDOM.
Madagascar
Tom McGrath, Eric Darnell
Studio: Paramount Home Video Release Date: 09/23/2008 Run time: 86 minutes Rating: Pg
Megamind
Tom McGrath
This Blu-ray 3D & DVD combo pack contains Megamind in 3D on Blu-ray plus a DVD edition of movie. The Blu-ray 3D disc is also able to play in 2D mode.

Packed with high-flying action and non-stop laughs, Megamind puts a whole new hilarious twist on the superhero movie. Super villain Megamind's (Will Ferrell) dreams have come true when he conquers the city's protector, Metro Man (Brad Pitt), gaining control of Metro City. But when a new villain (Jonah Hill) is created and chaos runs rampant, the world's biggest "mind" and his comic sidekick Minion (David Cross) might actually save the day. With an all-star cast, including Tina Fey, and amazing animation.

Note: To watch the 3D version of this movie, you need a 3D HDTV, compatible 3D glasses, a Blu-ray 3D player, and a high-speed HDMI 1.4 cable.
Anchorman: The Legend of Ron Burgundy
Adam McKay
IT'S THE 70'S & RON BURGUNDY IS THE KING OF SAN DIEGO - THE MOST POPULAR ANCHORMAN IN TOWN. IN RON'S WORLD, WOMEN DON'T BELONG IN THE NEWSROOM, UNLESS THEY'RE DOING COOKING SEGMENTS. SO WHEN RISING STAR REPORTER VERONICE CORNINGSTONE FILLS IN FOR RO ONE NIGHT & RATINGS SOAR, IT MAKES HIM THINK. AND THAT'S NOT EASY!
Danger Mouse: Seasons 1 & 2
John McManus, Brian Cosgrove
A spoof of Sherlock Holmes and James Bond, this Cosgrove Hall (The Wind in the Willows, Count Duckula) animated series follows the adventures of DANGERMOUSE, a London-based, eye patch-wearing, secret-agent mouse who regularly saves the world from monsters, master thieves, and other evildoers. One of the few British children's series to succeed in America, DANGERMOUSE is perfect for children of all ages. The series aired from 1981-1992 aired on ITV in the U.K. and in the 1990s on Nickelodeon in the U.S. DANGERMOUSE: THE COMPLETE SEASONS 1 AND 2 includes all 17 episodes that aired in the series' first two seasons plus the rare, never-aired pilot episode.
Thomas Crown Affair
John McTiernan
Pierce Brosnan, Rene Russo. A bored, self-made billionaire-turned-art-thief meets his match when a beautiful investigator vows to take him down. 1999/color/113 min/R.
A Charlie Brown Christmas
Bill Melendez
A Trip to the Moon
Georges Méliès, Serge Bromberg, Eric Lange
Blu-ray + DVD edition. Once believed lost, a copy of the original, hand-colored version of George Melies masterwork A Trip to the Moon was miraculously found in Barcelona, Spain in 1993. Initially thought too fragile to restore, the film underwent one of the most complex and ambitious film restoration projects ever. Three experts in film restoration - Lobster Films, Groupama Gan Foundation, and Technicolor Foundation for Cinema Heritage - used the most advanced digital technologies available to assemble and painstakingly restore the film's 13,375 fragmented frames. Follow six scholars-members of the Astronomers' Club-as they set off on an expedition to the moon! Traveling in a bullet-shaped rocket fired into space by a giant cannon, these voyagers arrive to meet the moon's inhabitants: the Selenites. Escaping the Selenties' king, the scholars fall back to Earth in their rocket and are fished out of the ocean by a sailor. Applause and a triumphant parade for the six heroes concludes the first outer-space adventure in the history of cinema. Flicker Alley, Lobster Films, and Blackhawk Films are thrilled to present this re-released publication of the 1902 hand-colored edition of A Trip to the Moon. This deluxe dual-format edition features two brand new scores by Jeff Mills and Dorian Pimpernel, as well as an improvised piano track by Serge Bromberg with optional narration written by George Méliès.
Ice Age: The Meltdown
Ice Age: The Meltdown
Your favorite sub-zero heroes are back for another incredible adventure in the super-cool animated comedy Ice Age the Meltdown! The action heats up - and so does the temperature - for Manny, Sid, Diego and Scrat. Trying to escape the valley to avoid a flo
Ichi the Killer
Takashi Miike
Welcome to a world where violence is a virtue and depravity is a way of life. This madman ichi the killer and between him and kakihara the streets will run red with blood. Studio: Media Blasters Inc. Release Date: 11/18/2003 Run time: 129 minutes Rating: Nr Director: Takashi Mike
Sing Along Songs: At Walt Disney World
Ray Miller, Gary Halvorson
Sing, dance, and play along with Mickey and the gang in fun-filled musical adventures! It's easy as you read the on-screen lyrics to favorite kid songs! In BEACH PARTY AT WALT DISNEY WORLD, Mickey, Minnie, Donald, Goofy, Tigger, and The Sing-Along Kids hit the waves and have a ball at Blizzard Beach, Typhoon Lagoon, Shark Reef, and more. What a cool place to have oceans of fun!
The Lion King Trilogy
Rob Minkoff, Roger Allers
Disney's The Lion King roars to life in this Eight-Disc Trilogy Collection. Open the meticulously crafted faux-wood collectible box-with the look and feel of finely etched wood-to reveal an exquisitely detailed replica of a drum inspired by the art of Disney's epic animated masterpiece. Inside you'll discover The Lion King on Blu-ray 3D, Blu-ray, DVD and Digital Copy plus The Lion King 2: Simba's Pride and The Lion King 1 ½ on Blu-ray and DVD. Share the wonder of the "Circle of Life" with this must-have Collector's Set.
Howl's Moving Castle
Hayao Miyazaki
From the legendary Studio Ghibli, creators of Spirited Away, and acclaimed director Hayao Miyazaki, comes the Academy Award-nominated fantasy adventure for the whole family.

Sophie, a quiet girl working in a hat shop, finds her life thrown into turmoil when she is literally swept off her feet by a handsome but mysterious wizard named Howl. The vain and vengeful Witch of the Waste, jealous of their friendship, puts a curse on Sophie and turns her into a 90-year-old woman. On a quest to break the spell, Sophie climbs aboard Howl' magnificent moving castle and into a new life of wonder and adventure. But as the true power of Howl' wizardry is revealed, Sophie finds herself fighting to protect them both from a dangerous war of sorcery that threatens their world. Featuring the voices of Jean Simmons, Christian Bale, Lauren Bacall, Blythe Danner, Emily Mortimer, Josh Hutcherson and Billy Crystal.
My Neighbor Totoro
Hayao Miyazaki
My Neighbor Totoro is that rare delight, a family film that appeals to children and adults alike. While their mother is in the hospital, 10-year-old Satsuki and 4-year-old Mei move into an old-fashioned house in the country with their professor father. At the foot of an enormous camphor tree, Mei discovers the nest of King Totoro, a giant forest spirit who resembles an enormous bunny rabbit. Mei and Satsuki learn that Totoro makes the trees grow, and when he flies over the countryside or roars in his thunderous voice, the winds blow. Totoro becomes the protector of the two sisters, watching over them when they wait for their father, and carrying them over the forests on an enchanted journey. When the children worry about their mother, Totoro sends them to visit her via a Catbus, a magical, multilegged creature with a grin the Cheshire Cat might envy.

Unlike many cartoon children, Satsuki and Mei are neither smart-alecky nor cloyingly saccharine. They are credible kids: bright, energetic, silly, helpful, and occasionally impatient. Filmmaker Hayao Miyazaki makes the viewer believe the two sisters love each other in a way no American feature has ever achieved. My Neighbor Totoro is enormously popular in Japan, and some of the character merchandise has begun to appear in America. The film has also inspired a Japanese environmental group to buy a Totoro Forest preserve in the Saitama Prefecture, where Miyazaki's film is set. —Charles Solomon
Nausicaa of the Valley of the Wind
Hayao Miyazaki
Porco Rosso
Hayao Miyazaki
Take flight with "Porco Rosso," a valiant World War I flying ace! From tropical Adriatic settings to dazzling aerial maneuvers, this action-adventure from world-renowned animator Hayao Miyazaki is full of humor, courage, and chivalry. When "Porco" — whose face has been transformed into that of a pig by a mysterious spell — infuriates a band of sky pirates with his aerial heroics, the pirates hire Curtis, a rival pilot, to "get rid" of him. On the ground, the two pilots compete for the affections of the beautiful Gina. But it is in the air where the true battles are waged. Will our hero be victorious? Featuring extraordinary voice talents, this 2-disc set is a thrilling ride you'll never forget!
Princess Mononoke
Hayao Miyazaki
From the legendary Studio Ghibli, creators of Spirited Away, and Academy Award-winning director Hayao Miyazaki, comes an epic masterpiece that has dazzled audiences worldwide with its breathtaking imagination, exhilarating battles, and deep humanity.

Inflicted with a deadly curse, the young warrior Ashitaka heads west in search of a cure. There, he stumbles into a bitter conflict between Lady Eboshi and the proud people of Iron Town, and the enigmatic Princess Mononoke, a young girl raised by wolves, who will stop at nothing to prevent the humans from destroying her home, and the forest spirits and animal gods who live there. Featuring the voices of Gillian Anderson, Billy Crudup, Claire Danes, Minnie Driver, Jada Pinkett Smith, and Billy Bob Thornton.
Spirited Away
Hayao Miyazaki
From one of the most celebrated filmmakers in the history of animated cinema comes the most acclaimed film of 2002. Hayao Miyazaki's latest triumph, filled with astonishing animation and epic adventure, is a dazzling masterpiece for the ages. It's a "wonderfully welcoming work of art that's as funny and entertaining as it is brilliant, beautiful, and deep" (Joe Morgenstern, Wall Street Journal). SPIRITED AWAY is a wondrous fantasy about a young girl, Chihiro, trapped in a strange new world of spirits. When her parents undergo a mysterious transformation, she must call upon the courage she never knew she had to free herself and return her family to the outside world. An unforgettable story brimming with creativity, SPIRITED AWAY will take you on a journey beyond your imagination. "To enter the world of Hayao Miyazaki is to experience a kind of lighthearted enchantment that is unique to the world of animation" (Roger Ebert, Chicago Sun-Times). It's a fantastic tale the whole family will want to experience over and over again.
TaleSpin: Volume 1
David Mohr
Available for the first time ever on DVD, TALESPIN features beloved JUNGLE BOOK star Baloo the bear in his very own series. Happy-go-lucky pilot Baloo and his navigator Kit Cloudkicker are the intrepid flight crew for a cargo company owned by expert businesswoman Rebecca Cunningham. Throughout their travels, Baloo and Kit encounter familiar characters like the tree-swinging nightclub manager King Louie and corporate big shot Shere Khan. There's excitement at every turn as our heroes face off against Don Karnage and his band of evil Air Pirates, with only Baloo's skills and Kit's wits to save them. With three discs packed with laughs and thrills, the sky's the limit with TALESPIN!
Escape From Tomorrow
Randy Moore
The most provocative film from the 2013 Sundance Film Festival, ESCAPE FROM TOMORROW should not exist, and yet it does. Like nothing you've ever seen, Randy Moore's directorial debut is a bold and ingenious trip into the happiest place on earth. An epic battle begins when a middle-aged American husband and father of two learns that he has lost his job. Keeping the news from his nagging wife and wound-up children, he packs up the family and embarks on a full day of park hopping amid enchanted castles and fairytale princesses. Soon, the manufactured mirth of the fantasy land around him begins to haunt his subconscious. An idyllic family vacation quickly unravels into a surrealist nightmare of paranoid visions, bizarre encounters, and an obsessive pursuit of a pair of sexy teenage Parisians. Chillingly shot in black and white, Escape From Tomorrow dissects the mythology of artificial perfection while subversively attacking our culture's obsession with mass entertainment.

Special Features -
(2) Commentaries
-Writer/Director Randy Moore and Cinematographer Lucas Lee Graham
-Actors Roy Abramsohn and Elena Schuber in Character
The Making of Escape From Tomorrow
Theatrical Poster Gallery
Escape From Tomorrow Trailer
Wreck-It Ralph
Rich Moore
Prepare for adventure when 'the most original film in years' (Bryan Erdy, CBS-TV) that thrilled audiences of all ages drops on Blu-ray! From Walt Disney Animation Studios comes a hilarious, arcade-game-hopping journey in Disney's Wreck-It Ralph. For decades, Ralph has played the bad guy in his popular video game. In a bold move, he embarks on an action-packed adventure and sets out to prove to everyone that he is a true hero with a big heart. As he explores exciting new worlds, he teams up with some unlikely new friends including feisty misfit Vanellope von Schweetz. Then, when an evil enemy threatens their world, Ralph realizes he holds the fate of the entire arcade in his massive hands. Featuring an all-star voice cast and breakthrough bonus features that take you even deeper into the world of video games, Disney's Wreck-It Ralph has something for every player.
Wreck-It Ralph
Rich Moore
Olive, the Other Reindeer
Steve Moore
In this delightfully funny animated adventure, "Olive, the Other Reindeer" is erally a kind-hearted dog who sets out to save Christmas when she hears that Blitzen is injured and Santa can't find a replacement! With the help of a smooth-talking penguin named Martini, Olive heads for the North Pole to join the flying reindeer team - but along the way, they must defeat an evil mailman who wants to end Christmas so he can carry less mail! With an all-star voice cast featuring Drew Barrymore, Ed Asner, Dan Castellaneta and Peter MacNicol, "Olive, the Other Reindeer" is sure to become a holiday tradition for young and old!
The Cat Returns
Hiroyuki Morita
From the creators of the Academy Award(R) winning SPIRITED AWAY (Best Animated Feature Film, 2002) comes the visually stunning THE CAT RETURNS, a spectacular animated journey to a world of magic and adventure. Haru, a schoolgirl bored by her ordinary routine, saves the life of an unusual cat, and suddenly her world is transformed beyond anything she ever imagined. The Cat King rewards her good deed with a flurry of presents, including a very shocking proposal of marriage to his son! Haru embarks on an unexpected journey to the Kingdom of Cats where her eyes are opened to a whole other world and her destiny is uncertain. To change her fate, she'll need to learn to believe in herself and appreciate her everyday life. Featuring the sensational voice talents of Anne Hathaway, Cary Elwes, Tim Curry, and Elliot Gould, THE CAT RETURNS is a magical animated adventure that will delight and inspire everyone.
Bats
Louis Morneau
GENETICALLY ALTERED SUPER-BATS HAVE BEEN UNLEASHED BY A DERANGED SCIENTIST AND IT'S UP TO A SMALL TOWN SHERIFF AND ATEAM OF BAT SPECIALISTS TO STOP THIS BLOOD-THIRSTY MENACE FROMSPREADING. SPECIAL FEATURES: NEVER-SEEN-BEFORE FOOTAGE, UNCUT R RATED VERSION, BATTY BLOOPERS, PHOTO GALLERIES AND MUCH MORE.
Gojira
Terry Morse
This package contains:

* Godzilla (1954 Japanese Edition-english subtitles)
* King of the Monsters (1956 U.S. Release Edtion-english v/o dub)

Featuring:
* Audio commentaries
* Original trailers
*"Making of the Suite" Featurette
*"Godzilla: Story Development" featurette
I Love Lucy: Season 2
Multiple
TMNT
Kevin Munroe
The Teenage Mutant Ninja Turtles return in an all-new CGI action adventure, written and directed by Kevin Munroe. After the defeat of their old arch nemesis, The Shredder, the Turtles have grown apart as a family. Struggling to keep them together, their rat sensei, Splinter (Mako), becomes worried when strange things begin to brew in New York City. Tech-industrialist Maximillian J. Winters (Patrick Stewart) is raising up an army of ancient monsters, and only one super-ninja fighting team can stop them— Leonardo (James Arnold Taylor), Michelangelo (Mikey Kelley), Donatello (Mitchell Whitfield) and Raphael (Nolan North)! With the help of old allies April O'Neil (Sarah Michelle Gellar) and Casey Jones (Chris Evans), the Turtles are in for the fight of their lives as they once again must face the mysterious Foot Clan, who have put their own ninja skills behind Winters' endeavors.

DVD Features:
Alternate endings
Audio Commentary
Deleted Scenes
Interviews
Storyboards
Army of Darkness
Bob Murawski, Sam Raimi
A movie that only true horror buffs could love, Army of Darkness is officially part 3 in the wild and wacky Evil Dead trilogy masterminded by the perversely inventive director Sam Raimi, who would later serve as executive producer of the popular syndicated TV series Hercules: The Legendary Journeys. Raimi's favorite actor, Bruce Campbell, returns as Ash (hero of the first two Evil Dead flicks), a hardware-store clerk who is magically transported—along with his beat-up Oldsmobile and a chainsaw attachment for his severed left forearm—to the brutal battlefields of the 14th century. He quickly assumes power (who else in the Middle Ages packs a shotgun and a chainsaw?), and unites his band of medieval knights against the dreaded Army of the Dead. Raimi gleefully subverts almost every horror-movie cliché as he serves up a nonstop parade of blood, gore, and vicious sword-bearing skeletons—an affectionate homage to animator Ray Harryhausen's classic Jason and the Argonauts. The frantic action is fun while it lasts, but even at 80 minutes Army of Darkness nearly wears out its welcome. You know that Raimi can maintain the mayhem for only so long before it grows tiresome, and fortunately this madcap movie quits while it's ahead. —Jeff Shannon
Hercules
John Musker, Ron Clements
Have a mighty fun time with HERCULES, Disney's animated classic from the creators of ALADDIN and THE LITTLE MERMAID. Nominated for an Academy Award(R) (Best Music, Original Song, "Go The Distance," 1997), this legendary family favorite is packed with colossal laughs and nonstop adventure. Taken from the gods as a newborn and adopted on Earth, Hercules is just an awkward pillar of strength trying to fit in. What he wants most is to impress his father Zeus. When Hercules discovers Hades' sinister plot to take over Mount Olympus, he goes from zero to hero and, with the help of his pals Pegasus and Phil, discovers that real strength comes from the heart!
The Little Mermaid
John Musker, Ron Clements
With unforgettable characters, thrilling adventures, soaring Academy Award-winning music (1989: Best Music, Original Score, and Best Music, Original Song, Under The Sea.), The Little Mermaid is one of the most celebrated animated films of all time. Now spectacularly transformed for the first time on Blu-ray with digitally restored picture and brilliant high-definition sound! Venture under the sea where Ariel, a free-spirited mermaid princess, longs to be part of the human world. After bravely striking a bargain with Ursula, a sneaky sea witch, Ariel embarks on the adventure of a lifetime. With Flounder and Sebastian at her side, Ariel will need all of her courage and determination to make things right in both her worlds.
The Princess and the Frog
John Musker, Ron Clements
Rudolph the Red-Nosed Reindeer
Kizo Nagashima, Larry Roemer
Studio: Uni Dist Corp (music) Release Date: 10/12/2010
The Haunted Mansion
Priscilla Nedd-Friendly, Rob Minkoff
From the studio that brought you PIRATES OF THE CARIBBEAN comes the fright-filled comedy adventure with eye-popping special effects, presented for the first time through the magic of Blu-ray Disc technology! Eddie Murphy stars as a real estate agent whose family comes face-to-face with 999 grim, grinning ghosts in the creepy old Gracey Manor! Experience each supernatural effect in 1080p High Definition, and hear each ghostly wail in astonishing 5.1 48 kHz, 24-bit uncompressed audio. The unparalleled realism of Blu-ray Disc technology delivers you directly into THE HAUNTED MANSION . . . if you dare to venture inside.
Gattaca
Andrew Niccol
In gattaca only the strong succeed and the strong are genetically pre-selected at birth. But when one man dares to defy the system he gets caught in a web of lies corruption and murder. A smart stylish thriller laced with high-wire suspense. Studio: Sony Pictures Home Ent Release Date: 03/09/1998 Starring: Ethan Hawke Alan Arkin Run time: 106 minutes Rating: Pg13 Director: Andrew Niccol
Batman Begins
Christopher Nolan
Batman Begins explores the origins of the Batman legend and the Dark Knight's emergence as a force for good in Gotham. In the wake of his parents' murder, disillusioned industrial heir Bruce Wayne (Christian Bale) travels the world seeking the means to fight injustice and turn fear against those who prey on the fearful. He returns to Gotham and unveils his alter-ego: Batman, a masked crusader who uses his strength, intellect and an array of high tech deceptions to fight the sinister forces that threaten the city.
The Dark Knight
Christopher Nolan
The follow-up to Batman Begins, The Dark Knight reunites director Christopher Nolan and star Christian Bale, who reprises the role of Batman/Bruce Wayne in his continuing war on crime. With the help of Lt. Jim Gordon and District Attorney Harvey Dent, Batman sets out to destroy organized crime in Gotham for good. The triumvirate proves effective, but soon find themselves prey to a rising criminal mastermind known as The Joker, who thrusts Gotham into anarchy and forces Batman closer to crossing the fine line between hero and vigilante. Heath Ledger stars as archvillain The Joker, and Aaron Eckhart plays Dent. Maggie Gyllenhaal joins the cast as Rachel Dawes. Returning from Batman Begins are Gary Oldman as Gordon, Michael Caine as Alfred and Morgan Freeman as Lucius Fox.
Inception
Christopher Nolan
Acclaimed filmmaker Christopher Nolan directs an international cast in this sci-fi actioner that travels around the globe and into the world of dreams. Dom Cobb (Leonardo DiCaprio) is the best there is at extraction: stealing valuable secrets inside the subconscious during the mind's vulnerable dream state. His skill has made him a coveted player in industrial espionage but also has made him a fugitive and cost him dearly. Now he may get a second chance if he can do the impossible: inception, planting an idea rather than stealing one. If they succeed, Cobb and his team could pull off the perfect crime. But no planning or expertise can prepare them for a dangerous enemy that seems to predict their every move. An enemy only Cobb could have seen coming.
The League of Extraordinary Gentlemen
Stephen Norrington
A hunter, a scientist, a vampire, an invisible man, an immortal, a spy, a beast…when a masked madman known as "The Fantom" threatens to launch global Armageddon, legendary adventurer Allan Quatermain (Sean Connery) commands a legion of superheroes, the likes of which mankind has never seen.

Now, despite fighting their own personal demons - and each other - they mush join forces to save the world. Sean Connery leads a stellar cast in this breathtaking, "thrill-a-minute" (Jeffrey Lyons, NBC-TV) extravaganza loaded with "eye-popping effects and amazing action!" (Bill Bregoli, Westwood One)
Suicide Kings
Peter O'Fallon
Wolf's Rain: Volume 1 - Leader of the Pack
Tensai Okamura
Studio: Infinity Resources Inc Release Date: 06/22/2004 Run time: 125 minutes Rating: 13up
Wolf's Rain: Volume 2 - Blood and Flowers
Tensai Okamura
Studio: Infinity Resources Inc Release Date: 08/10/2004
Wolf's Rain: Volume 3 - Loss
Tensai Okamura
Human civilization may have collapsed 200 years earlier, but the Nobles who rule its remains still command formidable powers, as the heroes of Wolf's Rain discover. Tsume, Toboe, Hige, and Kiba flee with Cheza, and beneath the full moon, they see the Lunar Flowers form the road to Paradise. Noble Darcia uses his bizarre flying machine to overtake them and seize Cheza. Detective Hubb searches for Cher, accompanied by Quent. Meanwhile, the forces of Lady Jaguara assassinate Lord Orkham and throw the remnants of civilization into chaos. All the characters are drawn to Darcia's Keep and the mysterious power of Cheza. The world of high-tech machinery and the world of curses, prophecies, alchemy, and shape-shifters would seem to be at odds. Yet the filmmakers manage to integrate the two into an intriguing, if largely unexplained, setting for this story. (Rated 13 and older: violence, alcohol and tobacco use) —Charles Solomon
Hocus Pocus
Kenny Ortega
Bette Midler, Sarah Jessica Parker, and Kathy Najimy romp around like coked-up versions of The Three Stooges in the frantic Disney romp Hocus Pocus. The film begins in 1693 where three witches — Winifred (Bette Midler), Sarah (Sarah Jessica Parker), and Mary (Kathy Najimy) — are preparing a potion that will grant them immortality and eternal youth. But before they finish mixing their cocktail, the people of Salem capture them and execute them for practicing witchcraft. Before their deaths, they vow to return to Salem 300 years hence on Halloween to exact their revenge. Three hundred years later, a skeptical, newly transplanted Californian, Max (Omri Katz), explores the ruins of the legendary witches' house and dares the witches to manifest themselves. Disregarding the warnings of his sister Dani (Thora Birch) and girlfriend Allison (Vinessa Shaw), Max lights the Candle of Black Flame. With that, the witches reappear to wreak havoc on the town. The kids take off with the witches' spellbook and a musty tome of hexes and recipes. The sorceresses, who will die by the morning light if they don't recite the incantation for immortality, have to get the books by whatever means they can. So, Winifred, Sarah, and Mary hop on their broomsticks for a chase through Halloween night. ~ Paul Brenner, Rovi
The Little Prince
Mark Osborne
A little girl lives in a very grown-up world with her mother, who tries to prepare her for it. Her neighbor, the Aviator, introduces the girl to an extraordinary world where anything is possible, the world of the Little Prince.

Please Note: Digital Copy supports iTunes eCopy only. Consumer must have a Canadian-based iTunes account. Digital Copy is not redeemable in territories other than Canada.
Walt & El Grupo
Lisa Palattella, Theodore Thomas
For ten weeks in 1941, Walt Disney, his wife Lilly, and sixteen colleagues from his studio visited nations in Latin America to gather story material for a series of films with South American themes.  The feature documentary film Walt & El Grupo uses this framing device to explore inter-American relations, provide a rare glimpse into the artists who were part of the magic of Disney's "golden age" and give an unprecedented look at the 39 year-old Walt Disney during one of the most challenging times of his entire life.
Phantom of the Paradise
Brian De Palma
Phantom Of The Paradise is a ground-breaking cult film favorite from acclaimed writer/director Brian De Palma (Carrie, Dressed To Kill).

Paul Williams wrote the acclaimed score for this musical horror classic, and stars as an evil record tycoon haunted and taunted by the disfigured composer Winslow Leach (William Finley, Sisters) he once wronged. Cheered by the Los Angeles Times as a delightful, outrageous…visual triumph, and also starring Jessica Harper (Suspiria, Shock Treatment) and Gerrit Graham (Used Cars, Terrorvision), this hilarious send-up of the glam rock era is pure entertainment from beginning to end.
Fun with Dick and Jane
Dean Parisot
Fun With Dick And Jane provides comic relief alongside a relevant look at today's corporate scandals. In the film, Dick Harpers' (Carrey) years of hard work finally pay off when he is promoted to vice president of Globodyne, a worldwide business leader. After exactly one day at his new job, Globodyne is destroyed, leaving him and his loving wife, Jane (Leoni) without financial security. This sudden reversal of fortune has left them both unprepared to give up their comfortable lifestyle and Dick comes up with the brilliant idea of turning to robbery to pay the bills. Utilizing newfound skills, Dick and Jane exact hilarious revenge while teaching big business a lesson.
Galaxy Quest
Dean Parisot
For four years the courageous crew of the NSEA protector - Commander Peter Quincy Taggart (Tim Allen) Lt. Tawny Madison (Sigourney Weaver) and Dr.Lazarus (Alan Rickman) - set off on a thrilling and often dangerous mission in space...and then their series was cancelled! Now twenty years later aliens under attack have mistaken the Galaxy Quest television transmissions for historical documents and beam up the crew of has-been actors to save the universe. With no script no director and no clue the actors must turn in the performances of their lives.
Step Into the Early Jurassic
Dinosaur State Park
Creature Comforts
Nick Park
From the creators of the box office smash "Chicken Run" and "Wallace and Gromit" comes "Creature Comforts," an amazing collection of clay-animation shorts from world-famous Aardman Animations. It's a Zoo's-Who of fun! Clay animation animals comment on life at the zoological gardens in "Creature Comforts," winner of the 1990 Academy Award for Best Animated Short Film. Then meet "Wat's Pig," the 1996 Oscar-nominated tale of knights and daze involving two brothers one raised in royal splendor, the other by a kindly pig. In the darkly hilarious "Not Without My Handbag," a dear, deceased Auntie makes the ultimate fashion statement she won't stay in Hell without a proper handbag. And lastly there's the story of "Adam" (1992 Oscar-nominee for Best Animated Short Film), a whimsical in-the-beginning tale about a little clay and a lot of imagination.
Creature Comforts: Merry Christmas Everybody
Nick Park
Creature Comforts is a brilliant and hilarious claymation series about the lives of animals as told by the animals themselves. Unscripted and unashamedly funny, the British public once again speaks through the mouths of their plasticine counterparts. Join the return of some favorite characters including Trixie and Captain Cuddlepuss, the Dog and Cat, Fluffy the Hampster and Clement the Bloodhound. How do hampsters cope with indigestion? Why do dogs hate wearing Christmas hats? What happens when a partridge is chased out of its pear tree? And why do dogs find Christmas unbearably emotional? It's a 'mockumentary' like none you've ever seen, so join in the festive fun from Nick Park and the untamed minds at Aardman Animation.
Wallace & Gromit: The Complete Collection
Nick Park
Millions of fans agree – no one makes animated mayhem like crackpot inventor Wallace and his faithful dog, Gromit. Join the Oscar®- winning sensations for four madcap adventures in their cheesiest, breeziest and funniest collection yet! Hang on for an out-of-this-world ride as Wallace's mad craving for cheese leads to a space rocket adventure in A GRAND DAY OUT. In THE WRONG TROUSERS, Gromit smells something fishy after a penguin moves in and plots to make off with Wallace's Techno-Trousers. Then it's time for A CLOSE SHAVE as Wallace & Gromit™ get wrapped up in a sheep-rustling scheme. Finally, trouble rises after Wallace & Gromit start a bread- baking business and are ensnared in a murder mystery that becomes…A MATTER OF LOAF AND DEATH!
Wallace & Gromit: The Curse of the Were-Rabbit
Nick Park, Steve Box
When their towns prized produce stars disappearing our cheese-loving inventor and his savvy canine companion must use all their wildly imaginative inventions to try to capture a mysterious beast of epic and fluffy proportions! Studio: Paramount Home Video Release Date: 02/05/2008 Run time: 85 minutes Rating: G
Atari: Game Over
Zak Penn
This enthralling documentary chronicles the fall of the Atari Corporation and investigates one of the biggest mysteries of all time, dubbed "The Great Video Game Burial of 1983." In the early 1980s, Atari supposedly buried nearly a million copies of "E.T. the Extra Terrestrial" — one of the company's biggest commercial failures and often cited as one of the worst games ever released — in a New Mexican desert landfill. Over time, reports of this strange mass burial became a sort of urban legend. Decades later, a crew attempts to separate fact from fiction by digging up all of the old game cartridges and shedding light on this fascinating mystery.
Aladdin
Bill Perkins, John Musker, Ron Clements
The Neverending Story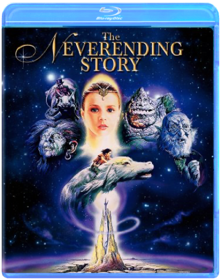 Wolfgang Petersen
When young Bastian borrows a mysterious, ornately-bound book, he never dreamed turning a page would draw him into a shimmering fantasy world of racing snails, hang-glider bats, soaring luckdragons, puckish elves, a Childlike Empress, the brave warrior Atreyu and a slab-faced walking quarry called a Rock Biter.
Up
Bob Peterson, Pete Docter
Walt Disney Pictures and Pixar Animation Studios take moviegoers up, up and away on one of the funniest adventures of all time with their latest comedy-fantasy. Up follows the uplifting tale of 78-year-old balloon salesman Carl Fredricksen, who finally fulfills his lifelong dream of a great adventure when he ties thousands of balloons to his house and flies away to the wilds of South America. But he discovers all too late that his biggest nightmare has stowed away on the trip an overly optimistic 8-year-old Wilderness Explorer named Russell. Their journey to a lost world, where they encounter some strange, exotic and surprising characters, is filled with hilarity, emotion and wildly imaginative adventure.
The Many Adventures of Winnie the Pooh
Many Adventures of Winnie the Pooh
Whether we're young or forever young at heart, the Hundred Acre Wood calls to that place in each of us that still believes in magic. Share all the fun, whimsy, and wonder of The Many Adventures Of Winnie The Pooh in this resplendent special edition of the original Disney classic - now digitally restored and remastered in high definition to thrill a whole new generation! Experience the very first time Tigger "pounces" Pooh; laugh out loud when Pooh's rumbly tumbly gets him stuck in a hilariously sticky situation... All your favorite Hundred Acre Wood characters come alive in this timeless motion picture overflowing with rich animation, masterful storytelling, and unforgettable songs.
Double Fine Adventure
2 Player Productions
Depraved Degenerates
Artist Not Provided
Six movies in each grim an creepy set for one low price. Depraved Degenerates includes the following 6 full length movies: Abberdine County Conjuror, Burning Dead, The Dead Live, Kill Them and Eat Them, Old Man, and Suburban Sasquatch.
Looney Tunes Platinum Collection: Volume 1
Artist Not Provided
50 of some of the greatest Looney Tunes cartoons are together for the first time on Blu-ray. Releasing in a digibook with rare images and a cartoon guide by historian Jerry Beck, this collection has been digitally restored and remastered. This 3-disc collection contains some of the franchise's most enduring shorts featuring all of your favorite Looney Tune Characters!

Disc 1: features 25 classics from the immortals: Bugs Bunny, Daffy Duck, Porky Pig, Road Runner, and Wile E. Coyote and more

Disc 2: 25 shorts featuring One-Shot Classics and the complete collection for each of the following characters: Marvin the Martian, Tasmanian Devil, Witch Hazel, Marc Anthony & Ralph Phillips

Disc 3: Contains over 5 hours of content saluting animator Chuck Jones, insightful documentaries and rare shorts from Jones and others!

Disc 1 Episode Guide:Hare TonicBaseball BugsBuccaneer BunnyOld Grey Hare, TheRabbit Hood8 Ball BunnyRabbit Of SevilleWhat's Opera, Doc?Great Piggy Bank Robbery, ThePest In The House, AScarlet Pumpernickel, TheDuck AmuckRobin Hood DaffyBaby BottleneckKitty KorneredScaredy CatPorky ChopsOld GloryTale Of Two Kitties, ATweetie PieFast And Furry-ousBeep, BeepLovelorn LeghornFor Scent-imental ReasonsSpeedy Gonzales
Plus 6 Behing The Tunes (Featurettes):
Wagnerian Wabbit: The Making of What's Opera, Doc?
Twilight in Tunes: The Music of Raymond Scott
Powerhouse in Pictures
Putty Problems and Canary Rows
A Chuck Jones Tutorial: Tricks of the Cartoon Trade
The Charm of Stink: On the Scent of Pepé le Pew

Disc 2 Episode Guide:One Froggy EveningThree Little BopsI Love To SingaKatnip KollegeThe Dover Boys at Pimento UniversityChow HoundHaredevil HareHasty Hare, TheDuck Dodgers In The 24th CenturyHare-way To The StarsMad As A Mars HareDevil May HareBedevilled RabbitDucking The DevilBill Of HareDr. Devil And Mr. HareBewitched BunnyBroom-stick BunnyWitch's Tangled Hare, AA-haunting We Will GoFeed The KittyKiss Me KatFeline Frame-upFrom A To Z-z-z-zBoyhood Daze
Plus 5 Behing The Tunes (Featurettes)
It Hopped One Night: The Story Behind One Froggy Evening
Wacky Warner One-Shots
Mars Attacks! Life on the Red Planet with My Favorite Martian
Razzma-Taz: Giving the Tasmanian Devil His Due
The Ralph Phillips Story: Living the American Daydream

Disc 3 (All Special Features):A Greeting From Chuck JonesChuck Amuck: The MovieChuck Jones: Extremes & In-Betweens, A Life In AnimationChuck Jones: Memories OfchildhoodThe Animated World Of Chuck Jones (9 Cartoons)
- Point Rationing Of Foods
- Hell-Bent For Election
- So Much For So Little
- Orange Blossoms For Violet
- A Hitch In Time
- 90 Day Wondering
- Drafty, Isn't It
- The Dot And The Line: A Romance In Lower Mathematics
- The Bear That Wasn'tHow The Grinch Stole Christmas! Pencil TestThe DoorBonus Cartoons (9 Cartoons)
- Fright Before Christmas From Bugs Bunny's Looney Christmas Tales
- Spaced Out Bunny From Bugs Bunny's Bustin' Out All Over
- Duck Dodgers And The Return Of The 24 1/2th Century From Daffy Duck's Thanks-For-Giving Special
- Another Froggy Evening
- Marvin The Martian In The Third Dimension
- Superior Duck
- From Hare To Eternity
- Father Of The Bird
- Museum Scream
Pixar Short Films Collection: Volume 2
Artist Not Provided
Disney and Pixar present an incredible new collection of 12 short films, featuring multiple Academy Award nominees (best short film, animated: Presto, 2008; Day & Night, 2010; La Luna, 2011) and a host of family favorites. Join the celebration of imagination with this must-own collection, packed with unforgettable animation, fantastic stories, and captivating characters. Plus, enjoy all-new extras that share how Pixar's storied talent got their start - including student films from acclaimed directors John Lasseter, Andrew Stanton, and Pete Docter!
Walt Disney Animation Studios Short Films Collection
Artist Not Provided
From Walt Disney Animation Studios comes an extraordinary new collection of award-winning and beloved short films featuring Disney's "Frozen Fever," starring Anna, Elsa, Olaf, Sven and Kristoff, and the Oscar(R)-nominated "Lorenzo" (Best Animated Short, 2004). The SHORT FILMS COLLECTION includes contemporary shorts starring classic cartoon characters, such as the groundbreaking 2013 Mickey Mouse Cartoon "Get A Horse!" as well as celebrated Oscar winners "Paperman" (2012) and "Feast" (2014). Enjoy them together for the first time in this must-own collection, with all-new extras, including introductions and interviews with the Disney Animation filmmakers themselves. "This clever collection of modern era Disney animated shorts is a must-have for any serious film fan." (Jim Hill, Huffington Post)
Brave
Steve Purcell, Mark Andrews, Brenda Chapman
Set in the rugged and mysterious Highlands of Scotland, Disney Pixar's Brave follows the heroic journey of Merida (voice of Kelly Macdonald), a skilled archer and headstrong daughter of King Fergus (voice of Billy Connolly) and Queen Elinor (voice of Emma Thompson). Determined to change her fate, Merida defies an age-old custom sacred to the unruly and uproarious lords of the land: massive Lord MacGuffin (voice of Kevin McKidd), surly Lord Macintosh (voice of Craig Ferguson) and cantankerous Lord Dingwall (voice of Robbie Coltrane), unleashing chaos in the kingdom. When she turns to an eccentric Witch (voice of Julie Walters), she is granted an ill-fated wish and the ensuing peril forces Merida to harness all of her resources including her mischievous triplet brothers to undo a beastly curse and discover the meaning of true bravery.
I'm a Cyborg, But That's OK
Rain, Im Su Jeong, Park Chan wook
A girl who thinks she is a combat cyborg checks into a mental hospital, where she encounters other psychotics. Eventually, she falls for a man who thinks he can steal people's souls. Young-goon, mentally deranged and frequently electro-charging herself with a transistor radio, has been admitted into a mental institution. Firmly believing herself to be a cyborg, she refuses to consume like a human being. Il-soon is another patient, who catches the eye of Young-goon and soon becomes a close friend. Il-soon is now confronted with the biggest task to cure Young-goon's mental problem and have her eat real food.
The Brave Little Toaster Goes to Mars
Robert C. Ramirez
Studio: Buena Vista Home Video Release Date: 03/02/2004
The Brave Little Toaster to the Rescue
Robert C. Ramirez
Those fun-loving electrical appliances from the acclaimed animated hit THE BRAVE LITTLE TOASTER are back in an action-packed adventure with four all-new songs! This heartfelt and humorous full-length feature reunites Toaster, Blanky, Lampy, Radio, and Kirby the vacuum cleaner — the beloved household gadgets of college student Rob. When Toaster and the gang spark friendships with the playful animals at the veterinary hospital, they soon discover their new pals are about to be sent to a testing laboratory! Through teamwork (and combined voltage), they embark on a hilarious rescue to save all the animals, including Sebastian, a wise monkey, and Maisie, a doting mother cat with kittens. Treat your entire family to THE BRAVE LITTLE TOASTER TO THE RESCUE ... an imaginative film bursting with colorful animation, high-energy music, and characters that'll warm your heart at the push of a button!
Spider-Man: Into the Spider-Verse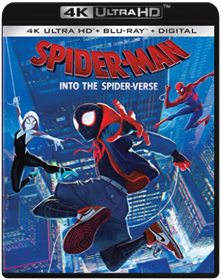 Peter Ramsey, Robert Persichetti Jr., Rodney Rothman
Phil Lord and Christopher Miller, the creative minds behind The Lego Movie and 21 Jump Street, bring their unique talents to a fresh vision of a different Spider-Man Universe, with a groundbreaking visual style that's the first of its kind. Spider-Man: Into the Spider-Verse introduces Brooklyn teen Miles Morales, and the limitless possibilities of the Spider-Verse, where more than one can wear the mask.
Ant-Man
Peyton Reed
The next evolution of the Marvel Cinematic Universe harnesses the tiniest but mightiest force know to man and introduces the newest member of the Avengers: MARVEL'S ANT-MAN. Armed with the amazing ability to shrink in scale but increase in strength, master thief Scott Lang must channel his inner hero and help his new mentor Dr. Hank Pym protect the secret behind his spectacular Ant-Man suit from a new generation of ruthless villains! With humanity's fate in the balance, Pym and Lang must plan and pull off a daring heist against insurmountable odds. Filled with humor, awesome special effects and exclusive bonus features, this action-packed adventure takes you to new levels of pulse-pounding excitement!
Ant-Man
Peyton Reed
The evolution of the Marvel Cinematic Universe introduces the smallest member of the Avengers: MARVEL STUDIOS' ANT-MAN — in stunning 4K Ultra HD! Armed with the amazing ability to shrink in scale but increase in strength, master thief Scott Lang joins forces with his new mentor Dr. Hank Pym to protect the secret behind his spectacular Ant-Man suit from ruthless villains! With humanity's fate in the balance, Pym and Lang must plan and pull off a daring heist against insurmountable odds. Filled with humor, awesome special effects and thrilling bonus features, this action-packed adventure takes you to new levels of pulse-pounding excitement!
Ant-Man and the Wasp
Peyton Reed
The Brave Little Toaster
Jerry Rees
BRAVE LITTLE TOASTER - DVD Movie
The Princess Bride
Rob Reiner
From celebrated director Rob Reiner (When Harry Met Sally) and Oscar(r)-winning* screenwriter William Goldman (Chaplin) comes "an enchanting fantasy" (Time) filled with adventure, romance and plenty of "good-hearted fun" (Roger Ebert)! Featuring a spectacular cast thatincludes Robin Wright (Forrest Gump), Cary Elwes (Liar, Liar), Mandy Patinkin (Dick Tracy) and Billy Crystal (City Slickers), this wonderful fairy tale about a Princess named Buttercup and her beloved is "a real dream of a movie" (People)! *1969: OriginalScreenplay, Butch Cassidy and the Sundance Kid 1976: Adapted Screenplay, All the President's Men
This is Spinal Tap
Rob Reiner
You're about to get personal with one of music history's greatest and loudest heavy metal bands, Spinal Tap! Whether or not you're a die-hard fan of the group, you'll love this detailed "rockumentary" of Engand's legendary Spinal Tap. Acclaimed commercial director Marty DiBergi takes you behind the scenes for an intimate look at a band whose time has come and gone and come again and.... Through interviews, rare footage and lots of musicincluding classic Tap tunes like "Big Bottom" and "Hell Hole"you'll get acquainted with David St. Hubbins (lead guitar), Nigel Tufnel (lead guitar), Derek Smalls (lead bass) and every drummer who ever livedand diedfor this renowned rock band. Be a part of the sights, sounds and smells of this celebrated heavy metal phenomenon. It's an experience you'll never forget.
The Jungle Book
Wolfgang Reitherman
Now for the first time ever on Blu-ray with glorious digital high definition, Disney's Jumpin' Jungle Classic has never looked so lush or sounded so good. Beloved characters, swinging music and new behind-the-scenes bonus features make this Diamond Edition Blu‐ray a must-have for every family's classic collection.

Meet the most unforgettable characters and embark on a thrilling adventure with Mowgli as he journeys deep into the jungle and learns "The Bare Necessities" of life from happy-go-lucky Baloo the bear. Meet Bagheera, the wise old panther, and crazy King Louie, the orangutan. But watch out for the cunning tiger Shere Khan and Kaa, the ssssneakiest snake in the jungle.

Explore your family's wild side as you venture into The Jungle Book for extraordinary adventures and a heartwarming tale that celebrates the true meaning of friendship.
Robin Hood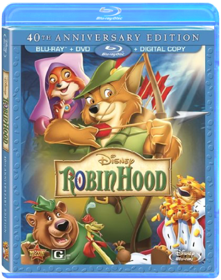 Wolfgang Reitherman
To commemorate its 40th anniversary, Disney proudly presents the unforgettable animated classic Robin Hood on Blu-ray for the first time ever. Experience all the fun, thrills and celebrated music of this legendary adventure with perfect picture and sound! Join Robin Hood, his trusted companion Little John and his hilarious band of Merry Men as they outfox greedy Prince John to save the good people of Nottingham. Dashing from one daring deed to the next, Robin won't rest until he wins the hand of Maid Marian and restores King Richard to the throne. One of Disney's most beloved movies is even better on Blu-ray Combo Pack!
The Sword in the Stone
Wolfgang Reitherman
Disney proudly presents the 50th anniversary edition of a spellbinding and beloved animated classic. Conjure up magical family fun with the humor, adventure, and Academy Award-nominated music (best score - adaptation or treatment, 1963) of The Sword In The Stone - on DVD and now on Blu-ray combo pack for the first time ever! Take an amazing journey with a young orphan named "Wart" and the extraordinary wizard Merlin. According to legend, only someone with the purest character and inner strength can pull the enchanted sword from the stone and claim the throne of England. Armed with newfound confidence and the power of friendship, Wart discovers his destiny and learns the best magic is the kind you find inside yourself!
Evolution
Ivan Reitman
OUTRAGEOUS AND HILARIOUS. YOU'LL LAUGH OUT LOUD AND ENJOY THE FUN ACTION AND OUT-OF-THIS-WORLD SPECIAL EFFECTS AS THESE UNLIKELY HEROES BATTLE THE MOST UNECPECTED GROUP OF ALIENS YOU'LL EVER SEE.
Thank You for Smoking
Jason Reitman
WARNING: Thank You For Smoking "just might make you laugh your head off!" (MAXIM). Aaron Eckhart stars as Nick Naylor, a sexy, charismatic spin-doctor for Big Tobacco who'll fight to protect America's right to smoke — even if it kills him — while still remaining a role model for his 12-year old son. When he incurs the wrath of a senator (William H. Macy) bent on snuffing out cigarettes, Nick's powers of "filtering the truth" will be put to the test. As Nick says, "If you want an easy job, go work for the Red Cross."
Despicable Me
Pierre Coffin and Chris Renaud
"**** This Year's COOLEST Animated Comedy!" – Jeff Craig, Sixty Second Preview

Get ready for a minion laughs in the funniest blockbuster hit of the year!

Vying for the title of "World's Greatest Villain", Gru (voiced by Steve Carell) – along with his hilarious crew of mischievous minions – plots to pull off the craziest crime of the century: steal the moon! But when Gru enlists the help of three little girls, they see something in him nobody else has ever seen: the perfect dad. From executive producer Chris Meledandri (Horton Hears a Who, Ice Age), and featuring the voices of an all-star comedic cast, including Jason Segel, Russell Brand, Miranda Cosgrove and Julie Andrews, Despicable Me is "rousingly funny, heartfelt and imaginative" (Pete Hammond, Boxoffice Magazine).
Idiocracy
David Rennie, Mike Judge
From Mike Judge, one of the creative minds behind Beavis and Butt-Head, King of the Hill and Office Space, comes an outrageous sci-fi comedy that'll make you think twice about the future of mankind.

Meet Joe Bowers (Luke Wilson). He's not the sharpest tool in the shed. But when a government hibernation experiment goes awry, Bowers awakens in the year 2505 to find a society so dumbed-down by mass commercialism and mindless TV programming that he's become the smartest guy on the planet. Now it's up to an average Joe to get human evolution back on track!

Filled with razor-sharp sarcasm and outrageous sight gags, Idiocracy will make you laugh out loud whether you're an absolute genius or a complete idiot!
The Sting
William Reynolds, George Roy Hill
Winner of 7 Academy Awards, including Best Picture, The Sting stars Paul Newman and Robert Redford as two con men in 1930s Chicago. After a friend is killed by the mob, they try to get even by attempting to pull off the ultimate 'sting.' No one is to be trusted as the twists unfold, leading up to one of the greatest double-crosses in movie history. The con is on!
Rio
Rio
This comedy-adventure centers on Blu, a flightless macaw who acts more human than bird. When Blu, the last of his kind, discovers there's another – and that she's a she – he embarks on an adventure to magical Rio. There, he meets Jewel and a menagerie of vivid characters who help Blu fulfill his dream and learn to fly.
West Side Story
Jerome Robbins, Robert Wise
The greatest love story ever told...in the most acclaimed musical of all time...on Blu-ray! Experience every sensational song, dazzling dance number and magical movie moment of West Side Story in sparkling high definition with pure 7.1 digital sound - along with fascinating special features created exclusively for this 50th Anniversary Edition! Winner of ten Academy Awardsr, including Best Picture, this electrifying musical sets the ageless tragedy of Romeo and Juliet against a backdrop of gang warfare in 1950s New York. Featuring an unforgettable score, exuberant choreography and powerful performances by Natalie Wood, Russ Tamblyn, Richard Beymer, Rita Moreno and George Chakiris,West Side Story will forever resonate as a true cinematic masterpiece.
Sneakers
Phil Alden Robinson
Robert Redford leads an all-star cast in one of the most satisfying suspense films! Computer expert Martin Bishop (Redford) heads a team of renegade hackers - including a former CIA employee (Sidney Poitier), a gadgets wizard (Dan Aykroyd), a young genius (River Phoenix) and a blind soundman (David Strathairn) - who are routinely hired to test security systems. But Bishop's past comes back to haunt him when government agents blackmail the "sneakers" into carrying out a covert operation: tracking down an elusive black box. Along with his former girlfriend (Mary McDonnell), Bishop's team retrieves the box and makes a stunning discovery - the device can break into any computer system in the world. With factions from all sides willing to kill for the powerful box, Bishop and his team embark on their most dangerous assignment ever in this exhilarating high-tech caper from Phil Alden Robinson (Field of Dreams).
Meet The Robinsons
Meet the Robinsons
Brace yourself for an eye-popping new dimension of imagination and surprises when Disney's fun-filled family adventure blasts off the screen and touches down in your living room. Get ready to Meet the Robinsons — in amazing Disney 3D! Join Lewis, a brilliant young inventor who sets off on a time-traveling quest to save the future and find the family he never knew. With the help of the wonderfully wacky Robinson family, Lewis learns to keep moving forward and never stop believing in himself. Experience this futuristic funfest as it leaps to life right before your eyes! With three ways to watch — Blu-ray 3D, Blu-ray and DVD — this 3D Combo Pack lets you have the tme of your life on Disney Blu-ray 3D — magic in a new dimension.
Lisztomania
Ken Russell
The shaggy-maned idol rips into his song – and the audience screams with excitement. Some ecstatic fans storm the stage, wanting simply to touch him. Some want to bear his child. One adoring woman announces she already has. And outside the hall, a horse-drawn carriage waits to whisk the performer away. Meet Franz Liszt (Roger Daltrey), rock star, circa 1840. And great ready for all the glitter, groupies and gaudy good times of Lisztomania.

The incredible list of frenzied delights goes on and on in this splendiferous extravaganza from writer/director Ken Russell, whose works include Women in Love, Altered States and Crimes of Passion. He takes you where no one else does. Or dares. Brace yourself for Lisztomania. Viewers expecting a polite gathering of people neatly posed on Louis XVI furniture are going to be blown out of their chairs, but good!

When sold by Amazon.com, this product will be manufactured on demand using DVD-R recordable media. Amazon.com's standard return policy will apply.
Tommy
Ken Russell
This classic rock opera is brought energetically to life by an outstanding cast including many stars of the rock music industry. Told through the remarkable music of The Who, this is the story of Tommy, who, when just a boy of six, witnessed the murder of his father by his mother (Ann-Margret) and her lover (Oliver Reed). They command him, "You didn't hear it, you didn't see it, and you won't say anything to anyone…" As a result, the traumatized boy retreats into the shadows of his mind and becomes deaf, dumb, and blind. Growing into manhood, Tommy (Roger Daltrey) is subjected to several bizarre cure attempts by The Acid Queen (Tina Turner), the Preacher (Eric Clapton), and the Specialist (Jack Nicholson). In spite of his handicap, Tommy defeats the Pinball Wizard (Elton John) and becomes the champ, attaining a devoted following. When he is finally cured, he is hailed by his fans as a "Messiah."
Captain America: Civil War
Anthony & Joe Russo
The most explosive clash to ever rock the Marvel Cinematic Universe ignites a firestorm of conflict in the game-changing epic, CAPTAIN AMERICA: CIVIL WAR. In the wake of collateral damage, government pressure to rein in the Avengers drives a deep wedge between Captain America (Chris Evans) and Iron Man (Robert Downey Jr.), causing a catastrophic rift that turns the two friends into bitter enemies. Against a backdrop of divided loyalties, their fellow Avengers must deal with the fallout. Pick a side in this spectacular adventure, packed with mind-blowing action and suspense.
Avengers: Infinity War
Joe Russo, Anthony Russo
An unprecedented cinematic journey ten years in the making and spanning the entire Marvel Cinematic Universe, MARVEL STUDIOS' THE AVENGERS: INFINITY WAR brings to the screen the ultimate showdown of all time. The Avengers and their Super Hero allies must be willing to sacrifice all in an attempt to defeat the powerful Thanos. "The payoff was worth the wait" (Sara Stewart, New York Post).
Avengers: Endgame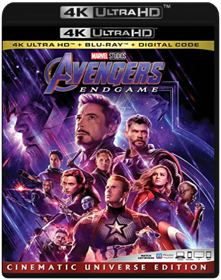 Joe Russo Anthony Russo
Final Fantasy: The Spirits Within
Hironobu Sakaguchi, Moto Sakakibara
THE YEAR IS 2065. A METEOR HAS CRASHED ONTO EARTH UNLEASHINGMILLIONS OF ALIEN CREATURES WHO ROAM THE EARTH, DECIMATINGFIELD AND CITY ALIKE, THREATENING TO EXTINGUISH LIFE ITSELF.PREPARE TO BE SPELLBOUND BY AN AMAZING WOMAN, THE BRAVE INDIVIDUALS AT HER SIDE AND AN ASTONISHING MISSION TO SAVE EARTH
Cromartie High School: Volume 1
Hiroaki Sakurai, Steven Foster
Teen life is tough. And high school life is even tougher. But if you're one of the delinquents sent to Cromartie, it'swell, put it this way, it ain't The O.C. So pack your bags, put on your best tough-guy swagger, and get a lesson in insanity from the losers, bruisers, and thugs at Cromartie High.
Ice Age: Dawn of the Dinosaurs
Carlos Saldanha
Just when you thought they couldn't get any cooler...your favorite prehistoric pals from Ice Age and Ice Age The Meltdown are back in an all-new, ginormous animated adventure for all ages. This time around, Manny and the herd discover a lost world of ferociously funny dinosaurs, including a cranky T-Rex who's got a score to settle with Sid. Meanwhile, Scrat goes nuts over the beautiful Scratte, but is she trying to win his heart - or steal his acorn? Featuring an all-star voice cast, including Ray Romano, John Leguizamo, Denis Leary and Queen Latifah, Ice Age Dawn Of The Dinosaurs delivers more thrills, more chills, and more mammoth-sized laughs for everyone!
Rio 2
Carlos Saldanha
The entire cast of the animated smash RIO returns in RIO 2, and they are joined by a new flock of top actors and musical talents. Rich with grandeur, character, color and music, RIO 2 finds Jewel (Anne Hathaway), Blu (Jesse Eisenberg) and their three kids leaving their domesticated life in that magical city for a journey to the Amazon. They encounter a menagerie of characters who are born to be wild, voiced by Oscar nominee Andy Garcia, Oscar/Emmy/Tony-winner Rita Moreno, Grammy winner Bruno Mars, and Tony winner Kristin Chenoweth.
Robots
Carlos Saldanha, Chris Wedge
Fasten your seat bolts and gear up for a hilarious, heartwarming comedy that's "Fun for the whole family!" (Clay Smith, Access Hollywood)

With the help of his misfit mechanical friends, a small town robot named Rodney embarks on the adventure of a lifetime as he heads for the big city to pursue his dreams?and ultimately proves that anyone can shine no matter what they're made of.

Featuring an all-star voice cast and a groundbreaking visual style that pushes the boundaries of animated filmmaking. Robots is a dazzling, fun-filled feast for the eyes and a riveting good time for all ages!
Shazam!
David F. Sandberg
How to Train Your Dragon
Chris Sanders, Dean DeBlois
This Blu-ray 3D & DVD combo pack contains How to Train Your Dragon in 3D on Blu-ray plus a DVD edition of movie. The Blu-ray 3D disc is also able to play in 2D mode.

A winner with audiences and critics alike, DreamWorks Animation's How to Train Your Dragon rolls fire-breathing action, epic adventure and laughs into a captivating and original story. Hiccup is a young Viking who defies tradition when he befriends one of his deadliest foes - a ferocious dragon he calls Toothless. Together, the unlikely heroes must fight against all odds to save both their worlds in this "wonderful good-time hit!" (Gene Shalit, Today).

Note: To watch the 3D version of this movie, you need a 3D HDTV, compatible 3D glasses, a Blu-ray 3D player, and a high-speed HDMI 1.4 cable.
Lilo & Stitch / Lilo & Stitch: Stitch Has A Glitch
Chris Sanders, Dean Deblois
The movie has a rocking soundtrack fit for a "King." Six of Elvis Presley's biggest hits, sung by the King himself, are included in the film: "Heartbreak Hotel," "Stuck On You," "Blue Hawaii," "Suspicious Minds," "Devil In Disguise," and "Hound Dog."
Anger Management
Adam Sandler, Jack Nicholson
After a small misunderstanding aboard an airplane escalates out of control, timid businessman Dave Buznik (Sandler) is ordered by the court to undergo anger management therapy at the hands of specialist Dr. Buddy Rydell (Nicholson). But when Buddy steps up his aggressive treatment by moving in, Dave goes from mild to wild as the unorthodox treatment wreaks havoc with his life in this hilarious hit comedy that will drive you mad with laughter!
Monsters University
Dan Scanlon
Disney Pixar proudly presents the hilarious story of how two mismatched monsters met and became lifelong friends in a movie screaming with laughter and oozing with heart. Ever since college-bound Mike Wazowski (Billy Crystal) was a little monster, he's dreamed of becoming a Scarer—and he knows better than anyone that the best Scarers come from Monsters University (MU). But during his first semester at MU, Mike's plans are derailed when he crosses paths with hotshot James P. Sullivan, "Sulley" (John Goodman), a natural-born Scarer. The pair's out-of-control competitive spirit gets them both kicked out of the University's elite Scare Program. With their dreams temporarily dashed, they realize they will have to work together, along with an odd bunch of misfit monsters, if they ever hope to make things right. Get ready to party with hours of exclusive bonus extras, including an inside look at the world of monsters and the animated theatrical short film "The Blue Umbrella."
Onward
Dan Scanlon
King Kong
Ernest B. Schoedsack, Merian C. Cooper
Seeking a backer for his movie, Merian C. Cooper approached a top Hollywood mogul. "You know what a 50-foot gorilla would see in a five-foot girl?" the mogul asked. "His breakfast!" The studio chief wasn't buying but the public was. King Kong saved RKO from bankruptcy and became an all-time classic, ranking 43rd on the American Film Institute's list of Top-100 American Movies. King Kong teems with memorable moments: a moviemaking expedition on a fantastic isle filled with dinosaurs and other prehistoric creatures; the giant simian's lovestruck obsession with the film shoot's blonde starlet (scream queen Fay Wray); Kong's capture; his Manhattan rampage; and the fateful finale atop the Empire State Building, where Kong cradles his palm-sized beloved and swats at machine-gunning airplanes. "It was beauty killed the beast." But in these and other great scenes, Kong lives forever.
African Cats
Alastair Fothergill and Keith Scholey
From Disneynature, the studio that brought you Earth and Oceans, comes the epic journey African Cats. Set against one of the wildest places on Earth, you'll experience the extraordinary adventure of two families as they strive to make a home in an untamed land. Stunning high-definition images take your breath away as you come face-to-face with these majestic kings of the savanna and their true-life love, humor, and determination. Blending family bonds with the power and majesty of the wild, it's an exciting, awe-inspiring experience that will touch your heart.
Falling Down
Joel Schumacher
A man who has lost his job and his marriage takes a walk through the troubled urban landscape of Los Angeles on a hot, destructive day, with a retiring police officer trying to anticipate the next stop.
Genre: Feature Film-Drama
Rating: R
Release Date: 8-FEB-2005
Media Type: DVD
Alien Quadrilogy
Ridley Scott
Four powerful films...eight thrilling versions...in dazzling, terrifying, high-def clarity with the purest digital sound on the planet. Two bonus discs and over 50 hours of archival and never before seen content, including the totally immersive mu-th-ur mode feature, make this the definitive alien collection.
Tommy Boy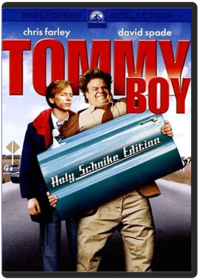 Peter Segal
When the family business starts to fail Tommy must hit the road as a salesman with a smug family accountant.
No Track Information Available
Media Type: DVD
Artist: FARLEY/SPADE
Title: TOMMY BOY
Street Release Date: 08/30/2005
Domestic
Genre: COMEDY VIDEO
Coraline
Henry Selick
From the Director of The Nightmare Before Christmas comes a visually stunning stop-motion animated feature - the first to be originally filmed in 3D! Discover how the filmmakers and artisans created the magical handmade world of Coraline! Coraline Jones is bored in her new home until she finds a secret door that leads her into a world that's just like her own…but better! But when this fantastical adventure turns dangerous and her "other" Mother tries to keep her forever, Coraline must count on her resourcefulness and bravery to get home. Coraline is "a visual marvel." (Claudia Puig, USA TODAY).
James and the Giant Peach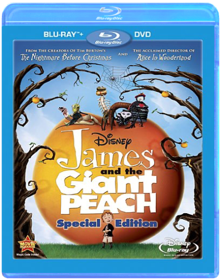 Henry Selick
In an all-new digitally restored special edition from Tim Burton, the acclaimed director of Alice In Wonderland, comes the astounding film that captured the hearts of fans and critics all across the world.  Inspired by Roald Dahl's beloved children's book, Burton, Denise Di Novi and director Henry Selick combine a fascinating mix of live-action, stop-motion animation and computer-generated special effects to create a world beyond your imagination in this new Special Edition DVD.

After the daring rescue of a spider, a young boy named James finds gains possession of some magic crocodile tongues.  When James spills them in the garden, out sprouts an enormous peach!  Climbing inside, he meets an astonishing cast of characters and embarks on a magical odyssey full of thrills and adventure.  Voiced by an all-star cast, including legendary actors Richard Dreyfuss, Susan Sarandon, Simon Callow and  Jane Leeves, and featuring the celebrated music of Randy Newman, this classic story is delicious entertainment for the whole family!
Airheads
Stephen Semel, Michael Lehmann
In this hilarious spoof of the music industry, three intelligence-challenged rock'n' rollers (Brendan Fraser, Steve Buscemi, Adam Sandler decide to take drastic action after their music continually falls on deaf ears. They break into a radio station, hoping to get their demo played on the air. But when the deejay (Joe Mantegna) and station manager (Michael Mckean) refuse to play their song, the boys have no choice but to take the entire radio station hostage.
Gone in 60 Seconds
Dominic Sena
Fasten your seat belts for the ride of your life as Jerry Bruckheimer's high-octane hit reaches a new gear in a revolutionary high-definition format. Nicolas Cage and Angelina Jolie go full throttle as they try to pull off the ultimate heist — 50 exotic cars in 24 hours! The action revs up like never before on Blu-ray disc. Experience every jaw-dropping chase scene in stunning 1080p. Feel the screech of the tires and the roar of the engines presented in 5.1 48 kHz, 24-bit uncompressed audio. Enjoy GONE IN 60 SECONDS like never before — with a pristine high-definition picture and theater-quality sound.
Steamboy
Takeshi Seyama, Katsuhiro Ôtomo
REI IS A YOUNG INVENTOR LIVING IN THE U.K. IN THE MIDDLE OF THE 19TH CENTURY. BEFORE THE 1ST EVER WORLD EXPO, A MARVELOUS INVENTION CALLED THE 'STEAM BALL', BEHIND WHICH A MENACINGPOWER IS HIDDEN, ARRIVES FROM HIS GRANDFATHER IN THE U.S. \0\0\0\0\0\0\0\0\0\0\0\0\0\0\0\0\0\0\0\0\0\0\0\0\0\0\0\0\0\0\0\0\0\0\0\0\0\0\0\0\0\0\0\0\0\0\0\0\0\0\0\0\0\0\0\0\0\0\0\0\0\0\0\0
Ace Ventura: Pet Detective
Tom Shadyac
He's the best there is, in fact, he's the only one there is! He's Ace Ventura Pet Detective. Jim Carrey (The Truman Show, The Mask, Liar Liar) is on the case to find the Miami Dolphins' missing mascot and quarterback Dan Marino. He goes eyeball to eyeball with a man-eating shark, stakes out the Miami Dolphins and woos and wows the ladies. Whether he's undercover, under fire or underwater, he always gets his man...or beast.
Dumbo
Ben Sharpsteen, Bill Roberts, Jack Kinney, Norman Ferguson, Samuel Armstrong
For the first time ever, in celebration of this landmark film's 70th anniversary, experience the daring adventures of the world's only flying elephant with a dazzling all-new digital restoration and brilliant Disney enhanced high definition theatre mix sound. The inspirational tale of Dumbo, the courageous baby elephant who uses his sensational ears to soar to fame with the help of his clever best friend Timothy Q. Mouse, will thrill and delight audiences of all ages. And now, the award-winning music and empowering messages about friendship and belief in yourself reach new heights in this must-have Blu-ray high-definition presentation of Walt Disney s animated classic Dumbo!
Unbreakable
M. Night Shyamalan
Bruce Willis and Samuel L. Jackson star in a mind-shattering, suspense-filled thriller that stays with you long after the end of this riveting supernatural film. After David Dunn (Willis) emerges from a horrific train crash as the sole survivor — and without a single scratch on him — he meets a mysterious sranger (Jackson). An unsettling stranger who believes comic book heroes walk the earth. A haunting stranger, whose obsession with David will change David's life forever.
Monsters, Inc.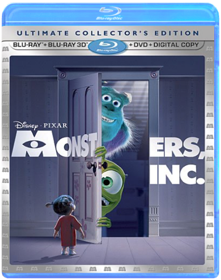 David Silverman, Pete Docter
MONSTERS, INC., shattered every DVD-era home entertainment sales record when 11 million DVD/VHS copies of the film were sold during its first week of release. Only THE LION KING, released in the "pre-DVD" era, sold more units when it debuted on VHS in 1995.
Khumba
Anthony Silverston
Life is not all black and white for Khumba. A young zebra, born with only half his stripes, is rejected by his superstitious herd and blamed for a sudden drought affecting the land. Teaming up with a sassy wildebeest and a flamboyant ostrich, Khumba sets out on a daring mission across the Karoo desert to find the legendary waterhole where the first zebras got their stripes. Along the way he meets a host of colorful characters, but before he can reunite with his herd, Khumba will have to come face to face with a menacing leopard to take part in an epic battle... Khumba's got to earn his stripes!
MacGyver: Season 3
Alan Simmonds, Charles Correll, Chuck Bowman, Cliff Bole, James L. Conway
The 3rd pulse-pounding season of macgyver the immensely popular action-adventure series that become a part of pop culture. Studio: Paramount Home Video Release Date: 05/01/2007 Run time: 942 minutes Rating: Nr
Green Eggs and Ham and Other Favorites
Joe Siracusa, Rick Steward, Robert T. Gillis, Gerard Baldwin
Green Eggs and Ham and Other Favorites introduces you to Sam-I-Am, who insists that EVERYONE sample the dish he loves best! Plus, you'll encounter some very narrow-minded Sneetches and packs of Zax on the prairie of Prax! Also, in the Emmy Award-winning Grinch Night, a young Who-boy sets out to save Whoville from the foul-tempered Grinch! Brimming with fun, each story also offers a gentle life lesson for young imaginations! 20
Clerks
Kevin Smith, Scott Mosier
If you're in the market for wildly funny entertainment, CLERKS delivers with wholesale hilarity! It's one wacky day in the life of a pair of overworked counter jockeys whose razor-sharp wit and on-the-job antics give a whole new meaning to customer service! Even while bracing a nonstop parade of unpredictable shoppers, the clerks manage to play hockey on the roof, visit a funeral home, and straighten out their offbeat love lives! The boss is nowhere in sight, so you can bet anything can — and will — happen when these guys are left to run the store.
Mallrats
Kevin Smith
TWO HIGH SCHOOL GRADS LOSE THEIR GIRLFRIENDS AND GO TO ALL LENGTHS TO WIN THEM BACK. SEEKING RECOVERY AND REGENERATION WITHIN THE COMFORTING CONFINES OF THE MALL, THE TWO FRIENDS ELICIT THE HELP OF THEIR RADICALLY DELINQUENT FRIENDS, LEADING TO A SERIES OF MEMORABLE MISADVENTURES.
Arthur Christmas
Sarah Smith
How CAN Santa deliver billions of presents to the whole world in just one night? With an army of one million combat-style Field Elves and a vast, state-of-the-art control center under the ice of the North Pole! So how could this incredible operation have MISSED one child?! To Santa's young son, Arthur, it threatens to end the magic of Christmas. With retired Grandsanta, a rebellious young elf, an old sleigh and some untrained reindeer, Arthur sets out in a crazy mission to deliver the last present! Deck the halls with excitement, fun and wonder in this new Christmas classic!
Bee Movie
Simon J. Smith, Steve Hickner
Everyone is buzzing for Bee Movie, the hit comedy from creator and comic icon Jerry Seinfeld. Ambitious young worker bee Barry B. Benson soars out into the world with the high-flying pollen jocks in search of nectar and adventure. But when he breaks one of the cardinal rules of beedom and speaks to humans, Barry sets off an un-bee-lievable chain of events that proves even a little bee can make a big difference!
MacGyver: Season 1
Alan Smithee, Alexander Singer, Bruce Seth Green, Charles Correll, Cliff Bole
Angus MacGyver is a secret agent who refuses to carry a gun with him, but fortunately never needs one. Drawing on a vast practical knowledge of science, MacGyver is able to make use of anything around him to create solutions to any problem he faces. Underestimating MacGyver is a major mistake made by his enemies and always results in the destruction of their plans
Hackers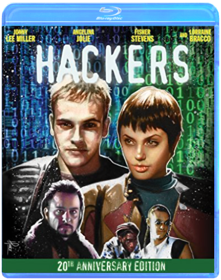 Iain Softley
While practicing the tricks of the trade, a neophyte "hacker", accomplishes the nearly impossible: he hacks the highly secured computer at the Ellingson Mineral Corporation. But in doing so, he unknowingly taps into a high-tech embezzling scheme masked by a computer virus with the potential to destroy the world' ecosystem! And when the young hacker and his pals are targeted for the crime, the group must launch a massive cyberspace attack: one that will hopefully clear their names and prevent ecological disaster.

By launching the careers of Jonny Lee Miller (Elementary) and Academy Award-winner Angelina Jolie (1999 Supporting Actress, Girl, Interrupted), Hackers became an underground hit instantly, inspiring music and fashion for the brand-new Internet culture, and has been even hailed as prophetic in its use of computers and hacking
The Good Dinosaur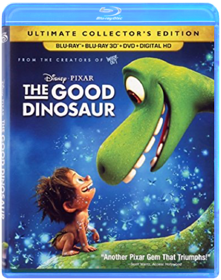 Peter Sohn
From the innovative minds of Disney-Pixar comes a hilariously heartwarming adventure about the power of confronting and overcoming your fears and discovering who you are meant to be. THE GOOD DINOSAUR asks the question: what if the asteroid that forever changed life on Earth missed the planet completely, and giant dinosaurs never became extinct? In this epic journey into the world of dinosaurs, an apatosaurus named Arlo makes an unlikely human friend. While traveling through a harsh and mysterious landscape, Arlo learns the power of confronting his fears and discovers what he is truly capable of. Bring home this original story full of humor, heart, action and imagination, perfect for the whole family!
The Good Dinosaur
Peter Sohn
Van Helsing
Stephen Sommers
LEGENDARY MONSTER HUNTER VAN HELSING IS SUMMONED TO MYSTERIOUS TRANSYLVANIA ON A MISSION THAT WILL THRUST HIM INTO A SWEEPING BATTLE AGAINST THE FORCES OF DARKNESS!
The Addams Family / Addams Family Values
Barry Sonnenfeld
America's favorite frightfully funny family is back for twice the macabre with The Addams Family and the Addams Family Values Double Feature. Join Gomez, Morticia, Uncle Fester, Lurch, Cousin Itt and the rest of the family in all their ghoulish glory!
Men in Black 3
Barry Sonnenfeld
In Men in Black 3, Agents J [Will Smith] and K [Tommy Lee Jones] are back... in time. J has seen some inexplicable things in his 15 years with the Men in Black, but nothing, not even aliens, perplexes him as much as his wry, reticent partner. But when K's life and the fate of the planet are put at stake, Agent J will have to travel back in time to put things right. J discovers that there are secrets to the universe that K never told him – secrets that will reveal themselves as he teams up with the young Agent K [Josh Brolin] to save his partner, the agency and the future of humankind.
Suicide Club
Shion Sono
A wave of unexplainable suicides sweeps across Tokyo after 54 smiling high school girls join hands and throw themselves from a subway platform into an oncoming train. Are the jumpers part of a cult? What is the connection to the website that chronicles suicides…before they happen? And, what is the connection to the Japanese all-girl pop group "Desert?" Suicide Club is a stylish, bizarre thriller that examines pop culture and disaffected youth. Japanese with English sub-titles.
A.I. - Artificial Intelligence
Steven Spielberg
Hook
Steven Spielberg
A high-flying adventure from the magic of Steven Spielberg, Hook stars Robin Williams as a grown-up Peter Pan and Dustin Hoffman as the infamous Captain Hook. Joining the fun is Julia Roberts as Tinkerbell, Bob Hoskins as the pirate Smee, and Maggie Smith as Granny Wendy Darling, who must convince the middle-aged lawyer, Peter Banning, that he was once the legendary Peter Pan. And so the adventure begins anew, with Peter off to Neverland to save his two children from Captain Hook. Along the way, he rediscovers the power of imagination, of friendship, and of magic. A classic tale updated for children of all ages, Hook was nominated for five 1991 Academy Awards(r) including best visual effects.
Indiana Jones: The Complete Adventures
Steven Spielberg
Own all four Indiana Jones adventures in this Blu-ray collection.  This collection includes: Indiana Jones and the Raiders of the Lost Ark, Indiana Jones and the Temple of Doom, Indiana Jones and the Last Crusade, and Indiana Jones and the Kingdom of the Crystal Skull.

Raiders of the Lost Ark
Indiana Jones (Harrison Ford) is no ordinary archeologist. When we first see him, he is somewhere in the Peruvian jungle in 1936, running a booby-trapped gauntlet (complete with an over-sized rolling boulder) to fetch a solid-gold idol. He loses this artifact to his chief rival, a French archeologist named Belloq (Paul Freeman), who then prepares to kill our hero. In the first of many serial-like escapes, Indy eludes Belloq by hopping into a convenient plane. So, then: is Indiana Jones afraid of anything? Yes, snakes. The next time we see Jones, he's a soft-spoken, bespectacled professor. He is then summoned from his ivy-covered environs by Marcus Brody (Denholm Elliott) to find the long-lost Ark of the Covenant. The Nazis, it seems, are already searching for the Ark, which the mystical-minded Hitler hopes to use to make his stormtroopers invincible. But to find the Ark, Indy must first secure a medallion kept under the protection of Indy's old friend Abner Ravenwood, whose daughter, Marion (Karen Allen), evidently has a "history" with Jones. Whatever their personal differences, Indy and Marion become partners in one action-packed adventure after another, ranging from wandering the snake pits of the Well of Souls to surviving the pyrotechnic unearthing of the sacred Ark. A joint project of Hollywood prodigies George Lucas and Steven Spielberg, with a script co-written by Lawrence Kasdan and Philip Kaufman, among others, Raiders of the Lost Ark is not so much a movie as a 115-minute thrill ride. Costing 22 million dollars (nearly three times the original estimate), Raiders of the Lost Ark reaped 200 million dollars during its first run. It was followed by Indiana Jones and the Temple of Doom (1985) and Indiana Jones and the Last Crusade (1989), as well as a short-lived TV-series "prequel."

Temple of Doom
The second of the George Lucas/Steven Spielberg Indiana Jones epics is set a year or so before the events in Raiders of the Lost Ark (1984). After a brief brouhaha involving a precious vial and a wild ride down a raging Himalyan river, Indy (Harrison Ford) gets down to the problem at hand: retrieving a precious gem and several kidnapped young boys on behalf of a remote East Indian village. His companions this time around include a dimbulbed, easily frightened nightclub chanteuse (Kate Capshaw), and a feisty 12-year-old kid named Short Round (Quan Ke Huy). Throughout, the plot takes second place to the thrills, which include a harrowing rollercoaster ride in an abandoned mineshaft and Indy's rescue of the heroine from a ritual sacrifice. There are also a couple of cute references to Raiders of the Lost Ark, notably a funny variation of Indy's shooting of the Sherpa warrior.

Last Crusade
The third installment in the widely beloved Spielberg/Lucas Indiana Jones saga begins with an introduction to a younger Indy (played by the late River Phoenix), who, through a fast-paced prologue, gives the audience insight into the roots of his taste for adventure, fear of snakes, and dogged determination to take historical artifacts out of the hands of bad guys and into the museums in which they belong. A grown-up Indy (Harrison Ford) reveals himself shortly afterward in a familiar classroom scene, teaching archeology to a disproportionate number of starry-eyed female college students in 1938. Once again, however, Mr. Jones is drawn away from his day job after an art collector (Julian Glover) approaches him with a proposition to find the much sought after Holy Grail. Circumstances reveal that there was another avid archeologist in search of the famed cup — Indiana Jones' father, Dr. Henry Jones (Sean Connery) — who had recently disappeared during his efforts. The junior and senior members of the Jones family find themselves in a series of tough situations in locales ranging from Venice to the most treacherous spots in the Middle East. Complicating the situation further is the presence of Elsa (Alison Doody), a beautiful and intelligent woman with one fatal flaw: she's an undercover Nazi agent. The search for the grail is a dangerous quest, and its discovery may prove fatal to those who seek it for personal gain. Indiana Jones and the Last Crusade earned a then record-breaking $50 million in its first week of release.

Kingdom of the Crystal Skull
Steven Spielberg and George Lucas bring you the greatest adventurer of all time in "a nonstop thrill ride" (Richard Corliss, TIME) that's packed with "sensational, awe-inspiring spectacles" (Roger Ebert, Chicago Sun-Times). Indiana Jones and the Kingdom of the Crystal Skull finds Indy (Harrison Ford) trying to outrace a brilliant and beautiful agent (Cate Blanchett) for the mystical, all-powerful Crystal Skull of Akator. Teaming up with a rebellious young biker (Shia LaBeouf) and his spirited original love Marion (Karen Allen), Indy takes you on a breathtaking action-packed adventure in the exciting tradition of the classic Indiana Jones movies!
War of the Worlds
Steven Spielberg
WAR OF THE WORLDS (2005) (DVD/WS)
It's a SpongeBob Christmas!
Spongebob Squarepants
It's Christmas and Bikini Bottom as you've never experienced them before! Created entirely in Stop Motion animation, It's a SpongeBob Christmas! is destined to be a holiday classic. This special double-length episode finds all of Bikini Bottom in a festive mood as they prepare for Santa's arrival. But not Plankton, who's once again expecting a lump of coal. So he comes up with his most diabolic new scheme yet, one that practically guarantees he'll finally get the gift he's always wanted - the Krabby Patty secret formula! It's a SpongeBob Christmas! is a tasty tale sure to put the whole family in the holiday spirit! And there's more, including a behind-the-scenes featurette, an animatic, a SpongeBob Yule Log and two downloadable songs from the episode. Warm your fins this holiday season, SpongeBob style!

Plus Bonus Episodes (Blu-ray Exclusive):Ripped Pants
SB-129
Texas
The Graveyard Shift
Something Smells
Jellyfishing
Dying for Pie
Wormy
F.U.N.
Club SpongeBob
Open Season
Anthony Stacchi, Jill Culton, Roger Allers
In Open Season, the odd are about to get even. Boog (Martin Lawrence), a domesticated grizzly bear with no survival skills, has his perfect world turned upside down when he meets Elliot (Ashton Kutcher) a scrawny, fast-talking mule deer. When Elliot convinces Boog to leave his cushy home in a park ranger's garage to try a taste of the great outdoors, things quickly spiral out of control. Relocated to the forest with open season only three days away, Boog and Elliot must acclimate in a hurry. They must join forces to unite the woodland creatures and take the forest back.
A Bug's Life
Andrew Stanton, John Lasseter
Journey inside the world of bugs in this epic of miniature proportions. Crawling with imaginative characters, hilarious laughs, and colorful animation, Walt Disney Pictures Presentation of A Pixar Animation Studios Film, A Bug's Life. In this 2-disc set you'll step behind the scenes for a look at the innovation and teamwork that resulted in this ingenious film.

Bonus Features Include: Filmmakers Round Table with John Lasseter, Kevin Reher, Darla Anderson, Andrew Stanton, A Bug's Life: The First Draft full animated sequences from storyboards and Pixar's original story treatment, Story treatment introduction by John Lasseter, and more
Finding Dory
Andrew Stanton
From the Academy Award(R)-winning creators of Disney-Pixar's FINDING NEMO (Best Animated Feature, 2003) comes an epic undersea adventure filled with imagination, humor and heart. When Dory, the forgetful blue tang (Ellen DeGeneres), suddenly remembers she has a family who may be looking for her, she, Marlin (Albert Brooks) and Nemo (Hayden Rolence) take off on a life-changing quest to find them...with help from Hank, a cantankerous octopus; Bailey, a beluga whale who's convinced his biological sonar skills are on the fritz' and Destiny, a nearsighted whale shark! Bring home the movie overflowing with unforgettable characters, dazzling animation and gallons of bonus extras!
Finding Dory
Andrew Stanton
Finding Nemo
Andrew Stanton
Sea it like never before! For the first time ever, through the magic of Blu-ray and Blu-ray 3D, fully immerse yourself in the stunning underwater world of Disney/Pixar's FINDING NEMO! From the creators of TOY STORY and MONSTERS, INC., this critically acclaimed and heartwarming tale splashes off the screen with brilliant digital picture, high definition sound and breathtaking bonus features that transport you beyond your imagination. In the depths of the Great Barrier Reef, Marlin (Albert Brooks), an overly protective clownfish, embarks on a daring rescue mission when his beloved son, Nemo, gets scooped up by a diver. With his unforgettable friend Dory (Ellen DeGeneres) by his side, Marlin encounters an ocean full of memorable comedic characters on his momentous journey — to find Nemo. Bring home the humor and heartfelt emotion of the epic adventure that captured the Academy Award for "Best Animated Feature Film" (2003) — now more awesome than ever on Disney Blu-ray!
Finding Nemo
Andrew Stanton, Lee Unkrich (Co-Director)
John Carter
Andrew Stanton
Based on "A Princess of Mars," the first book in Edgar Rice Burroughs' "Barsoom" series of novels, this action-packed sci-fi tale follows former Confederate cavalry officer John Carter (Taylor Kitsch) as he's mysteriously transported to the Red Planet. Lower gravity grants him super strength and the ability to jump great heights, thrusting Carter into the middle of the Martians' own civil war. Lynn Collins, Willem Dafoe, Samantha Morton, Thomas Haden Church, Mark Strong co-star. 120 min. Soundtrack: English; bonus digital copy. Four-disc set. Also includes a DVD and a Blu-ray 3D that requires a 3D television, a 3D Blu-ray player, and special glasses to reproduce the original theatrical experience.
Wall-E
Andrew Stanton
The highly acclaimed director of Finding Nemo and the creative storytellers behind Cars and Ratatouille transport you to a galaxy not so far away for a new cosmic comedy adventure about a determined robot named Wall-E. After hundreds of lonely years of doing what he was built for, the curious and lovable Wall-E discovers a new purpose in life when he meets a sleek search robot named Eve. Join them and a hilarious cast of characters on a fantastic journey across the universe. Transport yourself to a fascinating new world with Disney-Pixar's latest adventure, now even more astonishing on DVD and loaded with bonus features, including the exclusive animated short film Burn-E. Wall-E is a film your family will want to enjoy over and over again.
Kung Fu Panda
John Stevenson, Mark Osborne
PO THE PANDA IS THE LAZIEST OF ALL THE ANIMALS IN THE VALLEY OF PEACE, BUT UNWITTINGLY BECOMES THE CHOSEN ONE WHEN ENEMIES THREATEN THEIR WAY OF LIFE.
Bedknobs & Broomsticks
Robert Stevenson
Let the enchantment begin! Disney's Academy Award(R)-winning classic, BEDKNOBS AND BROOMSTICKS (Best Visual Effects, 1971), soars onto Blu-ray and Digital HD with an all-new digital master. Experience a dazzling blend of live action and wondrous animation from the producer, director and writer of MARY POPPINS, sure to delight the entire family. Disney legends Angela Lansbury (BEAUTY AND THE BEAST) and David Tomlinson (MARY POPPINS) star in this beloved film about an apprentice witch who reluctantly takes in three orphan children. Though her first spells create more laughs than magic, Miss Price and the children soon find themselves swept away aboard a fantastic flying bed — their ticket to fun-filled excitement and adventure. Take the ride of your life with BEDKNOBS AND BROOMSTICKS.
Mary Poppins
Robert Stevenson
Released from the Disney Vault in celebration of its 50th Anniversary, this beloved classic shines like never before on Blu-ray with an all-new digital restoration. Winner of five Academy Awards(R), including Best Actress (Julie Andrews), Best Song ("Chim Chim Cher-ee") and Best Visual Effects, Mary Poppins is a movie experience your family will enjoy over and over again.

"Practically Perfect In Every Way" Mary Poppins flies out of the windy London skies and into the home of two mischievous children. With the help of a carefree chimney sweep named Bert (Dick Van Dyke), the spirited nanny turns every chore into a game and every day into a "Jolly Holiday." Share the music, share the magic, share the joy of Mary Poppins with a whole new generation for the first time on Disney Blu-ray.The movie received 13 Academy Award(R) nominations and won 5 Oscars(R) for Best Actress, Best Song, Best Music Score, Best Film Editing, and Best Special Visual Effects. It also received a special scientific award for the creation and application of Color Traveling Matte Composite Cinematography, which helped make the combination of live action and animated actors in the film possible.
Natural Born Killers
Oliver Stone
Two victims of traumatized childhoods become lovers and psychopathic serial murderers irresponsibly glorified by the mass media. Studio: Lions Gate Home Ent. Release Date: 07/11/2006 Starring: Woody Harrelson Robert Downey Jr. Run time: 182 minutes Rating: Nr Director: Oliver Stone
Maleficent
Robert Stromberg
Explore the untold story of Disney's most iconic villain in this wickedly fun twist on the classic SLEEPING BEAUTY. In an unforgiving mood after a neighboring kingdom threatens her forest, Maleficent (Angelina Jolie) places an irrevocable curse on the king's newborn daughter, the Princess Aurora. but as the child grows, Maleficent finds herself becoming fond of the girl. And as the conflict between the two realms intensifies, Maleficent realizes that Aurora may hold the key to peace in the land. Journey beyond the fairy tale in this soaring adventure that is "visually arresting, brilliantly designed" (Andrew Barker, Variety).
Willy Wonka & the Chocolate Factory
Mel Stuart
Join the expedition visiting legendary Candy Man Willy Wonka (Gene Wilder) in a splendiferous movie that wondrously brings to the screen the endlessly appetizing delights of Roald Dahl's classic book. Coated with flavorful tunes and production design that constantly dazzles the eye, this effervescent musical never fails to enchant young and old. On a whirlwind tour of Willy's incredible, edible realm of chocolate waterfalls, elfish Oompa-Loompas and industrial-sized confections, a boy named Charlie (Peter Ostrum) will discover the sweetest secret of all: a generous, loving heart. And you'll rediscover the timeless magic of a delicious family classic.
Mr. T's Be Somebody or Be Somebody's Fool
Mr. T
Grave of the Fireflies
Isao Takahata
As the Empire of the Sun crumbles upon itself and a rain of firebombs falls upon Japan, the final death march of a nation is echoed in millions of smaller tragedies. This is the story of Seita and his younger sister Setsuko, two children born at the wrong time, in the wrong place, and now cast adrift in a world that lacks not the care to shelter them, but simply the resources. Forced to fend for themselves in the aftermath of fires that swept entire cities from the face of the earth, their doomed struggle is both a tribute to the human spirit and the stuff of nightmares. Beautiful, yet at times brutal and horrifying.
Die Another Day
Lee Tamahori
When his top-secret mission is sabotaged, James Bond (Pierce Brosnan) finds himself captured by theenemy, abandoned by MI6 and stripped of his 00-license. Determined to get revenge, Bond goes head-to-head with a sultry spy (OscarÂ(r) winner* Halle Berry), a frosty agent (Rosamund Pike) anda shadowy billionaire (Toby Stephens) whose business is diamonds but whose secret is a diabolical weapon that could bring the world to its knees! Bristling with excitement and bursting with explosivespecial effects, Die Another Day is an adrenaline-pumping thrill-ride with "stunts and non-stop action [that] will astonish you" (Jeffrey Lyons, WNBC-TV)! *2001: Actress, Monster'sBall
Death Proof
Quentin Tarantino
Director Quentin Tarantino delivers an adrenaline shot to the heart with Death Proof, "a tribute to balls-out pedal-to-the-metal car chases" (Pete Hammond, Maxim). Featuring exhilarating high-speed action, jaw-dropping stunts, and some of the most quotable lines since Pulp Fiction, Death Proof "goes faster, and funnier, than you thought possible...and then it goes further" (Ty Burr, Boston Globe). Kurt Russell stars as a sociopathic stuntman whose taste for stalking sexy young ladies gets him into big trouble when he tangles with the wrong gang of badass babes. Their confrontation escalates to a hair-raising, 18-minute automotive duel with one of the girls strapped to the hood of a thundering Dodge Challenger that "earns a place of honor among the great movie car chases" (Scott Foundas, LA Weekly).
Kill Bill: Volume One
Quentin Tarantino
The acclaimed fourth film from groundbreaking writer and director Quentin Tarantino (PULP FICTION, JACKIE BROWN), KILL BILL VOLUME 1 stars Uma Thurman (PULP FICTION), Lucy Liu (CHARLIE'S ANGELS, CHICAGO), and Vivica A. Fox (TWO CAN PLAY THAT GAME) in an astonishing, action-packed thriller about brutal betrayal and an epic vendetta! Four years after taking a bullet in the head at her own wedding, The Bride (Thurman) emerges from a coma and decides it's time for payback ... with a vengeance! Having been gunned down by her former boss (David Carradine) and his deadly squad of international assassins, it's a kill-or-be-killed fight she didn't start but is determined to finish! Loaded with explosive action and outrageous humor, it's a must-see motion picture event that has critics everywhere raving!
Kill Bill: Volume Two
Quentin Tarantino
With this thrilling, must-see movie event, writer and director Quentin Tarantino (PULP FICTION) completes the action-packed quest for revenge begun by The Bride (Uma Thurman) in KILL BILL VOL. 1! Having already crossed two names from her Death List, The Bride is back with a vengeance and taking aim at Budd (Michael Madsen) and Elle Driver (Daryl Hannah), the only survivors from the squad of assassins who betrayed her four years earlier. It's all leading up to the ultimate confrontation with Bill (David Carradine), The Bride's former master and the man who ordered her execution! As the acclaimed follow-up to the instant classic VOL. 1 — you know all about the unlimited action and humor, but until you've seen KILL BILL VOL. 2, you only know half the story!
Pulp Fiction
Quentin Tarantino
Critics and audiences worldwide hailed PULP FICTION as the star-studded picture that redefined cinema in the 20th Century! Writer/director Quentin Tarantino (Academy Award(R) Winner — Best Original Screenplay, 1994) delivers an unforgettable cast of characters — including a pair of low-rent hit men (John Travolta and Samuel L. Jackson), their boss's sexy wife (Uma Thurman), and a desperate prizefighter (Bruce Willis) — in a wildly entertaining and exhilarating motion picture adventure that both thrills and amuses!
Across the Universe
Julie Taymor
Millennium Actress
Satoshi Terauchi, Satoshi Kon
A movie studio is being torn down. Tv interviewer genya tachibana has tracked down its most famous star Studio: Paramount Home Video Release Date: 05/01/2007 Starring: Miyoko Shji Fumiko Orikasa Run time: 87 minutes Rating: Pg Director: Satoshi Kon
Adventures in Zambezia
Wayne Thornley
When a spirited young falcon named Kai (Jeremy Suarez, TV's "The Bernie Mac Show") learns of Zambezia, the fabulous city of birds, he leaves his remote country home against the wishes of his father (Jackson). But when his dad is captured by an evil lizard who plans to attack the city, Kai must learn the importance of teamwork if he's to rescue his father, save his new friends and help keep Zambezia lizard free. Samuel L. Jackson, Abigail Breslin, Jeff Goldblum and Leonard Nimoy give voice to this beautifully animated fun-filled adventure the whole family will enjoy!
Zambezia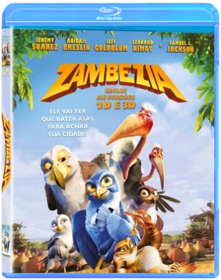 Wayne Thornley
Se você fosse um pássaro, com certeza ia querer morar na Zambézia, cidade localizada a beira do lindo Victoria Falls, um lugar perfeito para todos os tipos de aves. E é lá que Kai quer chegar, esse pequeno falcão atrapalhado, engraçado e curioso. Quando finalmente chega a sua cidade dos sonhos, Kai descobre a verdade sobre sua família e acaba se metendo em uma baita confusão para defender todos os seus amigos.
Ice Age 4: Continental Drift
Mike Thurmeier, Steve Martino
History's greatest heroes return for the most outrageously funny and entertaining Ice Age adventure in two million years. When Scrat's acorn antics cause a cataclysmic crack-up, Manny (Ray Romano), Sid (John Leguizamo) and Diego (Denis Leary) go where no herd has gone before - on a high-seas quest aboard a floating iceberg. But a menagerie of misfit pirates are determined to shiver their timbers and capsize their journey home. Join a boat-load of lovable new characters (voiced by Jennifer Lopez, Aziz Ansari and Peter Dinklage) for original songs, spectacular animation and heartwarming family fun.
The Cat From Outer Space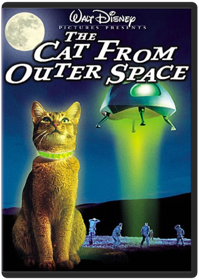 Norman Tokar
This movie features both colonels from television's "M*A*S*H" — Henry Blake (McLean Stevenson) and Sherman Potter (Harry Morgan).
Pacific Rim
Guillermo del Toro
Pacific Rim (3D Blu-Ray)
Jackass the Movie
Jeff Tremaine
Some critics see the success of Jackass: The Movie as the last nail in the coffin of civilization, and they're probably right. This compilation of pain-inflicting stunts and embarrassing pranks has no artistic merit whatsoever—which doesn't keep it from being freakishly entertaining. Among other things, Johnny Knoxville and his posse get beaten up by a female kick-boxing champion; shoot bottle rockets out of their rectums; run amok in Japan wearing giant panda bear costumes; swim with whale sharks while holding pounds of brine shrimp in their swimsuits; and get done up in realistic old-age makeup so that they can race each other in motorized wheelchairs, among other goofs. It's a weird mixture of machismo and masochism, adolescent recklessness and frat boy homoeroticism, and someday someone will write a doctoral thesis about how Jackass relates to our safety-obsessed society. In the meantime, just enjoy
Jurassic World
Colin Trevorrow
Steven Spielberg returns to executive produce the long-awaited next installment of his groundbreaking Jurassic Park series, Jurassic World, an epic action-adventure.
The FP
Jason Trost, Brandon Trost
In a dystopian future, a relentless turf war rages. Two rival gangs feud for control of rural wasteland Frazier Park ('The FP') in the deadly arena of competitive dance-fight video game "Beat-Beat Revelation." After hometown hero BTRO is slain on the dance platform by thug leader L Dubba E, his protégé younger brother JTRO (Jason Trost) goes into isolation, vowing never to duel again. One year later, The FP is in ruins, and JTRO must find the courage to return and restore order in a ruthless battle for revenge that can only leave one man dancing. From the producers of Paranormal Activity and featuring narration by James Remar (The Warriors), The FP is a fury of fierce footwork, triumphant montages and neon street wear that Moviefone calls "a rare ready-made cult hit."
Atlantis: The Lost Empire / Atlantis: Milo's Return
Gary Trousdale, Kirk Wise
This is Disney's first 70 mm film since 1985's THE BLACK CAULDRON.
Beauty and the Beast
Gary Trousdale, Kirk Wise
Disney's beloved modern classic is brilliantly transformed to a new dimension of entertainment through the magic of Blu-ray 3D! The award-winning music you'll never forget envelops you while the enchanting characters who fill your heart dance into your living room and come to life in Blu-ray 3D. So be our guest and join the independent Belle and the Beast with the soul of a prince as they cast a spell like never before on Disney Blu-ray 3D — Magic in a New Dimension!
The Hunchback Of Notre Dame / The Hunchback Of Notre Dame II
Gary Trousdale, Kirk Wise
Rediscover the majestic musical adventure of The Hunchback Of Notre Dame and The Hunchback Of Notre Dame II - together for the first time in stunning Blu-ray high definition. Bring your family together for the extraordinary tale of Quasimodo in a soaring celebration of the beauty inside all of us! Join the world's most unlikely hero as he meets his first real friend, Esmeralda, while fighting to save the people and city he loves. The legendary story continues as Quasi reunites with his gargoyle friends to protect the cathedral's most famous bell and find true love. The Hunchback Of Notre Dame soars with a magnificent score by renowned composer Alan Menken (Beauty And The Beast, Aladdin). Enjoy both magical films, bursting with brilliant animation and unforgettable characters, together on Disney Blu-ray.
TOY STORY 3
Lee Unkrich
Grease
Various
How the Grinch Stole Christmas
Various
Hugo
Various
Ocean's Trilogy Collection
Various
The Public Enemy
Various
Rocko's Modern Life: The Complete Series
Various
Westworld
Various
For $1,000 a day, vacationers can indulge whims at the theme park called Westworld. They can bust up a bar or bust out of jail, drop in on a brothel or get the drop on a gunslinger. It's all safe: the park's lifelike androids are programmed never to harm the customers. But not all droids are getting with the program. Michael Crichton (Jurassic Park, Twister) wrote and made his directing debut with this futuristic thriller that heralded moviemaking's future as the first feature to use digitized images. Richard Benjamin and James Brolin portray pals confronted by a simulated reality turned real. And Yul Brynner is their stalking, spur-jangling nemesis. It's man versus machine - in a tomorrow that isn't big enough for the both of them.
Flushed Away
John H. Venzon, Eric Dapkewicz, Henry Anderson, David Bowers, Sam Fell
Set on and beneath the streets of London, Flushed Away is the story of Roddy, an upper-crust "society mouse," who is rather rudely evicted from his Kensington flat when he is flushed down into Ratropolis, the bustling sewer world found under London's streets. There, he meets Rita, an enterprising scavenger who works the sewers in her faithful boat, the Jammy Dodger. Together they must navigate their way through a busy city filled with dangers for any mouse, including terrifying rapids, treacherous whirlpools and, most of all, the villainous Toad and his hench-rats Spike and Whitey. Though completely out of his element at first, the privileged Roddy finds himself an unlikely hero when he learns that Ratropolis is in danger from the world above.
Pirates of the Caribbean: Dead Man's Chest
Gore Verbinski
Charming rogue pirate Captain Jack Sparrow (Johnny Depp) is back for a grand, swashbuckling, nonstop joyride filled with devilish pirate humor, monstrous sea creatures, and breathtaking black magic. Now Jack's got a blood debt to pay — he owes his soul to the legendary Davy Jones, ghostly Ruler of the Ocean Depths . . . but ever-crafty Jack isn't about to go down without a fight. Along the way, dashing Will Turner (Orlando Bloom) and the beautiful Elizabeth Swann (Keira Knightley) get caught up in the thrilling whirlpool of misadventures stirred up in Jack's quest to avoid eternal damnation by seizing the fabled Dead Man's Chest!
Pirates of the Caribbean: The Curse of the Black Pearl
Gore Verbinski
Set sail for adventure with Disney's Pirates Of The Caribbean: The Curse Of The Black Pearl on Blu-ray's high definition disc. This revolutionary new format brings the thrilling tale of the high seas to life like never before! Legendary pirate Captain Jack Sparrow and young sword-maker Will Turner join forces to rescue a governor's daughter from a band of bloodthirsty fellow pirates. Only Jack knows the dark secret the crew of the Black Pearl harbors. See the glint of each sword in eye-popping 1080p, and experience every cannon blast with spectacular 5.1 48kHz, uncompressed audio. It's entertainment quality so intense, you'll almost feel the sea mist in the air with the magic of Blu-ray high definition.
Rango
Gore Verbinski
Get ready to tango with RANGO, a winner with critics and audiences that's "like nothing you've ever seen before" (Peter Travers, Rolling Stone). Johnny Depp is spectacular as Rango, a kooky pet chameleon who gets tossed into a wild and raucous town in desperate need of a hero. Refreshingly original with eye-popping animation, RANGO is "loads of fun and genuinely funny" (Betsy Sharkey, Los Angeles Times). And now you can get more RANGO in the Blu-ray + DVD Combo Pack with Digital Copy featuring the never-before-seen ending, 10 deleted scenes and exclusive interactive Blu-ray features including picture-in-picture storyboards and an interactive field trip to Dirt, and so much more.
Starship Troopers
Paul Verhoeven
Years in the future 30 million miles from earth three brave soldiers join forces for an intergalactic battle that may be the one hope for the survival of the human race. It is up to them to gain freedom for the human race and save the galaxy. Studio: Sony Pictures Home Ent Release Date: 10/31/2006 Starring: Casper Van Dien Denise Richards Run time: 130 minutes Rating: R
Animaniacs: Volume 1
Charles Visser
Steven Spielberg Presents Animaniacs! The adventures or misadventures of the Warner Brothers, Yakko and Wakko, and the Warner Sister, Dot, who were so crazy that the studio execs locked them away in the water town at the Studio. The witty, slapstick humor with pop culture parodies and cartoon wackiness is on DVD for the first time ever with 25 fantastic Animaniacs episodes.
Animaniacs: Volume 2
Charles Visser
Steven Spielberg Presents Animaniacs! The adventures or misadventures of the Warner Brothers, Yakko and Wakko, and the Warner Sister, Dot, who were so crazy that the studio execs locked them away in the water town at the Studio. The witty, slapstick humor with pop culture parodies and cartoon wackiness is on DVD for the first time ever with 25 fantastic Animaniacs episodes.
Stella: Season One
David Wain, Charles Herman-Wurmfeld, John Hamburg, Susan Seidelman
From Michael Ian Black, Michael Showalter and David Wain, the co-creators of The State and Wet Hot American Summer, meet STELLA — a comedy troupe that's highbrow, lowbrow and every brow in between. Whether they're tramps looking for a hot meal or office party crashers looking for a hot piece, the boys of STELLA do it all with a twinkle in their eye and a song in their heart.
Manos: The Hands of Fate
Harold P. Warren
Mike (Harold P. Warren) and Maggie (Diane Mahree), on a road trip with their daughter and family dog, take a wrong turn in Texas and become trapped at a weird lodge inhabited by a polygamous pagan cult. They soon find themselves in the middle of a power struggle between caretaker Torgo (John Reynolds), cult leader The Master (Tom Neyman), and two warring factions of the Master's wives. As the family tries to escape, the worshipers of Manos decide their fate... MANOS: THE HANDS OF FATE, the sole directorial effort of Texas fertilizer salesman Harold P. Warren, perplexed even the most jaded Drive-In audiences and was deemed by many "the worst movie ever made". Nearly lost, the original 16mm Ektachrome film elements have been finally unearthed and lovingly restored by Ben Solovey to create the definitive version of this accidental masterpiece. There's no other movie like MANOS... now in HD with picture and sound unseen since 1966. Special Features:New 2K RestorationAudio CommentaryHands: The Fate of MANOS FeaturetteRestoring the Hands of Fate FeaturetteFELT: The Puppet Hands of Fate FeaturetteManos: The Hands of Fate: Grindhouse Edition (Blu-ray ONLY Bonus)
Manos: The Hands of Fate (Mystery Science Theater 3000)
Harold P. Warren
Studio: Wea-des Moines Video Release Date: 11/20/2001
Cowboy Bebop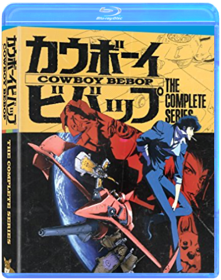 Shinchiro Watanabe, Melissa Williamson
Explore the far reaches of the galaxy in this undeniably hip series that inspired a generation – and redefined anime as an indisputable art form. The Bebop crew is just trying to make a buck. This motely lot of intergalactic loners teams up to track down fugitives and turn them in for cold hard cash. Spike is a hero whose cool façade hides a dark and deadly past. The pilot Jet is a bruiser of a brute who can't wait to collect the next bounty. Faye Valentine is a femme fatale prone to breaking hearts and separating fools from their money. Along for the ride are the brilliant, but weird, hacker Ed and a super-genius Welsh Corgi named Ein. On their own, any one of them is likely to get lost in the sprawl of space, but together, they're they most entertaining gang of bounty hunters in the year 2071.
Cowboy Bebop: The Movie
Shinichiro Watanabe
Mars. Days before Halloween 2071. Villains blow up a tanker truck on Highway One, releasing a deadly virus that kills hundreds. Fearing a bigger, even more devastating biochemical attack, an astronomical reward is offered for the arrest and capture of the person behind the destruction. On the spaceship "Bebop," Spike Spiegel and his crew of bounty hunters (Jet Black, Faye Valentine, Ed and Ein) are bored and short of cash. But with the news of the reward everything changes. Based on the wildly popular TV series, Cowboy Bebop, the big-screen smash Cowboy Bebop: The Movie pits Spike and Co. against their deadliest adversary ever. Featuring stunning, state-of-the-art animation, this action-packed sci-fi adventure builds to a breath-taking, nail-biting climax, guaranteed to keep you hanging on the edge of your seat.
Spider-Man: Homecoming
Jon Watts
A young Peter Parker/Spider-Man (Tom Holland), who made his sensational debut in Captain America: Civil War, begins to navigate his newfound identity as the web-slinging super hero. Thrilled by his experience with the Avengers, Peter returns home, where he lives with his Aunt May (Marisa Tomei), under the watchful eye of his new mentor Tony Stark (Robert Downey Jr.). Peter tries to fall back into his normal daily routine – distracted by thoughts of proving himself to be more than just your friendly neighborhood Spider-Man – but when the Vulture (Michael Keaton) emerges as a new villain, everything that Peter holds most important will be threatened.
Forbidden Planet
Ferris Webster, Fred M. Wilcox
A dutiful robot named Robby speaks 188 languages. An underground lair provides astonishing evidence of a populace a million years more advanced than Earthlings. There are many wonders on Altair-4, but none is greater or more deadly than the human mind. Forbidden Planet is the granddaddy of tomorrow, a pioneering work whose ideas and style would be reverse-engineered into many cinematic space voyages to come. Leslie Nielsen portrays the commander who brings his spacecruiser crew to the green-skied Altair-4 world that's home to Dr. Morbius (Walter Pidgeon), his daughter (Anne Francis), the remarkable Robby...and to a mysterious terror. Featuring sets of extraordinary scale and the first all-electronic musical soundscape in film history, Forbidden Planet is in a movie orbit all its own.
The Great Escape
Ferris Webster, John Sturges
In 1943, the Germans opened Stalag Luft North, a maximum-security prisoner-of-war camp, designed tohold even the craftiest escape artists. In doing so, however, the Nazis unwittingly assembled the finest escape team in military historybrilliantly portrayed here by Steve McQueen, James Garner, Charles Bronson and James Coburnwho worked on what became the largest prison breakout ever attempted. One of the most ingenious and suspenseful adventure films of all time, The Great Escape is a masterful collaboration between director John Sturges (The Magnificent Seven), screenwriters James Clavell (Shogun) and W.R. Burnett (Little Caesar), and composer Elmer Bernstein. Based on a true story, The Great Escape is epic entertainment that "entertains,captivates, thrills and stirs" (Variety).
Touch of Evil
Orson Welles
Directed by Orson Welles, Touch of Evil is a film noir masterpiece whose Hollywood backstory is as unforgettable as the movie itself. Starring Charlton Heston, Janet Leigh and Orson Welles, this dark portrait of corruption and morally compromised obsessions tells the story of a crooked police chief who frames a Mexican youth as part of an intricate criminal plot. Featuring three versions of the film – the Preview version, the Theatrical version and the Reconstructed version based on Orson Welles' original vision, Touch of Evil is a "a stylistic masterpiece!" (Leonard Maltin's Classic Movie Guide) that stands the test of time.
Balto
Simon Wells
Amblin Entertainment presents a dazzling, animated adventure about one of the most courageous canines of all time! Based on a true story, Balto will touch your heart. Part husky/part wolf, Balto doesn't know where he belongs. He's an outcast in Alaska, except to his true friends - Boris, the Russian snow goose; polar bear cubs Muk and Luk; and the beautiful husky, Jenna. Even though he's different, all of Balto's friends recognize what he still can't see himself: his noble spirit. One day, a serious diptheria epidemic spreads fast among the children of Nome. When a fierce blizzard closes off all routes of transport, there's no way to obtain lifesaving medicine...unless a team of sled dogs can race six-hundred miles through the blinding Arctic storm and bring back anti-toxin. But when the dogs get lost in the frozen wilderness, only Balto can rescue the team and save the children. Starring the voices of Kevin Bacon, Bridget Fonda, Bob Hoskins and Phil Collins, Balto is the remarkable tale of a hero who inspired a nation - and became a legend!
The Avengers
Joss Whedon
Marvel makes cinematic history as it unites the super hero team-up of a lifetime. Iron Man (Robert Downey Jr.), the Hulk (Mark Ruffalo), Thor (Chris Hemsworth), and Captain America (Chris Evans) assemble together for the very first time ever in this epic, action-packed blockbuster alongside Black Widow (Scarlett Johansson), Hawkeye (Jeremy Renner), and Nick Fury (Samuel L. Jackson). Director Joss Whedon creates an unprecedented universe that has become a global phenomenon. Packed with spectacular visual effects, and exclusive bonus features, including Marvel's first-ever gag reel, never-before-seen Marvel short, and an interactive second screen experience, Marvel's The Avengers will blow your mind!

Digital Copy Format: Standard Definition
Dr. Horrible's Sing-Along Blog
Joss Whedon
Emmy Award Winner
Winner People s Choice Award
Favorite Online Sensation

Neil Patrick Harris (How I Met Your Mother) stars as Billy, A.K.A. Dr. Horrible, a budding supervillain whose plans for world domination continually go awry. His two goals: getting accepted into the Evil League of Evil, and working up the guts to speak to his laundromat crush Penny, played by Felicia Day (The Guild). The only thing standing in his way is Captain Hammer, Billy s superhero archnemesis played by Nathan Fillion (Firefly, Castle). With one big score, Billy could get into the E.L.E. and earn the respect of Penny, but only if he can keep her away from the dashing Captain Hammer...
Sam & Max Freelance Police: The Complete Series
Steve Whitehouse
Remember, kids, we're professional cartoon characters. Don t try this at home. Based on Sam Purcell s enormously popular underground comic, The adventures of Sam & Max: Freelance Police! is an edgy and often irreverent, impudent, insolent, impious and silly series about a pair of likeable law enforcement types who don t take guff, from anybody. It' s about the timeless struggle between good, evil and snacktime;the weekly mishaps of a sixfoot dog, Sam, and a threefoot rabbitything, though he prefers the term lagomorph, Max, who have a mirthful time trying to resolve only the weirdest criminal cases of the day. Really.
For your own good, and the good of mankind, enjoy Sam & Max: Freelance Police!

Bonus Feature:
A COMIC-CONversation With Steve Purcell!!!
3 Animated Shorts Originally Seen on FOX KidsTM
Sam & Max: Our Bewildering Universe An original animated short written and codirected by Steve Purcell
Telling The Tale Of Telltale Games A look at Telltale Games with cofounder Dan Connors, design director Dave Grossman and technical artist Daniel Herrera
Sam & Max Season 2 Playable Demo by Telltale Games
Original Series Bible by Steve Purcell
Sunset Boulevard
Billy Wilder
Sunset Boulevard (BD)
The Wild
Steve "Spaz" Williams
Go wild with the hysterical adventure the New York Daily News calls "truly infectious!" Disney uncages the laughs in the hip and hilarious comedy THE WILD. When a band of furry friends escape from the city zoo, they discover that New York City is the biggest, craziest jungle of all. Now, faced with a new journey and the challenge of a lifetime, they must work together if they are going to survive on the outside. THE WILD is ferocious fun that will have your whole family roaring with laughter.
Resident Evil: Apocalypse
Alexander Witt
After narrowly escaping the horrors of the underground Hive facility, Alice (Milla Jovovich) is quickly thrust back into a war raging above ground between the living and the Undead. As the city is locked down under quarantine, Alice joins a small band of elite soldiers, led by Valentine and Carlos, enlisted to rescue the missing daughter of Dr. Ashford, the creator of the mutating T-virus. It's a heart-pounding race against time as the group faces off against hordes of blood- thirsty zombies, stealthy Lickers, mutant canines andthe most sinister foe yet. Written and produced by director of Resident Evil, Paul W.S. Anderson (Alien Vs. Predator) and directed by Alexander Witt.
Hot Fuzz
Edgar Wright
Get ready for a gut-busting, outrageous comedy from the guys that created Shaun of the Dead. Nicholas Angel (Simon Pegg) is a big-city cop who can't be stopped - but he's making everyone else on the force look bad. When he is reassigned to a small, quiet town, he struggles with this new, seemingly idyllic world and his bumbling partner (Nick Frost). But their dull existence is interrupted by several grisly and suspicious accidents, and the crime-fighting duo turn up the heat and hand out high-octane, car-chasing, gun-fighting big-city justice in this hilarious hit critics are calling "uproariously funny!" (Thelma Adams, US Weekly).
Rise of the Planet of the Apes
Rupert Wyatt
Rise of the Planet of the Apes is a revolution; an action-packed epic featuring stunning visual effects and creatures unlike anything ever seen before. At the story's heart is Caesar (Andy Serkis), a chimpanzee who gains human-like intelligence and emotions from an experimental drug. Raised like a child by the drug's creator (James Franco), Caesar ultimately finds himself taken from the humans he loves and imprisoned. Seeking justice, Caesar assembles a simian army and escapes — putting man and primate on a collision course that could change the planet forever.
Mary and the Witch's Flower
Hiromasa Yonebayashi, Giles New
From Academy Award nominee Hiromasa Yonebayashi, director of When Marnie Was There and key animator on Spirited Away, comes a dazzling new adventure about a young girl who discovers a flower that grants her magical powers – but only for one night. Mary is an ordinary young girl stuck in the country with her Great-Aunt Charlotte when she discovers an old broomstick and the strange flower that blossoms only once every seven years. Suddenly, Mary finds herself whisked away to Endor College – a school of magic run by Madam Mumblechook and the brilliant Doctor Dee. But the school is not all that it seems, and when Mary tells a lie, she must risk her life to try to set things right.
The Secret World of Arrietty
Hiromasa Yonebayashi
Discover The Secret World Of Arrietty, where imagination comes to life! The studio that brought you Ponyo and the Academy Award-winning Spirited Away once again delivers a heartwarming tale of friendship and courage in beautiful animation!

In a secret world hidden beneath the floorboards, little people called Borrowers live quietly among us. But when tenacious and tiny Arrietty is discovered by Shawn, a human boy, their secret and forbidden friendship blossoms into an extraordinary adventure. Featuring the voices of Bridgit Mendler and David Henrie and comedic all-stars Will Arnett, Amy Poehler and Carol Burnett, and based on the award-winning novel The Borrowers, The Secret World Of Arrietty will delight families of all sizes!
Who Framed Roger Rabbit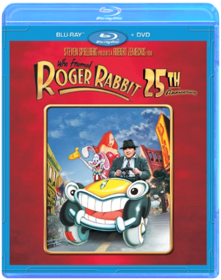 Robert Zemeckis
On Blu-ray for the first time ever, this digitally remastered edition of Who Framed Roger Rabbit practically jumps off the screen with its brilliant picture, rich sound - and dangerous curves. It's 1947 Hollywood, and Eddie Valiant (Bob Hoskins), a down-on-his-luck detective, is hired to find proof that Marvin Acme, gag factory mogul and owner of Toontown, is playing hanky-panky with femme fatale Jessica Rabbit, wife of Maroon Cartoon superstar, Roger Rabbit. When Acme is found murdered, all fingers point to Roger, who begs the Toon-hating Valiant to find the real evildoer. Complete with hours of bonus features - including three digitally restored Roger Rabbit shorts, this multi Oscar winner (best film editing, best sound effects editing, best visual effects, special achievement in animation direction, 1988) is pure magic in hi-def Blu-ray.
House of 1,000 Corpses
Rob Zombie
Two young couples take a misguided tour onto the back roads of america in search of a local legend known as dr. Satan. Lost and stranded they are set upon by a bizarre family of psychotics. Murder cannibalism and sataninc rituals are just a few of the 1000+ horrors that await. Studio: Lions Gate Home Ent. Release Date: 08/16/2005 Starring: Sid Haig Sheri Moon Run time: 88 minutes Rating: R Director: Rob Zombie
We're Back! A Dinosaur's Story
Dick Zondag, Phil Nibbelink, Ralph Zondag, Simon Wells
For every kid who ever wanted to meet a real dinosaur, Steven Spielberg presents We're Back! A Dinosaur's Story – the animated tale of four prehistoric pals in the most awesome adventure since the dawn of time! Join Rex, Woog, Elsa and Dweeb as they time-travel to New York City to meet their biggest fans – modern-day kids – and make all of their wildest dreams come true. Featuring the voices of John Goodman, Jay Leno, Martin Short and Rhea Perlman, We're Back! A Dinosaur's Story is a magical film the whole family will enjoy.
The Last Samurai
Edward Zwick
Epic Action Drama. Set in Japan during the 1870s, The Last Samurai tells the story of Capt. Nathan Algren (Tom Cruise), a respected American military officer hired by the Emperor of Japan to train the country's first army in the art of modern warfare. As the Emperor attempts to eradicate the ancient Imperial Samurai warriors in preparation for more Westernized and trade-friendly government policies, Algren finds himself unexpectedly impressed and influenced by his encounters with the Samurai, which places him at the center of a struggle between two eras and two worlds, with only his own sense of honor to guide him.

DVD Features:
Audio Commentary:Commentary by Edward Zwick
DVD ROM Features
Deleted Scenes:The Beheading (Behind the Beheading) Algren and Katsumoto
Documentaries:History vs. Hollywood: The Last Samurai {History Channel Documentary)
Featurette:Tom Cruise: A Warrior's Journey Edward Zwick: Director's Video Journal {Behind-the-scenes production journal - narrated by Ed Zwick and Tom Cruise A World of Detail: Production Design with Lilly Kilvert Silk and Armor: Costume Design with Ngila Dickson Imperial Army Basic Training: From Soldier to Samurai: The Weapons
Interviews:Making an Epic: A Conversation with Edward Zwick
Other:Japan Premieres {Tokyo & Kyoto red carpet)